On May 1, 1707, the Act of Union with England, passed by the Scottish Parliament brought together England and Scotland and made the Union Jack the official flag of Great Britain.
George Washington was inaugurated as the first President of the United States of America in New York City on April 30, 1789. From Washington's inaugural address:
it would be peculiarly improper to omit in this first official act my fervent supplications to that Almighty Being who rules over the universe, who presides in the councils of nations, and whose providential aids can supply every human defect, that His benediction may consecrate to the liberties and happiness of the people of the United States a Government instituted by themselves for these essential purposes, and may enable every instrument employed in its administration to execute with success the functions allotted to his charge.

In tendering this homage to the Great Author of every public and private good, I assure myself that it expresses your sentiments not less than my own, nor those of my fellow-citizens at large less than either.

No people can be bound to acknowledge and adore the Invisible Hand which conducts the affairs of men more than those of the United States.
On April 30, 1803, negotiators from France and the United States finished discussions of the Louisiana Purchase, which would double the size of the country.
By the middle of the 18th century, France controlled more of the modern United States than any other European power: from New Orleans northeast to the Great Lakes and northwest to modern-day Montana. In 1762, during the French and Indian War, France ceded its America territory west of the Mississippi River to Spain and in 1763 transferred nearly all of its remaining North American holdings to Great Britain. Spain, no longer a dominant European power, did little to develop Louisiana Territory during the next three decades. In 1796, Spain allied itself with France, leading Britain to use its powerful navy to cut off Spain from America.In 1801, Spain signed a secret treaty with France to return Louisiana Territory to France.

Reports of the retrocession caused considerable uneasiness in the United States. Since the late 1780s, Americans had been moving westward into the Ohio and Tennessee River valleys, and these settlers were highly dependent on free access to the Mississippi River and the strategic port of New Orleans. U.S. officials feared that France, resurgent under the leadership of Napoleon Bonaparte, would soon seek to dominate the Mississippi River and access to the Gulf of Mexico.

U.S. envoys agreed to pay $11,250,000 and assumed claims of its citizens against France in the amount of $3,750,000. In exchange, the United States acquired the vast domain of Louisiana Territory, some 828,000 square miles of land. In October, Congress ratified the purchase, and in December 1803 France formally transferred authority over the region to the United States. The acquisition of the Louisiana Territory for the bargain price of less than three cents an acre was Thomas Jefferson's most notable achievement as president.
The Second Confederate National Flag was adopted on May 1, 1863.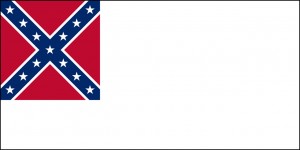 On April 30, 1886, former Confederate President Jefferson Davis stopped in LaGrange, Georgia en route to Atlanta for the unveiling of a monument to Benjamin Hill. On May 1, 1886, Jefferson Davis visited the Benjamin Hill monument at Peachtree and West Peachtree Streets in Atlanta, having arrived the previous day.
Franklin Delano Roosevelt made his fourth trip to Georgia on April 29, 1926, closing on the purchase of property at Warm Springs, Ga.
Dachau concentration camp was liberated by American troops on April 29, 1945. At least 31,951 inmates died there, more than 30,000 survivors were found on liberation day, and more than 250,000 passed through the camp and its subcamps.
Dobbins Air Force Base was dedicated on April 29, 1950, named for in honor of the late Capt. Charles M. Dobbins and in memory of the other servicemen from Cobb County. Dobbins was shot down over Sicily in 1943 and his family attended the opening of the base.
Hank Aaron hit his first home run in Atlanta against the Houston Astros on April 29, 1966, providing the winning margin as the Braves won 4-3.
Kennesaw, Georgia City Council adopted an ordinance on May 1, 1982 requiring each household to own a gun and ammunition.
(a) In order to provide for the emergency management of the city, and further in order to provide for and protect the safety, security and general welfare of the city and its inhabitants, every head of household residing in the city limits is required to maintain a firearm, together with ammunition therefore.

(b) Exempt from the effect of this section are those heads of households who suffer a physical or mental disability which would prohibit them from using such a firearm. Further exempt from the effect of this section are those heads of households who are paupers or who conscientiously oppose maintaining firearms as a result of beliefs or religious doctrine, or persons convicted of a felony.
Atlanta was selected as the host city for the 1996 Summer Olympics on April 29, 1988.
On April 29, 1993, Barry White guest-starred on The Simpsons. I guess that makes today "Whacking Day."
Georgia Politics, Campaigns, and Elections
Governor Nathan Deal ordered flags to half-staff on all state buildings today in honor of the four University of Georgia students killed in a car accident and the survivor who remains hospitalized in critical condition. Our prayers are with all affected by the accident.
Upon the signing of Senate Bill 367 by Sen. John F. Kennedy (R-Macon), Governor Deal told a press conference that the measure continues the criminal justice reforms of previous years.
"This legislation is the latest step in advancing our criminal justice reforms," Deal said. "Along with restoring the original intent of the First Offender Act, this bill increases access to charter schools in our prison system and seeks to address the 'school to prison pipeline.' If a minor enters the corrections system and is sent to a youth detention center, even just once, they are significantly more likely to offend again. We need to divert these children from a life of imprisonment and difficulty in order for them to lead a successful life. This bill makes great strides in reducing our recidivism rates, ensuring safer communities and expanding our accountability court system. The incentives included in this legislation are cost-effective strategies that will increase the number of former offenders returning to the workforce and supporting their families."

Among other initiatives, this legislation:

Restores the intent of the First Offender Act, updating the process for the 21st century to ensure that cases are properly closed upon completion of sentences
Codifies Georgia's accountability courts in order to grant them the authority they need to efficiently administer justice to those under their purview
Restricts secure detention for all youth ages 13 and under, except for those charged with the most egregious of offenses where a clear public safety issue exists
Adjusts public school disruption statutes so that students are appropriately handled through the disciplinary process rather than sent to a youth detention center or delinquent facility
Removes the lifetime ban on food stamp eligibility after a felony drug conviction, subject to the successful completion of their sentence and probation
Extends parole eligibility to non-violent recidivist drug offenders, allowing them the needed transition period for proper reentry upon completion of their sentences
Furthers last year's executive order "banning the box" for most state government jobs, now expanding to licensure applications
Deal's emphasis on criminal justice reform will continue next session of the legislature with an attempt to address the large number of Georgians on probation, according to Greg Bluestein of the AJC.
[Deal] wants to target the rise of "split sentencing" in Georgia – a practice in which a defendant serves part of the sentence behind bars, and then often a greater time outside prison. He called it an "unusual phenomenon, and we don't know why it's happening."

"We have a significantly high number of people who are under probation supervision – an extraordinarily high number compared with most other states," he said. "You're going to see the general area of probation being a focus point."

Georgia led the nation in placing its citizens on probation in 2015 and topped the charts for its probation rate, which critics said reflected an overuse of the system.
Deal also signed legislation to limit fireworks after 9 PM most of the year.
Responding to angry complaints from residents jolted awake by sparkly explosions on mundane weekdays, Gov. Nathan Deal signed legislation this week that bans residents from setting off fireworks after 9 p.m. most of the year.

It carves out exceptions to allow the use of fireworks until 1 a.m. on New Year's and Fourth of July. The measure, House Bill 727, also bans people from igniting fireworks on roads and highways and within 100 yards of a hospital, nursing home and prisons. It took effect immediately.
A statewide ban on burning yard clippings and debris goes into effect covering 54 counties on May 1 and lasts through September 30th.
Jim Barksdale, the hand-picked candidate of the Democratic establishment in Georgia will run as an outsider, according to an interview from the AJC Political Insider.
Barksdale broke his public silence in an interview Wednesday in his Buckhead office, pledging to run as an outsider who will seize on familiar themes of economic distress in Georgia and stifling gridlock in Washington to make his case.

The investment manager pointed to the more than $1 million he's already pumped into his campaign as evidence he'll have the resources he needs to compete against Isakson, a popular incumbent sitting on a mountain of cash as he seeks a third term in office.

Barksdale repeatedly ducked questions on most of his policy stances, saying that he's not ready for a "deep dive" ahead of an upcoming listening tour around the state. But he said he would build his case around business-friendly policies to boost Georgia's economy and tap into his party's frustration over GOP opposition to President Barack Obama's nominee to the U.S. Supreme Court.

"It's going to be a competitive race," he said. "Have no doubt."
An election for Tax Commissioner sounds about as interesting as watching paint dry, but the Macon-Bibb election has some serious issues, according to the Macon Telegraph.
The two candidates for Macon-Bibb County tax commissioner — former Macon Mayor C. Jack Ellis and interim Tax Commissioner Wade McCord — squared off during a candidate forum Thursday.

Two issues in the campaign resurfaced Thursday: $7 million in uncollected garbage fees owed to Macon-Bibb, and liens that have been placed on some properties for nonpayment. Ellis said if he is elected tax commissioner he would not place a lien on properties because of late garbage fees.

"I've made it clear I would never sell anyone's property on courthouse steps," Ellis said. "I've also made it clear I would not act as a collection agency."

McCord said he works with people to help them through the tax cycle.

"We do that honorably by working with taxpayers on a day-to-day basis," McCord said. "Not only is it a position that is elected, but it's a position that you have to care about what you do and care about taxpayers."
In Savannah, the local NAACP announced plans to boost voter turnout in 2016, according to the Savannah Morning News.
Richard Shinhoster, first vice president of the Savannah Branch of the NAAP, said during a press conference in front of the organization's downtown office Thursday the organization has already started working on its annual effort to assist voters with registration and absentee voting. What's special about this year, he told reporters, is the collaboration.

"The officers and members of the Savannah Branch of the (NAACP) and a coalition of Greek letter fraternities, sororities, clergy and socio-civic organizations unite today to encourage, urge and appeal to unregistered citizens to register and vote in all elections," Shinhoster said. "The NAACP, along with other concerned organizations, fought for the passage of the 1965 Voting Rights Act. However, the Voting Rights Act did not make voting mandatory. That is left up to the individual citizen."

He said the NAACP will meet with its partners in the coalition in a planning session next week to strategize for increasing voter registration, education and turnout. The main objective, he said, is improved turnout for the May 24 primary and the Nov. 8 general election.

"For the last election, less than 6 percent of registered voters actually voted," he said. "That's why this session we planned is so important."

In the primary next month, he said, a respectable turnout would be at least 30 percent of registered voters. For the general election in November, Shinhoster said, he's aiming for more than half of registered voters to cast their ballots.
Suwanee has named two new associate judges to its municipal court.
Catherine Lucey of the Associated Press writes that "Putting political candidates out in public can be risky."
Competitive races in both parties have sustained the intensity of the primary face-offs far beyond their usual seasons this year, increasing the spotlight on candidates and the requisite local know-how. Most recently, in New York City, Ohio Gov. John Kasich took flack for eating pizza with a knife and fork, Hillary Clinton was mocked for struggling to use a Metrocard to ride the subway and Bernie Sanders revealed he thought the subway still took tokens, which were phased out in 2003.

Whether or not these moments are disqualifying, they can reinforce an unwelcome perception about a candidate. Mo Elleithee, who served as Clinton's spokesman in the 2008 race, said the problem is when things go badly and "it feeds into a narrative that already exists." So it was for Kerry and his cheese choice in 2003; it fed into the perception that he did not relate to common people.

"You do those types of events, you do those types of photo ops if you want to show the candidates in everyday settings," Elleithee said. "There's a natural barrier between presidential candidates and the public. They become caricatures. Campaign staff is constantly looking for ways to help them see the other side."
And in the Eleventh District of Georgia, a Republican candidate became an object lesson in those risks.
Congressional candidate Billy Davis, a political newcomer, told the audience to look at his record as a successful businessman.

So, the FOX 5 I-Team did.

Our investigation found Davis was a felon, who served time in 1997, for lying on a loan application.
And it kind of got worse from there.