Georgia and American History
On February 24, 1803, the United States Supreme Court under Chief Justice John Marshall decided the case of Marbury v. Madison, enunciating the principle of judicial review under which the Court has authority to review Congressional action and hold them unconstitutional.
In writing the decision, John Marshall argued that acts of Congress in conflict with the Constitution are not law and therefore are non-binding to the courts, and that the judiciary's first responsibility is always to uphold the Constitution. If two laws conflict, Marshall wrote, the court bears responsibility for deciding which law applies in any given case.
Union troops under General George Thomas attacked Confederates led by General Joseph Johnston near Dalton, Georgia on February 24, 1864.
Casualties were light. Thomas suffered fewer than 300 men killed, wounded, or captured, while Johnston lost around 140 troops. The Union generals did learn a valuable lesson, however; a direct attack against Rocky Face Ridge was foolish. Three months later, Sherman, in command after Grant was promoted to commander of all forces, sent part of his army further south to another gap that was undefended by the Confederates. The intelligence garnered from the Battle of Dalton helped pave the way for a Union victory that summer.
The Atlanta Journal was first published on February 24, 1883.
On February 24, 1988, the United States Supreme Court held in the case of Hustler Magazine v. Falwell, that the First Amendment protects publishers against claims for intentional infliction of emotional distress where the plaintiff is a public figure being parodied by the publication.
Under the Gold Dome Today
SENATE COMMITTEE MEETINGS
8:15 AM APPROPRIATIONS – Criminal justice subcommittee 307 CLOB
8:30 AM AGRICULTURE AND CONSUMER AFFAIRS 123 CAP
12:00 PM RULES – UPON ADJOURNMENT 450 CAP
1:00 PM REGULATED INDUSTRIES AND UTILITIES 310 CLOB
1:00 PM PUBLIC SAFETY 125 CAP
1:00 PM EDUCATION AND YOUTH 307 CLOB
2:00 PM INTERSTATE COOPERATION 123 CAP
2:00 PM HEALTH AND HUMAN SERVICES 450 CAP
2:30 PM APPROPRIATIONS – Vehicle Subcommittee 341 CAP
3:00 PM REAPPORTIONMENT AND REDISTRICTING 310 CLOB
3:00 PM HIGHER EDUCATION 307 CLOB
3:00 PM SCIENCE AND TECHNOLOGY 310 CLOB
3:00 PM STATE INSTITUTIONS AND PROPERTY MEZZ
3:30 PM APPROPRIATIONS – General government subcommittee 341 CAP
3:30 PM Rules subcommittee 125 CAP
4:00 PM SPECIAL JUDICIARY 125 CAP
4:00 PM ECONOMIC DEVELOPMENT AND TOURISM 310 CLOB
4:00 PM FINANCE MEZZ
HOUSE COMMITTEE MEETINGS
7:30 AM APPROPRIATIONS – FULL COMMITTEE 341 CAP
8:30 AM Pak Sub Judiciary Non-Civil 606 CLOB
9:00 AM RULES 341 CAP
9:00 AM INTRAGOVERNMENTAL COORDINATION 403 CAP
1:00 PM Resource Management Sub 415 CLOB
1:30 PM JUDICIARY NON-CIVIL 132 CAP
2:00 PM GOVERNMENTAL AFFAIRS 406 CLOB
2:00 PM Efstration Sub Juvenile Justice 415 CLOB
3:00 PM SPECIAL RULES 506 CLOB
3:00 PM Fleming Sub Judiciary Non-Civil 415 CLOB
3:00 PM EDUCATION 606 CLOB
3:00 PM MOTOR VEHICLES4 06 CLOB
3:00 PM Energy Sub 515 CLOB
SENATE RULES CALENDAR
SB 312 – HOPE; revise a definition; establish minimum HOPE award amounts (H ED – Bethel)
SB 350 – Taxation on Consumer Fireworks; dedicate moneys collected; trauma care, fire services, and local public safety purposes (PUB SAF – Mullis)
SR 558 – General Assembly; proceeds of excise taxes on sale of fireworks; funding of trauma care (PUB SAF – Mullis)
HOUSE RULES CALENDAR
Modified Open Rule
HB 381 Revised Georgia Law on Notarial Acts of 2015; enact (Substitute) (Judy-Welch-110th)
HB 614 Landon Dunson Act; enact (Substitute)(Ed-Stovall-74th)
HR 502 General Assembly; provide for dedication of revenues derived from fees or other assessments to the public purpose for which such fees or other assessments were imposed; authorize – CA (Substitute) (W&M-Welch-110th)
Modified Structured Rule
HB 166 Motorcycle Mobility Safety Act; enact (Substitute)(PS&HS-Yates-73rd)
HB 773 Georgia Housing and Finance Authority; outstanding bond limit; increase (Substitute)(App-Houston-170th)
HB 806 Drivers' licenses; expiration of certain licenses and identification cards; provisions (Substitute)(MotV-Tanner-9th)
HB 838 Insurance; carriers that sell certain health plans through an agent shall compensate such agent a minimum of 5 percent of collected premiums; provide (Substitute)(Ins-Blackmon-146th)
HB 874 Courts; ability to prosecute street gang terrorism; improve (Substitute)(JudyNC-Reeves-34th)
HB 916 "The Pharmacy Audit Bill of Rights"; certain audits conducted by the Department of Community Health; remove exception; provisions (H&HS-Hightower-68th)
HB 948 Penal institutions; application fee paid to the State Board of Pardons and Paroles by nonindigent adult offenders applying to transfer supervision; revise (JudyNC-Powell-32nd)
HB 949 Crimes and offenses; illegal use of financial transaction cards; revise provisions (Substitute)(JudyNC-Powell-32nd)
HB 980 Municipal elections; reopening of qualifications under certain conditions; provide (Substitute)(GAff-Powell-32nd)
Legislation and Local Issues
United States Senator David Perdue has, along with all his GOP colleagues on the Senate Judiciary Committee, signed a letter stating no hearing will be held on a nominee to the Supreme Court by President Obama.
The letter, signed by all Senate Judiciary Committee Republicans, says, "The American people are presented with an exceedingly rare opportunity to decide, in a very real and concrete way, the direction the Court will take over the next generation. We believe The People should have this opportunity."

The Senators added, "Accordingly, given the particular circumstances under which this vacancy arises, we wish to inform you of our intention to exercise our constitutional authority to withhold consent on any nominee to the Supreme Court submitted by this President to fill Justice Scalia's vacancy. Because our decision is based on constitutional principle and born of a necessity to protect the will of the American people, this Committee will not hold hearings on any Supreme Court nominee until after our next President is sworn in on January 20, 2017."
The Georgia State House of Representatives approved legislation by State Rep. Buzz Brockway to allow stun guns on college campuses.
College students and staff could defend themselves on campus with Tasers and stun guns under a measure approved Tuesday by the Georgia House just a day after the chamber voted to legalize guns for that use, too.

Some at the Capitol have dubbed House Bill 792 "campus carry lite" because it would legalize carrying what are formally called electroshock weapons onto the state's public university and college campuses.

But state Rep. Buzz Brockway, R-Lawrenceville, the bill's author, said he wanted to offer a serious alternative for those who may not be comfortable using a lethal weapon. The idea, Brockway said, came from conversations he had over the summer with students worried about what they were and were not allowed to do on campus to increase their own safety.

"This is just another option," Brockway said. "I support campus carry, but even if campus carry becomes legal, not everybody is going to want to carry a gun."
I shudder to think about the college drinking games this may spawn.
Macon-Bibb County will likely hold public meetings to discuss projects that would be funded by a SPLOST likely in November.
On Tuesday, the County Commission discussed a timeline for holding meetings and developing a list of SPLOST projects that could go before Macon-Bibb residents for a vote later this year. The commission's Committee of the Whole agreed to begin seeking proposals from agencies that could assist in the process of compiling the list. Officials estimate the tax could generate $180 million in revenue over a six-year period.

Commissioners said they want to start hosting a series of public meetings in April or May. Prior to that, the county will get proposals from agencies including the Carl Vinson Institute of Government at the University of Georgia and the Middle Georgia Regional Commission to help with the process.
Columbus City Council voted to send Mayor Teresa Tomlinson's "Property Tax Freeze Thaw" proposal to the voters in November.
Columbus Council voted 9-1 to approve sending the new version of a referendum to thaw the property tax assessment freeze on the November ballot.

After the city's lawyers and the general counsel worked through a new question, it came back to council Tuesday night. The local legislative delegation still must put the question before the entire General Assembly for approval before it would be put on the ballot.

Under the tax freeze, homeowners with homestead exemptions have their home's assessed value frozen at the time of their purchase. That value remains frozen until the home changes hands either by sale or probate. Under the proposed plan, all homeowners currently under the freeze would remain under it for as long as they own that property. Homeowners buying property after Jan. 1, 2017, would come in under the new fair market assessment program, similar to the vast majority of municipalities.
Savannah City Alderman Tony Thomas faces charges of sexual abuse, according to the Savannah Morning News.
Savannah Alderman Tony Thomas denied allegations recently made online about sexual abuse and illegal drug use after two protesters donning "No more predators" T-shirts made a brief appearance Tuesday night at a community meeting Thomas held at the Crusader Community Center.

It was the second time protesters wore the shirts. A group of individuals showed up at last week's City Council meeting in light of a series of online videos that claimed Thomas was a sexual predator.

The videos feature allegations of sexual abuse by Thomas on individuals when they were in their teens.

One man, identified as Chris Haupt, claimed in the video that Thomas made sexual advances on him when he was 15 after he started doing landscape work for him. Another man identified as Josh Flowers, 31, said in the videos he was sexually abused by Thomas when he was 17. Matthew Mitchell also said he had sexual relations with Thomas after meeting him at age 17. Both Flowers and Mitchell said they did cocaine with Thomas and that he provided them with alcohol when they were under the legal drinking age.

Thomas denied ever using cocaine or having any type of sexual relations with any of the individuals in the videos.
Peach State Presidential Politics
Yesterday, Ohio Governor John Kasich held two Town Hall events in Georgia and made an appearance at the State Capitol.
Here's a video of the entire event:
At the beginning of the Kennesaw Town Hall, he asked a young girl from the audience to stand with him and got the audience to give her a round of applause.
After speaking for a while, he took questions from the audience.
Including one from a Kennesaw State student about an issue with student housing, for which he could not possibly have been prepared.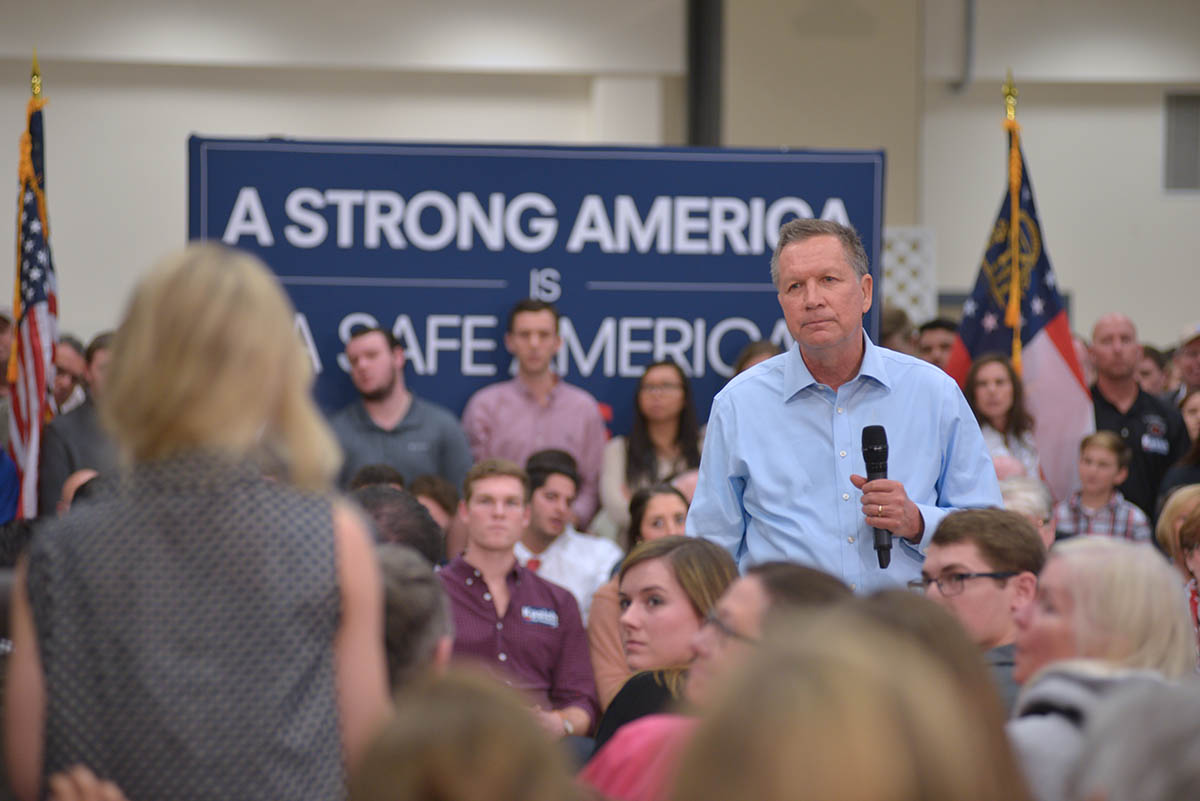 And his famous National Debt Clock kept silent count in the background.
The New York Times was there and reported on an exchange between Kasich and an audience member,
At a town-hall-style forum on Tuesday at Kennesaw State University in Georgia, a man cited Mr. Kasich's experience, but then brought up the coming Republican debate on Thursday and asked him, "What are you going to do to stick it to Trump, stick it to Rubio, and live out your purpose?" He told Mr. Kasich it was "time to take the gloves off."

"I don't know if my purpose is to be president," Mr. Kasich, who had talked earlier in the event about finding one's purpose, responded. "My purpose is to be out here doing what I think I need to be doing, and we'll see where it ends up."

"And if it's not this crusade, it'll be another one — and maybe it'll be a really small one somewhere in my kids' school. Who knows?" he added. "Because it doesn't matter the size of the crusade. It's the fact that you are in a crusade."

Later Tuesday, at a town hall here in Sandy Springs, Mr. Kasich offered a similar sentiment. Standing in front of his campaign bus addressing an overflow crowd before heading inside for the town hall event, he recalled telling his wife on Tuesday that he was "following the purpose that I think has been laid out for me."

He added that he was "not sure exactly what the goal is."

"Some might say it's to be elected president," he said. "Maybe it's a different goal. Maybe it's raising the bar and giving people the sense that the world can be a better place, that we can be positive, that we can have solutions. Maybe that's enough."
The University of Georgia's Red and Black covered issues important to college students that were raised,
Despite trying to appeal to college-aged voters, when the issue was raised over the increasing price of tuition and student housing, Kasich maintained that the responsibility lies with individual students.

"College costs are unbelievably tough, but we're not going to have free college. That isn't gonna happen anymore than we're going to have free Ben and Jerry's," Kasich said. "There is nothing wrong with having [students] go a couple years to a community college which will be half the cost."

However, he went on to add that students should be able to negotiate the interest rate on student loans and restructure them if necessary.

"Maybe we can come up with something that when you get a job, you pay based on the job you have and the income you have," the governor said.

Kasich also spoke out against the name-calling culture in the 2016 presidential race, making subtle jabs at businessman and front-runner Donald Trump.

"In business you spend most of your time selling what you have. I have never been big on buying from companies that trash their competition," Kasich said. "It's time to end negative campaigning."

The governor also expressed his disapproval with the way the media has been handling the election, specifically the debates, advocating for local town hall meetings as a better alternative.

"The worst way we can pick a president is in these stupid debates," he said.
Jon Gillooly of the Marietta Daily Journal spoke to Cobb County Republican Party Chair Rose Wing,
"Here, being on the KSU campus, there were younger people here, but there were also, I felt, some of his supporters here that were in a little bit of an older age group," said Wing, who tries to attend all candidate forums, but does not endorse.

KSU political science professor Kerwin Swint said Kasich has a chance if he can scrape together a few delegates on Super Tuesday, win Ohio on March 15 and do well in Michigan.

"If he can go into the convention with 50 to 100 delegates, then he can at least have influence at the convention," Swint said. "Who knows? Maybe be a player in the VP sweepstakes? I don't know if he's thinking that way or not. If he doesn't do well after March 15, Ohio, I think he'll have to drop out. Then there's no path."
The AJC Political Insider has an excerpt from a memo by Kasich adviser John Weaver,
General Election Match-up: Lost amid the media-driven narrative is the fact that Governor Kasich is the candidate best positioned to defeat Hillary Clinton in November. Make no mistake, Hillary Clinton will be the Democrats' nominee. Polling and common-sense dictate that Kasich is the candidate who can win. In the most recent national matchup he leads Secretary Clinton by 11 points, which would translate into an electoral landslide.  He has a unique appeal to swing voters in industrial states and has unique ability to expand the map by competing in Northeastern states where the GOP has struggled in recent Presidential elections.
Presidential candidates are flocking to Georgia in the runup to the SEC Primary, in which we have the second-highest number of delegates up for grabs.
Hillary Clinton will headline a Friday event in Atlanta to highlight early voting, on the last day of early voting for Georgia's Presidential Preference Election.
Ted Cruz will hold at rally on Saturday at 11 AM at Liberty Plaza, across from the Georgia State Capitol with welcoming remarks by former Congressman Jack Kingston.
Marco Rubio will hold a rally on Saturday at 12:30 PM at the Mount Paran Christian School Gymnasium – 1275 Stanley Road Kennesaw, GA 30152.
An email from Rubio Georgia State Director Karl Beckstein discusses the candidate's Peach State ground game,
Over the next week, Marco will be building on the overwhelming amount of support he's already received in the Peach State. As we are demonstrating in Georgia, Marco is the only candidate positioned to unite our party, and win in November.

Grassroots support is continuing to grow: The Rubio campaign has Grassroots Chairmen in all 14 Congressional Districts. Just yesterday, the Rubio campaign held 3 events in Macon, Columbus, and Atlanta. Our grassroots support includes prominent Republican activists like former Georgia Republican Party Chairman and form RNC Committeeman Alec Poitevint.

Marco's Georgia Headquarters is ready for March 1: The Rubio campaign held the Grand Opening of its Georgia Headquarters yesterday, where over 200 energized supporters came to sign up to volunteer.

More Georgia leaders have endorsed Marco than any other candidate: Marco has significantly more Georgia endorsements than any other candidate. So far, Marco has 53 public endorsements with several more on the way. Marco's team includes numerous local and state officials and the support of U.S. Representatives Austin Scott and Lynn Westmoreland.

Marco has traveled to Georgia frequently: Marco has visited Georgia four times since announcing his candidacy last April. In 2015, Marco spoke at major Republican events in the Peach State, including the Georgia Republican Party Convention in Athens and the RedState Convention in Atlanta.