On January 20, 1788, the First African Baptist Church was established in Savannah, Georgia, one of the first black churches in the United States.
John Marshall was nominated as Chief Justice of the Supreme Court of the United States by President John Adams on January 20, 1801.
On January 20, 1920, DeForest Kelley was born in Atlanta and he grew up in Conyers. Kelley sang in the choir of his father's church and appeared on WSB radio; he graduated from Decatur Boys High School and served in the United States Navy. Kelley became famous as Dr. Leonard "Bones" McCoy in the original Star Trek series.
On January 20, 1928, Franklin Delano Roosevelt visited Warm Springs, Georgia for the tenth time, staying through February 11th. During the visit, he spoke to the Chamber of Commerce of Americus and Sumter County, telling them
"In Georgia the movement towards the cities is growing by leaps and bounds and this means the abandonment of the farms or those farms that are not suited to the uses of agriculture. It means that we will have vacant lands but these can and should be used in growing timber."
Rooesevelt was sworn-in to a fourth term as President on Jauary 20, 1945 and died in Warm Springs on April 12, 1945.
On January 20, 1939, Paul D. Coverdell was born in Des Moines, Iowa. Coverdell was one of the key figures in the development of the Georgia Republican Party.
On January 20, 1977, former Georgia Governor Jimmy Carter was inaugurated as the 39th President of the United States.
On January 20, 1981, Ronald Wilson Reagan was inaugurated 40th President of the United States.
Georgia Politics
If you're waking up in North Georgia today, you may be in a weather emergency as declared by Gov. Nathan Deal.
Gov. Nathan Deal has declared a state of emergency for 15 counties in north Georgia, saying that the state was "well prepared" for a wave of snow and ice expected over the next two days.

In a statement Tuesday, Deal said that the order extends through Thursday and frees up state employees and equipment to respond to the wintry weather.

The executive order covers Dade, Walker, Catoosa, Chatooga, Whitfield, Murray, Gordon, Fannin, Gilmer, Union, Towns, Pickens, Dawson, Lumpkin and White counties.
The General Assembly gavels in at 10 AM today, and most of the day's work will be in Appropriations Subcommittees. Click here for the full listing of subcommittee meetings.
Secretary of State Brian Kemp told the joint budget committees yesterday he is confident that information from last year's inadvertant release of social security numbers of Georgia voters did not result in the data falling into the wrong hands.
"I am no expert on data security, but my personal opinion is if that information had made it out to the bad guys, we would already have had some issues," Kemp said. "I am very confident that information never reached the public domain."
State Rep. Wes Cantrell (R-Woodstock) introduced legislation to change how child abuse records are handled.
 State Rep. Wes Cantrell, R-Woodstock, filed House Bill 725, The Child Abuse Records Protection Act, in response to a request by children's advocacy centers in the state.

"What happens now is that law enforcement is able to cooperate with the advocacy centers in their county. Children are brought there, where it is a children-friendly environment, to professionals who understand how to talk to kids in these kind of awkward situations; do that behind a two-way mirror and videotaped," Cantrell said.

Cantrell said the state is conducting more than 8,000 forensic interviews every year of children, minors who alleged they were victims of abuse.

"It is not a small issue," Cantrell said. "It is disturbing and there are over 8,000 of these and those are just the children who report … just in Georgia, every year. It is a big problem and hopefully the bill will address it."

Pinpointing the bill's purpose, Cantrell said it seeks to clear up the records law on who may have access to the videotapes.
Columbus Mayor Teresa Tomlinson spoke yet again against the property tax freeze in her State of the City address.
The Atlanta Press Club will hold a panel discussion called Georgia's General Assembly Unplugged on Friday, January 22 at 8 AM at The Commerce Club. Networking and continental breakfast are available beginning at 7:30. The event is free to APC members or $15 for non-members.
PANELISTS
Greg Bluestein, Atlanta Journal-Constitution
Maggie Lee, Creative Loafing and The Macon Telegraph
Sandra Parrish, WSB Radio
Dave Williams, Atlanta Business Chronicle

MODERATOR
Walter Jones, Political Reporter and News Analyst, Morris News
Elections
February 1st is the deadline to be registered to vote in the 2016 Presidential Preference Primary on March 1. Click here to check your voter registration is up-to-date.
If you're not registered, you can register online if you have a valid driver's license or identification card issued by the State of Georgia.
Macon-Bibb County is poised to spend nearly $32,000 to open a second early voting location this year, though it won't be open for the March 1 Presidential Preference Primary because of the requirement of 60 days notice.
Yesterday, a Special Election was held in House District 58 in which it appears fewer than 1000 voters cast ballots.
Park Cannon (D) 47.4%
Ralph Long, II (D) 33.7%
Kwame Thompson (D) 18.9%
So it appears we'll see a runoff election on February 16, 2015 between the top two candidates.
The Georgia Voice reports that Park Cannon, if elected would be the "first openly queer person to serve in the state legislature." I'm not really sure what that means, but Cannon explains,
"I identify as queer, which is different from lesbian. I identify as a person who is carrying with me at all times genderqueer people, asexual people, transgender individuals. That is very different and that is a good thing here in the state of Georgia. As a person who is outspoken about myself and outspoken about my truth, I hope to bring healing to people. I hope to bring excitement to our community who are marginalized and underrepresented."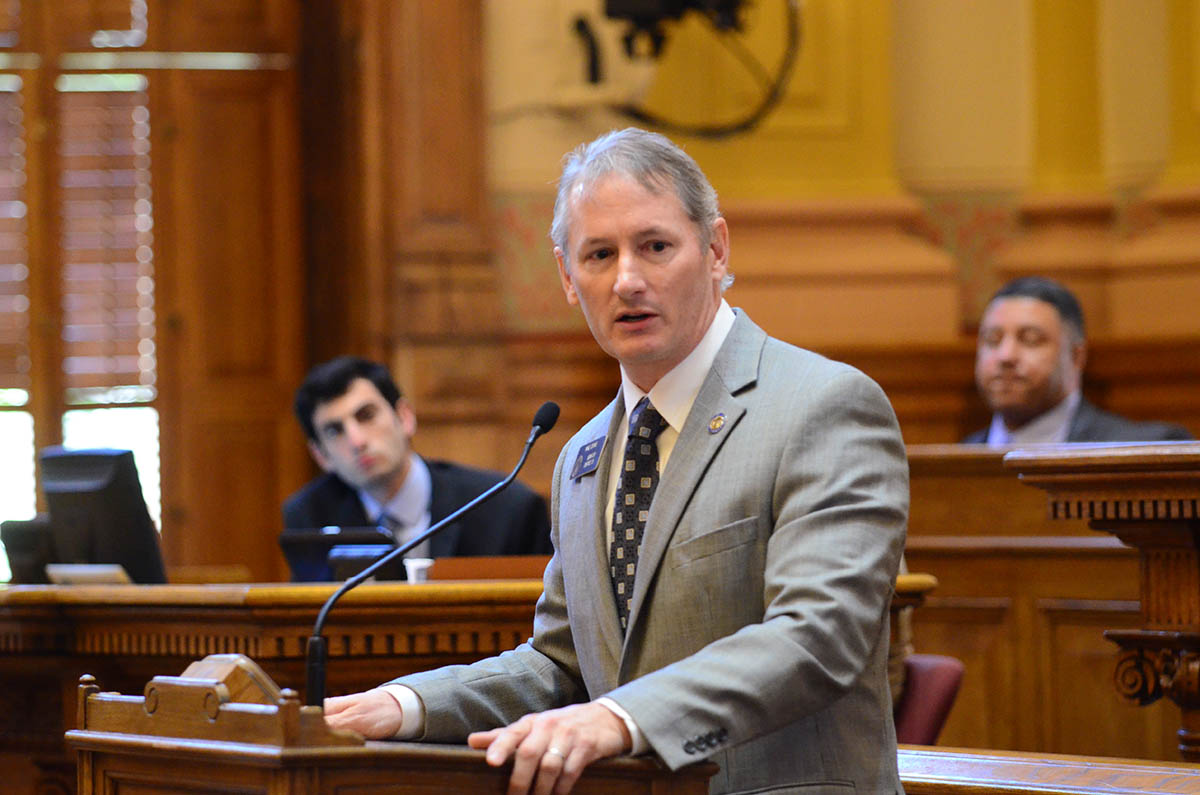 Today at 2:30 PM, we'll see the first announced candidate for the Third District Congressional Seat being vacated by Lynn Westmoreland. I'd guess it'll be a formal announcement by Sen. Mike Crane (R-Newnan). The Times-Georgian reports this morning that Senator Mike Crane will be joined by Senators Josh McKoon and Marty Harbin at the 2:30 announcement.
The field of potential candidates for the 3rd District Congressional seat is expected to narrow considerably today when a group of conservative leaders announce their backing of a single candidate.

"What is unique about this is that some of the strongest conservative leaders will unite behind one candidate instead of fighting among themselves," Crane said Tuesday. "I think that's important for our cause and our conservative leadership recognizes the strength in that. We've worked hard to get to that point."
Former State Rep. Jeff Brown (R-LaGrange) is still considering whether to run for Congress and I'd guess we'll have an announcement next week. I've heard rumors that Georgia Chamber of Commerce President Chris Clark is "on a list of potential candidates being circulated." I could put my 89-year old neighbor on a list of potential candidates and circulate it, so I don't guess that actually means anything.
Houston County Superior Court Judge George Nunn, Jr. will not seek reelection this year, creating yet another open seat judicial election in Georgia.
Nunn, also a former Perry City Councilman, became a judge in 1986. He has served as Houston's chief superior court judge since 1996.

During his 30-year tenure on the bench, Nunn was selected to serve on the Georgia Supreme Court three times. That happened when Supreme Court judges recused themselves from cases coming before the high court.
The Marietta Daily Journal writes that this year's Cobb County Chairman's race appears headed for a repeat of 2012.
Cobb Countians are being treated to a case of deja vu concerning the county chairman's race, with retired businessman Larry Savage and retired Marine Col. Mike Boyce announcing they will challenge Chairman Tim Lee for the seat in the May 24 Republican primary.

Lee easily beat both men in the 2012 Republican primary, receiving 29,055 votes, followed by former county Chairman Bill Byrne, who received 19,403; Boyce, who received 17,042; and Savage, who received 7,666. That race prompted a runoff, which, in the absence of any Democrats running, determined the next chairman.

Lee won the runoff, receiving 14,315 votes to Byrne's 13,023 votes.

"If there was only one candidate in opposition, either Boyce or Savage, I would say they would have an opportunity to pick up sort of the anti-Lee vote, but with the two of them, it might be split, even though I don't expect Savage to get much support this time around either. Boyce is better organized than (Savage) is," [KSU professor Kerwin] Swint said.
Also in Cobb County, two more lawyers have thrown their hats in the ring for open judicial seats.
Two more lawyers have announced plans to run for judge in Cobb County, bringing to 11 the total number of candidates for four open seats.

Defense attorney Kellie Hill, a former prosecutor in Fulton and DeKalb counties, and plaintiffs lawyer Aaron Strimban of Rogers & Strimban have added their names to the list of candidates.

Hill, a Mableton resident, said she will seek the seat being opened by the retirement of Cobb County State Court Judge Irma Glover. She said she has wanted to be a judge since she first met one in seventh grade. After 25 years of practicing law, and with so many open seats in her home county, she said her opportunity is now.

Hill has one announced opponent so far: John Morgan of Gentry, Smith, Dettmering, Morgan, Schnatmeier & Collins.

Strimban said he plans to run for the position being opened by the retirement of Cobb State Court Judge Kathryn Tanksley. He started his career with the Marietta firm then known as Brock & Clay. In 2005, he started his current firm, representing individuals and businesses in civil litigation.

In seeking Tanksley's seat, Strimban joins two other candidates: Assistant Solicitor General Jane Manning and Senior Assistant District Attorney Brendan Murphy.
Lee DeLoach, Bulloch County Probate Judge, will retire at the end of his term this year.
Gwinnett County Board of Education District 1 member Carole Boyce announced she will run for reelection. Mary Kay Murphy previously announced she would run for reelection as Chair.