Marvin Griffin of Bainbridge was inaugurated as Governor of Georgia on January 11, 1955.
After Republican Bo Callaway won the popular vote but fell short of a majority, the General Assembly elected Lester Maddox, the second-place candidate, as Governor on January 10, 1967 and he was inaugurated that day.
The first inauguration of Governor Joe Frank Harris was held on January 11, 1983.
During a snowstorm, Governor Nathan Deal was inaugurated in the State Capitol for his first term in office on January 10, 2011.
The Hixson Museum of Flight in Rome, GA is working to prepare for a reopening on March 26th.
The museum, once named the Hixson Flight Museum, shares its hangar with TigerFlight, a local organization that educates local students about aviation and often take school groups on tour of the museum's exhibits.

The collection includes a T-28 Trojan, used during the Vietnam War, a military jeep, a military truck, a military mule, a Beechcraft T-34 Mentor, several different types of uniforms and photos and a BTD-1 Destroyer that is currently being refurbished.

"It's the last one on the planet," O'Hare said. "We recovered it from a field in New York and have been working on it for several years now."

The plane is now ready to be painted. The recovery and restoration can be seen on the flight museum's YouTube Channel.

"This was the first one on the assembly line in the 1940s when it was built and it was the last, because it was used as a model," explained O"Hare. "We plan to put it in front of the hangar on Jan. 23 at 1:30 p.m. with some models dressed as Rosie the Riveter, since the assembly line for the plane was manned by women in the '40s."
Georgia Politics, Campaigns, and Elections
Note: there's  a brief bit of adult language in that clip from the film 48 Hours, but it should be skipped past if the link is working.
If you are a legislator or statewide elected officials, please disable the Donation feature on your website. During the General Assembly, legislators and elected statewide executives are prohibited from accepting campaign contributions. Don't be part of the AJC article about legislators who forgot to turn off their Donate button.
The General Assembly gavels in at 10 AM today for another exciting year of mischief legislating. Governor Deal is scheduled to deliver the State of the State address on Wednesday, January 13, 2016 at 11 AM.
It appears that the House has scheduled legislative days every day this week, marking a fast start to a major election year.
On Saturday, at the Gwinnett County Republican Party breakfast, Senator Renee Unterman said, "we're scheduled to get out [of Session] by March 24. It's gonna be 'turn and burn.'"
Part of the backdrop of the General Assembly will be early jockeying for the Third Congressional District seat, to which Lynn Westmoreland said he will not seek reelection.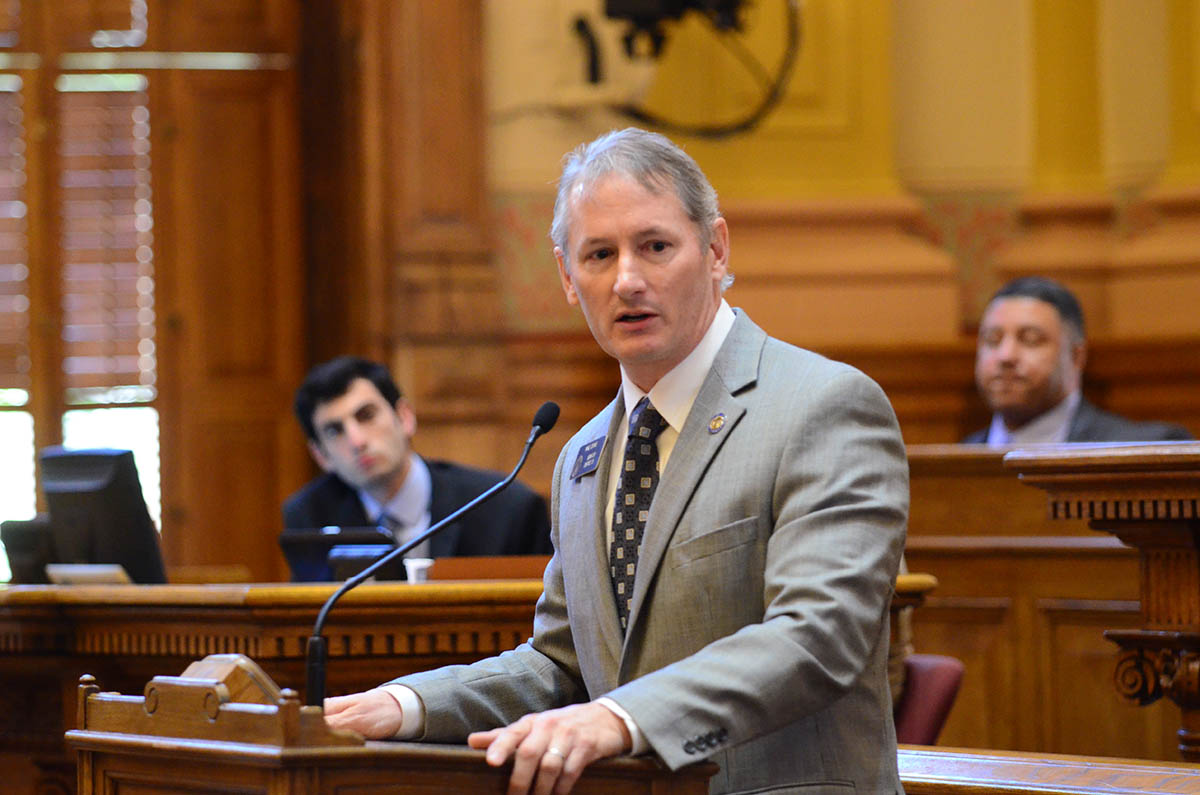 State Senator Mike Crane (R-Newnan) might be one of the first out of the gate for the Third Congressional District. Over the weekend, someone close to him told me,
"Mike Crane is giving serious consideration to running for the Third Congressional District and will go to Washington, DC on Monday to meet with national conservative groups that have expressed an interest in supporting him."
I consider the source well-placed, in a position to know, and highly-credible.
The Athens Banner-Herald has a rundown of some of the top issues according to their local delegation.
When the legislature convenes today, the clock starts running on its 40-day session. That's 40 "legislative days," though, and it routinely means the session can stretch into March, as breaks from routine legislative business are taken for budget deliberations and other committee work. Last year's session didn't adjourn "sine die" — Latin for "without any future day being designated" — until April 2. This is an election year, however, and lawmakers eager to get out on the campaign trail likely will handle this session's business quickly.

At a luncheon last week in Athens, the five members of the local delegation to the Georgia General Assembly — Sens. Bill Cowsert, R-Athens and Frank Ginn, R-Danielsville and Reps. Spencer Frye, D-Athens, Regina Quick, R-Athens and Chuck Williams, R-Watkinsville — gave local business, civic and community leaders an overview of what to expect beginning today in Atlanta. All agreed education reform, particularly in connection with the upcoming statewide referendum on a measure allowing the state to take over failing local schools, will be a major topic of discussion, along with a potential lowering of the state income tax and issues surrounding medical marijuana.

Additionally, some legislation could emerge based on the recommendations of the numerous study committees appointed to look into a number of issues in advance of the 2016 session. As just one example, a House of Representatives committee appointed to look into the use of drones talked with industry representatives and law enforcement officials and came up with recommendations including prohibiting the installation of weapons on drones and requiring law enforcement agencies to obtain warrants in certain circumstances when drones are used to search property.
The Gainesville Times also has a list of eight issues to watch during the legislature.
EDUCATION

While funding for K-12 education has increased 21 percent since 2011, the payoff in student performance has not been equal to that investment, according to the state education reform commission launched this year.

The commission recommends permanently adding $258 million to the current K-12 state budget beginning in the 2018 fiscal year budget.

TAX REFORM

State Republicans have rallied around calls to lower personal income taxes and offset that lost revenue with increases in the sales tax.

Rep. John Carson, R-Marietta, issued a press release this month responding to criticism of the More Take Home Pay Act, which he introduced this year. It stalled in the legislative session before receiving a vote.

VICTIMS' RIGHTS

A national advocacy group, Marsy's Law for All, is seeking to put victims' rights into the state constitution this year.

More than 30 states have victims' rights in their state constitutions and the group plans to campaign to get the amendment on the Georgia ballot this year.
The Moultrie Observer writes that Religious Freedom will be contentious this year.
ebate continued during the legislative break over a returning bill that would forbid government from infringing on a person's religious beliefs unless the government can prove a compelling interest. The proposed "Religious Freedom Restoration Act" would cover individuals, closely held companies like Hobby Lobby and religious organizations.

It easily passed the Senate but stalled in the House last year after a Republican member of a committee added nondiscrimination language. Supporters of the bill said that would gut its protection for people acting on religious faith.

The bill's sponsor state Sen. Josh McKoon spent the summer promoting the bill at Georgia GOP events, including the state party's convention. McKoon acknowledged at a recent panel that perception has become an issue but blamed people on both sides for "peddling scenarios with no basis in reality."

The state's business community has boldly come out against the bill. A coalition of about 100 companies, including Coca-Cola, Delta Air Lines, Google and Home Depot, announced this week that its members are committed to a state "welcoming for all people, no matter one's race, sex, color, national origin, ethnicity, religion, age, disability, sexual orientation, or gender identity."
The Augusta Chronicle goes into the Education issue more deeply.
Central to the recommendations is a wholesale revision to the 35-year-old formula in state law for how the Department of Education allocates taxpayers' money to local school districts.

The sweeping recommendations sent to Gov. Nathan Deal in No­vem­ber would allocate money per student, factoring in qualities including poverty, enrollment in gifted or special education classes and grade level. The panel also advocated for more flexibility on testing, more support to charter schools and letting students advance grade levels when ready.

The commission is also recommending that districts be given technical advice on shifting to a pay system geared toward merit pay. Currently, teachers get automatic raises the longer they are on the job and the more college degrees they earn.

Teacher groups have vowed to fight that recommendation, even though districts already can change to merit pay without legislative approval.
The estimable Walter Jones of Morris News also covers the education issue with his trademark thoroughness.
It's all about the base — the base funding for schools, that is, in the legislative session that starts at 10 a.m. today.

For the next 40 days, lawmakers will meet under the Capitol's Gold Dome and introduce about 1,500 pieces of legislation if it's like the typical year. Most bills will never be seriously considered, and very few of those that pass will have as much of an impact as the recommendations of the Governor's Education Reform Commission.

Central to the recommendations is a wholesale revision to the 35-year-old formula in state law for how the Department of Education allocates taxpayers' money to local school districts.

The chairman of the commission, Charles Knapp, said Friday he expects plenty of debate among legislators and interest groups.

"I think the real debate in the legislature is going to be over the funding formula and the compensation issue," he said.

The commission is recommending that districts be given technical advice on shifting from the current pay system to one geared toward merit pay. Currently, teachers get automatic raises the longer they're on the job and the more college degrees they earn.

Teacher groups have vowed to fight that recommendation even though districts already have the authority to change to merit pay without legislative approval.
State Rep. Debbie Buckner (D-Junction City) is profiled in the Ledger-Enquirer.
Brookhaven City Council member Linley Jones definitively took herself out of the running for State House District 80, which Democrat Taylor Bennett won this summer.
Brookhaven Mayor John Ernst wins quote of the week and is awarded +4 points for his quip in response to a question about a monorail for the city.
Brookhaven Mayor John Ernst jokingly quoted a line from that show when asked about a local monorail: "Maybe it's more of a Shelbyville thing."
Last but not least, the Donald J. Trump campaign opened its headquarters this weekend. Politically, the high point was the endorsement of Trump by former Georgia Republican Party Chair Sue Everhart.
And here's what the crowd looked like: