General George Washington set up winter headquarters at Morristown, New Jersey on December 1, 1779.
The election for President of the United States, in which no candidate received a majority of electoral votes, went to the United States House of Representatives on December 1, 1824.
Andrew Jackson of Tennessee won 99 electoral and 153,544 popular votes; John Quincy Adams–the son of John Adams, the second president of the United States–received 84 electoral and 108,740 popular votes; Secretary of State William H. Crawford, who had suffered a stroke before the election, received 41 electoral votes; and Representative Henry Clay of Virginia won 37 electoral votes.

As dictated by the Constitution, the election was then turned over to the House of Representatives. The 12th Amendment states that if no electoral majority is won, only the three candidates who receive the most popular votes will be considered in the House. Representative Henry Clay, who was disqualified from the House vote as a fourth-place candidate, agreed to use his influence to have John Quincy Adams elected.
The City of Sandy Springs began operations at one second after midnight on December 1, 2005. Three years later, Dunwoody became a new city, on December 1, 2008.
Georgia Politics, Campaigns, and Elections
Election day is today in many cities, some counties, and three state legislative districts today. If you are able to vote, please take the time today to do so.
Tonight I'll mainly be watching three elections. First isvSenate District 43 in DeKalb, Newton and Rockdale Counties, where Republican JaNice Van Ness has as good a chance as anyone GOPer has had to take a Democratic-majority seat against Democrat Tonya Anderson.
The second race I'll be watching is the Runoff for Mayor of Savannah, where challenger Eddie DeLoach forced incumbent Mayor Edna Jackson into a runoff. I'm pretty sure former Congressman Jack Kingston will have an eye on this race too:
In recent months, Savannah has been battered with headlines screaming about violent crime, as they did in 1991, and Mayor Edna Jackson was forced into a runoff against Businessman Eddie DeLoach, meaning that voters will return to the ballots on December 1, 2015 in a runoff election.

[W]hen voters are strongly motivated by discontent with the status quo, an embattled incumbent who is forced into a runoff is in a very precarious position.

That's because voters who are tired of headlines about violent crime or excessive taxation and disenchanted with the incumbent are more likely to make the return trip to the polls in order to vote for new leadership.

While many of us showed up early on Black Friday for bargain-shopping, too few will show up on Tuesday, when we shop for our next Mayor, City Council Member, or state legislator.

So today, I'm asking you as a personal favor, to check the Secretary of State's website or call your local board of elections and find out if your area has an election on Tuesday, and take the time on Tuesday to show up and vote.
In fact, voter turnout in Savannah was up for the runoff in early voting.
Voter interest does not appear to have died down since then. More voters turned out for early and advance voting for the runoff than during the general election, according to the Chatham County Board of Registrars office.

Sandra Williams, Chatham County's voter registration director, said there were 4,586 early voters ahead of the runoff election. That's 182 more than during early voting for the general election on Nov. 3. In addition, there were 1,187 absentee ballots submitted — up by 261.

"Any time you have a contested election and that community is aware of an election that's going to keep the interest," Williams said.

Whether the increase in early and advance voting means higher turnout overall has yet to be determined.
The third race I'm watching is in Senate District 20, where six Republican candidates will almost ensure a runoff election next year.
In House District 122, Jodi Lott and Mack Taylor's runoff will result in a Republican retaining the seat vacated by former State Rep. Ben Harbin.
Last night, the Donald J. Trump show rolled into Macon, Georgia for a capacity crowd at the Macon Coliseum.
Here's what the crowd looked like: I'd call it a capacity crowd, and I agree with those who have estimated the crowd size at 6000. Here's the single quote that best sums up last night's message, from WMAZ-TV.
"You can't be a loser and be a leader," he said to cheers. "I win. Just like now. We're driving the Republican establishment crazy."

Few were spared insults. Trump referred to current U.S. leaders and his opponents several times as, "not very smart."

"China is killing us on trade. Japan is killing us on trade. Mexico is killing us because their leaders are smarter than ours," Trump said.
Here's a great photo of the crowd via Joe Kovac Jr. over Twitter.
And here's a pan of the crowd from about the floor about 10 rows back from the stage.
Herman Cain from WSB gave a warm up speech.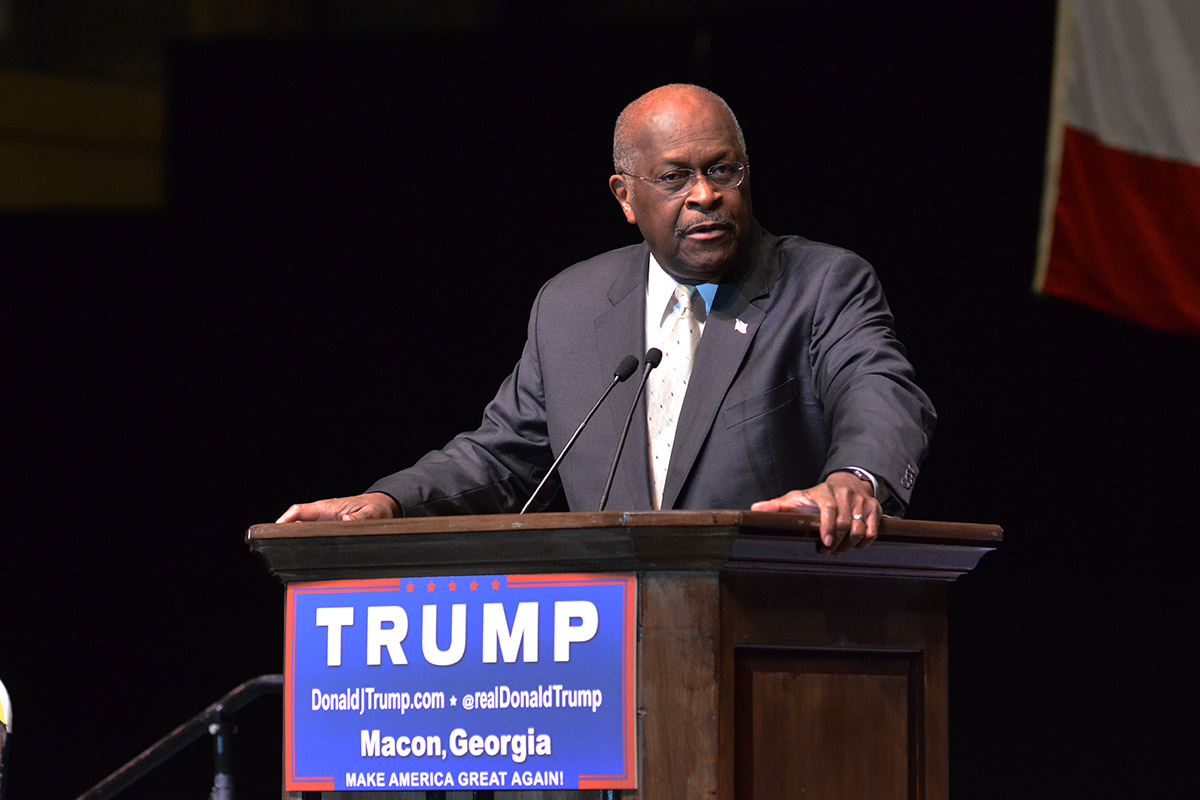 https://youtu.be/-ssTHm3OVcE
Here's pretty much the entire speech, if you're so inclined.
Jeremy Timmerman from the Macon Telegraph collected some reactions from viewers at the event.
David and Tracy Sweet, a married couple from Atlanta who described themselves as Republican-leaning independents, both called Trump's speech "very inspiring."

"I just feel like he'll do what he says, and that's something that's missing in politics right now," David Sweet said.

Tracy Sweet said Trump "can't be bothered by anybody."

"I'm so tired of politicians that say they're going to do something, and then they get to Washington and they don't do anything, or they do the opposite," she said. "So, he seems like he'd be true to his word."

Tracy Sweet also said Trump hit the right notes on issues she cares about.

"I'm very concerned about immigration and the debt and all that, and he's addressing all that," she said.

Griffin resident Joseph Standridge, 17, will be eligible to vote for the first time in the 2016 election, and he said Monday's event was a chance to "be more informed" about his vote. Wearing a red hat supporting Trump, Standridge said he was drawn to the rally because of the candidate's candor.

"I just really wanted to come down and see what it's all about," Standridge said. "He just says what's on his mind."
After about 45 minutes, I went out to my car to drop my camera off and tweeted that a steady stream of people were leaving the event. The Macon Telegraph also noted that:
Starting around 8:30 p.m., the crowd began to thin as people headed for the exits — in the middle of Trump's speech.

That was roughly the expected end time for Trump's talk, which was scheduled to begin at 7:30 p.m.

Outgoing traffic was reportedly among the concerns for those leaving the arena before Trump wrapped up his remarks just before 9 p.m.
Trump also had former Gwinnett County Republican Party Chair Bruce LeVell, who flew down on Trump Force One, onstage.
Here's my takeaway from the event.
1.     It's pretty impressive that on relatively short notice, the Trump campaign filled Macon Coliseum to capacity, roughly 6000 souls. They came from Atlanta and Macon, and Treutlen County, and South Georgia between Waycross and Tifton. I don't believe any other Presidential campaign today could fill a similar arena, even in Atlanta.
2.     Yes, some folks started leaving early. The true believers stayed and had more room near the stage on the floor. I don't think anyone came in committed to Trump and left early having decided he's not their cup of tea after all. Some had hours to drive home and kids to send to school or early work. Others simply had a limited attention span – they'd come to see what a big political rally was like, got their fill and left. I'd say that even the smaller number of folks who were there to the end would dwarf the crowd any other candidate could pull.
3.     I saw young people – one kid about 12 years of age who said he got his mom to bring him and buy him a Trump t-shirt as his early birthday gift – and a number of high school age kids. I went to dinner with a couple folks afterwards at Cheddar's on Riverside and one person in our party, a young twentysomething who wasn't previously registered to vote, borrowed an iPad and registered online in the restaurant. That's pretty impressive and all Republicans should be happy that people who have been outside the party and outside the voting booths are engaged. If we can't figure out how to bring them back, that's our problem.
4.     The Trump campaign in Georgia is beginning to look more like a traditional Presidential campaign with more support from party folks. I saw four former State Representatives at the Trump event last night – Jill Chambers, Charlice Byrd, Gene Callaway, and Mitchell Kaye. Public Service Commissioner Lauren "Bubba" McDonald is the first vocal supporter who holds statewide elected office. And former Gwinnett GOP Chair Bruce LeVell was onstage. Also note that's a pretty diverse crowd – two women, one Asian-American, an African-American, and a Jew. The crowd was more diverse than many would have you believe as well.
5.     Political correctness was notably lacking. I saw one pre-Barnes Georgia flag in the crowd and a fellow wearing a Confederate flag shirt.
And an off-color sign.
Welcome to the rest of Georgia. To the extent that the Trump campaign makes the establishment uncomfortable, it's likely as much about his fans as about the man himself.
I was there and that's what I saw. Make of it what you will.
Rawr!