Colonists in Georgia signed a letter allowing the beginning of the slave trade in Georgia on October 26, 1749.
Georgia Sons of Liberty protested against the British Stamp Act on October 26, 1765.
On October 25, 1774, the First Continental Congress addressed a petition to King George III raising concerns about the Coercive Acts passed by Parliament and asserting its loyalty to the monarch.
A state Constitutional Convention at Milledgeville, Georgia repealed the state's Ordinance of Secession on October 26, 1865.
The wooden keel of USS Monitor was laid at Continental Iron Works at Greenpoint, New York on October 25, 1861.
President George W. Bush signed the Patriot Act on October 26, 2001.
Georgia Politics, Campaigns, and Elections
The AJC has an article about Atlanta Mayor Kasim Reed blocking his critics on Twitter.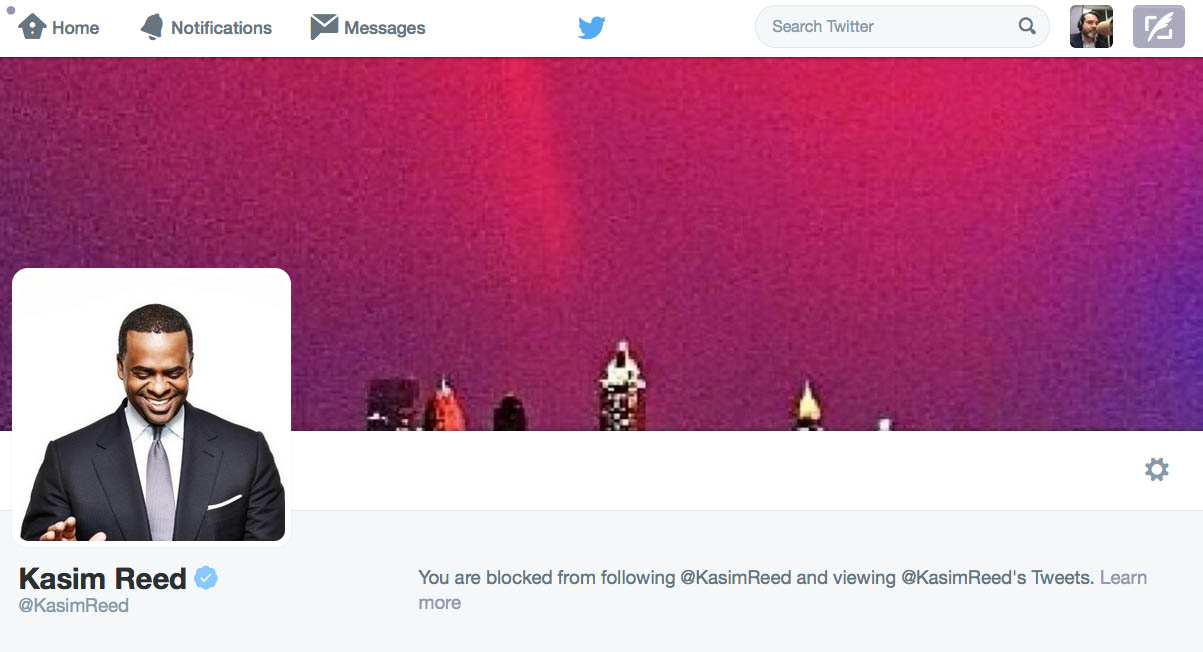 You can count me among the rogues gallery of folks who had the audacity to question hizzoner. Actually, I don't think I wrote anything against him, but that it was a preemptive strike. Also blocked is the @GaPundit account. Presumably we're guilty of Tweeting while Republican.
Jim Galloway of the AJC Political Insider has a great story about Senator Ross Tolleson, who retired earlier this month from the State Senate, citing early onset Alzheimer's Disease.
Earlier this month, state Sen. Ross Tolleson, a Republican of some weight in the state Capitol, abruptly announced his retirement after 12 years in the Legislature.

In other decades, he might have cited unspecified health issues, or a desire to spend more time with his family. Instead, the 59-year-old lawmaker let the truth be known: He has been diagnosed with early onset Alzheimer's disease.

"I'm not going to hide from life. And I'm not going to lay on the porch, either," said Tolleson, as we sat in his pine-paneled office in downtown Perry. His family had once been in the lumber business.

"I'm going to talk about America, because I'm concerned about the nation. I love America more than the politics, and that's what's gone wrong. If you turn on TV and watch Washington D.C., it's just politics. What happened to America?" he said.

Tolleson came to the Senate in 2003, replacing Sonny Perdue – who had left the chamber to seek employment elsewhere.

The new guy and I struck up a friendship as members of a small, select club at the state Capitol. We both got our first taste of politics by interning for U.S. Sen. Sam Nunn – me in '77, he in '78.
That piece typifies what Jim Galloway does best, in my opinion, weaving together personal details from a political career and pointing to big questions ahead.
James Pettis joined the race to succeed Former Senator Ross Tolleson, bringing the clown car field to six.
"I am frustrated with the negative impacts that too much government involvement has created and the direction politicians are taking," Pettis said in a written statement announcing his candidacy for the state Senate District 20 seat.

Pettis said he began his professional life as a teacher at Perdue Elementary School before starting his own business. He and his family live in Kathleen.

State Senate District 20 covers all of Bleckley, Laurens and Pulaski counties, plus most of Houston County.

The other candidates so far are Houston County residents Vivian Childs, Brooks Keisler, Michael Reece and Larry Walker III as well as Laurens County's Jon Martin.
Perry City Councilman Riley Hunt is seeking a final term on council before retiring, while retired school teacher Le Ann Tuggle seeks to send Hunt to an early retirement from politics.
The Savannah Morning News writes that crime is the biggest issue in their Alderman's election for Post 2.
Former Congressman Jack Kingston took up the pen for a look at the Washington fight over who will succeed Rep. John Boehner as Speaker of the House.
I believe Paul Ryan is up for this the challenge. He's a patriotic, dedicated, natural leader. But he is right in making certain requests from the caucus first. Really, he needs three things before taking the job: 1) he must assemble a kitchen cabinet consisting of Freedom Caucus representatives, moderates, libertarians, and social conservatives; 2) this cabinet must provide a pathway to settling the debt ceiling, budget, and reconciliation in the next 60 days; and 3) establish a six-month peace treaty into the new year in order for him to begin to address the issues of the day without being booted.

If Paul Ryan is not ready or willing, then I know at least two Georgians who could take the gavel and run with it: Lynn Westmoreland and Tom Price.

But whoever is Speaker, and whatever party is in power in the House or in the White House, it's high time we all hold hands and enter the Forbidden Forest. It's not a matter of politics; it's a matter of country.
Hello, Kitty!
I guess it's not actually an endorsement, but Hello, Kitty is making an appearance in the Brookhaven City Council District 1 election, via campaign direct mail, below.
The addressing to "Postal Customer" with no street address leads me to believe that this was mailed using the Post Office's "Every Door Direct Mail." In my opinion, even though Every Door Direct Mail lowers your postage cost per piece, it ends up with you sending 4-5 times as many pieces as targeted political direct mail sent to actual voters. So, I probably wouldn't have mailed it that way. YMMV.
And also via custom wrap on a BMW i8. If I were making this up, you wouldn't believe me.
The AJC's Mark Niesse takes a look at the dynamics of municipal elections in new cities.
Some of the region's youngest cities canceled next month's local elections because no one challenged incumbents, and voter turnout has steadily declined.

Of 21 city council and mayoral seats up for election in the region's fledgling cities, 13 are uncontested. At the same time, residents who flocked to the polls for initial elections now stay home in droves, voting at rates more comparable to established jurisdictions, according to an Atlanta Journal-Constitution review of turnout figures.

"After a while, you get bored and worn down," said Sandy Murray, who opposed the city of Brookhaven and lost an election in 2012 to become its first mayor. "People at first were very excited. The governing is the hard part."

Cityhood supporters say a decline in excitement is only natural after the big push for incorporation reaches its successful conclusion. And the lack of competition for elected office may reflect satisfaction with local government rather than apathy.

"There's been a little bit of a dropoff, but the folks who were most heavily involved in the (cityhood) referendum … have remained engaged," said Burt Hewitt, a councilman in Milton, where this year's city council election was canceled because no one opposed Hewitt and two others.

Voter turnout dropped in most new cities' mayoral elections, including Chattahoochee Hills, Johns Creek, Milton and Sandy Springs. Dunwoody was the exception, where turnout rose in its second mayoral election. Brookhaven and Peachtree Corners have only had one mayoral election.
Two points I would add to that analysis regarding Brookhaven. First, the 2012 election for Mayor was atypical, as it occurred in the Presidential election year, while this year's mayoral election takes place in an odd-numbered year, so it's almost inevitable that fewer voters will cast ballots next Tuesday. Second, Brookhaven has technically had two elections for Mayor, with the second one being a December 2012 runoff.
Events
Newt and Callista Gingrich will be touring Georgia to promote his new book, Duplicity: A Novel
, which was released this month.
You can join them tomorrow, October 27, 2015 with the Fulton County Republican Party at the City Club of Buckhead, 3343 Peachtree Rd #1850, Atlanta, GA 30326. Tickets are $30 and include breakfast. Pro-tip: the City Club of Buckhead is in the Atlanta Financial Center and is not the same as the Buckhead Club.
Later that day, at 6:30 PM, they'll appear at Fox Tales Book Shoppe, 105 East Main Street, #138, Woodstock, GA 30188. You can reserve your signed copy of Duplicity and pick it up and have it signed at the store. Fox Tales is a fantastic store, and I encourage my friends to shop there when you're able – they have great book signing events and all of the conservative authors seem to do signings there. I suspect they may also have copies of some of Callista's books if you're getting Christmas shopping done early this year.
On Wednesday, October 28, 2015, Newt and Callista will appear in Columbus at the AAFES PMG Main Exchange,  9220 Marne Road,  SD-C/2, Ft. Benning, GA 31905. For information on attending the book signing at Fort Benning, check out the entry requirements and FAQs.
Georgia Black Conservative Caucus will hold a VIP launch celebration on Tuesday October 27th, 2015 from 7 to 9:30 PM. Herman Cain will be speaking, as will several other guests. The event is invitation only.
Glynn County Republicans are holding a Red & Black Shrimp Boil at St. Williams Catholic Church on St. Simons Island on Friday, October 30th. I'm told there's some kind of football game that weekend. Not sure what that's all about.
Cobb County Republican Women will host a veterans brunch on October 31 at 11:30 AM at Hilton Atlanta/Marietta Hotel & Conference Center, 500 Powder Springs St. in Marietta.
"The CCRWC began this event after we went into Iraq, 13 years ago," said Committee Chair Donna Rowe, who served as head nurse in the Third Field Hospital during the Vietnam War.

Terry Garlock, a former Vietnam helicopter pilot who was shot down four times, will be speaking at the brunch. Garlock is author of "Strength & Honor: America's Best in Vietnam," featuring true stories from veterans, including one from Rowe.

"He received serious injuries the fourth time and had to be dragged off by his squad members," Rowe said.

For more information or to add a name to the remembrance table, contact Dee Gay at (770) 265-4945.
Peach State Presidential Politics
On November 16, 2015, at 550 Trackside, 550 N Clayton Street in Lawrenceville, Conservative Republican Women of North Atlanta and Oconee County CRW will team up to host a join meeting featuring Heidi Cruz, wife of Texas Senator and Presidential candidate Ted Cruz.
The AJC brings us news that Jeb Bush and Hillary Clinton are dominating Peach State Presidential Fundraising.
Jeb Bush and Hillary Clinton continue to dominate Georgia's 2016 money race, as each easily outraised their competitors for the Republican and Democratic presidential nomination in the year's third quarter.

An Atlanta Journal-Constitution analysis of Federal Election Commission filings, however, found Bush bested his second-quarter haul while Clinton's take from Georgians fell by nearly 60 percent. The disclosures, filed earlier this month, detail only direct contributions to candidates, not money raised by super PACS that can receive unlimited amounts.

The Republican Bush raised almost $345,000 from July through September after bringing in $319,000 in the previous quarter. Clinton, a Democrat, raised more than $250,000 in the third quarter after raking in more than $600,000 from April through June.

The third quarter marked the first time that insurgent Republican Donald Trump had to file disclosures with the FEC, and the billionaire businessman raised just more than $31,000 in Georgia.

Perhaps the most notable Georgia disclosure belongs to Republican Ben Carson, who raised more than $230,000 here in the third quarter, almost $100,000 more than he did in the previous three months.
Despite strong fundraising, the Jeb Bush campaign is reportedly cutting spending.
Republican presidential candidate Jeb Bush is drastically slashing campaign spending, including an across-the-board pay cut for staff, as the one-time front-runner seeks to salvage his bid for the GOP nomination.

The moves will reduce the campaign's payroll by 40 percent, while also cutting travel costs by 20 percent and eliminating extraneous overhead costs. Most campaign officials were told of the cost-cutting on Friday.

The changes predominantly impact staff at Bush's Miami headquarters. Only about 25 percent of campaign staff will remain in Florida. Another one-fourth of the staff was already in early voting states and the remaining Bush aides will either be offered jobs there or other posts at reduced salaries.

Campaign officials said the changes would allow Bush to bolster his resources in early voting states, particularly New Hampshire. Officials also suggested that by shifting staff out of Miami, Bush can make more and longer trips to New Hampshire, as well as Iowa, South Carolina and Nevada.
In other Jeb Bush news, the campaign has deployed its greatest asset – former First Lady Barbara Bush, along with her husband and eldest son.
HOUSTON — This closed-door summit for Jeb Bush's richest donors was meant to be a pep rally, a reunion for loyalists eager to celebrate the family legacy with two former presidents.

But as George H.W. Bush and George W. Bush draw supporters together under gray skies and unrelenting rains, the gathering has become a rescue operation for a candidate who looks unable to meet the expectations of the family brand.

At the gathering on the fourth floor of the cavernous Hilton Americas Houston hotel, donors moved casually through the hallways, smiling while brushing past reporters gathered outside the meeting rooms. Upstairs in the presidential suite, Barbara Bush handed out the Jeb! bumper stickers she keeps in her walker to adoring donors. When Jeb Bush thanked the 150 donors for making the trip to Houston at Sunday evening's barbecue dinner, professing his determination to win, it served as motivational fuel for many bundlers.

Donald Trump, whose prolonged success has confounded Bush world, mocked the Bush gathering, taunting Bush for "meeting today with mommy and daddy." As much as they loathe Trump's unrefined brand of politics, the talk among donors in the hallways of the Hilton Americas downtown reflects the unease about his effect on the GOP primary.
A Rome News-Tribune editorial suggests that the SEC Primary could be decisive, or at least influential, in the 2016 Presidential campaign.
In launching the effort, Kemp pointed to the South's growth that has increased the electoral votes of this region. He said he believed if a candidate does well in the regional primary, that candidate could well be on the way to securing the nomination of his or her party.

To fan interest, Kemp came up with Georgia's own straw poll similar to that of Iowa which for years has made news across the country. He organized the Peanut Poll at the Georgia National Fair in Perry, Oct. 8-18, giving visitors a chance to cast votes for their favorite presidential candidates.

The Peanut Poll immediately became the largest straw poll in America, Kemp announced, tallying 28,493 votes versus the comparatively paltry 8,837 total for the Iowa State Fair straw poll in August. But then, Iowa only has a little more than 1 million population, a tenth of Georgia's 10 million plus. However, there obviously was strong interest in the Peanut Poll by Georgia fair-goers. Kemp said the objective was to inform Georgians about the SEC Primary "when our voters will have the chance to play a critical role as an early voting state to influence the presidential nominating process for both parties."

Incidentally, even though the Peanut Poll was not scientific at all, remarkably the results were fairly close to the findings of scientific polling firms.
Meanwhile, Democratic Party spokesman AJC columnist Jay Bookman suggests the SEC Primary could "backfire."
When Georgia Secretary of State Brian Kemp proposed the so-called "SEC primary," with as many Southern states as possible holding their presidential primaries on the same date, he argued that it would give the South more influence and ensure that presidential candidates pay more attention to the region. With Alabama, Arkansas, Tennessee, Texas, and Virginia joining Georgia in holding March 1 primaries, and with GOP candidates flocking to the region, that part of the plan appears to be working.

Think about that for a moment. The goal of the SEC primary is to help to produce a GOP candidate more amenable to the South and more attuned to Southern conservative issues. Gun control, "religious liberty," things like that. OK, but the South is a region that the party already dominates anyway. If the GOP wants to elect a president, it needs a candidate who can win swing states, not add another five percentage points to the margin in states it would already win easily.

In short, to the degree the SEC primary is effective, it makes it less likely that Republicans will get a Mitt Romney or John McCain as its nominee. I know that's an outcome that many in the GOP base would applaud, but in practical terms they're choosing emotional gratification over smart political strategy.

For example, three 2016 "SEC primary" states held competitive primaries in 2012 before the GOP nomination was decided. Newt Gingrich won Georgia easily; Rick Santorum won Alabama and Tennessee easily. If your goal is to give candidates like that a boost toward the GOP nomination, I'm not sure you've helped your party's chances of winning come November. The SEC title is not the national title.
Jay Bookman is correct in at least one respect: the SEC title is not the national title – the National title runs through Ohio (State). Go, Bucks!