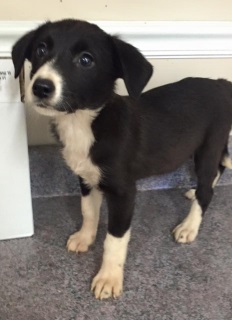 Number 3439 (above) and 3443 (below) are female Border Collie & American Bulldog Mix puppies who are available for adoption from Gordon County Animal Shelter in Calhoun, GA.
Peanut Butter (male, above) and Noah (male, below) are Yorkshire Terrier mix puppies from the same litter who are available for adoption from Animal Rescue League of Northwest Georgia in Calhoun, GA.
Peanut loves to run and play in the yard with his buddy's. Chase is a favorite past time . He does great with other dogs , but will try to be all terrier if he see's a strange dog. He is a awesome little boy who loves to cuddle , and give sweet little kisses. He loves to kiss !
Noah is the shy one of these baby's. He is very quiet but will bark to alert. He loves to run and play chase, it is one of his favorite things to do with his brother. He loves to cuddle up in a fluffy dog bed for a nap afterwards. He also loves to cuddle with you. He is a real sweetheart.
The brothers must be adopted together, and the adoption fee is $350 for both.
Macon-Bibb County Animal Welfare and SAFE Adoption Center will host Howl-O-Ween on Sunday from 2-5 PM.
The event, taking place at the shelter at 4214 Fulton Mill Road, is scheduled for Sunday from 2-5 p.m. It is free and for people only, so no personal pets are allowed. Children are encouraged to wear their costumes and do some trick-or-treating, and Mike Fuller the Magician will be performing, the release said.

The center will be accepting donations of Purina Dog and Puppy Chow, Purina Cat and Kitten Chow, non-clumping clay kitty litter, stainless steel food bowls, small washable cat and puppy beds, dog and cat toys and slip dog leashes.

There will be opportunities to tour the adoption and kennel areas and learn more about the new facility and how people can volunteer their time or foster an animal. Betsy the Pet Nanny will be on hand to help families know how to keep their pets safe while they're not at home, and Barker's Good Puppies will offer people tips and techniques on training their dogs at home, according to the release.