Georgia and American History
On October 14, 1735, John and Charles Wesley sailed with James Oglethorpe from Gravesend, England, for Georgia and John Wesley wrote the first entry in his journal that would eventually cover 55 years. On that date, John Wesley wrote,
Our end in leaving our native country, was not to avoid want, (God having given us plenty of temporal blessings,) nor to gain the dung or dross of riches or honour; but singly this, to save our souls; to live wholly to the glory of God.
The First Continental Congress adopted the Declaration of Colonial Rights in Philadelphia, Pennsylvania on October 14, 1774.
Then-former President Theodore Roosevelt was shot before a campaign speech in Milwaukee, Wisconsin, on October 14, 1912.
Roosevelt, who suffered only a flesh wound from the attack, went on to deliver his scheduled speech with the bullet still in his body. After a few words, the former "Rough Rider" pulled the torn and bloodstained manuscript from his breast pocket and declared, "You see, it takes more than one bullet to kill a Bull Moose." He spoke for nearly an hour and then was rushed to the hospital.
A.A. Milne published Winnie-the-Pooh on October 14, 1926. E. H. Shepard illustrated the Pooh books.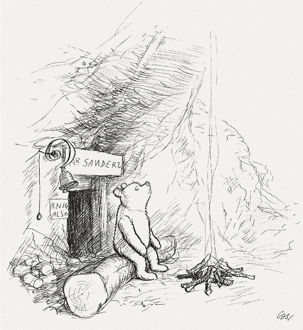 The War Department renamed Wellston Air Depot to Warner Robins Air Force Depot to honor Brigadier General Augustine Warner Robins on October 14, 1942.
On October 14, 1964, Martin Luther King, Jr. was announced as the winner of the Nobel Peace Prize, becoming Georgia's first native-born winner.
On October 14, 1980, Republican candidate for President Ronald Reagan announced he would name a woman to the Supreme Court if elected.
To achieve those ends, we need the best people possible at the highest levels of Government regardless of sex, race or religion. I am also acutely aware, however, that within the guidelines of excellence, appointments can carry enormous symbolic significance. This permits us to guide by example, to show how deep our commitment is and to give meaning to what we profess.

One way I intend to live up to that commitment is to appoint a woman to the Supreme Court. I am announcing today that one of the first Supreme Court vacancies in my administration will be filled by the most qualified woman I can find, one who meets the high standards I will demand for all my appointments.

It is time for a woman to sit among our highest jurists. I will also seek out women to appoint to other Federal courts in an effort to bring about a better balance on the Federal bench.
Georgia Politics, Campaigns, and Elections
As we noted last week, Vivian Childs has declared her candidacy for the Georgia Senate seat vacated by Sen. Ross Tolleson.
She is the third declared Republican candidate in the race so far. Kathleen businessman Larry Walker III announced his bid last week, as did Perry businessman Michael Reece.

State Senate District 20 covers most of Houston County plus all of Bleckley, Laurens and Pulaski counties.

The winner of the election will fill the roughly one year remaining in the term of state Sen. Ross Tolleson, R-Perry. He will retire at the end of this month due to health reasons.

The state has yet to set the special election date or qualifying deadline.
The Augusta Chronicle has created a special section to highlight information and opinions on the SPLOST 7 penny sales tax, which will be on the ballot November 3d. Great coverage, highly-recommended reading for voters in the area.
The Chronicle also has an article about a forum for candidates in Grovetown and Harlem.
This isn't Georgia-specific news, but it's noteworthy in any discussion of politics. In California, a new or renewed driver's license will come with automatic voter registration.
"Citizens should not be required to opt-in to their fundamental right to vote," California Secretary of State Alex Padilla said in a statement. "We do not have to opt-in to other rights, such as free speech or due process. The right to vote should be no different."

It seems like the DMV is the perfect place for automatic voter registration to happen, since you're already there to apply for a government ID. But some people aren't so happy about the program.

From the Associated Press:

Some Republican lawmakers say voters shouldn't be forced to sign up. They warn that automatic registration could lead to voter fraud if people who are not eligible are accidentally registered.
Yesterday, Gov. Nathan Deal announced that state tax revenues were up 4.6% over September 2014.
Georgia's net tax collections for September totaled nearly $1.97 billion, an increase of $83.4 million, or 4.6 percent, compared to September 2014. Year-to-date, net tax revenue collections totaled almost $5.13 billion, for an increase of nearly $438.7 million, or 9.4 percent, compared to last year, when net tax revenues totaled $4.69 billion.

House Bill 170, which introduced an array of tax reforms and new tax legislation beginning on July 1, generated transportation revenue of $74.3 million in September. As a result, the total revenue for September 2015 increased 8.7 percent over September 2014.
The Savannah Economic Development Authority has funded a $4.5 million incentive program to supplement the state's efforts to bring video and film production to Chatham County.
"We're fortunate in Savannah to have five diverse sectors in our economy — military, health care, ports and logistics, manufacturing and tourism," said Trip Tollison, SEDA president and CEO. "Now we're seeing the potential down the road for a sixth major sector in entertainment production and the high-tech industries that emerge from it."

While the number and quality of productions in Savannah has grown in the last few years, largely because of state incentives and the variety of available locations, it's still more expensive to shoot here, Tollison said.

"By adding our own incentives, we are positioning Savannah to be the number two location for entertainment production in the state, behind Atlanta, which currently has more."
Elections are a growing economic segment in Savannah, as well, with more than $400k in contributions to candidates for City Council and Mayor.
With $109,481 in contributions, the top fundraiser so far is Brian Foster, who is running against five other candidates for the alderman at-large post 2 seat being vacated by Tom Bordeaux. Foster said most of the people who contributed to his campaign are friends and family who want to see the city improved.

"They want a person in there they trust," he said.

Mayoral candidate Eddie DeLoach was next in line with $114,315 in contributions. Of that, $15,000 came out of his own pocket.

The amount was not surprising, DeLoach said, because he made sure he would have enough support to run a successful campaign before entering the race.

"It takes fundraising to get your message out," he said.

Meanwhile, Mayor Edna Jackson raised $42,355 during the same period, which puts her almost even with DeLoach in terms of spending power because she already had $64,441 in funds from previous campaigns.
On Monday, the Savannah Mayoral candidates met in a forum, which is available for your viewing (and reading) pleasure online.
Fifty people marched near Valdosta State University to protest deportations of illegal aliens and call for a path to citizenship.
Georgia's Department of Family and Children's Services has revamped the process for confirming eligibility for federal benefits like food stamps.
Its new "One Caseworker, One Family" model is expected to substantially improve the way it oversees eligibility for federal programs, such as food stamps, Medicaid and Temporary Assistance for Needy Families.

The new approach, run by its Office of Family Independence, OFI, ensures that families will be able to work with a single caseworker within their community throughout the application process to receive or renew financial assistance.

Previously, the eligibility process, referred to as Georgia One, required applicants to deal with multiple staff members, each responsible for just one portion of a case, through a system that was centralized at the state level.

"We implemented this new model in August and are seeing promising improvements, including a reduction in customer complaints," said Susan Boatwright, DFCS spokeswoman.

Boatwright said the new business model was developed in February after Bobby Cagle, the division's director, spent several months assessing issues arising from the centralized system.
Gwinnett County Commission Chair Charlotte Nash lauded the Sixth Circuit Court of Appeals' stay of the EPA's "Waters of the United States" rule and noted the county's interest in the continuing litigation.
"Delaying the rule taking effect until after the litigation is resolved eliminates considerable confusion and uncertainty for all of us — from state regulatory agencies to local governments to individual landowners," she said. "Obviously, we are still concerned about the litigation itself and the decision of the court on it."

The EPA created the Waters of the United States rule in response to confusion over who has authority for 60 percent of the streams and wetlands across the country. The agency has maintained that the order wouldn't be burdensome and doesn't give the federal government authority over waters that weren't already covered by the Clean Water Act.

Georgia officials argue otherwise.

"Under this illegal rule, Georgia families, farmers, and businesses would be subject to excessive and intrusive federal regulation," Attorney General Sam Olens said in a statement.

Olens pledged to continue fighting the rule, as well as any other "massive and unconstitutional executive directives" that are issued by federal agencies.

Gwinnett leaders have also been active in fighting the rule.

"I can't say strongly enough how burdensome the effect of the EPA Waters of the State rule will be if it ultimately is upheld by the court," Nash said. "Not only will it hamstring individual property owners regarding use of their property, it will create a huge regulatory burden for state and local governments that would be forced to assist in its enforcement.
Porsche News
Atlanta-based Porsche Cars North America is losing CEO Detlev von Platen, who will join the Supervisory Board of the parent company in Stuttgart, Germany.
Under von Platen's leadership in the USA … he succeeded in nearly doubling the number of new vehicle deliveries from around 26,000 when he assumed his post in 2008 to the current level in this business year. The crowning achievement of his time in the USA was the opening of the new headquarters of Porsche Cars North America this spring in Atlanta, which includes a Customer Experience Center with its own circuit track.
Taking over as CEO of PCNA will be Klaus Zellmer.
"I have known Klaus Zellmer for many years and am very pleased to have a seasoned sales and marketing expert succeed me as head of Porsche Cars North America," said von Platen. "His track record and can-do attitude make him a perfect fit for our U.S. sales organization."

Zellmer studied Business Administration in Germany, Great Britain and the United States. He will report to von Platen. In turn, Mr. von Platen will be named Chairman of the Board of Directors for Porsche Cars North America, Inc.
DeKalb County
DeKalb County Commissioner Nancy Jester has called for iCEO Lee May to step down.
Given the Report of the Special Investigators and an overwhelming number of issues confirming incompetent management from senior members of his Administration, it is my belief that iCEO Lee May no longer has the ability or moral authority to fulfill that mandate.

DeKalb County is at the point where the people of DeKalb County must come to terms with the Report of the Special Prosecutors if corruption and incompetence is not to end up harming all of us and the county we love to a degree we cannot recover.

Corruption and ineffective executive management in DeKalb County can no longer be thought of as merely a rare instance such as occurs from time to time in all counties across America.

The reality is DeKalb County faces a crisis with the possibility of simultaneously wiping out our financial reserves and killing future jobs and economic development – for decades to come.
Former United States Attorney Bob Barr issued a statement on the DeKalb Corruption Report.
"While the specific language in federal laws as related to public officials may vary from that in Georgia law, the fundamental intent and purposes are the same – public monies are to be expended by public officials only for purposes consistent with their official duties and responsibilities; and actions undertaken by government officials cannot be tied to monies or other things of value received apart from their lawful budgets and salaries."

"The Report by Mr. Bowers should be taken seriously by DeKalb County and by our state government.  Rather than be dismissed out-of-hand as Mr. May has done, the Report should serve as the foundation for a far more extensive and detailed investigation by appropriate officials at the state and perhaps the federal level as well."
Jester and iCEO May will combine separately-scheduled Town Hall meetings in Dunwoody on Tuesday, Oct 27, 6:30-8 PM at Dunwoody City Hallm 41 Perimeter Center, Dunwoody, GA 30346.
The problem in DeKalb County is not just that a politician or two are crooked. It's that incompetence and corruption are embedded and layered throughout an organization that is a $1.3 billion per year enterprise. Here's one of the recent examples of embedded incompetence, a widespread problem of garbage truck drivers not having valid Commercial Driver's Licenses.
A CBS46 investigation uncovered more problems with the DeKalb County Sanitation Department.  A source told CBS46 that as many as two dozen employees may be driving commercial trucks without a valid license.

"I think it's a top down problem. If you don't have professional leadership at the top these things happen," DeKalb County Commissioner Nancy Jester said.

"That's the problem all up and down the line in DeKalb County and until that is corrected you are going to see no improvement out there," former Attorney General Mike Bowers said.

CBS46 obtained records which reportedly show that more than two dozen sanitation workers have an expired commercial driver's license and are in need of medical certifications in order to renew them.
Lee May says he's not worried about the report.
"Even if everything in this report is correct, which it is absolutely not, that still doesn't reflect a county that is rotten to the core," said May. "It looks like typical government that has challenges we have to fix."

May said in the interview he believes the findings were ' all about money."  He said things went south when he asked the independent investigators for a report after the 120 day time limit.
Later, May held a Town Hall in Lithonia to discuss the findings of the Bowers-Hyde Report on DeKalb Corruption and his plans.
"I've spent my quiet time really pondering what the future looks like and stepping away has been one of those options," May told a crowd Tuesday night in Lithonia. "I have considered that. At the end of the day, I still don't absolutely know, but while I'm here I'm working.

"When the governor appointed me, I had two internal mandates," May said. "One was to make sure the county's day-to-day operations were moving efficiently and the second one was to really restore the public's confidence in our government, to diminish some of the distractions. Unfortunately, the last couple of weeks I've become the very distraction that I'd been seeking to remove."
Erratum
Last week I erroneously referred to the short list of eleven nominees to the Georgia Court of Appeals as having been issued by the Judicial Qualifications Commission. Two lawyers who are current or past members of either that body or the Judicial Nominating Commission reminded me that the JNC nominates potential new judges, while the JQC primarily investigates complaints against sitting judges.