Georgia History
Former Confederate President Alexander Stephens was released from federal prison on October 12, 1865 and returned to Georgia.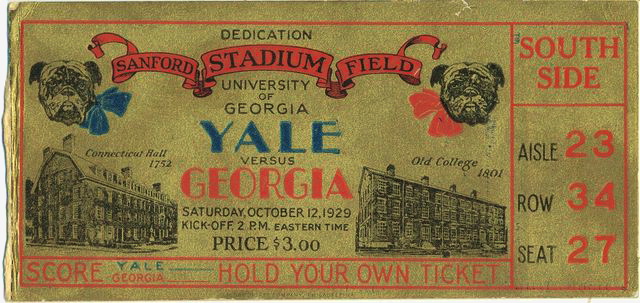 The first game in Sanford Stadium was played on October 12, 1929, with the University of Georgia Bulldogs beating the Yale Bulldogs. Here is the first ten minutes of the game.
On October 12, 1958, The Temple was bombed after a phone call to WSB warned that Black churches and Jewish temples would be blown up.
Georgia Politics
On Saturday, the Donald J. Trump Show came to the North Atlanta Trade Center, and it was unlike anything I've seen in politics before.
If you want to understand what happened in Norcross this weekend, you have to watch this short video clip of the crowd.
In the first clip, I could pan about 60% of the crowd before getting to the right where a large broadcast camera blocked me from showing any further. In the second clip, I could get maybe a third of the crowd because I was now blocked by a small blonde reporter to my left and a large broadcast camera to my right. But you get the idea.
You can also hear booing in the second clip. That's when Trump was trashing the media and telling us to pan the crowd. To be fair, the platform was packed with camera, many of whom wouldn't have been able to pan without being blocked, but who's interested in being fair to the media.
Here is a video of the press availability Trump held before the rally.
And a high-quality audio feed of the entire speech by Trump.
State Senator Michael Williams, who was the first Georgia elected official to endorse Trump, spoke before The Donald.
Also on hand backstage was Senator Burt Jones, the second Georgia elected official to endorse Trump.
Dr. Benny Tate gave a devotional, and then Herman Cain came out to get the crowd riled up.
Walter Jones of Morris News writes about Cain's intro of Trump:
Radio host Herman Cain warmed up the crowd between the first preacher and the national anthem and a country band with the second preacher. Like Trump, Cain is a former businessman who styled his 2008 presidential campaign as an outsider's assault on the establishment with proposals like replacing the income tax and rebooting U.S. foreign policy.

"The establishment folks can't even say 'replace.' They say 'reform.' That means they ain't going to change anything," said Cain, who hasn't endorsed any candidate.

As Cain noted, Trump speaks for people frustrated by the status quo and feeling ignored by those in power. He said establishment Republicans characterize followers of populist leaders like Trump as being crazy.

"I love those crazies," Cain thundered.
Trump also spoke about Herman Cain from the podium. From CNN,
After Cain addressed the crowd in Norcross, Georgia, Trump praised the former presidential candidate's "9-9-9″ tax proposal from the 2012 campaign.

"When he said 9-9-9, I said, 'What the hell is that?' But he had a good thing," Trump told those in attendance, referring to Cain as "Mr. 9-9-9."

The 9-9-9 plan would have replaced almost all current taxes and with a 9% income tax, a 9% corporate tax and a 9% national sales tax.

Cain told CNN that he's advising Trump to focus on issues during the campaign.

"The thing that I'd emphasize to him — and I've done it before — is to stick to substance," Cain said. "Substance, substance, substance. And he's got plenty of substance."

He added, "I think he's doing great. But you have a lot of people waiting for him to go into free fall."

Cain, who hosts a radio show, said he's not making any endorsement at this time.

"I have six candidates that I'm pulling for. Politics is too fickle to pick any one person for a radio host," he said. "He's one of the six that I'm pulling for."
WSB spoke to some pro-Trump folks and some politicians,
"I'm glad he's not coming to this part of town," one voter said. Another likes what Trump adds to the conversation. A third said they don't take anything Trump says seriously.

Georgia Sen. Saxby Chambliss told Geary that Trump's goals may be unrealistic but he has people talking.

"I appreciate Mr. Trump saying he's going to get the Mexicans to build a wall, but they'll be illegal Mexicans in the United States," Chambliss said.

Gov. Nathan Deal told Geary he thinks Trump has done a lot to stimulate early interest in the presidential election.

Channel 2 political analyst Bill Crane says Trump has plenty of support in Georgia but turnout on Saturday will be something to look for.

"If he fills or overfills the 7,500 seats that speaks to the draw. He's going to a county that has a strong Republican base. He's going to a county that also has a substantial Hispanic population so we may see some protestors," Crane said.
What was attendance like? I'd believe anything in the range of 4400, the number of tickets available via the sold-out Eventbrite ticketing, and 7500, which would be full capacity for the event space. There was some empty space behind the press platform, but of course you couldn't see the stage behind the platform. When I arrived at the facility to 10 AM, the line was already snaking through the parking lot. I also heard from a friend that they couldn't get in because they needed handicapped parking and the media trucks had taken over all the handicapped spaces, so that may have suppressed turnout.
On the way out, I saw folks walking out of the venue parking lot, presumably to parking in other locations. That suggests to me that the parking lot at North Atlanta Trade Center was filled, but I didn't survey the parking lot once I got into the building.
<
If you missed Trump on this go-around, don't fret, he said he'd be back to Atlanta during the campaign.
"Atlanta is a special place and we're going to be back," Trump told the cheering audience as he wrapped up his hour-long speech. "We are going to make America great."
Bill Barrow with the Associated Press writes about how Trump is building out a campaign in the South, putting the Gwinnett County rally in context.
In the last few weeks he's hired aides in Alabama, Georgia, Florida, Tennessee, Texas and Virginia to go along with staff in South Carolina, which hosts the South's first primary.

Trump and his top advisers cite the expansion as they push back against notions — fueled in part by his own remarks — that the he's reconsidering his bid as some polls suggest his momentum has stalled.

"I love this. … I love the country. We're never, ever getting out of this deal," Trump told thousands of supporters gathered Saturday in the Atlanta surburb of Norcross. "We're going to take it to … the convention, and after that we're going to beat Hillary, or whoever it is, so bad."

Trump told reporters he's got several television ads ready to run "if I have to." He said he'd initially planned to spend $20 million on advertising by this point, but argued there has been no need; he pointed to free media attention and crowds like those Saturday and an August rally in Alabama that drew more than 30,000.

Indeed, political observers across the South say Trump shouldn't be taken lightly and that the region could give him a big boost next year, even if it may not seem like a natural fit.

"He may not sound like us," said David Mowery, an Alabama-based consultant who has worked for both Republicans and Democrats in multiple states, "but he's saying the things that people in the Republican base — and even disaffected, frustrated voters outside that base — want to hear."
I also want to mention this: the Trump campaign t-shirts were printed on American Apparel shirts, which are made in the US. It's considerably more expensive than using a cheap imported t-shirt and most folks won't notice. But I'll give props. If you're going to print "Make America Great Again" on thousands of t-shirts, they should really be Made in the USA shirt. +1 for Trump putting his money where his campaign slogan is.
Ben Carson was also in Georgia, but his campaign was a pain to deal with, so I didn't even try to go. Sorry.
Other Political News
Early voting starts today for the November 3, 2015 elections in many cities and some counties across Georgia.
Early voting begins in DeKalb County Monday for the November 3 election. There are several special elections for seats in the house, as well as local offices.

People in the city of Brookhaven will vote to put a new mayor in place.

Voters will also decide whether to incorporate part of northwest DeKalb County into the cities of Lavista Hills and Tucker.

People who wish to cast their ballot early can do so at the DeKalb County Voter Registration and Elections office at 4380 Memorial Drive in Decatur.