King George, III issued the Proclamation of 1763 on October 7, 1763.
With respect to Georgia's official boundaries, the proclamation expanded Georgia's southern boundary by giving the colony all lands between the Altamaha and St. Marys rivers. Previously, the Altamaha had served as Georgia's southern boundary.

So, the impact of the Proclamation of 1763 was to set Georgia's official southern boundary as the St. Marys River from its mouth to the headwaters, then north to the Altamaha River, then north to the headwaters of that river, and then westward to the Mississippi River. Georgia's northern boundary was the Savannah River from its mouth to its headwaters.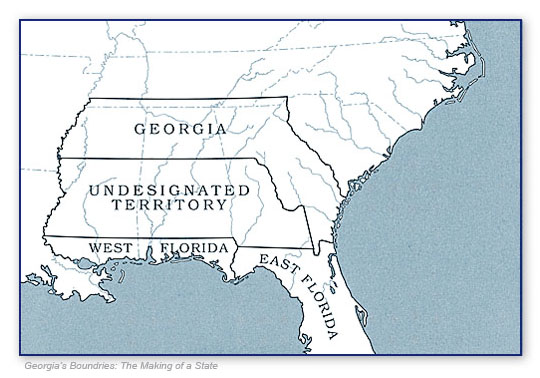 Patriot militia defeated Loyalists at the Battle of King's Mountain in North Carolina, near the South Carolina border on October 7, 1780.
On October 7, 1916, Georgia Tech beat Cumberland College in the most-one-sided college football game in history, by a score of 222-0.
The Engineers led 63–0 after the first quarter and 126–0 at halftime. Tech added 54 more points in the third quarter and 42 in the final period.
Recently, a Georgia Tech alumnus paid $44,388 for the game ball with the intention of donating it to the trade school.
The Democratic Republic of Germany (East Germany) was created by the Soviets on October 7, 1949.
Democrat John F. Kennedy and Republican Vice President Richard Nixon met in the second televised Presidential debate on October 7, 1960.
President Richard Nixon proposed a structure for peace and eventual withdrawal of American forces from Vietnam on October 7, 1970.
President George W. Bush (43) announced military action in Afghanistan on October 7, 2001.
In a televised address that evening, Bush informed the American public that "carefully targeted actions" were being carried out to crush the military capability of al-Qaida and the Taliban, with help from British, Canadian, Australian, German and French troops. An additional 40 nations around the world provided intelligence, as well as bases from which the operations were conducted.

Bush touted the multinational effort as proof that America, in the aftermath of the September 11 attacks, was "supported by the collective will of the world." He also warned that the war in Afghanistan would likely be only the first front in a long struggle against terrorism. He vowed to continue to take what he called the "war on terror" to those countries that sponsored, harbored or trained terrorists.
Arnold Schwarzenegger was elected Governor of California on October 7, 2003.
Georgia Politics, Campaigns, and Elections
Tonight, I head to Athens to speak to the University of Georgia College Republicans at 7 PM in the Miller Learning Center. If you're in the area, I'm sure they'd welcome you.
This past weekend, this Ted Cruz sign was spotted in Athens for the big game and I saw it on Twitter via @1stbornAmerican. That's +1 to the Cruz campaign or whomever came up with this.
The University of Georgia College Republicans will be selling game day buttons beginning at tonight's meeting. I'll probably be giving some of these away to readers in the next few days.
The Georgia Judicial Qualifications Commission has sent a short list of 11 names to Governor Deal for his consideration in appointing three judges to new Court of Appeals seats created by House Bill 279 during this year's session of the General Assembly.
Joe C. Bishop – Chief Superior Court Judge, Pataula Judicial Circuit
Ural D. Glanville – Superior Court Judge, Atlanta Judicial Circuit
Britt C. Grant – Solicitor General, Office of the Attorney General
Stephen D. Kelley – Superior Court Judge, Brunswick Judicial Circuit
Amanda D. Mercier – Superior Court Judge, Appalachian Judicial Circuit
Nels S.D. Peterson – Vice Chancellor for Legal Affairs & Secretary to the Board of Regents, University System of Georgia
Eric A. Richardson – State Court Judge, Fulton County
Brian M. Rickman – District Attorney, Mountain Judicial Circuit
Charles L. Ruffin – Shareholder and partner, Baker, Donelson, Bearman, Caldwell & Berkowitz, PC
Lawton E. Stephens – Superior Court Judge, Western Judicial Circuit
Gail S. Tusan – Superior Court Judge, Atlanta Judicial Circuit
Generally speaking, the Court of Appeals hears and decides cases by three-judge panels and currently has twelve judges. Adding three judges should add roughly 20% to the capacity of the Court. In recent years, the Court of Appeals has been described as busier than most or all other state courts of appeals because Georgia has a unique requirement that appellate courts rule on cases within about eight months.
If you live in or near Athens, you'll have an exciting opportunity to see the Court of Appeals next week, as a three-judge panel comprising Presiding Judge Anne Barnes, and Judges William M. Ray II and Carla Wong McMillian will hear cases on October 14 beginning at 10:30 AM in the University of Gerogia Law School's Hatton Lovejoy Courtroom.
A question-and-answer session with Court of Appeals judges will follow the arguments. The event is free and open to the public.

The last time the Court of Appeals held oral arguments at the law school was in 2007.

Georgia Law Dean Peter B. "Bo" Rutledge said having the court hear arguments at the law school benefits students greatly. "This unique opportunity to witness firsthand Court of Appeals proceedings will offer our students a front-and-center view into the legal system that will assist them as they move forward with their education and careers," he said. "It is also a tremendous opportunity for the public at large to see the Georgia Court of Appeals in action."
Later this month, a three-judge panel will hear arguments in Albany.
Congratulations to Georgia Court of Appeals Judge Lisa Branch, who got engaged to former Republican Public Service Commissioner Dave Baker.
Yesterday, Georgia Senator Ross Tolleson (R-Perry) announced he has submitted his resignation due to health issues, which will cause a special election in Senate District 20.
The Macon Telegraph has more on Tolleson's departure,
Tolleson, 59, said he has been diagnosed with early onset Alzheimer's disease.

"I've got a wife and three kids, and I got to take care of my health," Tolleson said.

He described his symptoms as hardening of the blood vessels in the brain, which also killed his grandmother.

The governor and the secretary of state will soon announce a date for a special election to fill the roughly one year remaining in Tolleson's two-year term. Tolleson's District 20 covers all of Bleckley, Laurens and Pulaski counties as well as most of Houston County.

The Perry native was sworn into the state Senate in 2003 and has since become a powerful lawmaker. He's vice chairman of the Rules Committee and is chairman of the Natural Resources and the Environment Committee.

"Life is too short to slow down because when you're gone, you're gone," Tolleson said. "I'm going to stay happy. I'm going to stay engaged."

Speaking by phone, Tolleson sounded upbeat, making jokes that might not be jokes.

"Who knows? I may run for U.S. Senate," he said.

Lt. Gov. Casey Cagle said in a written statement that Tolleson "is one of the hardest working members of the Senate and is widely known to be the first member to arrive in the morning — often before others even got out of bed."
This morning, we received a press release from Larry Walker, III announcing that he will run in the Special Election to fill Tolleson's seat.
Businessman Larry Walker, III today announced that he would run for the State Senate District 20 seat being vacated by Senator Ross Tolleson.

Senator Tolleson announced on Tuesday that he is resigning from the State Senate. A special election will be called to fill the seat in the near future. Senate District 20 includes Bleckley, Houston, Laurens and Pulaski Counties.

In his announcement, Larry stated, "I first want to thank my good friend Ross Tolleson for his years of tireless service to our community and to all of Georgia as our State Senator.  I hold he and his family in high regard and wish them the very best."

"I have been encouraged to run for this seat by people all over the district because they believe I am the right leader to effectively represent this district. Due to this encouragement and the support of my family, I am proud to announce my candidacy for State Senate.  Having recently gone through a tough campaign, I know firsthand the time and hard work a campaign requires, but I remain committed to public service and to putting my unique experience to work to represent the people of Middle Georgia. I ask the people of Senate District 20 for their prayers and their votes with the promise that I will always put them first and secure a prosperous future for Middle Georgia."
DeKalb
After criticism for not scheduling any North DeKalb Town Halls about the Bowers report on DeKalb County corruption, we heard last night at the Nancy Jester Town Hall that the City of Brookhaven is offering their City Hall as a venue for the iCEO. We'll let you know if they schedule something.
The first Lee May CorruptionPalooza will be held Thursday, October 8 from 6:30 to 8 PM at the Maloof Auditorium, 1300 Commerce Drive in Decatur.
Also last night, I learned that the number one complaint of residents, after corruption, appears to be water bills. Commissioner Jester began the meeting with an update on what's going on in the wake of the Bowers report, but during the Q&A, residents were mainly concerned with questions about who should be prosecuted and by whom, and with overbilling by DeKalb County for water. So, incompetence and corruption can co-exist.
Presidential Notes
State Senator Michael Williams is supporting Donald J. Trump for President and this morning sent out an email on how to get your free tickets to the Trump Georgia Rally on Saturday. The money quote from Sen. Williams's email:
Herman Cain will also be there along with some other special guests.
The Washington Times has an interesting article profiling the Twitter accounts of the Presidential candidates. The top tier on Twitter is Hillary Clinton (4.38 million followers) and Donald Trump (4.35 million) with the second bracket in the 500k-900k range.
Grammarly takes a look at grammar on Facebook, rating each Presidential candidate's Facebook fans as a follow-on to their ranking of the Republican Presidential candidates in the August 6th debate.
Loudermilk holds Boots, Bales, and Barbecue event
$50 family / $25 person (sponsorships available).