An American fleet of nine ships under the command of Captain Oliver Hazard Perry routed a British fleet in the Battle of Lake Erie on September 10, 1813.
After the battle, Perry sent a famous dispatch to U.S. General William Henry Harrison that read, "We have met the enemy, and they are ours." The Battle of Lake Erie forced the British to abandon Detroit, ensuring U.S. control over Lake Erie and the territorial northwest.
Years later, Pogo, Georgia's Official State Possum, would paraphrase Perry's dispatch.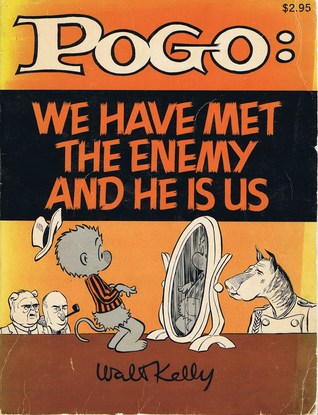 And eventually, Pogo's statement that, "We have met the enemy and he is us" would become the official slogan of the Georgia Republican Party.
On September 10, 1991, Senate confirmation hearings began for Georgia-born Clarence Thomas, who was appointed by President George H.W. Bush (41) to the United States Supreme Court.
Nirvana's Smells Like Teen Spirit was released as a single on September 10, 1991.
On September 10, 2002, the Atlanta Braves clinched an eleventh straight division title without playing, as a loss by the Philadelphia Phillies assured the Braves the title.
Take a free, guided bicycle tour of Chickamauga and Chattanooga National Military Park on Saturday, September 19, or Saturday, October 17.
The public is invited to bring their bicycles and join in the leisurely-paced historical rides, which takes approximately two hours. National Park Service rangers will talk about the history of the battlefield while Outdoor Chattanooga staff and volunteers provide ride leadership and support.

Loaner bicycles from the Outdoor Chattanooga mobile bicycle fleet will be available for riders five feet tall and over at no charge, thanks to sponsorship from the Friends of the Park and the Chattanooga Bicycle Club. Reservations for these bicycles are required, contact the Chickamauga Battlefield Visitor Center at 706-866-9241.

The monthly tours begin at 9:30 a.m. at the Chickamauga Battlefield Visitor Center. Ride length is approximately three to four miles on flat to moderately-hilly terrain.
Georgia Politics, Campaigns, and Elections
Hopefully, Senator David Perdue was able to get it across that he will vote against the Iran Deal, as he spoke against the deal three times yesterday. First, a video released by his office:
Click here for a transcript of Perdue's statement, but here's the money quote:
"Congress has a Constitutional role to advise and consent on treaties, yet this opportunity was not even afforded by President Obama, who purposely sought to go around Congress, and instead make his deal with Iran a non-binding political agreement."

"That's why I supported the bipartisan Iran Nuclear Agreement Review Act, which overwhelmingly passed both the Senate and the House of Representatives to guarantee Congress and the American people had a say in this Iran deal."

"This fight is not over, and as a member of the Senate Foreign Relations Committee, I completely reject this dangerous deal, and I will definitely vote to stop it."
Then at a rally against the Iran Deal in front of the Capitol and hosted by Tea Party Patriots.
Finally, on the Floor of the Senate.
In the City of Nelson, Georgia, an ethics complaint filed by City Council Member Jackie Jarrett against Mayor Larry Ray has been dismissed.
Calhoun, Georgia is a mixed bag as Mayor Jimmy Palmer faces challenger Mary Mays and Council Post 1 member George Crowley faces challenger Jackie Palazzolo and three other city council incumbents are reelected without opposition, according to NorthwestGeorgiaNews.com.
The City of Pooler will give about five acres of land to the state to house a new regional lab for the Georgia Bureau of Investigation.
Floyd County Commissioners are meeting with representatives of bidders to build a new animal shelter.
The Forsyth County Parks and Recreation Board may seek dedicated funding through the property tax millage rate.
Money Quotes
The Augusta Redevelopment Board will issue $15.5 million in bonds and possibly borrow another $5 million toward a redevelopment project.
The Brookhaven City Council is considering issuing $2.9 million in bonds in a complicated deal that they say does not require voter approval for the bond issuance.
Citizens in the City of Brookhaven will not see a question on the November ballot as to whether the City should allow the Development Authority to issue up to $2.9 million in bonds to purchase Skyland Center from the State of Georgia.

The City says the issuance of bonds by the Development Authority in this case is appropriate without requiring a referendum because the bonds do not constitute a debt of the City, although the bonds will be guaranteed by the City.

If the City wanted to have a referendum and let the people decide, they certainly could do that and there is even enough time to get it on the November ballot. Consultants told the City Tuesday however, the measure would likely not pass if it did go to a vote.
Events
At 7 PM tonight, Atlanta Young Republicans will have a Happy Hour at the 57th Fighter Group on Clairmont Road next to Peachtree-DeKalb Airport.
On Saturday at 8:30 AM, the Fulton County Republican Party will host Johns Creek Mayor Mike Bodker as their featured breakfast speaker. The event is at St. Ives Country Club in Johns Creek. R.s.v.p. via Facebook or on the Fulton GOP website. Cost is $15 by pre-registration or $16 at the door.
Jeb Bush will appear at a fundraiser in Atlanta on September 29, 2015 at 5:30 PM and will address the Atlanta Young Republicans at the same location immediately afterward.
Congressman Barry Loudermilk's office will hold two citizen meetings in Cherokee County today.
10 AM to noon at Ball Ground City Hall, at 215 Valley St. in Ball Ground, GA

2 to 4 PM at Waleska City Hall (old fire house), 8891 Fincher Road in Waleska, GA