In August, over 756 animals came into DeKalb County Animal Services and over 660 into Fulton County Animal Services.  To save lives, LifeLine Animal Project is offering FREE adoptions on all pets during the entire month of September!  This includes the pets spay/neuter, microchip and vaccines — a $250 value for free!  LifeLine makes up the cost through their fundraising efforts and grants.
All month long, LifeLine Animal is offering free dog and cat adoptions at their facilities in Fulton and DeKalb Counties.
You can also check out a "Dog for the Day" to help exercise the animals at the shelter and maybe "test drive" a new best friend.
Betty is a 10-year old Boxer mix who weighs 50 pounds and is available for adoption from Fulton County Animal Services with no adoption fee through the month of September.
Hi! I'm Betty. I"m a 10 year old spayed female who recently completed heartworm treatment. I absolutely love people and am the gentlest old soul you will ever meet. Whether I am getting a bath, taking walks around the block, hanging out in my crate, or just snuggling on the couch, I will look up at you with my sweet brown eyes and you"ll know how much I love you. My foster mom thinks I would be the perfect companion for an older human or a family with small children because I am so calm and gentle.

My activity level is low. I like walking around the block one or twice a day, and the rest of the time I am content to take quick trips to the back yard in between snoozes on the couch or in my crate. (I am wonderful in my crate and also house trained).

Even though I am so laid back with humans, there are a few situations when I can behave reactively to other dogs. I am very food motivated, and need to be fed in my kennel away from other dogs. I have become more relaxed with my foster siblings over the past few months. At first, my foster brother and I had a few disagreements, but with time and supervision we are getting along much better. We love going on walks and even play in the yard together. Please know that while I enjoy meeting most other dogs, I can"t make friends with cats. They just look like squeaky toys to me.

All I want in this world is someone to love me and let me live out my golden years giving snuggles and taking naps on the couch. Will you be my forever family?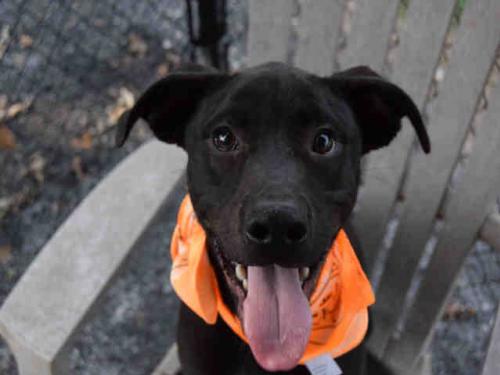 Graham is a nine-month old, 38-pound Labrador Retriever puppy who is available for no-cost adoption from Fulton County Animal Services all month.
Graham is in foster care!

"Hi, my name is Graham, I"m looking for my forever home. My foster parents have taught me how to 'go' outside and I now go to the back door and cry when I need to go out. I am also crate trained. I do enjoy big bones which helps a lot with my teething. I am learning leash manners and I know how to sit on command! We are presently working on 'stay.' I have lots of puppy energy and would love to have room to run and play with my new family. I have lots of love and kisses to give and will be forever faithful to my new family."
Ava is a two-year old, 36-pound Labrador Retriever mix (we'd say maybe Shepherd too) who is available for adoption at no cost in September from Fulton County Animal Services.
My name is Ava!! I have been told that I am a cute little nugget! I am a very sweet and loving. I gets along great with all the dogs in my kennel! I have been here since 4-14 and it is upsetting that I still here.

I went out for Dog For The Day yesterday and the volunteers just fell in love with me! Here are some notes. "She was so very excited just to leave the kennel that we had a hard time getting the harness on her. She wiggled all over the place! Once in the car she was so happy watching out the window as wethey were driving. When we were walking her on the leash she is so well behaved and doesn"t pull or even want to leave your side. She loves to play with toys and had a lot of fun playing with a football! We never heard her bark. She loves to sit in your lap and give hugs and kisses. She is an absolute sweetheart!" So she sounds like the perfect dog!

I am only urgent because they know that it is time for me to find the best family ever and that it is not fair that I have been here so very long. Please come by and take me into the yard, you won"t be able to resist falling in love with me! She is awaiting your visit!
Dia is a 1-year old, female Lab mix who is available for adoption at no cost in September from Fulton County Animal Services. From her profile:
Our brindle baby Dia is such a love and the joy she feels can be easily seen in her pictures. Amazingly enough she has been here for almost four months and staff and volunteers just aren"t sure why she has trouble standing out at the shelter. She shines whenever she gets out and is able to show how happy and willing to please she is!

One volunteer said, `We had a great time taking her out! Dia seemed to really enjoy hiking and playing in the river. She walked great on the leash and didn"t pull. She was also calm and friendly with other dogs and a few kids we saw. Hope she finds a home soon- I can tell she would make a great companion!` We agree and want Dia to never have to come back to the shelter after a fun day of adventures. Please come meet this beautiful lady and see if she is the one for you!