Union General Irvin McDowell's forces engaged Confederates under General Pierre G.T. Beauregard and General Joseph Johnston at the First Battle of Manassas/Bull Run on July 21, 1861.
On July 21, 1868, the Georgia General Assembly ratified the 14th Amendment to the United States Constitution as a condition for readmission.
Ernest Miller Hemingway was born on July 21, 1899 in Oak Park, Illinois.
On July 21, 1988, Massachusetts Governor Michael Dukakis accepted the Democratic nomination for President at the National Convention in Atlanta.
Georgia Campaigns and Elections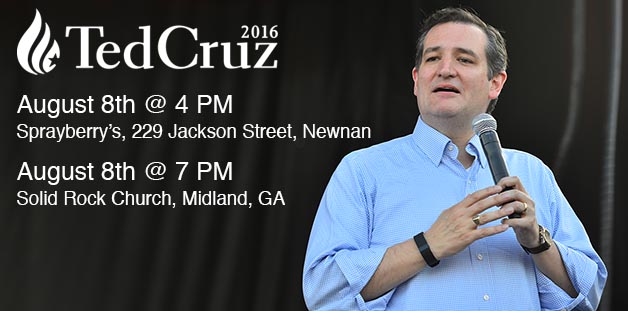 The second event on Ted Cruz's tour of Georgia will be Saturday, August 8th at 4 PM at Sprayberry's Barbecue, 229 Jackson Street in Newnan, Georgia.
Click here for tickets to the Columbus, Georgia event at Solid Rock Church in Midland, Georgia.
WTVM covered the Cruz trip to Columbus,
Tickets are $20 each to cover costs and a buffet dinner provided by Country's Bar-B-Que, according to the organizers of this event, the Muscogee County Republican party. Leaders with that group also say this is not a fundraiser, but an opportunity to hear from Ted Cruz.

"We're excited to host a national presidential candidate here in Columbus and thankful for (Pastor) Jay Bailey's hospitality at Solid Rock Church. Senator Cruz is a conservative superstar and we hope to Chattahoochee Valley will come hear his positive message about the future of America," Muscogee Co. Republican Chair Rick Allen told News Leader 9.

Organizers also say there is limited availability for RSVP tickets. You can order them online through Eventbrite.com.

Ticket requests inquiries can also be directed to muscogeegop@gmail.com. $20 checks for attending the Cruz event can be mailed to P.O. Box 8229, Columbus, GA 31908. Muscogee Co. GOP Members will also have tickets to sell.

Muscogee County Republican Party leaders say this is not an endorsement of Ted Cruz. MCRP says they will provide this opportunity to any presidential candidate who visits the Columbus area.
WRBL TV also included a piece on Cruz with a link to buy tickets.
And finally, I was wrong about Macon – there won't be an event there. More on Savannah as we learn details.
Also on August 8th, GOP Presidential candidate Mike Huckabee will speak at the 8th District Republican Party Fish Fry at the Georgia National Fairgrounds in Perry, GA.
The City of Grayson will elect a Mayor and City Council Posts on November 3, 2015.
Qualifying will begin at 8:30 a.m. Aug. 31 and continue until 4:30 p.m. Sept. 2 at City Hall for the seats held by Mayor Allison Wilkerson and council members Trent Arnold and Linda Jenkins. Terms are for two years.

Also, Laura Paul-Cone was named election superintendent and Libbie Smith was tapped as the poll manager for the upcoming election.
State and Local Government Operations
Some civilians in Georgia are stationing themselves outside military recruiting offices to protect workers.
David Vazquez of Lawrenceville is doing what he can to prevent a recurrence of the shooting that took place at a military recruiting center in Chattanooga last week. Like many civillians and retired servicemen around the country, he is standing guard in front of his local recruiting center.

"When I first heard about the shooting, and then I saw a guy on TV standing guard outside a center in Virginia, I knew I should do this," Vazquez said Monday. "I could spend all day playing videogames, doing nothing, or I could do this."

Current legislation prevents military personnel from carrying firearms while working at recruitment offices. In many states, civilians are allowed to open carry just outside, so that's what individuals around the country are doing to protect their local service members.

On Monday at a shopping center in Duluth located near Gwinnett Place Mall, Vazquez was joined by Ethan West of Snellville and Frank Jennings of Lawrenceville. The shopping center contains Army, Navy, Air Force and Marine recruiting offices. All three men carried pistols on their hip holsters, while Vazquez also held an AR-15 rifle. Vazquez made sure to call the recruiting offices ahead of time to let them know he would be there, so as not to cause any alarm. Vazquez has work Tuesday, but West and Jennings will continue to stand vigil.
If you're in the area, maybe bring them a few cold bottles of water to support their efforts.
Georgia Secretary of State Brian Kemp (R-Athens) was elected Southern Region Vice President of the National Association of Secretaries of State.
"I am honored by the trust that my colleagues from around the country have placed in me to serve on the executive committee once again," said Secretary Kemp. "NASS is an outstanding organization and the work that its members do will be even more important leading up to next year's presidential election cycle."
"It's no surprise that Brian Kemp has earned the trust and respect of his colleagues in the National Association of Secretaries of State," said Georgia Republican Party Chairman John Padgett. "Around Georgia, Secretary Kemp is known for putting in the hard work necessary to serve the people and move our state forward. I am confident that he will continue to make Georgia Republicans proud as he assumes this new leadership role in NASS."
Founded in 1904, NASS is the oldest nonpartisan professional organization of public officials in the United States. Members include the 50 states, the District of Columbia, American Samoa and Puerto Rico. NASS serves as a medium for the exchange of information between states and fosters cooperation in the development of public policy.
DeKalb County illegally moved traffic cases to Recorder's Court, where they were adjudicated and provided funds for County government, according to a federal lawsuit reported by the AJC.
According to the suit, the DeKalb Recorder's Court, which handled traffic cases until earlier this year, was authorized to hear only county ordinance violations. The court's operations were merged into DeKalb State Court.

DeKalb policymakers consciously disregarded the limits of the Recorder's Court in order to make up for a budget shortfall, said attorney Marlan Wilbanks, who filed the suit on behalf of four DeKalb citizens.

"DeKalb took money from citizens who were stopped on traffic offenses, when it had absolutely no legal right to do so," Wilbanks said.

DeKalb spokesman Burke Brennan said, "We have not received it yet, but we will review the filing and respond appropriately in court."

Attorney Troy Hendrick, also representing the plaintiffs in the suit, said county violated the separation of powers by having appointed judges hear traffic cases that, under state law, should be tried by elected jurists.

"The system as a whole was unconstitutional," Hendrick said. "Judges were accountable to the county commission, not the public."
Congratulations and condolences to DeKalb County Commissioner Mereda Davis Johnson, who took office after winning the Special Runoff Election.
DeKalb County Commissioner Mereda Davis Johnson was sworn into office Monday, bringing local representation to the Lithonia and Stonecrest area for the first time in two years.

Johnson, an attorney, took her oath in court with her husband, U.S. Rep. Hank Johnson, D-Ga., by her side. Mereda Johnson won a runoff last week to fill the last year and a half of a four-year term representing 144,000 residents in southeast DeKalb District 5.
I wonder how long that full slate on the County Commission will last before the next indictment or resignation.
Atlanta City Council voted to create a study group to ask Gov. Nathan Deal to add more carvings to the side of Stone Mountain.
Councilmember Michael Julian Bond, who crafted the resolution, said Stone Mountain, which is a state park located in DeKalb County, is supported by tax dollars and should reflect all of Georgia.

"It's not beyond the pale to adapt that face of Stone Mountain to add more images," Bond said, mentioning Georgia founder James Oglethorpe, Yamacraw Indian Chief Tomochichi, Martin Luther King, Jr. and President Jimmy Carter. In the resolution Bond cited racial tensions and the rejuvenated debate of removing Confederate symbols from state property following the murder of members of a Charleston, SC church by a white supremacist.
Senator Johnny Isakson criticized the falsification of patient records at a VA medical center in Georgia.
"While I regret that the alleged criminal actions by this indicted VA employee ever took place, I am pleased that the investigation we called for in the wake of the Phoenix scandal is being done and people are being held accountable for manipulating medical appointment records when they should have been giving our veterans access to the care they need and deserve," U.S. Senator Johnny Isakson, R-Ga. said in a statement.

Isakson spoke out after a July 17 indictment of Cathedral Henderson, 50, a U.S. Department of Veterans Affairs employee and the former Chief of Fee Basis over non-VA Care at the Charlie Norwood VA Medical Center in Augusta, Ga. for allegedly terminating "unresolved consults – medical appointments that had not been scheduled or completed – by falsely stating in VA patients' medical records that 'services have been completed or patient refused services.'"

Isakson is a veteran himself – having served in the Georgia Air National Guard from 1966-1972 – and has been a member of the Senate VA Committee since he joined the Senate in 2005.
U.S. Senator David Perdue published an op-ed in the Savannah Morning News on strengthening national security.
As a member of the Senate Foreign Relations Committee, I get daily updates on what I believe is an emerging global security crisis.

We have witnessed the brutal rise of ISIS, which is still taking advantage of power vacuums in the Middle East and North Africa.

The threat of a nuclear Iran is further disrupting the region, while the Iranian regime is funding terrorism and the Assad regime in Syria.

Meanwhile, traditional powers are aggressively posturing on two other fronts.

China is antagonizing our allies on the Pacific Rim, and Russia is testing the resolve of our NATO alliance.

With multiple threats to global security from adversaries who only respect displays of strength, our country, the leader of the free world, is headed in a direction where we will have the smallest Army since World War II.

Now, President Obama and the Department of Defense have announced plans to cut 40,000 troops.

What kind of message does this send to the world?

I have received a lot of calls from Georgians who are baffled and outraged by this news.

I share their concerns. We should be strengthening our national security efforts and bolstering our military readiness.
Georgia legislators joined hundreds of colleagues in Savannah at the Southern Legislative Council meeting.
This conference is a great networking opportunity, and it's also a big boost to the Savannah economy. It's expected to bring in big bucks for the hostess city by filling nearly 3,000 hotel rooms and generating an estimated economic impact of $2.4 million dollars.

"Well listen, Savannah is a tourist attraction and so people from all over the southern region will be here basically spending money, touring a lot of the interesting sites that you have here in Savannah, so I'm sure with individuals coming from all over it's going to be a major economic impact for Savannah and I think people are having a good time already," [Alabama State Senate Minority Leader Quinton] Ross said.

Tomorrow those attending the conference will package 50-thousand (50,000) meals for America's Second Harvest Food Bank of Coastal Georgia at the Hyatt Regency.

And Sunday they'll participate in a two-mile wellness walk throughout the Historic District hosted by Walk Georgia.
The Mayor of Nicholson, Georgia is accused of spending $10,000 in taxpayer money to pave his mother's driveway.
A Jackson County review committee will meet Friday regarding accusations that the mayor of Nicholson, Ga. used $10,000 of taxpayer money to pave his mother's driveway.

Nicholson is a town of 1,200 people. Several residents used that old cliche of how "everybody knows everybody".

But that interconnected atmosphere enables its mayor Ronnie Maxwell to constantly abuse power — and to bully those who question it some residents said.

"You can get elected with only 300 votes and you control hundreds of thousands of dollars in the city budget," said resident Mike Barfield.

The mayor has claimed in reports that the driveway is actually public property, part of a street called Old James Maxwell Road. That road does not exist in Google Maps and does not feature any sort of signage in Nicholson.
Augusta City Manager Janice Allen Jackson is recommending a lower property tax millage rate than last year.
Jackson said she'll propose to the Augusta Com­mis­sion on Tuesday that it adopt the rollback mill rate, a few hundredths of a percent less than the rate it approved last year.

Adopting the rollback rate allows the city to skip state-mandated public hearings. The rate, applied against a property's taxable value, will generate the same amount of revenue for the city as last year's rate because of a slight increase in the county tax digest.
Augusta Mayor Hardie Davis will host a Telephone Town Hall tonight at 7 PM.
Thousands of residents will receive automatically generated phone calls to their homes just before 7 p.m. to hear Davis give an update on what he's doing as mayor and what to expect in the days ahead.

"I'm excited to use this technology to reach and engage more Augustans in what is happening in the local government and in the mayor's office. It is important to be able to connect with our residents and get outside of the walls of city hall and take their government to them," Davis said.

Residents can participate in the conversation and ask Davis questions by pressing *3 during the call. They can also join in by calling 877-229-8493 and entering the ID code 14556.
The Rome City Commission scheduled a second meeting on the property tax millage rate on Thursday at 11 AM.
The proposed combined rates for the city government and city schools of 26.136 mills will result in a .05 percent decrease from the prior year — a savings of about $1 on a house valued at $100,000.

However, because of an increase in valuations citywide, the board would have to roll back the rate to 25.95 mills — a savings of $8 on a $100,000 house — in order for it not to be considered a tax increase.

Since that's not being proposed, state law requires three public hearings before the rate is set.

The first hearing was July 13. The third and final public hearing is set for July 27 at 6:30 p.m. in the Sam King room at City Hall.
Buford is growing again, and so is the city's budget – about 11 percent higher than last year, according to the Gwinnett Daily Post.
The total revenue projected for the coming year is about $107.8 million, up from the current $97 million. As before, the figure includes projected revenue for gas ($35.2 million) and electricity ($19.2 million) that is higher than FY 2015. A surplus of $1.5 million is projected.

"We are in a growth pattern again," City Commission Chairman Phillip Beard said Monday during the July meeting and public hearing on the budget. He noted that the proposed budget includes raises for city employees and funds for a parking lot near Main Street. "We are showing growth in the Gwinnett and Hall County tax digest."

City officials hope to approve the budget at the August meeting. The new budget includes an operating budget of $43.3 million, up from $34.1 million. The Enterprise Fund for the city's Community Center would be $1.1 million, compared with the current $923,700.
The Valdosta Board of Education violated the state Open Meetings Act, according to Attorney General Sam Olens's office.
The Valdosta Daily Times has called on the BOE to stop its practice of voting to "approve the superintendent's recommendations," following closed door meetings without properly telling the public what is under consideration.

The Times has consistently said the long-standing practice of the school board violates state law.

Now, the Office of the Attorney General has agreed, and notified the board through its attorney to stop the practice.

"This is about the public's right to know and about complying with state law," Times Editor Jim Zachary said. "We are not against elected officials — we are for the public and have championed the cause of government transparency because it is the law and it is the right thing to do."

Jennifer Colangelo, an attorney in state Attorney General Sam Olens' office, wrote, "I am requesting that the Valdosta Board of Education change its practices to comply with the Act, by including in its meeting agendas a list of the particular personnel decisions that will be voted on at each meeting. Additionally to comply with the requirements of the Open Meetings Act and appellate direction, the Board should make clear to the public during public votes exactly which decision, including personnel, is being voted on."
The Coweta Board of Education has amended its bullying rules to cover cyberbullying, according to the Times-Herald.
According to this proposed policy by the Coweta County School System (CCSS), cyberbullying includes acts through electronic communication – whether or not it originated on school property or with school equipment – if the act is directed at students or school personnel, is malicious and intended to harm their safety or substantially disrupt the orderly operation of school, and creates a reasonable fear of harm to the students' or school personnel's person or property.

CCSS Superintendent Dr. Steve Barker said this change is due to state law and is part of the school system's yearly policy review.

Since it is included in this policy, school officials will now have the responsibility to investigate all reports of cyberbullying, whether they occurred on or off campus.
Convicted former Murray County Magistrate Judge Bryant Cochran is appealing to the 11th Circuit Court of Appeals, claiming the trial court erred.
Cochran, sentenced to five years in prison, claims that a decision by U.S. District Court Judge Harold Murphy to restrict one witness from testifying was wrong. That person, Erika Sanford, would have contradicted another witness, said Page Pate, Cochran's Atlanta-based attorney.

"I think that ruling was incorrect," Pate added.

Pate also said charges deriving from Angela Garmley, the woman at the center of the trial, should have been in a trial separate from two other women's accusations. Trying all the accusations together meant jurors heard assaults against Cochran's character instead of only Garmley's claim that Cochran had contrived to have drugs planted on her car.