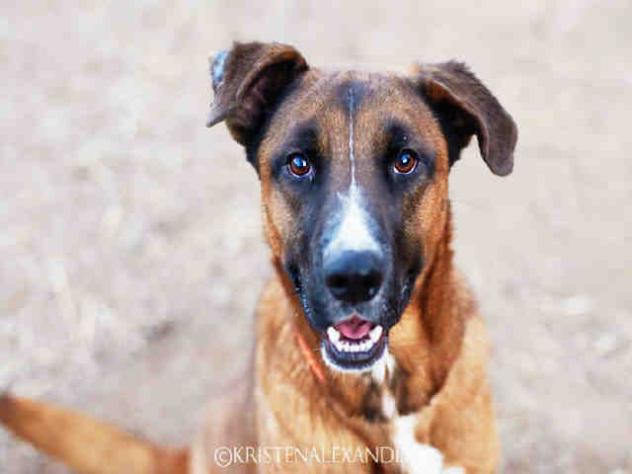 JEB is an adult male German Shepherd mix around 4 years old and full of energy! Jeb gets along great with other dogs and loves to romp around with them outside. He needs to learn some manners, but is very food motivated and intelligent, and picks up on commands quickly. Jeb would do best in a home without small children, as he does not know his own strength or size. This stunning shepherd mix would make a wonderful running partner or playmate for another active dog. JEB is available for adoption from Fulton County Animal Services in Atlanta, GA.
George (the first), an adult male Terrier mix, was found on the side of the road, after he had been dumped – thrown off the back of a truck. He was brought into a rural Georgia animal control in Jasper County. George had a very rough start to his life, when he was brought in, it looked as though he had been used as a bait dog in dog fighting. They also had filed all his teeth down so he could not defend himself when the fighting dogs went after him.
Because of George's poor up bringing he has no trust in other dogs, he was taught that all dogs were out to kill him, and because of this he needs to be the only dog in the house. However George loves people and is sweet as pie! He comes running up to you with a big smile and truly just wants to be loved on. He would make an excellent companion and just wants a gentle place to lay his head. He is such an amazing fella and needs his happily ever after so bad! He deserves to live the rest of his life safe and comfortable!! He would be FOREVER grateful! – such a sweetie!!!
George is available for adoption from Rescue Me Ga Inc in Dunwoody, GA.
George (the Second) is a young adult Pointer/Coonhound mix about four years old, though he may have some Rottweiler. He is laid back, friendly, loves kids, and enjoys playing in a kiddie pool. George is available for adoption from Little Nuggets Rescue in Snellville, GA.
Walker is a young male Labrador Retriever mix who is available for adoption from Life is Labs Rescue in Temple, GA.
Thanks to all of you who gave to support this American Veteran Randy, along with his service dog Sam and personal pet Hot Rod. Randy's friends are only $72 away from hitting their fundraising goal. Can you help them finish the drill?