On March 17, 1739, Thomas Jones wrote to the Georgia Trustees in London of the appalling conditions in Savannah.
"The profanation of the Lord's Day. When at church in the time of divine service, can hear continual firing of guns by people that are shooting at some game, others carrying burdens on wheelbarrows by the church door.

"The uncommon lewdness practiced by many and gloried in.

"The negligence of officers in permitting several in this town to retail rum and strong liquors, unlicensed, who have no other visible way of livelihood, where servants resort and are encouraged to rob their masters… .

"I need not mention profane swearing and drunkenness, which are not so common here as in some other places, and few are notorious therein, besides Mr. Baliff Parker, who I have seen wallow in the mire….
Kind of reminds me of the itinerary the first time I ever visited Savannah.
The Georgia legislature, on February 17, 1783, passed legislation granting land to veterans of Georgia militia who served during the Revolutionary War.
On February 17, 1784, the Georgia legislature passed a bill to increase an earlier formula for settling the state, allotting 200 acres to each head of a family, plus 50 acres for each family member (including up to 10 slaves) up to a maximum of 1000 acres.
Thomas Jefferson was elected Third President of the United States on February 17, 1801. The election was deadlocked for three months between Jefferson and his running-mate Aaron Burr.
On November 4 [1800], the national election was held. When the electoral votes were counted, the Democratic-Federalists emerged with a decisive victory, with Jefferson and Burr each earning 73 votes to Adams' 65 votes and Pinckney's 64 votes. John Jay, the governor of New York, received 1 vote.

Because Jefferson and Burr had tied, the election went to the House of Representatives, which began voting on the issue on February 11, 1801. What at first seemed but an electoral technicality–handing Jefferson victory over his running mate–developed into a major constitutional crisis when Federalists in the lame-duck Congress threw their support behind Burr. Jefferson needed a majority of nine states to win, but in the first ballot had only eight states, with Burr winning six states and Maryland and Virginia. Finally, on February 17, a small group of Federalists reasoned that the peaceful transfer of power required that the majority party have its choice as president and voted in Jefferson's favor. The 35th ballot gave Jefferson victory with 10 votes. Burr received four votes and two states voted blank.
On February 17, 1820, the United States Senate passed the Missouri Compromise to govern the admission of new states as either slave-holding or not.
On February 17, 1854, Georgia Governor Herschel Johnson signed legislation by the Georgia General Assembly placing on the ballot for the next generation the question of whether to move the state capital from Milledgeville to Atlanta.
The first portrait of Dr. Martin Luther King, Jr. to hang in the state capitol was unveiled on March 17, 1974 and was replaced in 2006 by the current portrait.
Under the Gold Dome Today
Because of inclement weather, both the Senate and House have delayed convening this morning until 11 AM. Further changes to the committee schedule may occur.
| | |
| --- | --- |
| 9:30am – 10:30am | House Regulated Industries Subcommittee – 506 CLOB |
| 10:00am – 11:00am | House Rules Committee – 341 Cap |
| 12:00pm – 1:00pm | Senate Rules Upon Adjournment – 450 cap |
| 1:00pm – 2:00pm | Senate Health & Human Svcs Committee – 450 cap |
| 1:00pm – 2:00pm | Senate Interstate Cooperation Committee – 123 cap |
| 1:00pm – 2:00pm | Senate Science & Technology Committee – 310 clob |
| 2:00pm – 3:00pm | Senate Banking & Financial Institutions Committee – 307 clob |
| 2:00pm – 3:00pm | House State Planning & Comm. Affairs Committee – 403 CAP |
| 2:00pm – 3:00pm | House Local Govt Subcommittee of Gov'tal Affairs – 515 clob |
| 2:00pm – 3:00pm | Senate Urban Affairs Committee – 328 clob |
| 2:30pm – 4:00pm | House Small Business Dev Committee – 606 clob |
| 3:00pm – 4:00pm | Senate Veterans, Military & Homeland Sec Committee – 125 cap |
| 3:00pm – 4:00pm | House Information & Audits Committee – 216 CAP |
| 3:00pm – 4:00pm | House Resource Mgmt Sub of Natural Resources – 230 cap |
| 3:00pm – 4:00pm | Senate Higher Education Committee – 310 clob |
| 3:00pm – 4:00pm | Senate Natural Resources & Envt Committee – 450 cap |
| 3:00pm – 4:00pm | House Public Safety Subcommittee A – 515 clob |
| 3:00pm – 4:00pm | House Regulated Industries Committee – 506 clob |
| 3:00pm – 5:00pm | House Approp Human Resources Subcommittee – 415 clob |
| 3:00pm – 5:00pm | House Approp Health Subcommittee – 341 CAP |
| 3:00pm – 5:00pm | House Judiciary Civil Committee – 132 cap |
| 4:00pm – 5:00pm | Senate Economic Development & Tourism – Mezz 1 |
| 4:00pm – 5:00pm | House Higher Education Committee – 406 clob |
| 4:00pm – 5:00pm | Senate Judiciary Committee – 307 clob |
| 4:30pm – 6:00pm | House Academic Support Subcommittee of Education – 514 clob |
| 5:00pm – 6:00pm | House Public Safety & Homeland Security Committee – 406 clob |
| 5:00pm – 7:00pm | House Jacobs Subcommittee of Judiciary Civil – 132 cap |
The Georgia Senate today will consider the following legislation:
SB 18 – Technical College System of Georgia; establish policies for granting academic credit for college level learning from military service, work experience  (Substitute) (H ED-15th)
SB 62 – Probate Courts; remove certain limitations on the jurisdiction of the probate courts over the game and fish violations (NR&E-7th)
The House Rules Committee has a single bill listed for consideration, but may add more bills when they meet at 10 AM.
Modified Open Rule
HB 172 – Watercraft; operation while under the influence of alcohol, toxic vapors, or drugs; revise types of vessels (PS&HS-Lumsden-12th).
Transportation Tax Poll
The Georgia Transportation Alliance commissioned a poll by Wilson Perkins Allen Opinion Research, who did the polling for Sen. David Perdue's campaign. You can hit the AJC Political Insider for more, including the publicly-released polling memo.
The survey used Registration Based Sampling, a technique that begins with the Georgia registered voter database, and adds telephone numbers. Live operators, sample size of 603 respondents, which gives a margin of error of +/-4.0 points at the 95% confidence interval.
Aaron Gould Sheinin of the AJC wrote about the poll first:
•  57 percent of respondents said they would "be willing to pay a little more in gas tax" if the money would go toward improving transportation.

•  53 percent said they would be more likely to re-elect a legislator who voted to increase taxes for transportation, including 54 percent of Republicans and 59 percent of Democrats. Only 48 percent of independents said they would vote for a lawmaker who raises taxes.

•  62 percent support establishing a dedicated fund for transit systems statewide.

•  53 percent support lawmakers raising an additional $1.5 billion in transportation funding.
Here's a very important set of questions from the memo that was released:
"Would you support or oppose the state legislature creating an additional one point five billion dollars in funding for transportation?"

| | | | | |
| --- | --- | --- | --- | --- |
| | Party (All) | Republican (37%) | Independent (30%) | Democrat (30%) |
| Total Support | 53 | 43 | 52 | 67 |
| Total Oppose | 29 | 38 | 29 | 18 |
| Undecided | 18 | 19 | 19 | 16 |

"If you knew that your state legislator voted to increase taxes by one cent that can only be used to improve our transportation system, would you be more likely or less likely to re-elect him or her?"

| | | | | |
| --- | --- | --- | --- | --- |
| | Party (All) | Republican (37%) | Independent (30%) | Democrat (30%) |
| Total Support | 53 | 54 | 48 | 59 |
| Total Oppose | 28 | 28 | 35 | 20 |
| Undecided | 19 | 18 | 18 | 21 |
Whenever it says something like "total support" and "total oppose" for questions like those above, it makes me suspect that the question gathered multiple levels of support and opposition like "strongly support" and "somewhat support." If that's the case, I'd like to see that broken out.
Here's my takeaway and some notes I have regarding the poll results.
1. I have zero complaints about the way the poll was conducted – WPA is known for excellence and their accuracy in Georgia last year, according to the Perdue campaign makes their results unassailable.
2. This does not present the full crosstabs – I'd like to see partisan breakouts for each question, as well as gender, age, and the full questionnaire.
3. Remember, folks, Margin of Error rises as you look at subsets of the entire survey sample. So, if the survey sample was 605 and Republicans were 37% of the sample, when you look at Republican responses to questions, your margin of error is based on about 224 responses. My handy-dandy Margin of Error calculator tells me that the MOE for Republicans where they're broken out is +/- 6.55 points. That's important to know.
4. Was party identification based on a question about the issue (self-identification) or actual voter behavior. Since this was done with a Registration Based sample, can you break out people who acutally voted in recent GOP or Democratic Primary elections? If I were a politicians basing my decisions on a poll, I'd want to know if "Republicans" means all who call themselves a Republican in response to a survey question, or if you know how actual GOP Primary voters break out. Given that the vast majority of state legislators are elected with effective competition only in their party primary, this is what they really want to know. And those of us involved in day-to-day politics know that GOP Primary voters are different from people who simply call themselves Republicans.
5. There is a difference in support for higher taxes depending on whether you say it's for maintenance of existing infrastructure or "improving transportation." A gas tax increase dedicated to the maintenance backlog – which is what that $1-1.5 billion dollar figure covers – garners 47% support to 44% opposed among Republicans, while "pay a little more in gas tax if you knew that it would go to improving our roads and transportation infrastructure needs?" improves the support significantly among GOP respondents, with 57% in favor to 36% opposed.
That last bit means a ten percent increase in support when you change the wording from discussing only paying for maintenance needs to the more nebulous "improving our roads and transportation infrastructure needs." I suspect most folks would take the latter wording to mean some level of new roads and infrastructure, which is not covered by the current proposal.
6. Does it change support when you talk about the actual amounts, and about the likely domino effect of local governments raising taxes to pay for the amount that the State would take from them?
Rand Paul in Georgia
Last night, Senator Rand Paul (R-KY) spoke at a reception at the Buckhead Club in Atlanta for Build America.
Georgia State Senator Michael Williams introduced Sen. Paul.
Ashley Bell (background) was one of the hosts and the evening's Master of Ceremonies.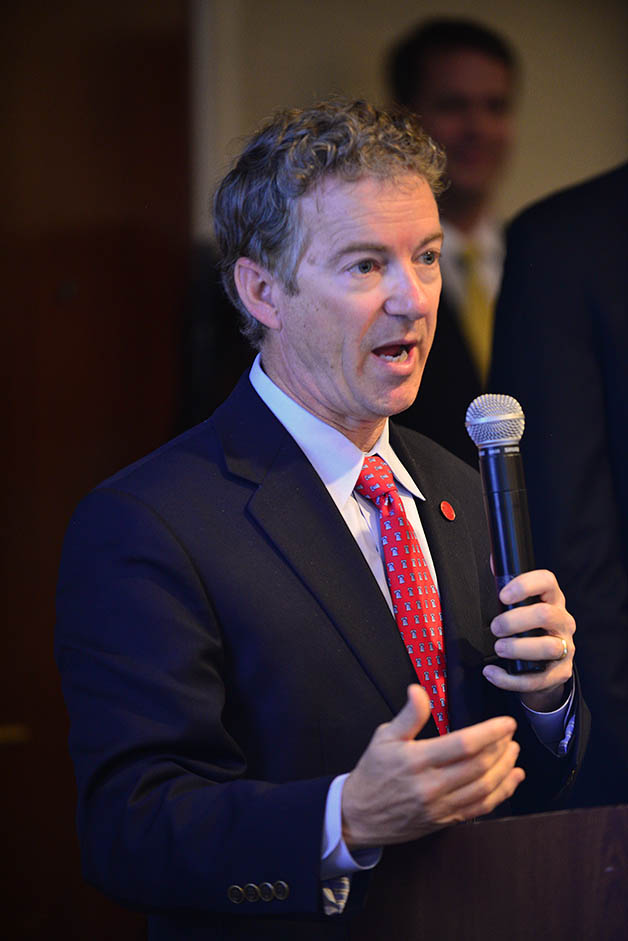 Here are five things I didn't know about Senator Rand Paul before last night:
1. He's pretty short – I've seen him listed at 5'8″ and I think 5'6″ is more like it.
2. While he speaks, he's constantly gesturing – I may go through my photos and find the best gestures.
3. He's not really a Southerner. Kentucky is on the verge, historically, and is only in the third tier of the Waffle House Index. But most importantly, he doesn't have a standard order at Waffle House.
4. American Bridge must have a tracker on him 24/7 because they had one at the event last night.
5. Sen. Paul spent at least part of his medical residency in Atlanta at Georgia Baptist, and he met his wife here. He also correctly pronounced Dahlonega
The State Senate contingent at last night's event included Senators Michael Williams, Josh McKoon, Mike Crane, Marty Harbin and Greg Kirk. House members attending included Heath Clark, Buzz Brockway, Michael Caldwell, Scot Turner, David Stover. Georgia Republican Party Chair John Padgett made a brief appearance before making tracks back to Athens ahead of freezing temperatures.
By the way, you can buy Sen. Paul's favorite necktie here.