Segregated seating on Atlanta buses was held unconstitutional by a federal court on January 9, 1959.
Hamilton Holmes and Charlayne Hunter arrived in Athens to register at the University of Georgia on January 9, 1961.
After Julian Bond's election to the Georgia House of Representatives in 1965, the chamber voted against seating him ostensibly because he had publicly state his opposition to the war in Vietnam. On January 10, 1967, after the United States Supreme Court held the legislature had denied Bond his right to free speech, he was seated as a member of the State House.
Georgia Politics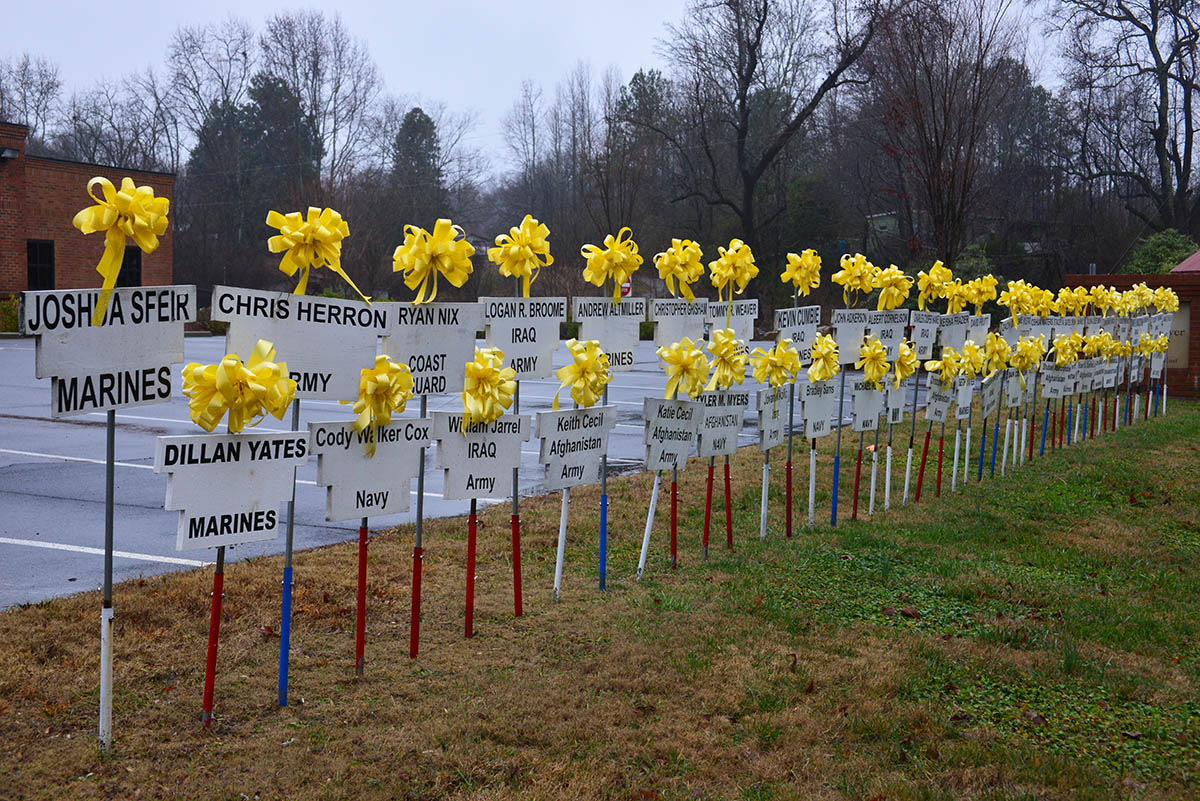 Dawsonville, Georgia.
Brigadier General Joe Jarrard has assumed command of the Georgia Department of Defense, comprising the Georgia Army National Guard, Georgia Air National Guard, and the Georgia State Defense Force. The Marietta Daily Journal has a nice set of photos from the change of command ceremony.
Early voting in House District 50  will begin on January 20th for the February 3d Special Election Runoff. That is also likely the date for early voting to begin in the House District 120 runoff.
Former United States Senator Saxby Chambliss will join the DLA Piper law firm, resident in their Atlanta office.
The Georgia Judicial Nominations Commission has short-listed longtime District Attorney Pete Skandalakis for a vacancy on Superior Court for the Coweta Circuit. Also on the short-list is Travis Sakrison, Executive Director of the Georgia Public Defender Standards Council, and unless I'm mistaken, he is the son-in-law of Congressman Lynn Westmoreland. Nina Markette Baker and Melissa Griffis round out the short list.
The Judicial Nominations Commission also released its recommendations for a vacancy on the Waycross Circuit, naming Charlton County State Court Judge J. Kelly Brooks, William "Sam" Edgar, a solo practitioner, and Andrew Spivey.
Today, Governor Nathan Deal will discuss recommendations by the Child Welfare Reform Council for improving foster care in the state.
The council includes heads of child welfare agencies, state lawmakers and school employees.

"They're looking at the change of how the (Division of Family and Children Services) department is governed, maybe setting up a more direct relationship between the governor's office and DFCS," said state Rep. Wendell Willard, R-Sandy Springs.

Willard, who served on the council on more of the governance angle, said another possible solution was the creation of a separate advisory board within DFCS to look at policy issues.

These recommendations, according to a press release from Deal's office, will become a part of his 2015 legislative agenda.
Atlanta Progressive News writes that a federal judge rejected the state's motion to dismiss a lawsuit claiming that the prohibition of same-sex marriages infringes upon the constitutional rights of couples.
Georgia House Speaker David Ralston held a wide-ranging press availability at the Capitol yesterday, and Walter Jones write for Morris News about his comments on transportation funding.
When reporters asked him Thursday if conservative Republicans in the House would balk at raising taxes, the speaker did not seize the chance to pooh-pooh tax increases as he usually does. Instead of ruling one out categorically, Ralston said it could even be a mixture of taxes.

"At the end of the day, you could well see a package that has a lot of different components to it that involved not only the motor-fuel tax but maybe an excise tax," said Ralston, R-Blue Ridge. "I'm sure it will be a combination of things that get us where we need to be."

He did say that it's reasonable for some of the new spending to go toward mass transit but added that it wouldn't all go toward Atlanta's Marta system."There are other parts of the state where transit is important," he said. "It's got to be a statewide package."

He also didn't commit to protecting those regions already paying a transportation special-purpose, local-option, sales tax — or T-SPLOST — from an added burden.

"I'm not sure how I'll come down on those," he said. "What the members of the (fall study) committee reported to me that when they went into those regions to have hearings, they found regions that were pretty happy had approved the T-SPLOST because of what they're able to do. Having said that, that's part of the discussion we're going to need to have, I think."

While no official proposals have been made public, several legislators and Capitol insiders say they've heard a plan circulated to increase the sales tax 1 percent, with half going into transportation and half used to reduce the income tax. The rumor includes some allowance for the T-SPLOST regions but no details on the mechanism.
Any changes to the Georgia State Ethics Government Transparency and Campaign Finance Commission may be less extensive than previously thought.
House Speaker David Ralston said he supported boosting funding for the commission but came out against Deal's plan to expand the board.

"I don't think adding members to the commission solves the problem," said Ralston."I'm open to giving them more resources and I would support additional funding so they could add more lawyers and auditors."

When asked about Ralston's comments, Deal spokesman Brian Robinson said, "the governor thinks the commission is functioning well now and in fact many others are saying the same thing."
Two car thieves showed good taste in stealing a 2015 Audi A8 and a 2015 Audi RS7 from Audi Gwinnett in Duluth.
The Gwinnett County Planning Commission approved a rezoning for a craft beer brewery in Loganville. Perhaps ironically, it will be right next to a church.
When I read the headline "Georgia Power Building up for sale," I started thinking about what I would do if I bought the iconic "Leaning Tower of Power" that overlooks the downtown connector. Maybe straighten out that one wall. But it's not that Georgia Power building that's going on the market, instead a 50,000 square foot building in Rome, Georgia.
Middle Georgia has fewer Black Bears than previously thought, according to a three-year study by the University of Georgia.
The study, done by the University of Georgia's Warnell School of Forestry and Natural Resources, puts the population at 140. It had previously been estimated at about 300.

The previous estimate was too high, but the lower figure is also due to vehicle accidents and hunting, said Michael Chamberlain, a lead researcher.

The new study is the most thorough and accurate one the state has done on the population, he said. It included an area south of Interstate 16 and down Ga. 96, then south to the Ocmulgee and Oaky Woods wildlife management areas.
Bidding to provide subsidized air service from Atlanta to Macon resulted in exactly zero proposals for the second time. I can't imagine why anyone would fly from Atlanta to Macon when you could probably drive more quickly and conveniently. I also don't know why taxpayers should subsidize air service that no one wants.
Hugh Tarbutton of Sandersville, who served on the Georgia Ports Authority under four Governors, has died. Our condolences to the family.
"Growing up in Sandersville, I've considered Hugh a friend for my entire life," said Gov. Nathan Deal.

"His obituary will tell of his business acumen and give many examples of his community service, which includes the time and expertise he devoted to the Georgia Ports Authority, to which I reappointed him in 2012.

"But to those of us who knew him, especially those of us from Sandersville, he was a real character – the kind of guy you always hope is sitting next to you at a dinner party," Deal said. "He was charming, funny and a loyal friend. When I decided in 2009 to run for governor, Hugh was one of the first people I called. Without hesitation he expressed his support and never once wavered. You never forget or fail to appreciate someone like that.

"Hugh was a man whose stature was known statewide, so his passing is a loss not only for our shared hometown but also for all of Georgia. Sandra and I mourn his death, and we have reached out to the Tarbutton family and Hugh's wife, Gena, to offer our prayers and condolences."

Georgia Ports Executive Director Curtis Foltz said Tarbutton's expertise, guidance and leadership were vital to the success of the ports.

"Mr. Tarbutton has been the face of the authority since before I got here. In fact, I don't think I'd be here today if it were not for him. He was a mentor from the beginning, someone I could lean on and learn from when faced with key decisions. He was passionate about our ports and gave so much more than he was ever asked to give.
Erratum
Yesterday, I mistakenly wrote that Michael Johnson was running for Second Vice-Chair of the GAGOP, when he is actually running for Second Vice-Chair of the Chatham County GOP. My apologies.