On December 3, 1775, the Grand Union Flag, comprising the Union Jack with thirteen red-and-white stripes was raised for the first time by Lieutenant John Paul Jones over the USS Alfred, a colonial warship. The flag would be used by Continental forces thorugh 1776 and early 1777.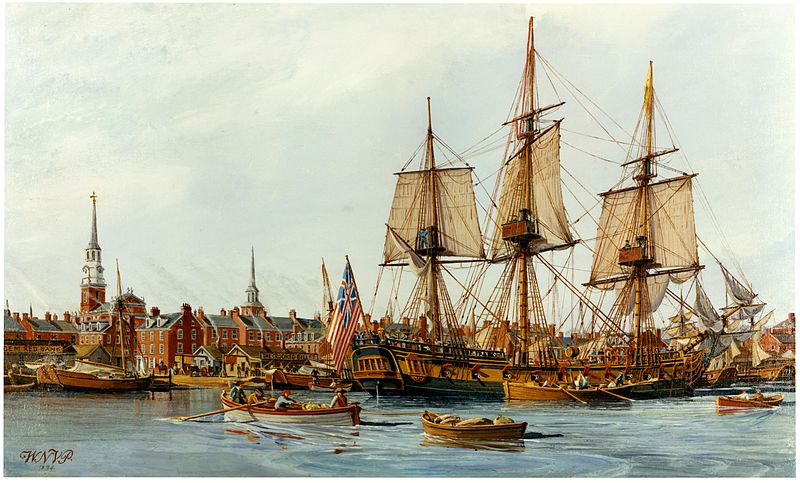 On December 3, 1776, General George Washington wrote Congress that he had moved most of his army across the Delaware River from Trenton, New Jersey to Pennsylvania.
On December 3, 1864, Union forces under the command of Gen. William T. Sherman skirmished against Wheeler's Confederate cavalry at Thomas' Station in Burke County, Georgia.
In Memoriam, Guy Davis
Guy Davis, who ran as the Republican nominee for Governor in 1986 has died. Davis was a veteran of the United States Army before attending Georgia State. He served as a police officer and Homicide Detective with the Atlanta Police and an investigator with the Fulton County District Attorney's Office. After law school at Emory, he became an Assistant District Attorney in Fulton County. Congressman Jack Kingston said,
"Guy Davis was in many ways a trailblazer for our modern GOP party in Georgia," said Congressman Jack Kingston. "As Young Republicans, Libby and I put out many signs for Guy back in 1986 when he stepped-up to challenge Governor Joe Frank Harris when others would not. He ran an honorable race; obtaining the vote of almost a third of the electorate, which was considered a success for Republicans in those early days."
Visitation and a Celebration of Life Service will be held at Sandy Springs United Methodist Church Activities Center at 85 Mount Vernon Highway NE, Sandy Springs, GA 30328. Visitation will take place in the Parlor on Friday, December 5, from 4-6:00 p.m. The Service will be held in the Chapel on Saturday, December 6, at 12:00 p.m. A private burial will follow the service at the Georgia National Cemetery in Canton, GA. Arrangements by McDonald and Son Funeral Home, 150 Sawnee Drive, Cumming, GA 30040 (770) 886.9899.
Politics, Campaigns, and Elections
Last night, Nancy Jester won the runoff election for DeKalb County Commission District One with a victory margin of 3:1.
Jester, a former member of the DeKalb school board, received 3,954 votes, or about 76 percent of the votes cast, according to unofficial returns posted on the DeKalb Registration and Elections website. . Her opponent in the runoff, Holmes Pyles, received 1,259 votes, the website reported.
In Columbia County, Mack Taylor was elected to the County Commission District Three seat, defeating Trip Derryberry by a 58-42 margin.
In Dodge County, Al McCranie took nearly 66 percent of the vote to win election as Probate Judge, over William "Jody" Batts.
Kylon Fort was elected to the Berrien County Board of Education.
In State House District 120, attorney Gary Gerrard has announced his candidacy in the Special Election to be held January 6, 2015. Gerrard joins previously announced candidate Jesse Johnson. I assume Gerrard will be on the ballot as a Republican, as he used the phrase, "Conservative Republican" twice in his announcement, while Johnson's announcement contained no statement of party.
Paul Bennecke, who most recently ran the David Perdue Senate Campaign, will join the Republican Governors Association as their next Executive Director, under incoming RGA Chair Gov. Bill Haslam of Tennessee.
Bennecke has been a senior RGA strategist on and off for years, serving as the group's political director from 2007 to 2010. Bennecke ran the committee's outside spending in three states during the most recent election cycle: Massachusetts, Kansas and Georgia.

The third of those states is where Bennecke has made his political reputation: He worked as a top adviser to Republican Sonny Perdue, who won the Georgia governorship in a 2002 upset and later served as RGA chairman. In 2014, Bennecke advised David Perdue — the former governor's cousin — in a successful bid for the U.S. Senate.

In a statement, Haslam cited Bennecke's "deep experience and great success winning governor's races" as the reasons for his selection.

"RGA is fortunate to have such a bright and talented individual helping lead the organization," the Tennessee governor said.
Congressman-elect Rick W. Allen (R-Augusta) stopped in Metter yesterday as part of a victory lap of the 12th District.
Congressman-Elect Rick Allen met with community leaders in Metter on Tuesday morning to talk about what he's doing to prepare for Washington and how he plans to work with other Republicans and others from Georgia.

Allen said he's hearing people about the things that need fixing. Locally, that list includes the Temporary Farm Worker Program.

"The current program is not working," Allen he said. "It needs to be solved. Tax policy, nobody understands all the tax code. It needs to be simplified."
Meanwhile, Congressman-elect Buddy Carter (R-Pooler) is familiarizing himself with his new Washington, DC digs, and learning where the bathroom is the ropes.
Carter has been busy these days studying issues, hiring staff, getting his office ready, planning for constituent services, attending orientation classes and basically getting acquainted with Washington, DC and how it works.

"It is very humbling and a great honor for me that the people of the district have chosen me to represent them," says Carter.

Carter, a Republican, will be sworn in January 6. He will succeed Representative Jack Kingston (R-Savannah).

Carter says he is looking forward to representing the people of the first district.

"It is overwhelming at times, but I am excited about the opportunity to serve," he says. "I am told that only about 10,000 people have ever been elected to Congress. It is a high honor and I want to do my best for those I serve."
The Blackshear Times interview with Buddy Carter is worth reading in its entirety if you're interested in how the new Congressman is planning to serve the First Congressional District. Congressman Carter has also written on his campaign website about Freshman Orientation at the United States Capitol. No word on whether he purchased an elevator pass.
Yesterday, Governor Nathan Deal appointed Thomas H. Baxley to the Superior Court for the Pataula Judicial Circuit.
The Judicial Nominating Commission has released a short list of candidates for two seats on the Superior Court for the Ocmulgee Judicial Circuit.
The following names were submitted to Governor Deal:

Dawn M. Baskin – Senior Assistant District Attorney, Ocmulgee Judicial Circuit
Alison T. Burleson – Assistant District Attorney, Ocmulgee Judicial Circuit; Adjunct Professor, Georgia State University College of Law
Fredric D. Bright – District Attorney, Ocmulgee Judicial Circuit
Brenda Holbert Trammell – Sole Practitioner, Brenda Holbert Trammell, Attorney at Law
The United States Supreme Court appointed Ralph I. Lancaster as the Special Master to administer the filings in the water wars with Florida, according to the Gainesville Times.
Ralph I. Lancaster will serve as special master with authority to set the time and conditions for the filing of additional pleadings, direct proceedings, summon witnesses and issue subpoenas.

He also can "take such evidence as may be introduced and such as he may deem it necessary to call for," according to the high court's website.

Lancaster has been involved in two other Supreme Court cases involving water disputes, one between Virginia and Maryland and another between New Jersey and Delaware.
Mark your calendar for Sunday night, December 7 at 6 PM for the public Christmas Tree Lighting Ceremony at the Governor's Mansion. You may also drop off unwrapped gifts for Toys for Tots at the Mansion.
Twelve-year old CJ Pearson is starting down a horrifying promising path of political activism and as part of the Young Georgians in Government group.
"Kids like change. They like making history and they like to make an active difference," said CJ Pearson.

He's Just 12-years-old but Pearson is trying to make a difference to get younger people involved in politics.

"While I can't vote, I can still make a difference," Pearson said. "It doesn't matter what age you are, you can still make a difference."

"Right now we have 15 county chairs. Locally, we have a Columbia County and a Richmond County chairmen." Pearson said.

And Pearson serves as the executive director.

"The reason I started this organization is because I was so motivated by a young girl name Sarah Blair," Pearson said. "She became the youngest state lawmaker in the entire country on November 4th. She won a seat in the house delegates in West Virginia."
The Young Georgians in Government group has already started lobbying advocating for a change in the age at which they will be eligible to serve in the State Legislature to lower the age from 25 to 21 for members of the State Senate and from 21 to 18 for the State House of Representatives. State Senator Josh McKoon (R-Columbus) will sponsor legislation in the senior chamber to effect the change, while a raft of House members will help in the junior chamber.
The movement for a new city at St Simons Island appears to be getting serious heading into the 2015 legislative session. From the Brunswick News:
The three men at the forefront of Citizens for SSI, the group pushing to make St. Simons and Sea islands a city, have a wide-ranging background in the development, finance and management of large-scale projects and organizations.

Chuck Cansler, Cesar Rodrigues and Ivan Figueroa, all residents of St. Simons Island, are the ones behind incorporation of the two islands.

Right now, island incorporation is mostly just talk. Nothing official, at least that has been released to the public, has been submitted to the state.

But a second city in Glynn County continues to be the talk of the town, especially on St. Simons Island.
Business
Porsche Cars North America announced record sales of 4,699 vehicles for November.
For the year, PCNA has delivered 43,732 vehicles in the U.S., an increase of 11.9 percent over the same time period in 2013 (39,077).

"This sets a new record for sales in a month for PCNA, outpacing the previous record of 4,609 vehicles, which was reached in May of this year," Joe Lawrence, Executive Vice President and Chief Operating Officer, commented on November sales.
Delta Air Lines also saw both revenue and traffic tick upwards for November, according to the Atlanta Business Chronicle.
Delta Air Lines Inc.'s traffic went up 5 percent in November.

The Atlanta-based airline also reported Tuesday its consolidated passenger unit revenue rose 4.5 percent in November, boosted by strong unit revenue from domestic routes, with particular strength in Atlanta and Seattle.

During November, Delta carried 13,271,993 passengers — up 5.9 percent over November 2013.
State Rep. Trey Kelley and State Sen. Bill Heath accompanied Japanese Consul General Kazuo Sunaga on tours of local plants in Cedartown and Rockmart.
The three toured Kimoto Tech in Cedartown on the afternoon of Nov. 25 following a plant tour of Miura Manufacturing in Rockmart that morning.

Sunaga said seeing the plants gave him a better understanding of how Japanese business investors are doing overall with their overseas operations in Georgia.

"The visits confirmed that the state of Georgia has a lot to offer Japanese companies looking to locate and succeed in this great state," he said. "Georgia has a great labor force, affordable costs – including utilities – great accessibility and strong support from the local community."

It's this kind of sentiment Kelley is hoping to put to good use with foreign investors, and not just Japan. He's hoping to use relationships at the State Capitol to drive overseas companies to consider Polk County when they're choosing communities to invest in for the future.
DeltaWing Technologies, which pioneered a new Star Wars vehicle unconventional racecar, is looking at becoming a manufacturer of electric vehicles, according to Urvaksh Karkaria of the Atlanta Business Chronicle.
DeltaWing Technologies Inc., owned by motorsport entrepreneur Don Panoz, is developing the City Car — a three-wheeler based on the electric motor technology behind the Lightning electric motorcycle. Expected to cost between $12,000 and $15,000, the City Car will drive 50 to 100 miles on a full charge.

The City Car will initially be targeted at government agencies that require employees — building inspectors and parking enforcement personnel — to drive short distances as part of their jobs. "We believe that a full-sized sedan is really unnecessary, uneconomical and not very fuel-efficient (for short in-city driving)," said Ed Triolo, a DeltaWing vice president.

If DeltaWing succeeds with the City Car, it could seed a high-growth industry in the state — one that generates high-tech jobs, said Don Francis, executive director of Clean Cities-Georgia. "Building and servicing electric vehicles requires a specialized workforce," Francis said. "We are going to be training technicians, not mechanics."

DeltaWing is considering leveraging the City Car to launch a ride-sharing service located near university campuses and intown neighborhoods. Members rent vehicles to run errands on an as-needed basis, instead of owning and maintaining their own vehicles. Private car ownership will diminish over time, Francis said. "Millennials are not getting driver's licenses," he said.
Here's the money quote from that article. I'll be writing more extensively about this issue as we head toward the session.
Rather than building a capital-intensive dealer network, DeltaWing plans to sell the City Car through up to 1,200 retail centers nationwide. Triolo said he is in talks to partner with an undisclosed automotive service company to sell and service the City Car.

"We don't want to get into the automobile franchised dealer mode, nor do we want to sell direct," he said. "It's daunting in terms of the economics and the time frame to develop a national dealership network in the automotive space."
There's also the daunting fact that such a sales arrangement runs smack into the same franchised dealer requirement that's causing Tesla Motors fits. This is where economic development runs head-on into existing businesses that are currently protected by state law.