James Oglethorpe of Georgia signed a treaty with Florida's Spanish government on October 22, 1736 that is commemorated each year with a very large cocktail party.
On October 22, 1832, the Cherokee Land Lottery began in which the Georgia state government gave away millions of acres of land in 160-acre and 40-acre parcels.
Governor John B. Gordon signed legislation changing the number of Georgia Supreme Court Justices from three to five on October 22, 1887
President Grover Cleveland arrived in Atlanta aboard the Southern Railway to tour the Cotton States and International Expo on October 22, 1895.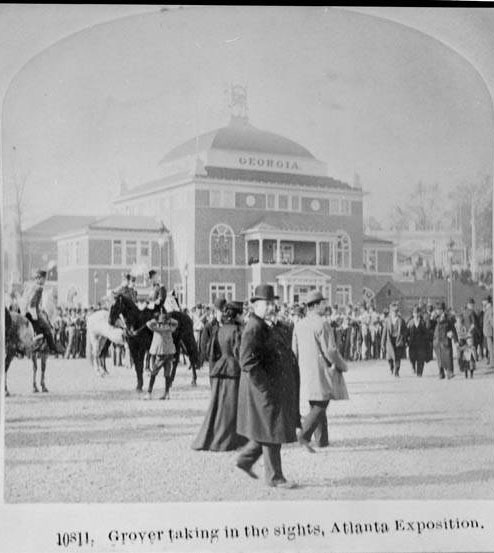 Four-hundred thirty-three Atlantans were poisoned by bad moonshine on October 21, 1951.
President John F. Kennedy announced the American naval blockade of Cuba after spy planes photographed Soviet missiles on the island 90 miles off the coast of the United States.
The third and final debate between Jimmy Carter and President Gerald Ford was held on October 22, 1976 at Williamsburg, Virginia.
The Atlanta Braves won the first World Series baseball game played outside the United States on October 22, 1992, beating the Toronto Blue Jays 7-2 with pitcher John Smoltz starting for the Braves.
Georgia Politics, Campaigns, and Elections
Democratic Race-Baiting
The Georgia Democratic Party is engaged in vicious race-baiting in a divide and conquer strategy to drive African-American voters to the polls. The above photo originated, I believe, from an AJC scan, but has been traveling across the internet for 24 hours.
The AJC Political Insider spoke to Georgia Democratic Party Chair Dubose Porter about the mailpiece.
We caught up with Democratic Party Chairman DuBose Porter at an event in Milledgeville this evening. He said the situation in Ferguson easily applies to Georgia:

"Again, it's about opportunity. Are you going to be in situaitons more like that? I mean, that's when you don't have people having the opportunity for jobs or to participate in their community and the opportunity to grow. When you have communities like that that are stagnant — that's what we're getting to in Georgia — and when you offer people the HOPE grant to get retrained, or the fundamentals in education so we can get our dropout rate down. That very much of what that climate is, is what we're trying to change here."
Dubose Porter and the rest of the Georgia Democratic Party should be ashamed of themselves for inciting racial animus.
Click here to see more of the worst political direct mail I've ever seen.
Why would the Georgia Democrats do something so destructive to our state? Here's a clue, from the New York Times:
The confidential memo from a former pollster for President Obama contained a blunt warning for Democrats. Written this month with an eye toward Election Day, it predicted "crushing Democratic losses across the country" if the party did not do more to get black voters to the polls.

"African-American surge voters came out in force in 2008 and 2012, but they are not well positioned to do so again in 2014," Cornell Belcher, the pollster, wrote in the memo, dated Oct. 1. "In fact, over half aren't even sure when the midterm elections are taking place."

Mr. Belcher's assessment points to an urgent imperative for Democrats: To keep Republicans from taking control of the Senate, as many are predicting, they need black voters in at least four key states. Yet the one politician guaranteed to generate enthusiasm among African Americans is the same man many Democratic candidates want to avoid: Mr. Obama.

The numbers are significant. Although more than 1.1 million black Georgians went to the polls in 2012, only about 741,000 voted in 2010.

"If you tell me in Georgia that, on the closing of the polls, the electorate is 32 percent African-American, I'm going to tell you we have probably elected a Democratic senator," he said. "That's not theory. It's basic math."
Walter Jones, writing for Morris News, notes that Democratic efforts to register new voters fell short this year, which may add to their sense of urgency.
Numbers released Monday by a Kemp spokesman showed the total voters registered at 6,038,372, which is 39,182 lower than those registered in 2012. So far this year, 183,000 people have registered since March, but more names have been removed by reasons such as death or moves out of state.

Of those new voters, about 67,500 or one-third are black, one-third white and the rest either unknown, Hispanic or Asian. Earlier in the year, Democratic operatives set a goal of adding 200,000 minority votes on Election Day and estimated that they needed to register at least 500,000 to reach that target.
Desperate Dem Caught Lying
Republican Attorney General Sam Olens said yesterday that reports by Democrat Greg Hecht of Sheriffs changing their endorsements from Olens to Hecht were untrue.
Late Friday, the campaign of Democrat Greg Hecht rolled out a false press release claiming 37 Georgia sheriffs had "switched" from backing Attorney General Sam Olens. After multiple news outlets ran the story, listed sheriffs began contacting both campaigns to complain. As the sheriffs have called the Hecht campaign to demand their name be taken off, the number he claims continues to change daily.

"I'm proud to support Sam Olens and I am shocked that his opponent claimed to have my endorsement," said Lanier County Sheriff Nick Norton. "Sam is a friend and has done a tremendous job as Attorney General helping my office of Sheriff here in South Georgia with many criminal cases. Sam has always had my full support and my endorsement."

Mike Dewey, Sheriff, Brooks County, said "I don't know why Attorney General Sam Olens' opponent would falsely list my name as switching my endorsement. Sam Olens has proven himself as a friend and supporter of Georgia's law enforcement efforts and has always had my full support."

Sheriffs confirming to the Olens' campaign that Hecht fabricated their endorsement to date, include: Sheriff Nick Norton, Lanier County; Sheriff Mike Dewey, Brooks County; Sheriff Josh Hilton, Calhoun County; Floyd County; Sheriff Neal Walden, White County; Sheriff Thomas, Pike County; Sheriff Young, Grady County; Sheriff Kight, Toombs County; Sheriff Peterson, Clinch County; Sheriff Thomas, Franklin County and Sheriff Nobles, Long County. One of the "switchers" listed was not on the Olens' list to begin with.

"It is shameful that someone this fundamentally dishonest could run for the state's top legal office. In his failed lieutenant governor's campaign eight years ago, Hecht's tactics were so deceptive and corrupt; one Atlanta newspaper actually revoked its endorsement," said campaign spokesperson Sheri Kell.
Yesterday, a reader texted me this description of what they saw at the Gwinnett County Board of Elections:
Just saw a white van drop 6 people off at the Gwinnett voter registration office where early voting is and the driver told all the passengers to remember to vote for Carter and Nunn as 5-6 other people who were waiting to be picked up climbed in the van.
The National Republican Senatorial Committee is reportedly planning on significant spending in a Louisiana Senate runoff.
The independent expenditure arm of the National Republican Senatorial Committee has set aside $3.3 million to run ads from Nov. 6 to Dec. 6. Earlier this year, Freedom Partners Action Fund, a super PAC promoting free-market policies, decided it would wait for the expected runoff to spend $1.5 million on ads opposing Landrieu.

Crossroads GPS, which began airing ads this week, won't say if it will run ads after Nov. 4 in the event of a runoff.
Will they start setting aside money for a Georgia Senate runoff? Others are predicting massive spending if the top races go into extra innings.
When you include all the money the campaigns, parties and outside groups spend, it could be a $50 million runoff," Republican consultant Chip Lake said. "And that might be low-balling it."

The top candidates are publicly confident that Libertarian support will drop off as November draws nearer, yet Deal's attack on Hunt on Sunday suggested otherwise. The governor noted that Libertarians are "fierce opponents" of government spending, and he pointedly asked how Hunt reconciles his support of Medicaid expansion with his party's platform.

Another indication is their bank accounts. Deal has collected more than $110,000 in campaign contributions that would be available to him in case of a runoff. Carter had roughly $4,000 for that purpose, according to campaign finance reports released this month.

Democratic strategist Tharon Johnson, who is advising the Nunn campaign, said internal discussions about a runoff have been going on for the past month — particularly on how to raise money locally and nationally. Johnson said the Democrats would reach out to Libertarian voters and even Democrats who did not turn out for November.

And Johnson said Democrats would be energized by the mere fact that there is a runoff, enough so that they would come out again.

"If and when we go to a runoff, I think historical trends will not play as big a role in this race as it has in the past because it's a victory within itself that two Democrats made it to a runoff in what we thought was a red state," Johnson said.
Michelle Nunn has tailored her message to appeal to undecided female voters, while David Perdue also moves to shore up support among women  – Savannah Morning News.
You don't hear Michelle Nunn mention gender politics or try to rally female voters in Georgia around issues of abortion, birth control and gay marriage as she runs for the Senate.

Yet there's no question that Nunn has tailored her message in the final few weeks of her campaign against Republican David Perdue to reach women, trying to win over those who voted Republican in recent years but might be open to casting a ballot for a Democrat.

She's just doing it by focusing on pocketbook issues, from supporting an equal pay bill to attacking Perdue over a gender discrimination lawsuit filed against a company he led as its chief executive.

"The positions that she has on social issues might not be in line with a mainstream Georgia voter," Georgia-based GOP strategist Chip Lake said of Nunn. "She wants to try to play it as safe as she possibly can."

That's led Nunn to focus on what she calls issues of economic fairness and opportunity. Nunn has argued, for example, that Perdue opposes an increase in the minimum wage and takes care to note that 70 percent of those receiving such pay are women.

Perdue isn't ceding any votes among women, launching a "Women for Perdue" group led by his wife, Bonnie. At a recent event in Columbia County, Bonnie Perdue talked about how the nation's debt is holding back the economy.

"You talk to women and their kids are moving back home, they've lost jobs, their husbands have lost jobs," she said. "They feel the failed policies of this administration every time they go to the grocery store, every time they have to fill their car with gas."

Perdue's on the air with an ad featuring four women who talk about how his career was spent "helping to create and save thousands of jobs right here in America." The women in the ad also look to raise questions about where Nunn stands on issues like the economy.
Headlines Across Georgia
The prosecution of suspended DeKalb County CEO Burrell Ellis on allegations of official corruption ended in a mistrial, though the jury forewoman has since said she believes Ellis was guilty – Atlanta Journal Constitution.
The jury that failed to reach a verdict in the corruption trial of suspended DeKalb County CEO Burrell Ellis was close on a few of the counts but they were truly split on most of the 13 still-unresolved charges, according to the woman who was elected foreperson after four days of the deliberations.

Susan Worthy, the second juror elected foreperson because of personality disputes with her predecessor, said she thought Ellis should have been convicted. But not all agreed and that split among her fellow jurors was not going to change, Worthy said in an interview.

The closest the jury came to a unanimous vote was on count nine, an extortion charge. The final vote on that count was 11-1 for guilty, she said.

Citing a gag order that remains in place, District Attorney Robert James office declined to say if he would seek a retrial or drop the case. That information will come out in a court filing, most likely over the next few days.
Cobb County Board of Ethics moves forward with complain against County Commission Chair Tim Lee – Marietta Daily Journal.
The Cobb Board of Ethics will move forward with a formal hearing to determine whether County Chairman Tim Lee violated the county's ethics code, as alleged by west Cobb resident Tom Cheek.

After about 90 minutes of hearing arguments, presentations and asking questions to both Cheek and Lee's attorney, the board voted 5-1 Tuesday, with Richard Ziober opposed and Walter Moon absent, to hold a formal hearing.

The Ethics Board's meeting Tuesday was to determine whether there is enough evidence to support a "reasonable" belief Lee violated the county's ethics code, according to the agenda for the meeting. The formal hearing will determine whether the code was actually violated.
The Augusta Chronicle writes that the abolition of  Columbia County's construction and engineering advisory boards was done in secret and revealed to the public in the manner of Cobb County's Braves deal – Augusta Chronicle.
To be sure, the plan's last-minute inclusion on the Columbia County Commission agenda adhered to the letter of the state's open-meetings law. But in no way was it within the spirit of the law, which strives to make government business as transparent as possible.

It is obvious that county commissioners, led by Chairman Ron Cross, and some county employees viewed the existing board structure as an impediment to their way of doing business. That's why they hatched a behind-the-scenes plan to abolish the boards – the measure was never discussed in previous committee meetings – and ensured it got a quick, debate-free vote by placing it on the agenda at the last possible moment.

Had Cross and the commission given the public the notification it deserved – these are citizen advisory boards, after all – the vote might have been the same. But at least elected officials would have given the public that voted for them the chance to respond and present opposing viewpoints.
The State Ebola Response Team will meet today in the Georgia State Capitol – Savannah Morning News.
The group is tasked with evaluating Georgia's emergency management procedures and making recommendations to address potential impacts that Ebola could have on Georgia.

The team includes health, military and emergency management officials and representatives from health care facilities, including Atlanta's Emory University where three people have been treated and released and one patient is being treated for the virus.
Lieutenant Governor Casey Cagle has a new television ad.
Democrat Jason Carter's scheme for a separate education budget is as untested as Carter himself, say policy experts – Augusta Chronicle.
No other state is using the exact model Carter has proposed, according to the National Conference of State Legislatures. But Alabama, Michigan and Utah split education funding from other expenses, and the three states are nowhere near the top in national education rankings.

Deal blasted Carter at the forum for promising more money without saying where it will come from and for not offering his own budget amendments during past legislative sessions. Carter has said the state can collect more than $2 billion in unpaid taxes and by cutting waste to increase spending.

"I think that's one of the very specific things that people need answers to," Deal said. "Our budgeting process is not perfect by any means, but it is one where people have the right to participate."
Speaking of the state budget, the state Senate and House budget committee chairs have written about Governor Deal's success in budgeting to make Georgia more competitive to bring jobs home and in a stronger financial position.
This is the real story: Nathan Deal has governed so adeptly on so many fronts that Georgia not only has emerged intact from the Great Recession, but it also is poised for long-term prosperity.

In three separate rankings by industry analysts, Georgia in 2013 and 2014 has been recognized as the No. 1 place in America for companies to do business.

How has Gov. Deal, with the House and the Senate, managed to move Georgia forward?

• First, he cut spending. Some of the cuts were severe. They were not always popular. But they were the right things to do. Because Georgia lived within its means, this was one of the few states never once at risk of losing its AAA credit rating from 2011-2014.

• He also cut taxes — erasing the "marriage penalty" from our tax code, eliminating the sales tax on energy used in manufacturing, and replacing the "birthday" tax on motor vehicles with a title/tag fee paid up front at purchase.

• He safeguarded the future operation of the state government by rebuilding the "rainy day" fund for the government. And he safeguarded the HOPE scholarship program and rebuilt its reserves. Georgia's cash reserves are approaching $1 billion due to his stewardship.

• He invested in the education of our children, who are our future and our state's future workforce. Each and every year of Gov. Deal's first term, the state appropriations for K-12 programs increased. This year's $7.9 billion in funding for schools approaches the highest funding level ever.

• Finally and most importantly in terms of Georgia's future, Gov. Deal put his laser-sharp focus on economic development. He also traveled internationally to help Georgia compete and in four years has welcomed scores of new companies to this state. The governor also made workforce training a priority. This state is offering some of its new corporate arrivals company-specific, workforce training.

During Gov. Deal's first term, 294,000 new jobs have been added to the state's economy. In the next few years, the new companies investing billions of dollars in Georgia will hire thousands more.
They also are diversifying our economy so that a future downturn won't be as devastating as the last one was to our state.

Nathan Deal has distinguished himself as our governor. The question to be answered Nov. 4 is whether Georgia will continue moving forward with his direction.

We urge you to go to the polls and give our governor the support he has earned. Let's decide Georgia's future.

Rep. Terry England, Chairman of the House Appropriations Committee
Sen. Jack Hill, Chairman of the Senate Appropriations Committee
Tybee Island is considering banning plastic grocery bags – Savannah Morning News.
Hundreds of counties and municipalities around the U.S. have imposed bans or taxes, including Washington, D.C.; Portland, Ore.; three Outer Banks counties in North Carolina; and all of Hawaii's islands, giving them a de facto statewide ban. In August, California became the first state to enact legislation imposing a statewide ban on single-use plastic bags at large retail stores. It goes into effect next summer.

Workman modeled her proposed ordinance on California's.
State Senator Jesse Stone said he will discontinue his application for a State Court judgeship if he is reelected the the Georgia State Senate – Augusta Chronicle.
In response to his Democratic opponent's demand that he withdraw his bid to be appointed judge for Burke County State Court, Sen. Jesse Stone issued a statement Tuesday afternoon saying he will withdraw if re-elected to his state Senate seat.

Stone qualified to run for re-election March 6. The next day on his Facebook page Stone announced he was a candidate for the judgeship.

"I am still in the Senate race and do not intend to resign unless I am appointed interim state Court Judge," Stone wrote March 7. He also wrote he would resign his Senate seat if appointed.

On Tuesday, he wrote in a news release: "If re-elected to the Georgia State Senate, I will not accept an appointment to fill the unexpired term of Judge Jerry Daniel on the Burke County State Court."
Former House Speaker and Georgia Congressman Newt Gingrich sent a robocall attacking President Obama's immigration policies – Huffington Post.
"To make matters worse, the White House recently stated that it's planning to spend almost $50 million to fly people directly to the United States from countries that are sending tens of thousands of people here illegally," he says in the robocall. "This plan, along with the president's willful refusal to defend our borders, is a grave threat to our national security."