On October 14, 1735, John and Charles Wesley sailed with James Oglethorpe from Gravesend, England, for Georgia and John Wesley wrote the first entry in his journal that would eventually cover 55 years. On that date, John Wesley wrote,
Our end in leaving our native country, was not to avoid want, (God having given us plenty of temporal blessings,) nor to gain the dung or dross of riches or honour; but singly this, to save our souls; to live wholly to the glory of God.
The First Continental Congress adopted the Declaration of Colonial Rights in Philadelphia, Pennsylvania on October 14, 1774.
Then-former President Theodore Roosevelt was shot before a campaign speech in Milwaukee, Wisconsin, on October 14, 1912.
Roosevelt, who suffered only a flesh wound from the attack, went on to deliver his scheduled speech with the bullet still in his body. After a few words, the former "Rough Rider" pulled the torn and bloodstained manuscript from his breast pocket and declared, "You see, it takes more than one bullet to kill a Bull Moose." He spoke for nearly an hour and then was rushed to the hospital.
A.A. Milne published Winnie-the-Pooh on October 14, 1926. E. H. Shepard illustrated the Pooh books.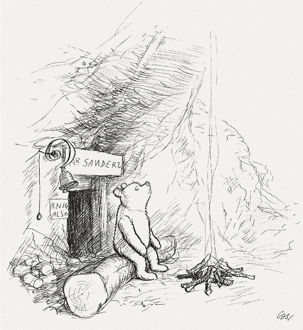 The War Department renamed Wellston Air Depot to Warner Robins Air Force Depot to honor Brigadier General Augustine Warner Robins on October 14, 1942.
On October 14, 1964, Martin Luther King, Jr. was announced as the winner of the Nobel Peace Prize, becoming Georgia's first native-born winner. Today's Atlanta Journal Constitution has a story on how King's Nobel Prize effected Atlanta.
The honor wasn't just a watershed for King and the civil rights movement but also for Atlanta. It set off a series of events that some say fundamentally changed the city's business, religious and racial cultures by bringing blacks and whites together for the first time to share a meal in public.

That simple act, holding a multi-racial banquet in the new Nobel laureate's honor, tested the will and even the nerves of those determined to make Atlanta a more just and inclusive place.

"It was a defining moment in the history of the city, and it should go down in the city's documented memory," said Janice R. Blumberg, the widow of Rabbi Jacob Rothschild, who was instrumental in organizing the event.

King's three surviving children are due in court in December to determine if the 23-karat gold medal — along with a Bible their father once owned — should be sold at auction. Brothers Martin Luther King III and Dexter King, representing the King Estate, plan to sell the items. Sister Bernice King has opposed the sale.

Mayor Allen and J. Paul Austin, chairman of Coca-Cola, gathered the business elite at the Piedmont Driving Club. Allen warned then he would be taking notes on who did not attend the dinner. But Austin delivered the crushing blow.

According to Young's written account, Austin said: "It is embarrassing for Coca-Cola to be located in a city that refuses to honor its Nobel Prize winner. We are an international business. The Coca-Cola Company does not need Atlanta. You all have to decide whether Atlanta needs the Coca-Cola Company."
On October 14, 1980, Republican candidate for President Ronald Reagan announced he would name a woman to the Supreme Court if elected.
To achieve those ends, we need the best people possible at the highest levels of Government regardless of sex, race or religion. I am also acutely aware, however, that within the guidelines of excellence, appointments can carry enormous symbolic significance. This permits us to guide by example, to show how deep our commitment is and to give meaning to what we profess.

One way I intend to live up to that commitment is to appoint a woman to the Supreme Court. I am announcing today that one of the first Supreme Court vacancies in my administration will be filled by the most qualified woman I can find, one who meets the high standards I will demand for all my appointments.

It is time for a woman to sit among our highest jurists. I will also seek out women to appoint to other Federal courts in an effort to bring about a better balance on the Federal bench.
Georgia Politics, Campaigns, and Elections
Can UGA sue?
Ron Daniels, an actual lawyer, raises the issue of whether the University of Georgia could sue the sports memorabilia dealer who allegedly paid Todd Gurley for autographed merchandise.
Apparently, in 2003, the General Assembly passed a law designed to allow universities to recover damages from situations like this. While this law has been on the books for over a decade, it does not appear to have ever been used. But O.C.G.A. 20-2-317 and O.C.G.A. 20-2-318 are finally getting some press. At first blush, it may seem like 20-2-318 may give UGA a cause of action against Gurley's accuser.

In the words of one ESPN commentator, "[n]ot so fast my friend." 2-20-318 is an obvious example of "feel good" legislation. But in the rush to pass such legislation, it appears a possible loop-hole may exist for any potential defendants.
These words are significant, "that results in the institution being penalized, disqualified, or suspended," because it requires the university to be penalized in some form or fashion. The university, not the player.
Please note, Ron's analysis is a blog post and not a thorough in-depth legal analysis of 20-2-318, and under no circumstance should it be construed as legal advice.
Rand Paul to support David Perdue
It is being reported on the internet that Kentucky Senator Rand Paul will be at an event for David Perdue on Friday, October 24 at 12:45 PM on the McDonough Square.
New Jersey Governor Chris Christie will be in Georgia this week, campaigning for Governor Nathan Deal.
Christie, the chair of the Republican Governors Association, is touring Georgia Tech and then the Roswell Square on Thursday afternoon. It's part of a three-state swing that also includes stops in Maine and Florida to help embattled Republicans there fend off challengers.

He's part of a range of high-profile Republicans visiting Georgia in the final push before November. Sen. John McCain is headed to Atlanta Wednesday to vouch for Republican David Perdue's Senate bid, and Mitt Romney stopped by the Varsity a few days ago.
I'd give $50 to see Chris Christie go to the Varsity. Between those two visits and the recent announcement that Hillary Clinton will visit the Peach State in support of Michelle Nunn, is there any doubt that Georgia is becoming Ground Zero for 2016?
In finance, David Perdue raised a total of $4.82 million this quarter, including $500k of his own. Michelle Nunn announced she had raised $4.15 million during the same period.
Political Potpourri
The law firm for the Marietta Board of Education is asking for a raise in its monthly retainer from $9500 to $12,500 per month and a bump in its hourly rate from $160 to $180 – Marietta Daily Journal.
Meanwhile, a new IT director for Cobb County will make $132,000 per year – Marietta Daily Journal.
Columbus is likely to hire a new IT director, paying just under $90,ooo per year – Columbus Ledger-Enquirer.
Funding from Cobb County's 2011 SPLOST will be used to pay for studies on two potential projects for the next SPLOST project list, which will be voted on November 4th – Marietta Daily Journal.
An Open Records request seeks emails from the personal accounts of Cobb County Commissioners Bob Ott and Lisa Cupid – Marietta Daily Journal.
Snellville has settled with former City Clerk Melissa Arnold, who resigned after controversy between the Mayor and Council – Gwinnett Daily Post.
Members of the council approved the settlement agreement with Arnold, who resigned during the trial between the council and Kautz in June, despite the fact that she hasn't sued the city. The discussion prior to the vote was contentious with interjections from the audience and much back-and-forth between Kautz and the council, but the terms of the agreement never came to light.

Mayor Pro Tem Tom Witts asked City Attorney Tony Powell to give some insight on why the council should approve. Witts specifically started to ask Powell to explain something about how insurance companies played a part, but other officials interrupted him.

"I don't want to comment on any details," Powell told the council, adding: "It is wise to accept the settlement. There is legal justification for it in spades. It comes with my high recommendation."

Kautz, who members of the council blamed for Arnold's resignation, pointed out that Powell had previous represented Arnold during the mayor's legal action against the city. She also strongly criticized the move to settle with the former employee, who has since been hired by Gwinnett County, before it was approved in a 4-1 vote, with the mayor against and Councilwoman Diane Krause absent.
Peachtree Corners will install a 24/7 electric car charging station, thanks to a grant from the Atlanta Regional Commission – Gwinnett Daily Post. Is it too much to ask for a few USB charging ports on that station?
A prosecutor for the Macon Judicial Circuit resigned after being arrested for DUI – Macon Telegraph.
An alleged stalker of Macon-Bibb Mayor Robert Reichert has been arrested – Macon Telegraph.
The 2014 Georgia National Fair in Perry hit its second-highest attendance this year, no doubt buoyed by the Senate and Gubernatorial debates – Macon Telegraph.
The Savannah City Council is considering a pay raise for future members – Savannah Morning News.
If approved, a salary increase for city aldermen would not take place until the next council takes its seats in 2016.

Savannah aldermen currently are paid a salary of $14,500. The mayor's salary is $42,000. The last time the council got a raise was in 1999.

Alderwoman Mary Osborne said during that meeting she would like council salaries to be increased to the same level as salaries paid to Chatham County Commission members.

Commissioners approved increasing commission salaries by 44 percent to $25,000 in late December 2012 before the next commission was sworn in the following year. The chairman's salary was increased from $50,300 to $57,500.
Savannah-Chatham Police are expected to announce a new chief today – Savannah Morning News.
Gulfstream will announce a new business jet model – Savannah Morning News.
Whatever P42 looks like, most industry insiders agree it will be Gulfstream's answer to the Falcon 5X, a private jet built by French manufacturer Dassault Aviation, that has a wider cabin and the ability to fly 1,000 nautical miles farther than the G450.

Aviation News has reported that the P42 will be a clean-sheet design built on the all-new wing, fuselage and systems of the company's flagship G650.

A senior research analyst at Cowan and Co. who has covered Gulfstream extensively for years, von Rumohr said he expects the new plane to be positioned above the G450, with a larger cabin and longer range, but won't replace it.

"These features will make it a more effective competitor to the Falcon 5X and Bombardier Global 5000 at a higher price than the G450," he said, adding that, since the P42 isn't a direct replacement of the G450, its cannibalizing impact on G450 demand should be limited.

Perhaps the most intriguing aspect of the P42 has been the early report from Aviation News — and confirmation in Sunday's Wall Street Journal story — that the new jet will be powered by Pratt and Whitney engines, marking the first time in more than 50 years a heritage Gulfstream business aircraft has moved into final design with a non-Rolls-Royce engine.
The Muscogee County School Board has $4 million left from the SPLOST passed in 2009 and will try to decide how to spend it – Columbus Ledger-Enquirer.
The Georgia NAACP removed the leader of the Augusta chapter – Augusta Chronicle.
The Augusta Chronicle Editorial Board recommends voting "Yes" on both Constitutional Amendments and the Referendum on November's Ballot.
Proposed Constitutional Amendment "A" would prohibit the General Assembly from raising the maximum state income tax rate.

Vote "yes." Two of our neighbors, Florida and Tennessee, have no state income tax. North Carolina recently lowered its state tax. That makes those states more attractive to business and industry looking to relocate. Preventing an increase in Georgia sends the positive message that our state is committed to low taxes.

Proposed Constitutional Amendment "B" would add reckless-driving fees to the state's brain and spinal injury trust fund, which helps pay for care and rehab for victims of such injuries.

Vote "yes." Those types of injuries often are sustained in vehicle crashes. The logic is obvious.

Proposed Statewide Referendum 1 would give tax-exempt status to University System of Georgia property that's privately managed and operated – mostly dorms and parking decks.

Vote "yes." It will make student-housing management more efficient, and it will extend much-needed financial relief to the University System. This is part of a larger privatization plan that could rid the system of $4 billion in debt.
The Augusta Chronicle has also endorsed David Perdue for Senate:
In the race to replace outgoing U.S. Sen. Saxby Chambliss, Georgians have a unique opportunity to make the right decision on all counts: David Perdue.

His message is clear, though you might not have appreciated it fully. It's been difficult to see while spattered with mud, weakly flung by the campaign of Democratic challenger Michelle Nunn.

David Perdue's platform is solid. His ideas are clear. His vision is a plan Georgians can rally behind.
Finally, the Chronicle endorsed Republican Rick Allen for Congress against incumbent Democrat John Barrow:
Incumbent John Barrow has undoubtedly gone out of his way to sound and appear just like the voters of the 12th Congressional District.

In fact, he's sometimes contradicted himself to keep up that façade: As exposed in 2010 by the Savannah Morning News – which actually had endorsed Barrow – Barrow unbelievably and shamelessly assured urban audiences he was working "hand in glove" with President Obama, and even featured an ad of Obama endorsing him; meanwhile, a Barrow mailer sent to more rural constituents bragged that he "stood up to (House Speaker) Nancy Pelosi and the Democrats in Washington."

Not only did he want it both ways, he got it.

In contrast, voters this election have the chance to vote for someone who really does resemble the district – in his life story, his authenticity, his work ethic, his values and his deeply held views on the issues of the day.

Rick Allen, in short, is the real deal.

He's a wildly successful businessman whose dealings are rife with integrity. He's a family man of abiding faith – and wears it on his sleeve. He has roots here as deep as an oak, and his reputation stands as tall as a Georgia pine.

Most importantly, Rick Allen will vote the way the vast majority of the district wants – against big government and its takeover of your health care; for fiscal sanity and a balanced budget; for a strong and unmistakable defense of this country; for your individual rights, including the Second Amendment; in the interests of American agriculture; for energy independence; for a secure border and a vibrant immigration system that is legal and lawful; for local control and freedom of education, and more.

This also is a man who not only has built things, but created untold jobs and economic vitality in the process. Maybe he could show Washington how it's done: in spite of them!

Yes, Rick Allen, you built that.