Former Confederate President Alexander Stephens was released from federal prison on October 12, 1865 and returned to Georgia.
On October 13, 1870, Governor Rufus Bullock signed legislation creating the Georgia State Board of Education.
On October 13, 1885, Governor Henry McDaniel signed legislation authorizing the creation of a state school of technology as a branch of the University of Georgia; the school would open in Atlanta in October 1888, and in 1948 was renamed the Georgia Institute of Technology.
On October 13, 1918, the ban on public gatherings in Atlanta to prevent spread of the Spanish flu, was extended an additional week.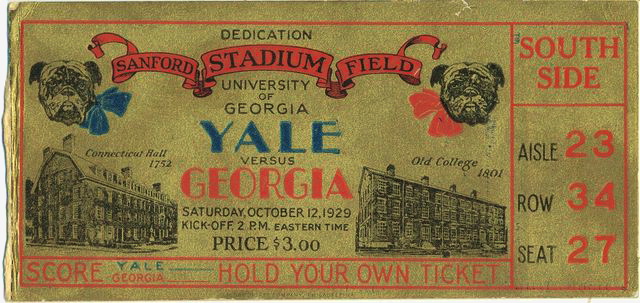 The first game in Sanford Stadium was played on October 12, 1929, with the University of Georgia Bulldogs beating the Yale Bulldogs. Here is the first ten minutes of the game.
On October 12, 1958, The Temple was bombed after a phone call to WSB warned that Black churches and Jewish temples would be blown up.
On October 13, 1976, Democrat Jimmy Carter received a post-debate bump against President Gerald Ford, with polls showing Carter at 50%-40% over the incumbent, up from 47%-45% before the debate.
Former President Jimmy Carter was awarded the Nobel Peace Prize on October 11, 2002, becoming the second native Georgian to win the award, with Rev. Martin Luther King, Jr., having won in 1964.
DeKalb Jurors fight like politicians
The latest political soap opera in DeKalb County is not the behavior of politicians, but of voters. Specifically the dozen or so who were chosen to serve on the jury in the trial of suspended CEO Burrell Ellis.
With tensions and personality conflicts increasing, Judge Courtney Johnson sent the jurors hearing the corruption trial of suspended DeKalb County CEO Burrell Ellis home for the afternoon, giving them time to calm down and rest but telling them to be back at 9 a.m. Friday.

"I want you all to go home and take a breather get some rest. Relax a little bit. I understand this is a stressful situation," Johnson said.

Four jurors nodded and one had obviously been crying.

"It appears we are having some pretty significant conflict back there (and it) has escalated from the issue we had this morning," Johnson told attorneys.

The jurors were called into the courtroom just after noon because the jury had sent out a note, complaining about personality conflicts and the leadership of the elected foreperson.

In their note, they wrote the "foreman cannot lead," Johnson said.
Since then, Judge Johnson granted the jury's request for Columbus Day off to rest, and they'll return to their deliberations tomorrow.
The last thing this county needs is a mistrial and second go at it.
Jimmy Carter hits the campaign trail, then hits Republicans
Former President Jimmy Carter walked onstage in the election for Governor with an appearance at Mt. Zion Baptist Church in Albany, a predominantly African-American church.
The elder Carter urged congregants to cast their ballots – early voting starts Monday – to help his grandson "make Martin Luther King's dream come true." And he accused Republicans of seeking to deny them voting rights.

"Twelve years ago in Georgia, we had a change in governmental attitude toward the Voting Rights Act, and the right of all people to vote," said Carter, who said when he was Georgia governor in the 1970s he signed a law that designated all high school principals as voter registrars.

"We were blessed by the fact that there were very few Republicans," he said to laughter from the crowd at Mt. Zion Baptist Church, a mostly black congregation. "The point is, 12 years ago that trend was changed. And since then, the Legislature and the governor have been determined to put every obstacle in the way for African Americans, mentally retarded people and elderly people to vote."

The ex-president acknowledges he can be a double-edged sword. Polls show the majority of Georgians give him high favorability ratings, and his famous name gave his grandson's campaign instant fundraising heft and national attention.

But his one-term presidency remains divisive in Georgia, and Republicans are eager to tie his views on hot-button issues, such as the Middle East conflict or global warming, to his grandson's gubernatorial bid.

Deal, for his part, said voters aren't going to be "unduly swayed" by the president either way.

"We can respect his opinion. But we are not a state nor a nation in which titles such as governor are inherited by virtue of your legacy," he said at a recent campaign stop. "It is a position that's voted on by the people of this state, and I don't think we're going to see that kind of influence have a significant difference."
President Carter's appearance is part of efforts to excite the base of the Democratic party as voting opens statewide today. We are now in the turnout phase of the election.
Big data and turnout
The AJC has an article by Daniel Malloy and Kristina Torres about modern campaign turnout strategies. It's worth reading in its entirety.
As the state grows increasingly competitive, political strategists know elections will likely be won by which party does a better job wooing voters on the margins.

"This is the largest effort we've ever had and we've started earlier than we ever had," state GOP spokesman Ryan Mahoney said.

The GOP, for instance, has created a mobile app for volunteers and employees alike to collect information. It features real-time syncing available to the party's 14 "victory offices" across Georgia, including the one in its Buckhead headquarters in Atlanta. There on a recent morning, nearly a dozen volunteers made call after call, politely introducing themselves before leaning into their pitch.

Say someone identifies himself as left-leaning but only votes sporadically and states a strong dislike for the Affordable Care Act. This "weak Democrat" then gets a call or knock on the door with a pitch tailored toward a GOP candidate's pledge to repeal that law. The embrace of technology follows last year's change in state party leadership, with staffers crediting new Chairman John Padgett with following a course set by the Republican National Committee.

The move toward such a tech-driven get-out-the-vote strategy, of course, first made waves with the 2008 election of President Barack Obama and his re-election in 2012. The Obama campaign's successful use of technology and grass-roots organizing set a standard that has finally made it to Georgia.

A slew of Democratic-allied groups have been seeking to register new voters, mostly young people and racial minorities. The NAACP, the Urban League and some African-American churches have mounted registration drives, and a number of religious leaders have supported a push in at least six counties to hold early voting on at least one Sunday before Nov. 4.

Then there is the New Georgia Project, a Democratic-backed group founded by state House Minority Leader Stacey Abrams of Atlanta, which made national headlines after Republican Secretary of State Brian Kemp announced an investigation involving the group's registration efforts.

Tharon Johnson, a Democratic strategist who is advising the coordinated campaign, said the fracas has ignited both parties' bases, which in turn will also likely have an impact on getting people to the polls.

Johnson, Obama's 2012 campaign director in the South, said the New Georgia Project allegations brought back a theme that he saw in Florida two years ago, where Democrats got fired up when Republicans sought to impose restrictions on voting.

"It nationalized the two races here in Georgia because it reflected a theme from the Republicans, when Democrats would tell base voters: 'They don't want you to vote. They want to suppress your vote,' " Johnson said.
New polling includes down-ticket races
Landmark Communications has released its latest polling results for WSB-TV, which includes some down-ballot races, as well as one of two Constitutional Amendments on the ballot.
"Gov. Deal leads Sen. Carter among male voters by 12 points, 51-40%, while Carter holds an 11 point lead among women, 50-39%," said Mark Rountree, President of Landmark Communications. "There is a significant difference in how the genders will vote.

In the race for U.S. Senate, Republican David Perdue and Democrat Michelle Nunn are now tied 46-46%, with Libertarian Amanda Swafford taking 4% of the vote and 4% of voters saying they are undecided.

"David Perdue has made up significant ground against Michelle Nunn. There may have initially been some residual hard feelings from Kingston supporters after a very long primary and runoff season," said Rountree. "They were slow to back Perdue. But over the past month Republicans solidified behind Perdue and now support him 87-5% over Nunn, up from 78-11% in August."

"There is a major difference between men and women in the way they are voting for Senate," said Rountree. "Female voters are voting for Nunn by a 10 point margin 51-41%, while male voters are voting for Perdue by a 12 point margin, 51-39%."

Lieutenant Governor

Republican Casey Cagle (I) 50%
Democrat Connie Stokes 42%
Undecided 8%

Secretary of State

Republican Brian Kemp (I) 50%
Democrat Doreen Carter 44%
Undecided 7%

Attorney General

Republican Sam Olens (I) 50%
Democrat Greg Hecht 44%
Undecided 7%

Commissioner of Agriculture

Republican Gary Black (I) 48%
Democrat Chris Irvin 43%
Undecided 9%

Constitutional Amendment Ballot Question regarding the income tax cap:

Shall the Constitution of Georgia be amended to prohibit the General Assembly from increasing the maximum state income tax rate?

Yes 48%
No 27%
Undecided 25%