The Chicago Fire began on October 8, 1871.
On October 8, 1895, the Liberty Bell arrived in Atlanta for the Cotton States Exposition.
The famously–cracked 2,000 pound pealer left Philadelphia on seven trips between 1885 and 1915. Each time it came home with more cracks. It turned out the men hired to guard the Bell were taking liberties, literally: chipping off pieces and selling them as souvenirs.

Cheering crowds greeted the Bell in Atlanta. A two–mile parade took it to Piedmont Park, where 50,000 people lined up to see it.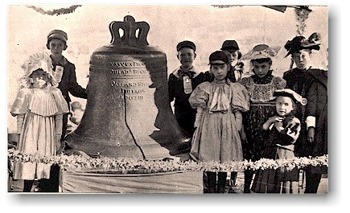 Georgia Public Broadcasting and the Georgia Historical Society have an interesting video on the Liberty Bell's trip to Atlanta. You can view a photo of the Liberty Bell Parade at the Atlanta History Center.
Polling released on October 8, 1976 indicated that Democrat Jimmy Carter won the second debate against President Gerald Ford by a 50-27 margin.
On October 8, 1981, former Presidents Nixon, Ford, and Carter visited with President Ronald Reagan at the White House before heading to Egypt to represent the United States at the funeral of assassinated Egyptian President Anwar Sadat.
Long-time Atlanta Braves pitcher Phil Niekro won his 300th game on October 8, 1984, though he wore Yankees pinstripes for that game.
The first C-5A airplane arrived at Robins Air Force Base on October 8, 1997.
On October 8, 1998, the United States House of Representatives voted 258-176 to authorize an impeachment inquiry against President Bill Clinton.
President George W. Bush issued an Executive Order establishing the Department of Homeland Security on October 8, 2001.
Georgia Politics, Campaigns, and Elections
Time magazine's takeaway from last night's U.S. Senate debate in Perry, Georgia, was that it was too loud and spectators too excited.
The one-hour debate at Georgia National Fair between Senate Democratic candidate Michelle Nunn and Republican candidate David Perdue was a rough and tumble affair, as the audience punctuated each sound bite with the vigor of crazed sports fans.

The candidates' supporters began to scream twenty minutes before the 7 p.m. start time, provoking surprised smiles and excited looks from the debate panelists.

"We're going to begin to start but we're going to need to hear the candidates," said CBS affiliated reporter and moderator Frank Malloy, who fiddled with his earpiece to better hear the cue to begin. "Alright we're going to have to start," he continued. "We appreciate your enthusiasm and your passion very much."

Nunn in her opening statement praised the "raucous" and "enthusiastic" crowd. It was an understatement. After Nunn's question to Perdue regarding how high the minimum wage should be, one panelist, Jeff Hullinger of NBC's Atlanta affiliate, tweeted out that "no one can hear each other including us." Before the Atlanta Journal-Constitution's Jim Galloway asked Perdue an Obamacare question, Galloway half-joked, "You're going to have to pardon me if this question has been asked already, but I'm kind of deaf at this point."

Even the candidates couldn't hear each other well on stage, especially in the segment where one candidate asked the other a question.

"Could you say it for me one more time, I'm sorry," Nunn asked Libertarian candidate Amanda Swafford, who was pushing the Democrat on gay marriage. "David, I didn't hear all of that, but I think I got the gist of it," said Nunn in response to Perdue, who questioned Nunn's agriculture credentials.

Nunn says that the Affordable Care Act needs to be reformed by adding a more affordable tier of health care coverage, extending tax credits to small businesses and repealing cuts that threaten rural hospitals. Perdue says it needs to be repealed and replaced, claiming that the law has led to rising health care costs, jobs destroyed, and less access to health care. He believes that aspects of the law should be delayed and that there should be a referendum in 2016 on the law. The law is "one of the worst laws that has ever been passed in the United States' history," according to Perdue.
ABC News had this exchange, which pretty much sums up the Senate election:
"I'm not sure he's recognized that he's not running against Barack Obama or Harry Reid–he's running against me," Nunn said of her opponent, making a case that she'll work across the aisle if elected to the U.S. Senate, telling audience members that collaboration is the best way to solve problems like the federal deficit.

"Michelle, I have a lot of respect for you, but you're dead wrong," Perdue responded. "I'm absolutely running against Barack Obama and Harry Reid. Make no mistake, no amount of false advertising can obscure the fact that Barack Obama handpicked you."

Some of Obama's policies were certainly on trial Tuesday night, and not just the Affordable Care Act, a staple of this campaign: "He created the vacuum that allowed the rise of ISIS" by not leaving a residual force in Iraq, Perdue charged, when asked about the terrorist army.

In mentioning advertising, Perdue touched on a major theme in the Georgia Senate race: intensely negative TV ads.
But the money quote came from Governor Nathan Deal:
Deal, who has pointed to increases in Georgia's labor force as a sign of economic optimism, said his economic record should be measured since he took office in January 2011. As he often does on the campaign trail, he pointed to media rankings that put Georgia as the number one place in the nation to do business.

"Sen. Carter, I know that you're young and inexperienced," said Deal. "But obviously you are trying to hold me accountable for the Great Recession."
Deal outraises Carter for third quarter
Greg Bluestein writes in the AJC's Political Insider that Governor Deal outraised Democrat Jason Carter in the most recent quarter.
                  Raised 3d Qtr                Cash on Hand

Deal……..$5.1 million…………………$2.6 million
Carter…..$3.0 million………………..$2.8 million
New polling in #GaSen, #GaGov
11Alive/SurveyUSA
WXIA-TV 11Alive has released a new survey by SurveyUSA.
David Perdue(R)……….46%
Michelle Nunn (D)…….45%
Amanda Swafford (L)….3%
Undecided………………….6%

SurveyUSA said Perdue holds 77 percent of conservative voters. Nunn holds 87 percent of the Democratic base, but also leads among moderates by 22 points.
In the Gubernatorial race, SurveyUSA finds:
Nathan Deal(R)……….46%
Jason Carter(D)……….44%
Andrew Hunt (L)……….4%
Undecided……………….. 7%

While Carter leads by seven points among female voters, Deal has polled at 50 or 51 percent among men, meaning Carter is not as strong among women as Deal is among men, according to the poll.
For Lieutenant Governor
Casey Cagle(R)………….51%
Connie Stokes(D)………39%
Undecided………………..10%
Attorney General
Sam Olens(R)…………..46%
Greg Hecht(D)………….39%
Undecided……………….15%
Secretary of State
Brian Kemp(R)………..49%
Doreen Carter(D)……..39%
Undecided……………….12%
Finally, in the State School Superintendent's race,
State School Superintendent

Richard Woods(R)……46%
Valarie Wilson(D)…….42%
Undecided……………….12%
PPP Poll
Public Policy Polling, a Democratic-affiliated firm, released results from a new robopoll:
David Perdue(R)……….45%
Michelle Nunn (D)…….43%
Amanda Swafford (L)….5%
Undecided………………….7%
In the Gubernatorial race, PPP finds:
Nathan Deal(R)……….46%
Jason Carter(D)……….41%
Andrew Hunt (L)……….4%
Undecided………………..9%
For Lieutenant Governor
Casey Cagle(R)…………48%
Connie Stokes(D)………37%
Undecided………………..16%
Attorney General
Sam Olens(R)…………..45%
Greg Hecht(D)…………36%
Undecided……………….19%
Agriculture Commissioner
Gary Black(R)………….45%
Chris Irvin(D)………….36%
Undecided……………….19%
Insurance Commissioner
Ralph Hudgens(R)…..41%
Liz Johnson(D)……….34%
Ted Metz (L)……………10%
Undecided………………15%
Labor Commissioner
Mark Butler(R)……….45%
Robbin Shipp(D)……..36%
Undecided……………….19%
Secretary of State
Brian Kemp(R)………..48%
Doreen Carter(D)……..39%
Undecided……………….13%
State School Superintendent
Richard Woods(R)……46%
Valarie Wilson(D)…….41%
Undecided……………….14%
The total number of respondents was 895, of whom 80% were interviewed by Robopoll and 20% by internet survey. African-Americans are 28.0% of respondents in the PPP poll and it isn't clear whether weighting was applied. Margin of error is +/-3.3 points at the 95% confidence interval
Also in the PPP poll were fantasy football potential matchups for the 2016 Presidential election.
In the survey, Clinton led all but one potential GOP candidate tested against her in the Peach State. Though she trailed former Florida Gov. Jeb Bush (R) 45 percent to 44 percent, she bested Sens. Rand Paul (Ky.) and Ted Cruz (Texas) by three and six percentage points, respectively. Clinton also topped New Jersey Gov. Chris Christie, Mike Huckabee, and longshot candidates Herman Cain and Newt Gingrich.