On September 25, 1789, Congress adopted the first twelve amendments, called the Bill of Rights, to the United States Constitution. A little more than two years later, in 1791, enough states had ratified ten of the Amendments, with two not receiving sufficient support.
On September 25, 1864, Confederate President Jefferson Davis met with General John Bell Hood and visited troops at Palmetto, Georgia.
Ronald Reagan appointee Sandra Day O'Connor became the first female Justice of the United States on September 25, 1981. In an interview with Terry Gross, she recalled receiving the call from President Reagan:
"I was working in my office on the Arizona Court of Appeals," she tells Fresh Air's Terry Gross. "I was at the court in my chambers when the telephone rang. And it was the White House calling for me, and I was told that the president was waiting to speak to me. That was quite a shock, but I accepted the phone call, and it was President Reagan, and he said, 'Sandra?' 'Yes, Mr. President?' 'Sandra, I'd like to announce your nomination to the U.S. Supreme Court tomorrow. Is that all right with you?' Well, now, that's kind of a shock, wouldn't you say?"
On September 25, 2008, the last car came off the line at GM's Doraville Plant
Given that last historical tidbit, it's fitting that yesterday, the site of the GM Doraville Plant was bought by Egbert Perry's Integral Group, which will lead in the redevelopment of the facility. From the Atlanta Business Chronicle:
Money changed hands on Wednesday. "As of a few hours ago we officially closed. We own the GM site," Perry told Atlanta Business Chronicle.

Now work will begin to turn the 162 acres just north of Atlanta into 20 blocks of office buildings, housing, stores and restaurants.

Now the focus turns to at least eight months of demolition and the removal of 78,000 tons of scrap metal and other salvageable materials left after the plant closed in 2008.
Georgia Politics, Campaigns, and Elections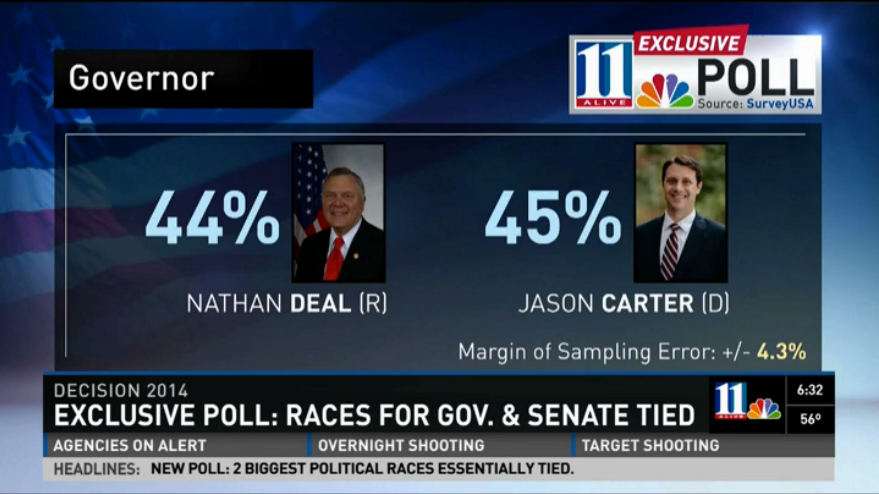 If your first reaction upon hearing that 11Alive's polling moved from Deal +1 to Carter +1 over the last two weeks, relax. It's not really a difference. It's well within the margin of error and a net 2 point change is meaningless. The real headline is that nobody is paying attention to the elections yet, and nothing is changing. Libertarian Andrew Hunt's 4-point share is unchanged.
Likewise a shift from Perdue +3 to Perdue +1 is meaningless.
Here are the rest of the races from the 11Alive poll:
Lieutenant Governor
Casey Cagle (R)(i)………..47%
Connie Stokes (D)………..43%

Secretary of State
Brian Kemp (R)(i)………..46%
Doreen Carter (D)…………43%

Attorney General
Sam Olens (R)(i)…………..48%
Greg Hecht (D)……………..41%

State School Superintendent
Richard Woods (R)……….46%
Valarie Wilson(D)…………44%
Mrs. GaPundit is not amused
More and more reports are coming in predicting that the Governor and Senate race will totally ruin the holidays go into overtime. From FiveThirtyEight.com:
Georgia's runoff would occur after Congress is sworn in on Jan. 3.

What's the chance of a runoff there? It seems to be higher by the day. A SurveyUSA poll out Wednesday gives Republican David Perdue just a 46 percent to 45 percent lead over Democrat Michelle Nunn. The FiveThirtyEight forecast is a bit more optimistic for Perdue, projecting him to lead the November vote by 3.2 percentage points. You'll note I'm hesitant to say "win." The reason is that the Libertarian candidate, Amanda Swafford, has averaged 5 percent in the past five polls to include her as a choice. The SurveyUSA poll put her at 4 percent. It's impossible for Perdue to beat Nunn by 3 percentage points in November and get over 50 percent if Swafford earns 4 percent of the vote.

In other words, if Nunn and Perdue are close, and Swafford does decently, Georgia is headed for a runoff.

And there's precedent for such a performance by a Libertarian. In Georgia's 2008 Senate race, Libertarian Allen Buckley won 3.4 percent of the vote. That was enough to keep Republican Sen. Saxby Chambliss, who led the November vote by 3 percentage points over Democrat Jim Martin, at 49.8 percent of the vote.

A lot of angry political reporters may be spending their New Year's celebration in Georgia.
DUI data AWOL?
After analyzing reports from the Georgia Crime Information Center, the AJC raised questions about whether DUI case dispositions are being properly reported to the state.
The state has no record of the outcome of nearly 100,000 DUI charges because counties and cities have failed to properly report how they handled Georgia's most dangerous drivers.

An Atlanta Journal-Constitution analysis of DUI charges in the Georgia Crime Information Center found yawning holes in the data that make criminal histories unreliable. This is of particular concern to employers, who are given limited access to the database to run background checks on job applicants. Courts and police use it on a daily basis to guide them in dealing with offenders.

For about one in five of the DUI charges in the database for two years or more, no report of a disposition has ever been filed with the state. Under a new law, most DUI charges that remain unresolved for two years no longer show up as part of the criminal histories employers rely on.

"There could be people out there driving a school bus with two DUIs and no one knows it," GBI Director Vernon Keenan said. "The dispositions ought to be there in our database, not these black holes."

The GBI's review of impaired-driving cases started with one aim: to study whether Georgia has a problem with crooked judges allowing dangerous drivers to escape DUI convictions.

The state's Judicial Qualifications Commission has already investigated judges in three counties on allegations of ticket-fixing and more investigations are anticipated, Ronnie Joe Lane, director of the watchdog agency, said.
The Council of Probate Court Judges issued a statement on the GBI report, which reads in part,
Cook County Probate Judge L. Chase Daughtrey, CPCJ president, says that his Council
has addressed concerns regarding the proper disposition of traffic offenses in Georgia's probate
courts. "The Georgia Crime Information Center (GCIC) data that gave rise to an investigation
into DUI case dispositions does not demonstrate any intentional impropriety by probate court
judges," Daughtrey said. "But it reflects poor reporting by some to the Georgia Bureau of
Investigation, so the CPCJ will ensure all probate judges are properly trained and have the staff
needed for reporting traffic offense dispositions. Additionally, we are continuing our legislative
effort to have a prosecutor in every probate court that has traffic and criminal jurisdiction and are
encouraging judges to review the canons of judicial conduct to prevent any impropriety."

The CPCJ launched its "READY campaign" last April, one aspect of which is to take
proactive steps training probate judges," according to Daughtrey. "The CPCJ has met with the
Judicial Qualifications Commission, has requested regional training from GCIC for probate
judges and clerks, and has offered staff to judges in need of assistance with administrative work
relating to disposition of criminal cases," Judge Daughtrey said.
Wall Street Journal on Georgia's Unemployment numbers
WSJ Assistant Editor Allysia Finley writes about questions raised about unemployment numbers in Georgia,
Jobs numbers don't lie, but they don't always capture the entire truth. Just ask Georgia Gov. Nathan Deal, who was ridiculed by Democrats last week for suggesting that the gnomes at the Bureau of Labor Statistics were rigging state unemployment data.

"It's ironic that in a year in which Republican governors are leading some of the states that are making the most progress, that they almost, without exception, are classified as having a bump in their unemployment rates," Mr. Deal groused. "Whereas states that are under Democrat governors' control, they are all showing that their unemployment rate has dropped. And I don't know how you account for that. Maybe there is some influence here that we don't know about."

The point here is that unemployment numbers can be misleading, which is why Republicans like Mr. Deal need to be able to cite significant policy accomplishments and present a broader governing agenda.
Ms. Finley is correct that unemployment numbers can be misleading, especially when they're used as the only indicators for a state's economic health, but she ignores the significant issues that result from the fact that the Bureau of Labor Statistics unemployment figures are derived from polling data, and thus, subject to all the same sources of error as other polls.
Ironically, while we were nerdfighting over the unemployment numbers, the Bureau of Labor Statistics released a separate set of data that showed that Georgia is ranked #6 nationally for job growth.
The U.S. Department of Labor's Bureau of Labor Statistics (BLS) announced that Georgia is ranked sixth nationally and third in the Southeast for top job growth. With the creation of over 79,300 new jobs in the past 12 months, Georgia represents a strong 2.0 percent annual growth rate, which is higher than the nation's average of 1.8 percent.

Georgia also had solid over-the-month growth, ranking sixth in the nation and third in the Southeast. Georgia ranks in the top 10 states for percentage growth over the month. The number of jobs in Georgia totaled 4,132,900 in August, up from 4,053,600 in August 2013.  The August-to-August job growth was the second largest in Georgia since 2005.

"Georgia has been ranked in the top 10 states for job creation for the past two years," said State Labor Commissioner Mark Butler. "Our state's employers are to be commended for their confidence in our state's economy, as they continue to invest in hiring and growing their companies."
CPI releases ad spending numbers
The Center for Public Integrity has crunched the numbers on ad spending by state campaigns in Georgia and shows that, not surprisingly, the race for Governor shows most of the TV spending to date.
All but $100,000 of this year's Georgia television spending has been in the governor's race, as Republican incumbent Nathan Deal tries to withstand a challenge from Democratic state Sen. Jason Carter.

In Georgia, CPI found that Carter and Deal have each spent about $2.2 million from their own campaigns.

According to CPI estimates, $1.8 million of Deal's total includes ads touting the governor, while he spent $383,100 on negative spots aimed at his Democratic opponent. Deal also benefited from a $787,000 ad blitz by the Republican Governors Association, all of it on spots attacking Carter.

Carter's distribution was slightly more in favor of positive ads, with $2 million on ads promoting his candidacy and $193,000 on negative ads targeting Deal. The Democratic Governors Association reported no television spending on Carter's behalf.
How to grade political campaign managers
Marketplace from American Public Media had a piece on the radio this morning (I listen to GPB 88.5 FM) about the problem with assessing political campaign managers' records.
In sports, a team's record is very important. Coaches and managers are judged on how many games they have won and lost. Is the same thing true of campaign managers and consultants?

Politicians also have high expectations. They also want to win. So, it is surprising to Brendan Nyhan, a professor of government at Dartmouth College, "how little accountability there is, given the amount of money that's being spent on consultants." And even if they lose, they continue to get hired.

According to Nyhan, this is because politicians have a hard time evaluating managers and consultants.

"It's the same kind of problem you face as a patient when you go into the doctor's office," he explains. You have to gauge how good someone is at something you don't know much about.

Ethan Roeder, the New Organizing Institute's executive director, has looked at what campaign managers and consultants get paid. He says they don't tend to advertise their records "because there is a general understanding that races are much more individual than that." What they will advertise are individual races in which they beat the odds.
Here's my advice – assess their win-loss record, talk to their past clients – this should be non-negotiable – and also consider the working relationship. Too many politician-consultant relationships become testy or worse under pressure, and it's hard to work together when the candidate and the consultant don't like or don't trust each other.