Thursday Sept 18: Cobb County Animal Control is over crowded and putting down good adoptable dogs as a result. These eight are at extreme risk and need your help! If you can rescue any of these please contact:
Shelter: Friends of Shelter Animals for Cobb
Phone: (770) 499-4136
Contact: Elizabeth Sherman
E-Mail: Elizabeth.Sherman@cobbcounty.org
Contact: Janice Riccio (for out of state rescue groups)
E-mail: quietzsch@aol.com
Website: http://www.petfinder.com/shelters/fosa.html
Address: 1060 Al Bishop Dr., Marietta, GA 30008
567433 DIXIE, a sweet Hound mix, I am already spayed, house-trained, up to date with shots, microchipped and tested negative for heartworms. Dixie is a REALLY SWEET, PRETTY GIRL. She was an owner turn-in on July 8th. Not only is she a sweet girl, she sits when asked. Her ID Is 567433 and she is in run 29, she is 1 year old and weighs 44 lbs. She has been to off-site adoptions at PetSmart and has done great, but sadly no one chose her. Since she is an active girl, she is not recommended for small children. Please come meet this sweetie right away, you will fall in love with her!
566762 BOGART, a flat-coated retriever mix is already neutered, heart worm negative, micro-chipped, and up to date with shots. Bogart is as CUTE AS CAN BE, CUTER IN PERSON, and VERY PLAYFUL. He is a VERY AFFECTIONATE BOY and LOVES TO GIVE KISSES, as you can see by his one picture. We think Bogart would be a great running or hiking partner and he would love a big fenced in yard. As you can see on his video, he LOVES TO PLAY WITH THE DOGS AT THE SHELTER. Bogart was SUCH A GOOD BOY and sat silently as he got a much needed brushing. He was picked up as a stray on June 16th. Bogart is about 3 yrs old and weighs 47 lbs. He is current on vaccines, has been neutered, so he is ready to go home with you. Bogart's ID is 566762 and he is in run 81. Come and meet this CUTIE.
567821 COLLINS, a Labrador Retriever mix, is already neutered, up to date with shots, heartworm negative, microchipped and good with dogs. Collins is a HAPPY, PLAYFUL and SWEET PUPPY! Did we mention that he's ADORABLE and AFFECTIONATE as well? He came to the shelter as a stray on July 21st and is ready to find the perfect family to grow up in. Collins is just 5 months old and currently weighs 28 lbs. He is a SMART BOY and EAGER TO PLEASE. Collins is at the perfect age to begin puppy school with his new owners. He is QUIET IN HIS CAGE and much smaller than he appears in his photos. His ID # is 567821 and he can be found in cage 332 in the puppy/small dog room. Come pick up your puppy today, he's ready for you!
567833 MARLEY AKA TOBIAS, another Lab mix – He is already neutered, microchipped, heartworm negative, and up to date with shots. Marley is an ADORABLE and REALLY SWEET BOY. He is QUIET IN HIS RUN and PLAYFUL OUTSIDE. Marley walks well on a leash, will sit when told as well as lie down. He is about 3 yrs old and weighs 55 lbs. Marley was picked up as a stray on July 22nd. .His ID is 567833 and he is in run 826.
567887 FELLA, a Lab mix– This 6 month old puppy is already neutered, up to date with shots, and good with dogs.Upon adoption will be microchipped. He really needs to be seen in person to truly appreciate his devilishly HANDSOME GOOD LOOKS. He arrived to the shelter on July 23rd and is now available for adoption and ready to mingle! He is about 6 months old and weighs 36 lbs. Fella is a SMART BOY and has already learned to sit and stay on command. He is CUTE and PLAYFUL and EVERYTHING THAT IS FUN AND WONDERFUL ABOUT PUPPIES.  Fella's ID # is 567887 and he can be found in cage 331 in the puppy/small dog room. If you need a little SUNSHINE in your life, come meet Fella today!
568010 JESSIE, an American Bulldog mix, is already neutered, heartworm negative, will be micro chipped upon adoption, and up to date with shots. Jessie is a HANDSOME GUY with the most ADORABLE STUBBY LEGS! He and his buddy Kira (who got adopted) sadly were abandoned and arrived to the shelter on July 25th. Jessie is about 4 years old and weighs 50 lbs. He has a VERY SWEET TEMPERAMENT and he is LOADS OF FUN! He is sure to be the talk of the neighborhood with his UNIQUE LOOKS and STRIKING PERSONALITY. He walks well on a leash, but would not sit for our photographer. Perhaps he was too excited. His ID # is 568010 and he can be found in cage 824, now alone without Kira. We are sure you will fall in love with this sweetie upon meeting him, so come meet him today!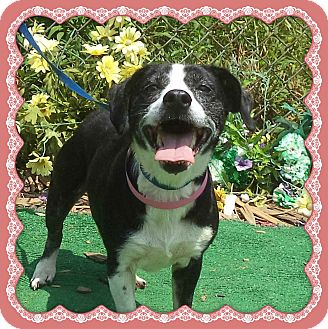 568333 ABIGAIL, a Jack Russell Terrier mix, is already spayed, micro-chipped, heartworm negative, and up to date with shots. Sadly she is yet another Senior dump. We just don't know how people can be so heartless. Not only that, they didn't even bother to leave any info on her. It is so difficult for a Sr., who has known a home all their life, to be in a busy, noisy shelter. Even though Abigail is about 10 yrs old, she still has some good years ahead of her and would love to spend them in a loving home. She has LOTS OF LIFE TO LIVE, LOTS OF LOVE TO GIVE and MANY HAPPY MOMENTS TO SHARE WITH YOU. Abigail would likely make a great little companion weighing in at 24 lbs. Can you give her the loving, forever home she deserves? Her pictures are not real clear because she is terrified and would not stay still long enough. Her ID is 568333 and she is in cage 901. Come and "spring" this girl.
568599 BELLA, a Pit Bull Terrier mix, is spayed, housetrained, up to date with shots, good with kids and dogs. She will be heartworm tested upon adoption. She had a loving owner who adopted her from the shelter in 2010. He loved her and she loved him. He took good care of her and provided for her. Bella's owner has fallen on hard times and is losing his home. He has nowhere to go and he can no longer provide for Bella. He doesn't want her out on the streets. He surrendered Bella to the shelter, without a dry eye in the house. Bella is a HAPPY, WELL ADJUSTED GIRL who knows sit, stay, and is playful. Just look at that SWEET FACE!  We hope Bella's story has a happy ending. She's waiting for someone to rescue her once again like her owner did years ago, but the shelter is so full, she's stuck in the back. You will have to ask to see her. Bella is up to date with shots, spayed, and micro-chipped. Her former owner reported that she is GOOD WITH KIDS, HOUSEBROKEN, and GOOD WITH ANIMALS. Bella is in run 875 and her ID is 568599. Please give Bella the wonderful home she deserves.