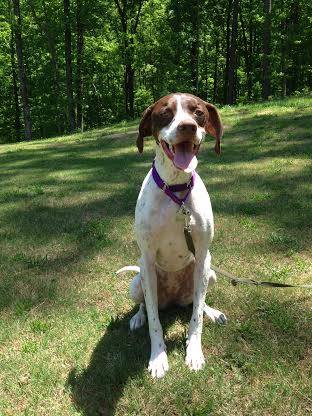 Maddie May is a gorgeous 15-month old, 40-pound purebred English pointer.
I am a very good girl and I won't mess in the house and I gave all the small children kisses this weekend and still no one picked me. I am happy living with my foster mom as she has dogs for me to play with and lots of space for me to run and chase the ball but I know I can't stay here forever so I really need someone to choose me and take me to their home where we can all live happily ever after together! And RUN and PLAY!
Maddie May is available for adoption through Angels Among Us Rescue in Atlanta, Ga.
Roger is a 6-month old, 50-pound bird dog mix – whether it's English Setter, Brittany, or Springer Spaniel, no one but his parents know. He is very sweet and outgoing! He would love a big yard and/or other dogs (preferably close to his size) to run and wrestle with. He needs regular exercise, and would probably make a great running partner with the right training.
Roger is available for adoption from Rincon's Unwanted Furry Friends (RUFF) in Rincon, GA.
The second Roger is a young male Miniature Pinscher or Chihuahua mix and is available for adoption from Atlanta Pet Rescue & Adoption Inc. in Smyrna, GA.