On April 21, 1732, King George II signed the royal charter creating the colony of Georgia. The King's signature did not make the charter effective as several additional steps were required.
On April 21, 1789, John Adams was sworn in as the first Vice President of the United States.
On April 21, 1904, Ty Cobb made his debut in professional baseball for the Augusta (Georgia) Tourists in the South Atlantic League in center field; Cobb hit an inside-the-field home run and a double.
Manfred von Richthofen, known as "The Red Baron," was killed in action on April 21, 1918, shot by either an Australian gunner or a Canadian. At the time of his death, Richthofen has shot down 80 aircraft in aerial combat.
Former President Jimmy Carter was appointed Distinguished Professor at Emory University on April 21, 1982. Carter holds an annual Town Hall in which he takes questions from students.
The Charleston Riverdogs minor league baseball club debuted new Seersucker Sunday uniforms this year. I debuted my Seersucker Sunday uniform yesterday.
Georgia Politics and Campaigns
Continuing with the baseball theme, the new Cobb County Stadium for the Atlanta Braves will now cost taxpayers an additional $18 million. How much more will the taxpayer tab grow?
Cobb County political leaders last fall assured taxpayers that their financial commitment toward a new Atlanta Braves stadium would be capped at $300 million to build the stadium and another $35 million for 30 years of capital maintenance.

But an Atlanta Journal-Constitution investigation has found the county will borrow an additional $18.2 million when it issues bonds to pay for the project. The new costs are needed to cover $15.1 million for the first year of interest on the debt, along with another $3.1 million to pay the county's bond attorney and other issuance costs.

That brings the amount borrowed to $386 million, not the $368 million told to the public and outlined in a preliminary agreement with the Braves that was approved by the county commission in November.

The previously undisclosed costs raise the specter of other unknown expenses that may await taxpayers….
If you've ever built a house, you'll understand that delays in construction projects are commonplace. The timing of the new stadium opening is tight, and delays could cause problems for the Braves 2016 season.
Atlanta Mayor Kasim Reed says the Braves could stay longer at Turner Field should construction fall behind on the team's new stadium in Cobb County. The catch is that the team must commit to five years.

The Braves are scheduled to leave Turner Field after the team's 2016 season. The team has in its contract a five-year option to stay at the site, reports Atlanta Business Chronicle broadcast partner WXIA-TV.

Reed doesn't seem inclined to cut the team any slack on the time frame.

"They gotta take it all," Reed said smiling. "Can't take a piece. You gotta take all five years."
Apparently, teaching the Bill of Rights is a controversial issue among the education establishment. Nancy Jester has made teaching the Bill of Rights – all of it – part of her platform in her campaign for State School Superintendent and AJC education writer Maureen Downey doesn't like it. Here's what Downey says:
I understand this T-shirt's theme could appeal to some voters, but it also has the potential to run off others who may question why bearing arms is being referenced in any form in a race for state school chief.
Perhaps the better question is why the entire Bill of Rights is not taught under Common Core standards. Here's what Nancy Jester says should be taught.
My experience as a parent of three elementary school children has proved to me their formal learning about history is deficient when it comes to understanding the Constitution and Bill of Rights. This is not a deficiency in the teachers. Some teachers bolster their lessons on this topic but our state leaders in education have let us down by not fully investing in teaching our children about their own history and rights. It should be noted that this deficiency exists with Georgia's current standards for learning and the Common Core does not appear to fix this. My own opinion is that our elementary schools should have far more focus on the philosophical origins of our nation and the documents that bind us to them. By the end of 5th grade, our children should be able to enumerate their rights, with full understanding as to their meaning. If our children are not fully educated about the origins of our Republic, we should all worry about the continuity of their rights and freedom in the future. I want our children to inherit a world where they are secure in their rights and freedom.
Does teaching the foundational document of our country really cause unease in the minds of voters? Here are some more of Nancy Jester's thoughts on the inadequacies of Georgia's curriculum.
Why are our children not taught of the signers of the Declaration of Independence?  Why are they not taught about the signers of the Constitution?  Should there not be a mention of The Federalist Papers?  The role of economic freedom is not fully expanded in the curriculum while icons of liberal social philosophy are given special attention.  The K-5 curriculum of Georgia certainly does not instill the values of liberty and self-reliance.  It perpetuates a social agenda of guilt, judgment and entitlement based on an ambiguous and incorrect assessment of history.
Finally, here is Nancy Jester's complete response to the AJC/educratic establishment's fear of American democracy.
David Perdue's vaunted business background has now provide more than a throwaway line for his television ads – it's also providing full employment for researchers digging for dirt in his career. Benjy Sarlin of MSNBC.com provides the first shot across the frontrunner's bow.
David Perdue, a Republican candidate for Senate in Georgia's competitive primary, has boasted in ads, interviews and debates that he ran corporations that created thousands of jobs in America. He's also claimed that he learned the intricacies of international affairs from managing business operations abroad. Both of these claims are true, just not always at the same time.

When Perdue arrived at Haggar Clothing Co. in 1994, the historic menswear company was struggling. Revenues were down, old reliable products like suits were in decline, and competitors like Levi's were muscling in on their department store sales.

As senior vice president, Perdue was in charge of international operations at Haggar and later domestic operations as well. Under his watch, the company did what so many clothing manufacturers did at the time: closed down factory lines in America and outsourced production overseas where labor was cheap and regulations were less restrictive.

That meant cutting hundreds of jobs at South Texas facilities in Weslaco, Edinburg, and Brownsville and producing clothes in countries like Mexico, where the average manufacturing employee earned about $1.50 an hour in wages and benefits.

In SEC filings, Haggar reported employing 4,300 workers in America in 1996. That number dropped to just 2,600 in 1997 while the company maintained 1,700 workers overseas in both years. By 1998, 1,667 laid off Haggar employees had been certified for NAFTA retraining programs for workers who lost their jobs to outsourcing or foreign imports – the most of any company in Texas, according to The Dallas Morning News.

Outsourcing has been a contentious issue in politics in recent years. Democrats pilloried Mitt Romney in 2012 for his role investing in companies that engaged in the practice. In 2010, Carly Fiorina was assailed for outsourcing jobs while CEO of Hewlett-Packard during her unsuccessful campaign for Senate.

According to Perdue, anti-outsourcing attacks against politicians often ignore the challenge that companies face balancing the interests of customers, employees, shareholders, and investors.

"To politicians who have never been in a free enterprise system this sounds really easy," Perdue said. "It is anything but easy. It's very messy."

Perdue said Haggar's shift to factories abroad was the unavoidable result of several factors, including declining sales for some of the company's American-made products, increasingly cheap clothing from rivals who had outsourced production earlier, and the 1994 ratification of NAFTA, which reduced duties on Mexican-imported goods.

"We fundamentally restructured a company for survival," Perdue said. "Another way to look at this is we saved a couple thousand jobs."
Next comes a revelation that a company whose Board of Directors David Perdue served on received stimulus funds in 2009.
Georgia Senate candidate David Perdue (R), whose campaign has focused on the need to cut federal spending, is on the board of a company that received millions of dollars from the federal stimulus program.
Perdue has been on the Alliant Energy Corporation's board of directors since 2001. Since the American Recovery and Reinvestment Act passed in 2009, the company received $3.4 million in stimulus funding.

That includes a $3.2 million grant to one of its subsidiaries, Wisconsin Power, for smart grid investment.

"David believes that overall, like most spending by Washington politicians, the stimulus was a waste of taxpayer money that missed its mark while piling on even more debt," Perdue spokesman Derrick Dickey told The Hill.
Perdue's campaign says he was aware of the stimulus grant to Wisconsin Power, but wasn't involved in seeking the funds or in the company's day-to-day management.
"A board of directors at a company that size is not involved in granular level operational decision making," Dickey said in an email. "Of course the board has a general awareness of the company's activities, most of which are highlighted in annual and quarterly public reports; however, it does not direct the day-to-day operational decisions."
A Georgia company has licensed the Haleigh's Hope strain of cannabis bred to have higher levels of medicinal CBD and very low rates of the intoxicant THC.
ICYMI: two political strategists on the Georgia Senate race
Last week I talked with Tharon Johnson, Southeast National Political Director of the 2012 Obama reelection campaign, and Eric Tanenblatt, a National Co-Chair of the Romney 2012 campaign about Media, Momentum, and the 2014 Senate race in Georgia. It's well worth watching.
AV Club: at the Augusta Senate Debate
Rep. Phil Gingrey at the Augusta Senate Debate
Rep. Paul Broun at the Augusta Senate Debate
Rep. Jack Kingston at the Augusta Senate Debate
Karen Handel at the Augusta Senate Debate
RollCall.com's At the races blog describes Saturday's Augusta Senate race as "a brawl."
With so many candidates running for the state's open Senate seat, none are expected to win a majority of the vote in the May 20 primary. They're fighting to finish in the top two and advance to the July 22 runoff, when all bets are off.

The name of Michelle Nunn, the likely Democratic nominee, wasn't mentioned until the final three minutes of the 90-minute debate — symbolic of where the GOP's focus still is in the race to replace retiring Sen. Saxby Chambliss, R-Ga. Former Georgia Secretary of State Karen Handel first uttered the Nunn name in her closing remarks, as she portrayed herself as the most electable conservative on the stage.

"I would just love to see Michelle Nunn try to drop the 'war on women' on me," Handel said.

Handel is the only woman in the field of candidates, of which five have at least an outside shot at making the runoff. Former Reebok and Dollar General CEO David Perdue, the cousin of former Gov. Sonny Perdue, continually pitches himself as the outsider with the business background, grouping Handel in with the three members of Congress as the "career politicians."

Rep. Jack Kingston, who has been among the top two in recent polls, along with Perdue, said Republicans in the House have "shut down" Minority Leader Nancy Pelosi, D-Calif., and that he intends to take the fight to the Senate against Majority Leader Harry Reid, D-Nev. He sought to stand out from his House colleagues, Reps. Phil Gingrey and Paul Broun, but also pushed back against the Perdue's outsider mantra.

"I'm not going to apologize for being a long-term soldier fighting for the conservative cause," Kingston said.
RollCall also visited the 27th annual Law Enforcement Appreciation Cookout in Tattnall County for a taste of the Senate race's local flavor.
Southeast Georgia is Kingston country. His campaign has been working for months to broaden his brand beyond this area and into vote-rich Atlanta ahead of the competitive May 20 primary. But on this day, the congressman was sewing up his base.

"While it's good to come down here doing a little politicking — nothing wrong with that — I'm glad to be here because I like Tattnall County, and I'm going to keep coming no matter what happens," Kingston said on stage in very brief remarks to the crowd.

Also at the cookout were Gov. Nathan Deal, Attorney General Sam Olens, Secretary of State Brian Kemp and the state commissioners of Insurance and Agriculture — who are all up for re-election this year and used their 15 seconds of stage time.
Running in a separate article about the event is a photo of Democratic Congressman John Barrow with the Georgia Sweet Onion Queen.
Tweets from the Trail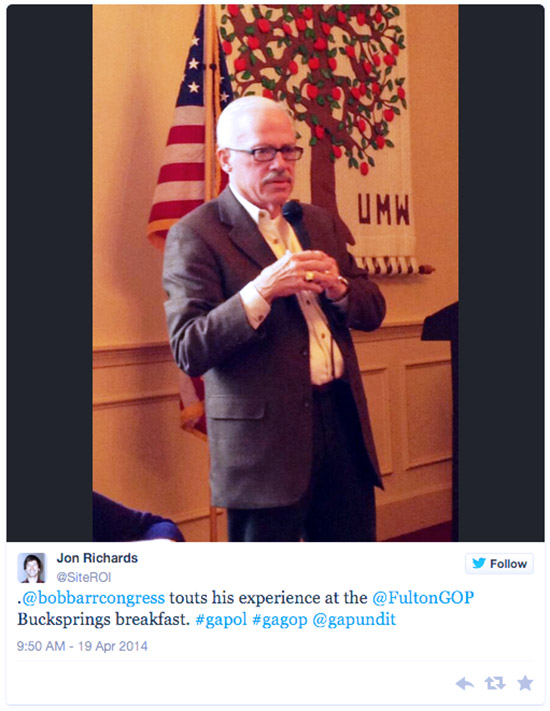 Event Calendar
---
---
FREE
---
---
---
FREE
---
---