On March 7, 1861, delegates to the Georgia Secession Convention reconvened in Savannah to adopt a new state Constitution. A resolution offering to host the Confederate Capitol did not pass.
On March 7, 1965, a group of marchers led by Martin Luther King, Jr., met Alabama State Troopers on the Edmund Pettis Bridge in Selma, Alabama.
"I was hit in the head by a state trooper with a nightstick… I thought I saw death."

—John Lewis, SNCC leader
http://www.youtube.com/watch?v=D4zI2qtNk2I
As a student of Southern politics at Emory, we were immersed in reading about the Civil Rights Movement and its effect on Southern politics, and American politics. But it was not until years later that I saw the PBS series called "Eyes on the Prize: America's Civil Rights Movement 1956-1985." It's chilling to see American citizens turned away by armed police from attempts to register to vote.
Earlier this week, John Lewis qualified to run for reelection to Congress from Georgia's Fifth District.
Under the Gold Dome
The Senate Insurance and Labor Committee will meet at 2 PM in the Mezzanine. The House Rules Committee meets at 8:30 in 341-CAP and the Pak Subcommittee of Judiciary Non-Civil is scheduled to meet from 1-3 PM in 132-CAP.
HB 646 Magistrates Retirement Fund of Georgia; part-time chief magistrates may become members of such fund; provide (As Passed House) (RET-24th) Fleming-121st
HB 740 Game and fish; full-time military personnel on active duty and dependents be considered residents of state for procuring certain hunting and fishing licenses; provide (As Passed House) (NR&E-30th) Tanner-9th
HB 764 Georgia State Employees' Pension and Savings Plan; certain employees make contributions at rate of 5 percent unless otherwise specified; provide (As Passed House) (RET-40th) Maxwell-17th
HB 786 Game and fish; Type I nonresident infant lifetime sportsman's license; add (As Passed House) (NR&E-7th) Knight-130th
Modified Open Rule
HR 1279 Savannah River Basin; development of water management plan; encourage
(NR&E-Powell-32nd)
HR 1599 Joint Study Committee on the Georgia Alcoholic Beverage Code; create (Substitute)(RegI-Maxwell-17th)
SB 65 Mental Health; authorize licensed professional counselor to perform certain acts; secure certification (Substitute)(H&HS-Houston-170th) Unterman-45th
SB 117 Blasting or Excavating Near Utility Facilities; revise/add definitions (EU&T-Roberts-155th) Jeffares-17th
Campaigns and Elections
Yesterday, I received the first direct mail I've seen this campaign season from Governor Nathan Deal's campaign.
Senate President Pro Tem David Shafer has drawn a Democratic opponent in his bid for re-election. Richard A. "Rick" Underwood is a Union Representative with the AFL-CIO and Aircraft Electrician at Lockheed Martin.
Senator Mike Dugan has drawn two opponents – former State Representative Bill Hembree will take a second shot at the seat. In 2012, Mike Dugan pulled an upset win in the Special Primary Election Runoff for Senate District 30 over former State Representative Bill Hembree. Later, Dugan beat the Libertarian candidate as well.
The upset came weeks after Hembree led the field in the Special Primary Election with 48.4 percent and narrowly missed winning without a runoff.
Dugan also has a Democratic opponent, James Harrison Nixon, a professional body piercer, seen below. Ladies and gentlemen, the new face of the Georgia Democratic Party.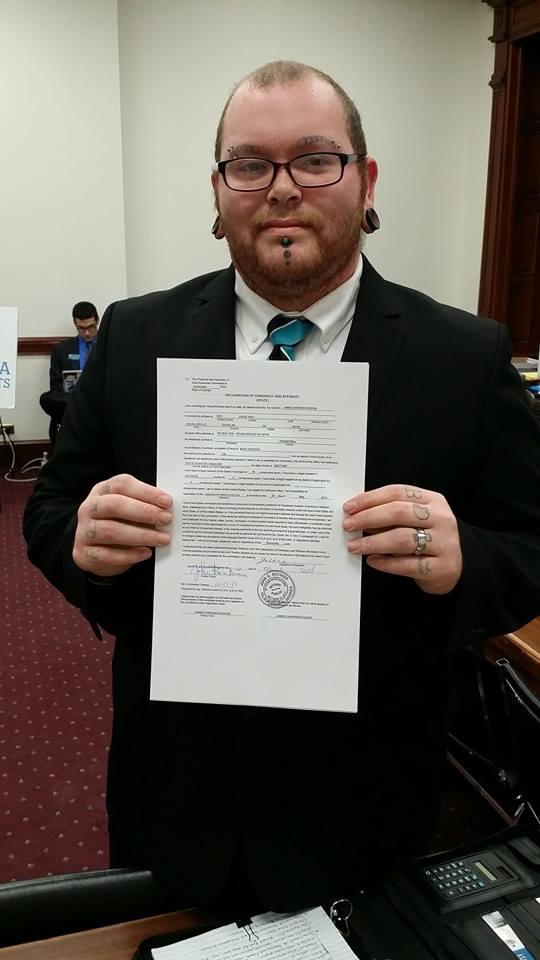 After rumors to the contrary, Senator Jack Murphy qualified for reelection yesterday. Murphy faces at least three opponents in the Republican Primary.
Columbus, Georgia attorney Stacey Jackson qualified as a Republican for State House District 137, one of the only competitive seats, currently held by Democrat Debbie Buckner.
One of the other competitive seats, House District 81 in DeKalb, has a single Republican qualified as of yesterday, Jim Duffie, a leader in the FairTax movement.
In South Georgia's House District 156, former Navy SEAL Lee Burton qualified against incumbent Republican Greg Morris.
AV Club
Events Calendar
---
---
---
---
$ 12 / 15
---
---
---
---
---
---
---
---