A number of folks have suggested over the years that I turn GaPundit.com into a subscription-based service, and I have always resisted that, because I don't wish to limit the audience of the publication. But I spend about $1000 per month on keeping the website running and updated and sending the emails every weekday, so we're introducing a voluntary model akin to public radio, but without the government subsidy or free tote bags.
College Republicans to CPAC
The Georgia Association of College Republicans is asking for donations to help send their members to the Conservative Political Action Conference 2014. Click the banner below to donate online. Any amount is appreciated. To sponsor a College Republican's transportation, lodging and registration costs $150.
President Ronald Reagan was a frequent speaker at CPAC in the earlier years. Here is part of his 1983 Address at CPAC.
Today in Georgia History
On February 11, 1733, the first military formation in Georgia was held, as male colonists assembled with their muskets.
On February 11, 1776, Georgia Royal Governor Sir James Wright escaped from house arrest in Savannah to a waiting British warship HMS Scarborough.
Burt Reynolds was born on February 11, 1936 in Lansing, Michigan, though some accounts say Waycross, Georgia. Beginning with Deliverance, filmed along the Chattooga River in North Georgia in 1972, Georgia rose to number three in the nation for film production while Reynolds's star rose to prominence. Other Reynolds movies filmed in Georgia include The Longest Yard, Gator, Smokey and the Bandit, Cannonball Run, and Sharkey's Machine.
Much of Atlanta and Georgia's current status as a film production hub dates to legislation introduced in 2005 and a later bill from 2008 by then-State Senator Mitch Seabaugh (R-Senoia). I will admit to being somewhat skeptical at that time, but I now recognize that one of the great triumphs of economic development in Georgia should be credited to the Gentleman from the 28th District.
In 2008, Sarah Fay Campbell at the Times-Herald wrote about Seabaugh and his legislation:
Georgia's new incentives for the film and television industry "will be like throwing gasoline on the fire," said Scott Tigchelaar, president of Senoia's Riverwood Studios. The 30 percent tax credit for qualified film, television, music video and video game productions will bring movies back to Georgia in a big way, said Sen. Mitch Seabaugh, R-Sharpsburg. Seabaugh was responsible for Georgia's first film incentive bill, enacted in 2005, and has been a driving force in the newest bill, as well.

Both Seabaugh and Tigchelaar were on hand for the signing of House Bill 1100, the 2008 Entertainment Industry Investment Act, on Monday. Gov. Sonny Perdue, flanked by legislators and industry executives, signed the bill in a ceremony in Atlanta at Turner Broadcasting System, on the sound stage used for the TBS favorite "Movie and a Makeover," formerly "Dinner and a Movie."

Now it's time to get the word out to the movie industry. Seabaugh and Tigchelaar are checking their schedules to work out a trip to Hollywood. "A vice president from Disney wants to know when I'm coming," Seabaugh said.

"So many people don't realize what all you've done," said Bob Shelley, of Bob Shelley's Special Effects International of Atlanta. Shelley was chatting with Seabaugh and Tigchelaar after the bill signing ceremony and said he would be making a few phone calls to make sure the word was getting out.

Georgia, and Coweta, was the site of much movie making in the 1990s — with such hits filmed in Coweta as "Fried Green Tomatoes" and the Turner mini-series "Andersonville." All that faded, however, when other states began to offer tax incentives to the industry. And the industry goes where the incentives are, Tigchelaar said.

With the signing of the new bill, Georgia will be in the top three states that offer the highest incentives, he said.
In 2013, TheCitizen.com looked back with Seabaugh at the creation of a Georgia industry:
News broke last week that world-famous Pinewood Studios of London is brokering a deal to develop what would become the largest movie studio in Georgia right in the middle of rural Fayette County … and a short distance from Piedmont Fayette Hospital.

The groundwork for such a blockbuster is rooted in large part in state tax credits championed by former state Senator Mitch Seabaugh of neighboring Sharpsburg back in 2004.

Seabaugh, who is now the state's deputy treasurer, recalled that the idea began with a request from Paul Lombardi and Scott Tigchelaar of Raleigh Studios in Senoia as they wanted to involve more students from the Central Education Center career academy in Newnan in their part of the movie business.

The idea blossomed from there, taking Seabaugh to meetings in California with a number of production studios, including Disney, Warner Brothers and Sony Pictures and more. Their big wish was for the tax credit to be simple, Seabaugh said.

"The difference is that our state is not putting out money," to lure productions here, Seabaugh said. "They come here and spend money and we rebate a portion of the tax revenue they generate in income tax credit."

The studios can qualify for up to 30 percent in those income tax credits, which is in essence rebated to the studios after the production ends.

"The very important thing is that no tax dollars are laid out for a production to come," Seabaugh said. "They are only rebated the taxes in part, and extensive studies show there is more tax revenue generated than given back in the tax credits."

The studios can sell the tax credits to people who have an income tax liability, who use the credit to pay off their taxes, Seabaugh said.

"It is generating jobs and spending that you are now seeing here in a big way," Seabaugh said. "… Local communities really make out very well because they're not funding any tax incentive but they are getting local tax revenue as a benefit.

The TV/movie production industry spends money in local restaurants and rental stores, along with home improvement stores for goods used in set design, Seabaugh said. The bigger spinoff however has been that of additional jobs for people who are now moving here.

"There are people living here who have moved to Georgia to make roots, buying homes and putting money throughout the community with money they are spending," Seabaugh said, citing a stuntman he has met who is moving here from Idaho. "These are people not just coming here and working and spending money, but also coming to live in Georgia because of the production. That's more money that goes through our economy and helps to generate tax revenues."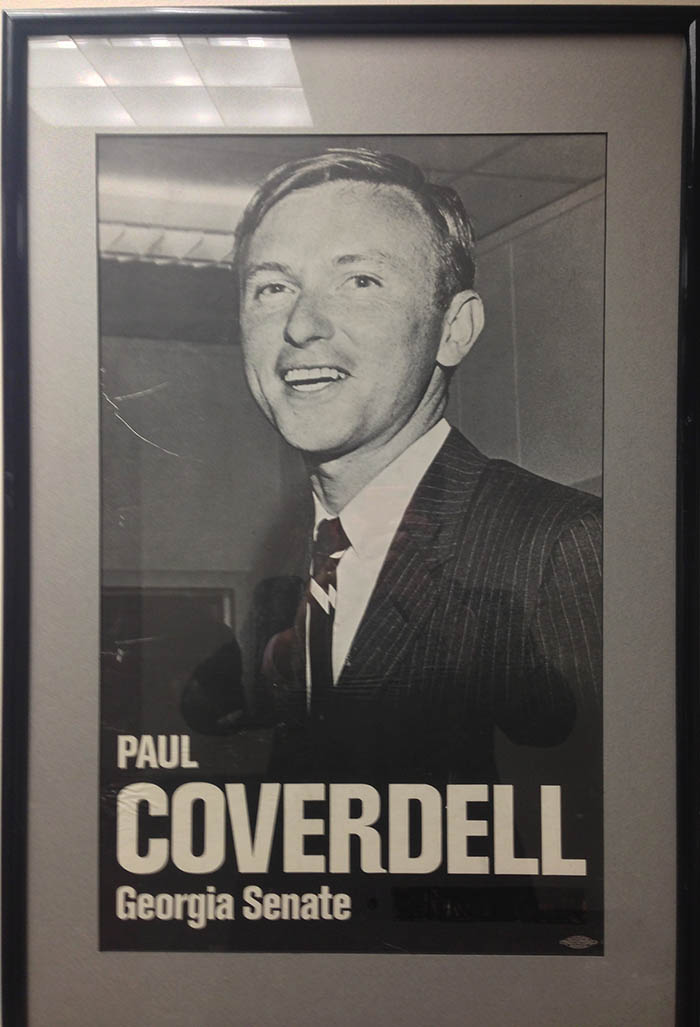 Yesterday, I was walking through the basement of the Coverdell Legislative Office Building when I spied this vintage campaign poster hanging on the wall of an office. I stepped in and asked to photograph it and it appeared the person occupying that office didn't know what the picture was. I'd like to see this re-hung in the lobby of the CLOB where it would properly honor the Senator who gave his name to the building. Note the "Union Bug" at the lower right-hand corner.
Gold Dome Today
Seeing as how it's rainy and cold but not icy, I'd expect the General Assembly to be in near-full swing today.
SB 294 Electrical Contractor Class II; provide that a person licensed may perform low-voltage contracting without obtaining a state-wide Low-voltage Contractor Class (As Introduced) (RI&U-27th)
SB 301 Public School Facilities; disallow prohibitions on wood construction in public schools if in compliance with state minimum standard codes (As Introduced) (ED&Y-40th)
HB 494 Mass transportation; installation of safety markers on utility lines to provide adequate visual warning in use of private airstrips; provide (As Passed House) (TRANS-7th) Welch-110th
Modified Open Rule
HB 477 Employees' Retirement System of Georgia; Georgia Judicial Retirement
System; transfer service credit (Ret-Powell-171st)
HB 516 Retirement and pensions; election to participate in Regents Retirement Plan
in lieu of Teachers Retirement System of Georgia shall be revocable at will;
provide (Substitute)(Ret-Coomer-14th)
HB 758 Bartow County; Superior Court; change terms of court (Judy-Coomer-14th)
HB 840 Insurance; persons under authority of Commissioner and subject to
penalties under Title 33; clarify (Ins-Golick-40th)
HB 849 Insurance; excess wear and use waivers shall not be construed as insurance;
provide (Ins-Maxwell-17th)
Modified Structured Rule
HB 773 Crimes and offenses; discharging a gun or pistol near public highway or
street; change provisions (Substitute)(PS&HS-Dickey-140th)
Senate Day 20 in a Minute
Conservatives Come Out in support of Cannabis
Yesterday, Atlanta Tea Party co-chairman Julianne Thompson and conservative activist Kay Godwin announced their support for HB 885, which would make a hybrid form medical Cannabis a legal treatment for those who suffer with severe seizure disorder.
Thompson stated, "Originally I was shocked and frightened of the mention of any type of marijuana in Georgia. I am both a fiscal and a social conservative and have always been and remain opposed to any legalization of recreational drug use of any kind."

"The story of Haleigh Cox and countless other children like her are the reason I left behind my preconceived notions when it came to the word "Cannabis"and actually looked at the effectiveness of the treatment behind the proposal", said the mother of two.

"The parents of these children will tell you they are not receiving effective treatment. They rarely get to even see their child's personality or even a smile, because they are so heavily drugged with multiple, ineffective pharmaceuticals that do nothing to alleviate symptoms and sometimes cause more harm than good."