Today's historical moments below combine to show some of the major influences on Georgia politics and governance since her founding, and how the same conflicts have played out across the world, from Northern Ireland to India, to stages of rock and roll shows.
On January 30, 1788, the Georgia legislature passed a resolution calling for a state Constitutional Convention in Augusta to adopt a state Constitution that conformed to the new Constitution of the United States.
On January 30, 1862, the United States launced its first ironclad warship, USS Monitor.
Franklin Delano Roosevelt was born on January 30, 1882 in Hyde Park, New York. In 1942, Roosevelt ordered Japanese-Americans on the west coast of the United States into concentration camps, leaving German and Italian Americans free.
On January 30, 1935, the Rev. Martin Luther King, Jr. protested segregated elevators at the Fulton County Courthouse. If you're stuck at home, maybe you'd like to take a moment to read one of the best essays I've ever seen on the true impact that Rev. King had.
On January 30, 1948, Mohandas K. Gandhi was assassinated.
On January 30, 1956, six members of the Georgia State House of Representatives introduced House Bill 98 to replace the red and white stripes on Georgia's flag (above) with a Confederate battle flag (below). That same day, a bomb was thrown at the Birmingham, AL home of Rev. Martin Luther King, Jr.
January 30, 1972 is remembered as Bloody Sunday in commemoration of the shooting of 26 civilians by British troops in Northern Ireland.
On January 30, 2001, the Georgia State Senate passed a house bill changing the state flag from the 1956 version to one that aggregated the State Seal and five former state flags, pictured below.
#AtlantaSnow aka #Clusterflake
That is the best graphic depiction of what happened in Atlanta on Tuesday. If I knew who originally posted the graphic, I would credit them.
Two points I'd like to make from this. First, this shows how a graphic can convey information better than words in some cases; if Facebook and other social media are part of your business, political campaign, or activism, understand the power of graphics and do more of them and fewer words. Second, this indicates to me that the problem was not that we didn't have enough equipment, salt, sand, etc., but that the fast-pace dumping of hundreds of thousands of commuters onto the Atlanta roads.
From the whole mess and the blamestorming that are following, here are two truths about Atlanta that I have been reminded of.
1. Our weakness is our reliance on government. This is true across the United States, but demonstrated nowhere more memorably than Atlanta's road beginning Tuesday afternoon.
2. Our strength is our community and the willingness of our friends, family, neighbors, churches, business owners, and ourselves to lend a hand to someone in need without having to be told, asked or paid to do so.
Going forward in Georgia government, let us pray that these lessons don't get forgotten yet again.
Governor Deal writes "Six things you need to know" about recovery efforts.
1. Please stay off the roads. We are still in a State of Emergency and we need to keep the roads as clear as possible. This is for your safety and the safety of others.

2. School children across the Metro-Atlanta area are safe and in good hands. Georgia State Patrol Troopers have been assigned to assist schools where children needed to spend the night. I'd like to thank teachers, parents, school faculty, and all those involved for their hard work and dedication to our children's safety.

3. Yesterday, I instructed the National Guard to send military Humvees to our interstates to assist school buses and get food and water to stranded residents. All school buses and children have been responded to and are safe. Stranded citizens have access to emergency services throughout the Metro-Atlanta area. We are still in the process of clearing roads and assisting those in need. Again, please stay off the roads so we can continue this process.
Speaker Ralston and Lt. Gov. Casey Cagle issued a joint statement and suspended legislative business today.
Availability of propane is becoming an issue for poultry farmers in this weather. From GrowingGeorgia.com, your best resource for learning about Georgia's largest industry.
"We have been monitoring the situation for the past two weeks," said Mike Giles, the president of the Georgia Poultry Federation. So far, members have been able to find the propane they need, but they have felt the pinch of the shortage, he said.

Facing a shortage of fuel across much of the country, the National Propane Gas Association successfully lobbied the U.S. Department of Transportation to allow more free transport of fuel for the Southern, Midwestern and Eastern regions. The rare order applies to eight Southern states including Georgia, 10 Midwest states and 14 Eastern states. A total of 30 states so far have individually issued Hours of Service relief.

The National Propane Gas Association also is working with officials within the pipeline, rail, and truck transport industries and asking for propane shipments to be prioritized within their industry.

Farming groups and state governments have done what they can to support the propane industry in its efforts to get fuel to the producers who need it.

"The National Chicken Council (NCC) which represents companies that produce, process, and market over 95 percent of the chicken in the United States is working with the appropriate federal agencies, organizations, and stakeholders to help alleviate the spot shortages being experienced with the very tight supply of propane in at least 31 states, many of which have important production of chicken," said Mike Brown, the president of the National Chicken Council.
On Monday, Governor Deal issued an executive order to prohibit price-gouging in propane sales.
With inclement weather headed toward Georgia, Gov. Nathan Deal today in coordination with Agriculture Commissioner Gary Black signed an executive order prohibiting price gouging for propane. Georgia's continued period of cold weather has increased the demand for propane, causing a substantial prices increase in recent days.

"Our families, farmers and small business are worried about getting the heat they need during times of frigid weather," Deal said. "They shouldn't have to worry about price gouging, and we aim to prevent that."

"Due to the much colder than normal weather this winter, we have seen a higher demand for propane gas resulting in shortages and escalating prices in Georgia and across the nation," said Black. "Livestock and poultry farmers, along with food processors, depend on propane to continue business. We are doing everything possible to work with the propane suppliers and agribusinesses to meet the challenges we are currently facing."
InsiderAdvantage last night warned of the spectre of fuel shortages in Metro Atlanta following #AtlantaSnow.
Already many gasoline outlets are dry after a rush on fuel Tuesday afternoon, and gridlocked roads are preventing tanker trucks from replenishing them.

Worse, the demand is likely to pick up in a big way over the next two or three days, as motorists reclaim their cars on the sides of roads and try again to drive them home.
 GaPunditPro now available in the AppStore

We have submitted for App Store approval Version 1.01, which fixes a bug that prevents one-click calling to legislators from the Legislative Directory. We're not sure how long the App Store process will take for approval of a simple fix, but we'll let you know and it should update automatically for those of you who are already using it.
Please send us feature requests, and let us know what we can do to make GaPunditPro better.
U.S. House passes Farm Bill, sends to Senate
The United States House of Representatives passed the Farm Bill and sent it to the Senate. From the New York Times:
The House of Representatives on Wednesday passed a bill authorizing nearly $1 trillion in spending on farm subsidies and nutrition programs, setting the stage for final passage of a new five-year farm bill that has been stalled for more than two years.

Negotiators from the House and Senate spent several weeks working out their differences on issues in the legislation, including cuts to food stamps, income caps on farm subsidies and a price support program for dairy farmers. The bill is expected to save about $16.6 billion over the next 10 years.

The bill passed the House by a vote of 251 to 166. The Senate is expected to take up the bill later this week.

Compared with earlier, more contentious votes on the farm bill, Wednesday's vote was largely bipartisan. Many Democrats who had opposed it because of cuts to the food stamp program supported it on Wednesday. A number of Republicans, including many who wanted deeper cuts to the food stamps, also voted for passage.

The House speaker, John A. Boehner of Ohio, and the majority leader, Eric Cantor, Republican of Virginia, had endorsed the bill and urged Republicans to support it, even though they said they would have liked to see more changes.
Congressman Austin Scott (R-GA) praised the Farm Bill's passage.
http://www.youtube.com/watch?v=Og7lUMDUw1Q
Campaigns & Elections
Public Policy Polling continues to release curious polling results. The biggest issue I have with their polling is in how they weight the responses to arrive at a sample that reflects what they think Georgia's electorate will look like in 2014.
The biggest red flag to me is that they consistently show party identification as being evenly split between Democrats and Republicans. Except when they don't. Now they've released two polls within the past week that directly contradict each other on the partisan makeup of Georgia's electorate.
I've written about this at length, but here's the big question. Why did a different PPP Poll last week show Republican with a 43-38 lead over Democrats in party identification, while this poll shows an even split at 38-38?
I think there's a 3-8 point lead in the electorate for self-identified Republicans over Democrats, and last week PPP agreed: this week they think it's evenly split. From Jim Galloway's Political Insider blog at the AJC.
WASHINGTON — Democrat Michelle Nunn is neck-and-neck with four top-tier Republican U.S. Senate candidates in hypothetical matchups by Public Policy Polling.

The full results of the poll commissioned by liberal group Americans United for Change are here and put Nunn in the lead, but around the 3.9 percent margin for error. She leads Rep. Paul Broun, 42-41, Rep. Phil Gingrey, 45-41, former Secretary of State Karen Handel, 44-40, and Rep. Jack Kingston, 44-42.

The results are a small bump for Nunn from what PPP found in August, when Nunn was either tied or slightly ahead of the GOP field. The automated poll of 640 Georgians recorded an even split of Republicans and Democrats at 38 percent each, with 24 percent classifying themselves as Independent or other. Notably, the sample was 53 percent female.
Partisan Democrats respond that PPP was shown to be one of the most accurate pollsters in 2012. I note that those rankings were based on the last polls before the 2012 General Election, when pollsters knew they would be judged against the final results.
Others note that the predictive ability of polling six months or more out from a general election is suspect at best. So why bother? I would say that these early polls are by-and-large designed to demonstrate that the Democratic candidates have a shot at winning in November and are commissioned solely to produce polling results that can be used in fundraising for those Democratic candidates and allied organizations.
Damningly, polling super-analyst Nate Silver has called out PPP for making decisions that appear to reflect their partisanship over the results they got.
VERY bad and unscientific practice for @ppppolls to suppress a polling result they didn't believe/didn't like.

I'm especially skeptical when a pollster puts its finger on the scale in a way that matches its partisan views.
We'll be discussing this some more after we aggregate some polling data.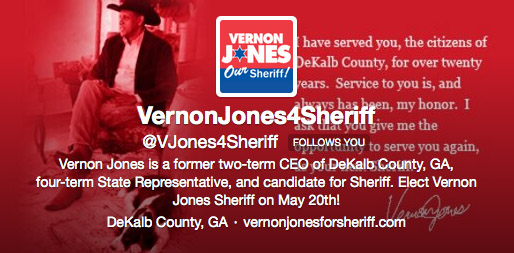 How do you know Vernon Jones is serious about running for Sheriff? Cowboy boots and hat. And this pull-quote from his new website.
"To all law breakers and potential law breakers, you have until sundown on May 20, 2014 to get out of DeKalb County!"

-Vernon Jones
State Representative Mike Jacobs (R-Brookhaven) responded:
Republican Rick Allen, running for Congress against incumbent Democrat John Barrow, has received the endorsement of the family of late Congressman Charlie Norwood.
The family of Congressman Charlie Norwood today endorsed Rick Allen to follow in the late Congressman's footsteps in the race for Georgia's 12th-District seat. The endorsement includes Rep. Norwood's widow, Gloria, and his sons, Charles III and Carlton.

"One of a Congressman's most-important responsibilities is to help folks in his district to navigate the confounding maze of government agencies. In many important cases, our Congressman is the last source of help for citizens in crisis. As government regulation continues to grow, it is critical that we elect a Congressman who will fight for his constituents in the daily affairs of the district. (Military benefits, Social Security matters, relations with the Department of Agriculture, etc.)"

"Rick will fight for what is right when his constituent is meeting difficulty with our government. His decades of business success prove that he has the heart and determination to do what 'needs doin'. If the Norwood family were at odds with a governmental agency, we'd want Rick beside us in the foxhole. And, we know he would be."
In Augusta, we have a campaign announcement and a pre-announcement. Former Solicitor General Harold V. Jones will run for the State Senate District 22 seat that Senator Hardie Davis is vacating in order to run for Mayor of Augusta.
Jones became Augusta's first black solicitor general when he was elected in November 2004 with more than 59 percent of the votes. He ran unopposed in 2008, but resigned the next year to compete with Davis for the Senate seat, left open at the resignation of Ed Tarver, now a U.S. attorney.

Two other attempts – an unsuccessful House run in 2002 and a 2012 loss to Marion Williams to represent Super District 9 on the Augusta Commission – left the Augusta lawyer undaunted.

Besides Johnson, Augusta real estate agent Elmyria Chivers is running for the Senate seat.

With no announced Republican candidates, the election likely will be decided in the general primary May 20, when Augusta also will pick a mayor and vote on the latest sales tax referendum.
And recently-ousted Augusta City Administrator Fred Russell is said to be preparing a bid for Mayor.
Former Augusta City Ad­min­istrator Fred Russell is running for mayor, his campaign chairman, Duncan Johnson, said Tuesday.

"He is running," Johnson said. "His announcement will be coming shortly."

A former Richmond, Va., po­lice chief, Russell joined Augusta's government in 2002 as a deputy city administrator. He was promoted to administrator in 2004 and held the job for nearly 10 years.

On Dec. 9, the Augusta Com­mission, citing a need to move in "a different direction," voted 9-0 to fire him and begin a nationwide search for his replacement.

Also seeking the mayor's post are Augusta Commission member Alvin Mason; state Sen. Hardie Davis, D-Augusta; entrepreneur Helen Blocker-Adams; and businessman Charles Cum­mings.
#SOTU part two
Congressman Phil Gingrey responds specifically to President Obama's stated willingness to use Executive Orders to bypass Congress.
"While the President attempts to shift from the core issues that cripple our economy and threaten our security, we must bring attention to the solutions for these problems passed by the House but awaiting action in the Senate," said Kingston. "With millions of Americans working only part time or out of the work force entirely, we cannot afford to wait.  There are a number of projects we can begin now that will create jobs and strengthen our economy, namely the Savannah Harbor Expansion Project and the construction of the Keystone XL pipeline."
"We need the kind of growth that comes from stopping overregulation and supporting opportunities in the private sector.  Instead of increasing the cost of health care, we need to encourage companies to hire full time employees instead of more part-time workers,"
It might not seem like it but Groundhog Day is actually next week. This week, President Barack Obama delivered his fifth State of the Union address to Congress.  Unfortunately, it was just a lot more of the same old, same old.
At a time when more than 60 percent of Americans think the nation is headed in the wrong direction and 70 percent are dissatisfied with the economy, President Obama took this opportunity to continue to promote his same "no jobs" economy: more federal spending, more federal bureaucracy, and higher taxes.  As it's been for the first five years of his presidency, this is nothing more than a recipe for economic disaster.
This president has shown time and again that he has little respect for the American people and no respect for the US Constitution.  Tonight's speech was just one more example of his disdain.
Americans for Prosperity Georgia
President Obama's 2014 State of the Union Address resembled a man speaking to himself more than anyone else in the room, a desperate effort to convince himself of his own relevance at a time when his approval ratings are in the toilet. 51% disapprove of the job Obama is doing as president while 43% approve. 63% of Americans have some/no confidence in Obama to make the right decisions for the country's future and 49% say Obama is not honest or trustworthy. Despite President Obama's soaring rhetoric, this is his fifth State of the Union Address; Americans have heard these promises before. It is time for the President to take ownership of his record and be held accountable for the results.
The President said he is leading by example on raising the minimum wage for all future federal contractors through executive privilege and called on private sector businesses to do the same. This ignores the reality that businesses forced to artificially raise their minimum wage must factor in the rising business costs and often must lay off low level workers. These are the very workers that, in theory, would benefit from the living wage increase.