Pro-tip: if you're stocking up for #SnowJam2014 and buy milk, eggs, and bread but forget bacon and coffee, you're doing it wrong. You may survive, but you'll wish you hadn't.
On January 28, 1733, Georgia's first colonists celebrated a day of thanksgiving for their safe arrival in Savannah and Chief Tomochichi's granting them permission to settle on the Yamacraw Bluff.
On January 28, 1943, Governor Ellis Arnall signed a joint resolution of the Georgia House and Senate amending the Georgia Constitution to make the Board of Regents of the University System of Georgia a constitutional board and reduce the power of the Governor over the Regents.
The movement to a constitutional board came after the loss of accreditation of all Georgia state higher education institutions for white people. The previous Governor, Eugene Talmadge, had engineered the firing of UGA's Dean of the College of Education; after the Board of Regents initially refused to fire the Dean, Talmadge dismissed three members, and replaced them with new appointees who voted for the firing. Talmadge lost the 1942 election to Arnall.
On January 28, 1986, the space shuttle Challenger exploded 73 seconds after liftoff as many Americans watched on live television. President Ronald Reagan addressed the loss of seven astronauts.
Reagan had originally been scheduled to give his State of the Union that evening, but cancelled the speech. His address on the Challenger disaster was written by Peggy Noonan. The speech written by Noonan and delivered by Reagan is ranked as one of the top ten political speeches of the 20th Century.
Happy birthday today to Northwestern University (1851), Yale Daily News (1878), the first daily college newspaper in the country, the United States Coast Guard (1915), and the Lego brick, which was patented on January 28, 1958. Elvis Presley made his first appearance on television on January 28, 1956 on the Stage Show on CBS.
This morning, the GaPunditPro iphone app entered review, seven days after submitting it to the App Store. We hope it will be released very soon and will let you know as soon as it is available in the App Store.
Gold Dome Today
The House and Senate will convene at 10 AM today.
Senate Rules Calendar for today
SB 298 by Senator Jack Murphy and others – License Plates; submission of a doctor's prescription; application for a special parking decal for persons with disabilities in lieu of an affidavit; notary public not available (As Introduced)(PUB SAF – 27th).
House Rules Calendar for today
HB 176 – Mobile Broadband Infrastructure Leads to Development (BILD) Act; enact
HB 709 – Terrell County; office of coroner; provide nonpartisan elections
HB 710 – Randolph County; office of coroner; provide nonpartisan elections
HB 711 – Clay County; office of coroner; provide nonpartisan elections
HB 715 – Jekyll Island – State Park Authority; powers and responsibilities; revise
HB 738 – Quitman County; office of coroner; provide nonpartisan elections
HB 774 – Highways, bridges and ferries; require annual submission of Statewide Strategic Transportation progress report; provisions
HB 775 – Highways, bridges and ferries; creation of transit authority within metropolitan areas; repeal population provision
The Georgia Craft Brewers Guild argues that proposed changes in a Senate bill to allow them greater latitude in business practices doesn't go far enough.
Georgia is one of many states operating under a three-tiered system that requires producers, distributors, and retailers of alcoholic beverages to be separate companies. Legislation that would relax that regulatory structure for microbrewers stalled in the legislature last year.

"Our biggest account is a bar that's within a mile away of our building, yet our distributor has to pick it up from our place, take it up to Atlanta, and bring it back to the bar," Knowles said.
Limited legislation to allow the presciption by doctors of some medicines derived from marijuana has received the support of the Medical Association of Georgia.
[State Rep. Allen] Peake called the news Monday of support from the Medical Association of Georgia a "game-changer." He said he heard a lot of misgivings from conservative colleagues because they didn't know where the medical community stood on the issue.

"It's tightly restricted, well-regulated, managed by doctors, limited in scope to just a cannabidiol oil that's applied orally," Peake said in an interview. "And so I think that will give comfort to my colleagues and the people of Georgia that this is not going to allow six-year-olds to be smoking a joint on the street corner."

Accompanying Peake Monday at the Capitol was Dr. James Smith, a Gwinnett County physician. He's part of MAG's leadership, and unfortunately, someone who has had a first-hand view of the drug's potential to help. His 7-year-old daughter has developed a seizure disorder called Doose syndrome. And he says all of the treatments his family has tried have devastating side effects. All, except the cannabis oil, also known by the name cannabidiol oil.
We believe that the legislation will be dropped and given a bill number today. A video explaining some issues related to the use of cannabidiol oil is also due out today. Stay tuned to the GaPundit.com website for more information as it becomes available.
He said, she said on Senate Bill 141
The always quotable Debbie Dooley has weighed in on the debate over Senate Bill 141, calling it "a Georgia solution to Obamacare."
One of the greatest expansions of government kicked into high gear this month as much of Obamacare took effect, raising healthcare premiums for millions of Americans and by kicking many of them off their coveted health insurance plans. All of this forces us to pay more to subsidize healthcare for others.

Call it another Obama Administration effort to redistribute wealth.

But Georgia doesn't have to sit back and take it. Rising health insurance premiums, co-pays and deductibles don't have to wreck the family budget. Instead, Georgia lawmakers are considering legislation that would actually reduce healthcare costs.

It's something they should jump on immediately.

The Georgia Senate is reviewing SB 141 this year known as the Patients' Compensation Act. It would eliminate the practice of defensive medicine or when doctors order more tests and procedures than are medically necessary.

Patients who have harmed would be compensated with dollars generated by physicians' malpractice premiums. The premiums would no longer pay for expensive litigation costs. Instead they would pay for their original intent: compensating harmed patients.

A healthcare economics firm estimates the Patients' Compensation Act would save Georgia up to $14 billion annually (Or over $120 per month for each Georgian) in private and public healthcare costs. That's an astounding number and would certainly lower our health insurance premiums, co-pays and deductibles.
On the other side of the issue has been Senator Josh McKoon (R-Columbus), who has taken incoming fire on the issue.
Today some radio advertisements have started running in District 29 from a group called Patients for Fair Compensation PAC.  The advertisements suggest that I am supporting trial lawyers and insurance companies over patients because of my opposition to SB 141.

SB 141 would throw out our existing medical malpractice system in Georgia.  SB 141 is a direct assault on the 7th Amendment in particular and our Bill of Rights in general.  Unfortunately, there are large special interests who stand to make a lot of money if SB 141 is passed into law and they are willing to do anything, including spreading misleading information about me, to accomplish their goals.

I think it is important for you to know that I have consulted with physicians, patients, insurance companies, attorneys who represent physicians and attorneys who represent patients in medical malpractice cases.

The feedback has been unanimous, SB 141 would be unconstitutional, it would be bad for patients, doctors and the entire health care system in Georgia.  The system proposed by SB 141 has not been adopted by any other state in this country and is also not in place as far as I can tell anywhere in the world.

The only rationale I have been able to find for this bill is that it would enrich a narrow special interest at the expense of patients and their doctors.
Campaigns & Elections
Yesterday, Governor Nathan Deal announced the support of 115 Georgia Mayors from 65 counties for his reelection.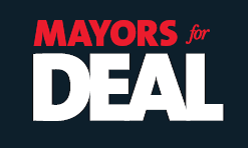 "I am honored and humbled by the endorsement of so many outstanding municipal leaders from across the state," Deal said. "Our grassroots coalitions and statewide network of volunteers are truly the backbone of our campaign, and Mayors for Deal will play a pivotal role in our reelection effort. I will continue working with each of you in your capacity as mayor to create a stronger, more vibrant economy in every city and town across the state."
Mayors for Deal Chairman Boyd Austin (Dallas) said, "This wide range of support is a testament to the excellent job Gov. Deal has done leading Georgia, and of his strong working relationship with our mayors and other local officials. That relationship has been essential as we have worked together to restore the economic vitality of our state. We look forward to working with Gov. Deal in 2014 and beyond."
Mayors for Deal co-chairs include:
Co-Chair: Mayor Deke Copenhaver-Augusta
Co-Chair: Mayor John Gayle-Valdosta
Co-Chair: Mayor Ames Barnett-Washington
Co-Chair: Mayor Linda Blechinger-Auburn
Co-Chair: Mayor Vince Williams-Union City
Co-Chair: Mayor Keith Brady-Newnan
For a complete list of Mayors for Deal endorsements,
click 
here.
Gary Gerrard, who is running for Congress from the Tenth District, has proposed a ten-year plan to cut the federal deficit.
He doesn't propose an immediate balanced budget, but wants to establish a budget that cuts the deficit by 10 percent of the baseline deficit over 10 years. He wants to reform the tax plan to a flat income tax that kicks in at the federal poverty line — one that affects all income, regardless of if its from payroll or investments.

Those are two key pieces to encouraging businesses, especially those that are sitting on a collective trillions of dollars, to reinvest it, though hopefully without flooding the economy, he said.

"When those are resolved, you're going to see an economic boom like we've never seen in our lifetime," Gerrard said.

He will face off against a slew of candidates May 20 for the Republican nomination for Georgia's 10th congressional seat. The open field is part of a trickle-down from Sen. Saxby Chambliss' announcement he won't run for re-election, as Broun decided to seek that seat instead of fighting to retain his current one.

Even if Gerrard is elected to a glacial Congress, he promised to put the pain on his own pocketbook until a balanced budget is passed. He pledged not to accept the $174,000-a-year paycheck until both houses of Congress pass a balanced budget.
Rachel Dodsworth has been hired as Campaign Manager for John McCallum in the First Congressional District.
Conservative businessman and former Newt Gingrich aide John McCallum has hired seasoned political operative Rachel Dodsworth to manage his campaign for Congress in Georgia's 1st Congressional District.

"Rachel has the experience, character, and drive necessary to manage my campaign for Congress," said John McCallum. "She understands the District and knows what we must do in the coming months to secure victory on Election Day. I am confident that Rachel is the right fit and we are excited to have her on the team."

A native of Savannah, Dodsworth is an emerging force in the online political world and is an experienced new media strategist. She served as Digital Communications Specialist for Scott McInnis and Ken Buck in the 2010 Colorado governors' primary campaign and general election senate campaign, respectively.  In 2012, she assisted Eddie DeLoach for Chatham County Chairman and served on the Florida Get Out the Vote team for the Mitt Romney presidential campaign. Rachel has also worked in Washington D.C. as a digital media political consultant for many influential conservative groups.
Rachel Dodsworth has written for GaPundit.com on how Republicans can more effectively message to women, and how politicians can use social media for grassroots mobilization.
Jack Kingston has purchased $1.289 million worth of television advertising for the last two months of the Republican Primary campaign. As a rule of thumb, I generally assume Atlanta broadcast television will cost $400k per week (1000 gross ratings points), so while this is a significant amount of money, it's equivalent to two-to-three weeks of heavy television rotation spread over two months time.