Hershel is a 6 month old, 37 pound, Tan and White Lab mix who came to the shelter with his buddy, Daryl. Both of these boys will sit, stay, and lay down for you. They are a little scared right now and need to learn they are safe and can walk on the leash. They should feel better once they are in a loving home.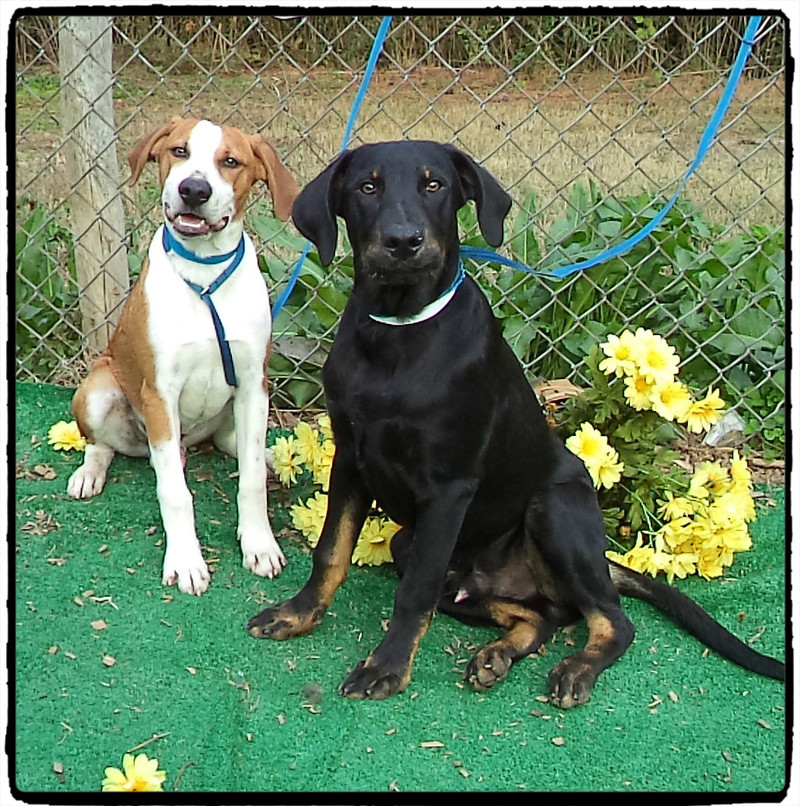 Daryl is a 6 month old, 42 pound black-and-tan Hound or Retriever mix. Daryl and Hershel are in cage 115 and his Daryl's ID is 560977 while Hershel's ID is 560976. They're such good friends, it would be awesome if they could find a forever home together. They are available for adoption from Cobb County Animal Control.
Miles is a two-year old, eight pound Chihuahua who sits and walks on a leash and is very friendly. He tested heartworm positive, so he'll need treatment for that. He is available for adoption from the Cobb County Animal Shelter.
Tootsie is a six-year old, 19-pound Chihuahua mix who came with two other dogs on Oct 26th. She is VERY SWEET and knows sit, stay and is available for adoption from Cobb County Animal Control.
One year ago today, Dolly came to live with us as a foster who has since won a permanent place in our home, along with her sister Roxy. I first posted Dolly in the Daily Dogs section hoping she would find a home. Some *cough* Mrs. GaPundit *cough* was touched by her story and said we could consider fostering her.
I took Roxy up to the Gwinnett County Animal Shelter to meet 28406 and see if they could get along. Roxy was not allowed to meet Dolly, because a parvo outbreak had occurred on Dolly's cellblock and she was to either be euthanized that day or taken immediately to be quarantined for two weeks. Luckily for us all a volunteer at the shelter got Dolly into a kennel for quarantine and a rescue group had a donor willing to pick up the tab for the quarantine without a firmly committed foster home.
After visiting her a couple time in quarantine, on the day before Thanksgiving, we brought Dolly home. Since then, the most miraculous thing has been the positive effect she's had on Roxy's health.
Without Dixie Dog Rescue, Dolly would have been euthanized that day, and in all likelihood, we would have lost Roxy, as her health was failing due to old age. So, today, we are thankful that groups like Dixie Dog Rescue are in the business of saving dogs. We're donating some cash for vet bills and a couple of sacks of kibble for their dogs today in honor of Dolly.
If you're thankful for the dog in your life, either currently or in the past, please help Dixie Dog Rescue. It's easy to make an online donation through Paypal or pick out something from their Amazon.com wish list or send food and treats via their Wal Mart wish list