History Lesson: Sunday, March 11, 2013 was the 100th anniversary of the death of Harriet Tubman. The Harriet Tubman Museum is located at 340 Walnut Street, Macon, Georgia 31201. Here's some more information. A Fulton County elementary school bears her name.
Sometime between 1820 and 1822, Tubman was born Araminta Ross to slaves in Dorchester County, Md. She was nicknamed "Minty."

Around 1844, she married John Tubman, a free man, and took her mother's name of Harriet.

Fearing she would be sold away from her family after the death of her owner, she escaped with her two brothers, some accounts say.

The men got cold feet and wanted to turn back.

With a strong determination, she escorted them home and set out alone, leaving her the only one to cross into freedom.

Tubman would put her life in jeopardy at least 19 times as she crossed back into the South to lead others away from bondage.

In her documented excursions on the Underground Railroad, Tubman led at least 300 others to the North via safe houses along the way.

She helped countless others by sharing survival secrets, such as using sap to throw off the bloodhounds and following the North Star.

By 1856, there was a $40,000 bounty on her head.

The wanted poster stated she was illiterate, so when Tubman overheard men reading it, she pretended to be reading a book and avoided capture.
Election Alert – Jinkies, another election! – Cobb County voters head to the polls on March 19th to vote for the E-SPLOST IV, but some fear not enough voters are aware of the upcoming vote.
Tom Cheater, the school board's vice chair, said what he has heard from Marietta City voters has been favorable to SPLOST IV passing.

"They view it as a continuation of an existing tax, and one they feel has demonstrated value to the city and the county over the past five years," he said.

He also said that while previous SPLOSTs have passed by wide margins, he anticipate the results on March 19 will be close.

"It's important that everyone gets their voice heard when it comes to SPLOST IV," Cheater said. "There is a lot of information available and voters should evaluate it carefully – on both sides."

If the referendum is approved, Marietta City School Board Chair Randy Weiner said it would be the first time in quite a while that their district has been debt free.

And if it doesn't pass?

"We still must pay off our old debt, and debt right now for the next five years would be $3 million each year," Lembeck said. "Likewise, technology is a given and an expectation by students, families and educators and right now just to refurbish … that would be about $2.4 million a year."

Members of both the Georgia Tea Party and Cobb County Taxpayers Association have been very outspoken against the referendum.

"This is the first time I've ever directly opposed an e-SPLOST," said Tom Maloy with the Georgia Tea Party.

He has been a Cobb resident for more than 40 years.

"SPLOSTs are supposed to be temporary, and they are getting a real feel of permanence," Maloy said.

On Sunday afternoon, they will be joining forces with the Cobb Taxpayers Association to host a "Rock the E-SPLOST" rally on the Marietta Square to speak out about their opposition.

"One of the things that bothers me is that they've had a SPLOST in place for 15 consecutive years and they still talk about infrastructure needs that have not been met, like roofs leaking and inadequate HVAC, toilets that need to be repaired and clearly things that need to be taken care of but why weren't they fixed in the past?" asked Lance Lamberton with the association.

They have invited former Cobb Commission Chair Bill Byrne and former Cobb School Facilities and Technology Committee chair Kimberley Euston to speak, and live music will be performed by Mark Augustyn of Atlanta.
I suspect that last paragraph refers to the same Mark Augustyn who was elected Vice Chair for Events at the DeKalb County Republican Party Convention on Saturday.
Here are some FAQs from those both opposed to and supporting the E-SPLOST IV renewal.
Georgia General Assembly
Republican David Stover will be sworn in today as the new State Representative from the 71st District, representing parts of Coweta and Fayette Counties. For the first time this year, Speaker Ralston will be playing with a full deck leading a State House with every seat filled. From the Times-Herald in Newnan,
Stover was up at the Georgia Capitol building Thursday getting organized.

"I've got my office and parking," he said. "Just getting all the housekeeping things done."

"Right now I'm sitting on the floor watching the activities," he added.

Stover will be sworn on the House floor in the well by a judge at 9 a.m. Monday.

Stover won 10 of 11 precincts in Coweta County and one of two precincts in Fayette County.
Today is Legislative Day Thirty One in the Georgia General Assembly. The upcoming days will focus on each house hearing bills that crossed-over from the other chamber in committee, and continued work on the FY 2014 Budget (the "Big Budget").
HB 101 by State Rep. Bubber Epps, Senate sponsor John Wilkinson – Nonprofit organizations; exclude certain events from "food service establishment" definition
HB 198 by State Rep. Richard Smith, Senate sponsor Tim Golden – Patient Protection and Affordable Care Act; licensing of health insurance navigators; provide
HB 202 by State Rep. Bubber Epps, Senate sponsor Steve Gooch - Highways, bridges, and ferries; performing value engineering studies; provide requirements
DeKalb Board of Education
Greg Bluestein of the AJC has written an excellent and lengthy article on the high stakes for both parents and students in the DeKalb County Public Schools and Governor Nathan Deal from his decision to accept the State School Board's unanimous recommendation to remove six members of the DeKalb School Board. It's worth reading in its entirety.
With this week's order by a federal judge allowing Deal's intervention to go forward, the decision's ripple effects could echo far beyond DeKalb.

Now a governor who backs more local control for schools faces criticism over ousting leaders of the state's third-largest school system. A legal battle that could determine the executive branch's power to reshape struggling school districts looms large. And a Republican administration must tap new leaders in one of the state's Democratic bastions.

"This part may present more political risk for Deal than his initial decision to suspend the board members," said state Rep. Scott Holcomb, D-Atlanta. "Now he owns responsibility for who is put on the board. He's got to make sure the people who are picked are individuals who can be viewed by the public as capable and competent. He's got to tread very, very carefully."

So why is DeKalb different? The governor and his allies view the county's education struggles as a brewing catastrophe that could stain the reputation of the rest of metro Atlanta, scaring businesses from moving to the region and dragging down the state's economic engine.

"The main purpose of getting an education is getting a job, hopefully a good job and hopefully here in Georgia," said Deal, who added: "When something is said in a negative connotation about education in any school system in Georgia, it affects everybody."
Governor Deal will meet today with representatives of the NAACP and the Legislative Black Caucus to discuss the suspension of the DeKalb school board members, and the NAACP/LBC will hold a press conference after.
Some folks with the NAACP have made inflammatory statements about Gov. Deals' actions,
The state's NAACP joined the DeKalb NAACP in rebuking Gov. Nathan Deal for using a new state law to suspend six DeKalb School Board members. The civil rights group said the law is unconstitutional and violates the rights of voters who elected the board members into office.

"We're here to challenge this abusive power… Enough is enough. We fought too hard and bled too long to have our elected officials removed by a dictator-type relationship," said Georgia State Conference NAACP President Edward DuBose. "There is a process for removal: The people put them in, and the people take them out."

"We're not going to stand around and let them take away our rights to vote," said DeKalb NAACP President John Evans. "This is the new Reconstruction. They are putting everything in place to set the stage for a takeover with all of these new laws."
Meanwhile, the panelists culling more than 400 applications for appointment to the DeKalb School Board will continue working to present a set of recommendations to Gov. Deal.
The five panelists plan to brief DeKalb's legislative caucus on their progress on Sunday and could deliver their finalists to Deal by the middle of next week.

The group will be looking at a range of factors, including each candidate's vision for the school system, their ability to inspire students and how well they "represent the diversity of the community," according to a document that surfaced on Friday. All but one of the suspended members is black.

Each candidate's experience in governance, planning, policy development and working with school-age children will also be weighed.

"Time is of the essence," said state Sen. Emanuel Jones, D-Decatur. "It's critical we get the recommendations to the governor soon."

On Friday, the nominating committee was holed up in a cramped room stocked with soft drinks, peanuts and Jelly Belly jelly beans on the 20th floor of a government tower as they pored over each candidate.
The AJC's Get Schooled blog has a copy of the nomination application if you're interested in what they're looking for.
2014 Senate
Warner Robins lawyer Kelly Burke, who served fourteen years as the Republican Houston County District Attorney, is talking about a campaign for United States Senate in 2014 for the seat being vacated by Senator Saxby Chambliss. Before his election as District Attorney, Kelly Burke served as a Magistrate Judge. As DA, he was active in the Prosecuting Attorney Council of Georgia, serving as President.
GAGOP County Conventions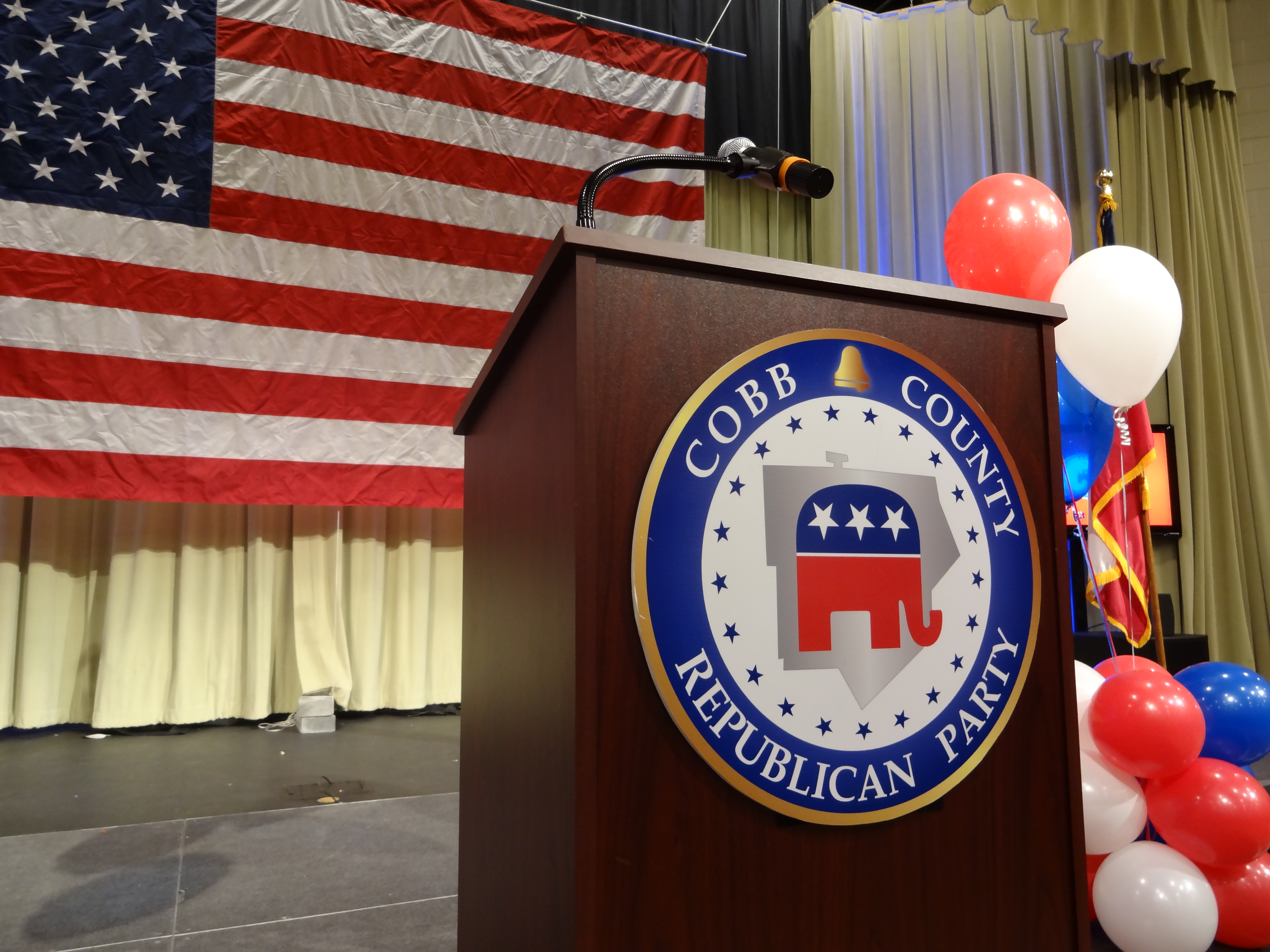 Cobb County GOP Chairman Joe Dendy was reelected by a margin of 168-102 over Oleg Ivutin. The Marietta Daily Journal writes,
Winning along with Dendy were First Vice Chair Rose Wing, Second Vice Chair Justin Tomzcak, Secretary Robert Potts, Assistant Secretary Helen Story, Treasurer Vince Clanton and Assistant Treasurer Gus Makris.

"It does show me that the party is still behind me and they are with the direction I've taken the party the last two years," Dendy said.
It doesn't say clearly who wrote this piece about Dendy's reelection, but I suspect that it's from State Rep. Charles Gregory.
[N]early half of the Republican Party openly voted in opposition to Joe at the convention this morning, in favor of a virtually unknown competing slate that didn't even campaign until two days before the convention.

This is because several of the more conservative wings of the Party feel frustrated over a barrage of attempts to marginalize and push them out of the Party.

Over the past 15 years, the Republican Party has been successful in Georgia because we invited people in. Shoot, half the elected Republicans in this state used to be Democrats.

That's how you grow the party and that's how you win National elections — by being a big tent. I don't know when that changed. There should be room for healthy debate. Everyone should have a voice and everyone should be respected.

I congratulate Joe and the rest of "Team Dendy." Running the Cobb GOP is no easy task and I know Joe and the rest of the executive committee put their heart and soul into what they do.

For that they have my deepest appreciation.
I reproduce that section not to criticize Joe Dendy, but because it crystallizes an issue that local Republican parties are struggling with across Georgia, and likely the nation. It also adopts a tone that I think would serve well for both upstarts and establishment to adopt in their discussions — respectful and cognizant of the work that's been done by the "Establishment" while arguing forcefully for greater inclusion. My personal thanks to all who participated respectfully this weekend.
Congratulations to Rachel Little, who was elected Chair of the Gwinnett Republican Party.
Linda Smith was elected Chair of the DeKalb County Republican Party, beating back a challenge by Alex Johnson, who is also running for Chairman of the Georgia Republican Party. The others elected by the convention:
Allan Williamson – 1st Vice
Willie Hinton – 2nd Vice
Margot Teed – Vice Chair Communications
Brian DiNapoli – Vice Chair Membership
Mark Augustyn – Vice Chair Events
Kelly James – Vice Chair Facilities
Treasurer – Bobbie Frantz
Secretary – Mike Bryan
Layla Shipman was elected Chair of the Floyd County Republican Party.
"The main things I ran on were party unity, party growth and party involvement. And I think by electing a younger woman in this position we're showing we do believe in the leadership of women and we're an inclusive party," she says. "We'll be reaching out to the community. We're going to be a more community service organization. And I think by the election of a woman—especially a young woman—-shows that the party is changing, and we're going to be a force to reckon with in these next couple of years."
Roger Bonds was reelected Chairman of the Fulton County Republican Party.
Natural Gas
Extreme Northwest Georgia may become Explosive Northwest Georgia if wildcatters exploring for natural gas in the upper-left hand corner of the state go all Jed Clampett.
Trillions of cubic feet of natural gas believed to lie below the hills of northwest Georgia have remained virtually untouched and unwanted — until now.

Shale gas drilling is slowing across the country, but a handful of companies are poking around this corner of the state looking for the next natural gas "play." If they succeed, Georgia could join the ranks of states reaping jobs, revenue and fears of environmental damage from energy production, The Atlanta Journal-Constitution has learned.

Northeast Alabama raged with gas fever until 2010 when low prices and technological hurdles cooled the interest. Georgia doesn't have the infrastructure — the trucks, tanks, pipes and refineries — needed to transform a liquid into a fuel to heat homes and cook food.

Oil and gas men are gamblers, though, looking months or years ahead. Energy analysts predict natural gas prices will rise again as it increasingly replaces coal and other petroleum products. And where there's gas, there's usually oil and other money-making liquids nearby.
There's never a good time for a natural gas leak, if you're a company whose livelihood depends on transporting it into homes and businesses, but it's especially improvident in an area where you're battling NIMBYs over building a regulator station.
A residential gas line near Atlanta Gas Light's proposed regulator station was struck during a routine bit of construction on Friday, which has heightened residents' concerns over the station itself.

While AGL spokespersons say the station and pipeline are safe, some local residents say the company has not been forthcoming about addressing the concerns of local residents.

"AGL seems to continually be talking out of both sides of its mouth," said local resident Pat Thomas. "On one hand, we're told the segment of Eastern Pipeline and a regulator station with an incoming capacity of 720 psi in our midst is safe because of the care AGL will take.

"On the other hand, [AGL Representative] Sawhill says, 'These incidents are not uncommon when installing underground infrastructure." This pipeline segment and regulator station will be subjected to underground infrastructure installations for as long as they exist. That means area residents will be in danger for as long as they exist, especially with a 720 psi incoming pipeline, which is much over the capacity of the pipe that is there now."
Lost in the NIMBY rush to score cheap political points was the fact that nothing actually blew up.
Events Calendar
Visit our online Events Calendar and email me with events you'd like added.
Monday, March 11, 2013
Greater Gwinnett GOP Women March Meeting with Karen Handel  - 7-8:30 PM at O'Charley's, located at 830 Lawrenceville-Suwanee Rd.,Lawrenceville, GA,30043
Tuesday, March 12, 2013
GA CR's Under the Dome - 11 AM to 2:30 PM at the Georgia State Capitol, Room 216 in Atlanta. Click here to R.s.v.p. via Facebook.
Buckhead Republican Women's Meeting with Karen Handel - 6-8 PM at  Brio Tuscan Grille, 2964 Peachtree Rd NW, Atlanta, GA,30305
Thursday, March 14, 2013
Greater Fayette Republican Women's Club Lunch with GFRW State Chair Rose Wing - 11:30 AM to 12:30 PM at Green Ginger, 200 Market Place Connector,Peachtree City, GA 30269. For more  information, please e-mail Denise Ognio, denise@futurestaffnow.com, or call or e-mail Debby Dickinson at 404-376-4132 or ptcdebby@bellsouth.net.
Atlanta Young Republicans Happy Hour - 7 PM at Fado Irish Pub at 273 Buckhead Ave NE, Atlanta, GA 30305.
Gwinnett GOP County Committee Meeting - 7:30 PM at the Gwinnett County Republican Party Headquarters, located at 46 South Clayton Street, Lawrenceville, GA 30045.
Saturday, March 16, 2013
Rockdale GOP March Meeting with AG Sam Olens - 8-10 AM at the Whistle Post Tavern, 935 Railroad St NW,Conyers, GA, 30012.
Camden County GOP Annual Dinner - 6-8:30 PM at the Millhouse Steakhouse, 1215 East King Avenue, Kingsland, GA, 31548
Sunday, March 17, 2013
Republican Jewish Coalition Atlanta Chapter Meeting with Senator Johnny Isakson - 3:45-5:00 PM at Fulton County Republican Party Headquarters, 5920 Roswell Road,Sandy Springs, GA,30328. RSVP is required to this members only event! RSVP to Lynne Schultz at 770-438-0376 or email ATLRJC@gmail.com
Inspiration
Here is the moving testimony of Phil Foil, whom I am lucky to call a friend. Many of y'all will know Phil, I hope all will join in praying for him and his family.
Gratuitous Photos — Lamborghini VT Roadster and Ferrari 458 Italia