Butter is a female hound dog mix who loves nothing better than a belly rub. The volunteers at the Fayette County Animal Shelter say she has a very submissive nature, which in my experience may help ease the transition into a home that already has a dog or two.
Rusty is a lab/border collie mix who is relying on his handsome good looks and winning smile to entice someone to adopt him from the Fayetter County Animal Shelter.
The volunteers say that Rusty is a very nice dog, but would probably do best in a home without children. He has a great combination of compact size and robust personality that makes a good apartment or in-town dog, and he'd probably be a great choice for a runner. He gets along with other dogs, so if your neighborhood has a doggy happy hour like ours does, he'd be perfect to take along to introduce you to your neighbors.
Dixie Dog Rescue is a small, private rescue organization that typifies the great work being done by small groups and individuals across Georgia. They are undoubtedly part of the Gwinnett County Animal Shelter's having placed more dogs out last year than they euthanized for the first time ever, as they are active in saving dogs in Gwinnett. In fact, without Dixie Dog Rescue, our hound dog, Dolly, would have been euthanized in Gwinnett Animal Shelter – they took a chance and pulled her on the day she was to be put down.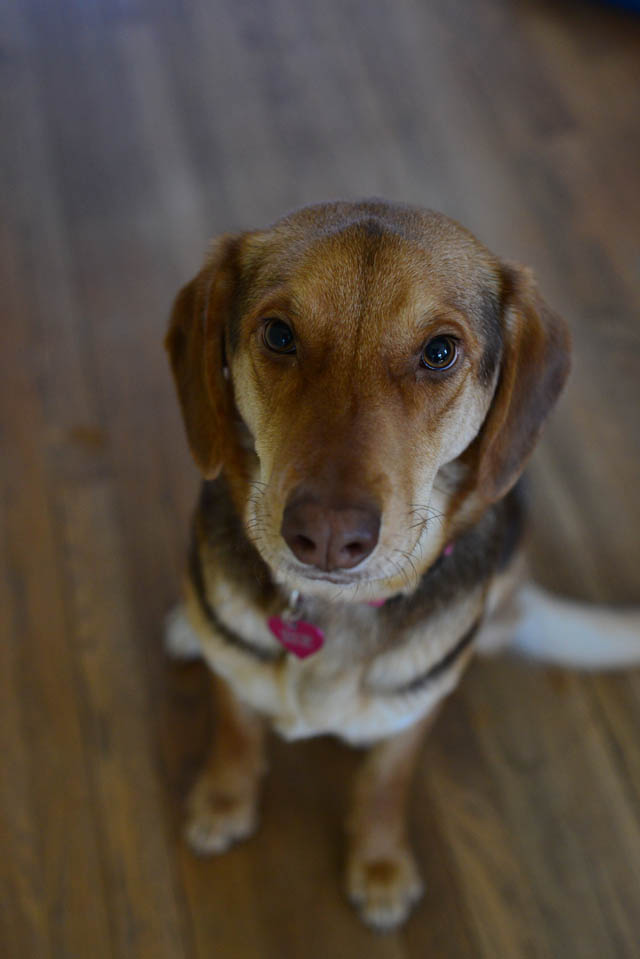 This is Dolly, our lovely coonhound. If you're not familiar with the sound of the hound, here's a video of what they look and sound like when they sing.
Dolly corners like she's on rails. Because it's sometimes unpredictable what kind of vet needs a dog will have, Dixie Dog Rescue is pressed for funds, which will impact their ability to save lives; please consider making an online donation today to support their rescue efforts — instead of that extra-hip chai frappalatte, you could help save the next dog who needs help.
Georgia Politics, Campaigns & Elections
I'll be talking to Tim Bryan with 1340 WGAU this morning at 9:06 about our survey on the 2014 Senate race in Georgia. Take a moment to tune-in or listen in your web browser so you can tell Tim how I'm wrong about everything, instead of hitting reply to tell me, like you usually do.
Senate 2014
Here's a sign that Congressman Jack Kingston may be putting serious thought and effort into assessing his chances in a run for the Senate: he came in first in our Online Poll of the field of potential candidates for the 2014 Republican Primary for U.S. Senate.
I don't think of the online poll as providing a true reflection of Georgians' vote preferences; rather, it's a gauge of activist sentiment, and here, it may suggest a concerted effort to get out the word among Kingston supporters that he's actively considering the race.
Coupled with Eric Johnson's tweet that he's helping with Kingston's expoloratory efforts, it may mean that Kingston's giving serious thought to a run.
I excluded Kingston from the phone survey for two reasons: first, his numbers probably reflect the trend among sitting Congressman of starting in the 7-11 point range; second, the phone script already had too many candidates and some had to be omitted. These are the kinds of compromises you make when polling this early. Unless Kingston takes himself out, he'll be in the next iteration of our polling.
I'd also note for the benefit of all of the Congressmen thinking about a run for Senate that starting with the kind of numbers an incumbent Congressman, even one from outside the Metro Atlanta cluster media market didn't seem to hurt then-Congressman Nathan Deal when he ran against a field that included incumbent statewide elected officials. As Walter Jones notes about the fluidity of races this early,
the last governor's race illustrates how fluid a campaign is. Lt. Gov. Casey Cagle was considered the frontrunner the moment Perdue won a second term, but Cagle eventually decided to keep his own job. Eric Johnson of Savannah, the Senate president pro tempore at the time, reacted to Cagle's decision by moving from the lieutenant governor's race to the top spot, earning himself predictions that his savvy and contacts would make him a formidable contender.

However, for much of the early campaign, then-Insurance Commissioner John Oxendine led polls and fundraising, but he failed to make it to the primary runoff when Handel edged him and Johnson out.

The ultimate winner, Nathan Deal, was the last candidate to enter the race.

Those jockeying to be first out of the starting gate in the Senate contest should keep a clear head, Tanenblatt advises.

"That doesn't necessarily mean they'll be the only ones in this race," he said. "It wouldn't surprise me if you didn't find someone outside of the political scene, in the business community, didn't jump into the race."
Walter Jones notes that politicos of both parties are treating the news like it's an announcement of a new Fantasy Football league for political nerds. It's a great read that shows you why I consider Walter to be one of the top two or three writers about Georgia politics.
"They couldn't wait for a more exciting development. Everything's been turned upside down," said [Eric Tannenblatt].

There is an understandable urge to get a head start, become the frontrunner and lock up endorsements and contributors. But Tanenblatt counsels for calm.

"People need to step back and understand there'll be plenty of time."
The National Journal makes the point that Georgia's Senate race will be an important part of the political calculus nationally in 2014.
James Richardson at Georgia Tipsheet notes that the Chambliss race probably means most strong statewide candidates of both parties and Democratic resources will be drawn toward the Senate race, giving Governor Nathan Deal a clear path to reelection.
"The big winner today is Gov. Nathan Deal," [Jay] Morgan told Tipsheet in an email. "The set of chain events that will now transpire will adversely affect anyone's plans to mount and finance a statewide race for Governor.  The interest and the money will be focused on who succeeds Senator Chambliss and all those who give up their safe seats in the process."
Conservative activist Virginia Galloway is concerned about the effect a massive GOP Primary might have on our bench and Congressional seniority going forward:
Virginia Galloway, the state director for Americans for Prosperity Georgia, is deeply plugged in to the conservative grass roots in the state. She said she was uneasy about the potential "fruitbasket turnover," where everyone jumps in the race.

"I'm concerned — and I think other conservatives are concerned — that we could lose a large portion of our congressional delegation if everybody jumps in to go after the Senate seat," she said in an interview.

And she and other insiders hoped that, in a crowded rough-and-tumble primary, a candidate who could win statewide would emerge as the GOP standard-bearer.

"Conservative is very important but they have to be electable across the state of Georgia," Galloway said. "We've got to have someone who can speak to the entire state."
Deal's 3-1 favorable job approval ratings among GOP Primary voters and 55-29 approve/disapprove among the electorate at large all but assure that the best candidate will steer clear of the Governor's reelection campaign.
Legislature
Today, the Georgia Association of Realtors will visit the State Capitol to talk with their elected representatives and hear from the association about issues that may impact them. They will also hear from Governor Deal, who will address their group on the stairs of the Capitol. One thing I've learned about politics is that if you want to know what's going on in a community, talk to a couple of local realtors. They'll have a handle on the local economy, local government, and community.
The video on their website is a good example of how industry associations help their members be effective in discussing economic issues with elected legislators. At its best, this is what lobbying is about, normal citizens asking elected officials for help in issues that effect them and sharing their knowledge of how bills will effect jobs in their community.
Speaking of lobbying reform, Senator Josh McKoon has an op-ed in the Atlanta Journal-Constitution about ethics reform:
Our governor, Nathan Deal, summed up the challenge that faces us on adopting ethics reform in his State of the State Address. He said we "can build the strongest foundations … upon which our state government will rest; but if the citizens of Georgia don't trust us, it will all be in vain… ."

Leaders in our state have taken steps toward ethical governance. Gov. Deal implemented a $25 gift cap to set a standard for ethical behavior in government.

The new Senate president pro tempore, David Shafer, sponsored a $50 gift cap as a floor leader for Gov. Sonny Perdue and co-sponsored my comprehensive ethics legislation. Shafer, together with Senate leadership and Lt. Gov. Casey Cagle, proposed a gift limit rule that was adopted by the Senate on the first day of the legislative session.

We have the leadership necessary to tackle this challenge. It is now a matter of prioritizing reforms and agreeing on these and other ethics measures. If we succeed, the trust built with the public will allow us to confront the public policy challenges ahead.
We're likely to get a view of the Speaker's approach to ethics reform this week.
Ralston did not divulge his plans Monday but told a gathering of local elected officials that it would include "common sense relief" to county and city leaders.

Ralston has for months promised to introduce his plan for ethics changes and has said a ban on lobbyist gifts to lawmakers would be included.

His comments to the Georgia Municipal Association would appear aimed at making changes to how local officials file campaign and personal financial disclosure reports.

Gov. Nathan Deal, also at the GMA's conference, addressed possible changes in ethics rules.

"I do think its an issue that's not simply isolated at the state level to members of the General Assembly," Deal said. "I think the expectation that there be higher accountability and levels of conduct should be applied to all levels of government."
This will be the first indication of the Speaker's thoughts on addressing lobbying reform.
Ralston had long opposed gift prohibitions or caps because he said it would shift lobbyist spending underground. He reversed course this summer after more than 1 million people voted in favor of limiting what lobbyists can spend in separate ballot questions in the Republican and Democratic primary elections.
In a very well-written piece, Maggie Lee writes for the Macon Telegraph that Georgia's Gold Dome may actually be a glass dome. It's worth reading in its entirety, but here's an excerpt.
All things being equal, men and women win elections at the same rate, said Katie Ziegler, program manager for the Women's Legislative Network of the nonpartisan National Conference of State Legislatures.

"It's not that women aren't winning their races. There's pretty much parity there," said Ziegler, "so a lot of people look at who is choosing to run. That's where there's still a pretty big discrepancy in numbers."

Valdosta teacher Amy Carter is a high-ranking Republican state representative, chairing the Governmental Affairs Committee and ranking or sitting on several others. She said she feels called to political work, and she is able to do it both because of robust family support around her two young children and because her employer is willing to work with her lawmaking schedule.

She doesn't see the gender ratio in the Legislature as a problem, saying it's important to recruit good people, no matter the gender.

If she had to guess why there are relatively few women in politics, Carter said, "I would guess family obligations."

Women are breaking through the glass ceiling in business, but in politics, they are not, said state Sen. Renee Unterman, R-Buford.

She's the only female committee chair in the Senate, heading Health and Human Services. She also sits on the powerful Appointments Committee, which decides who sits on choice panels and who sits on relatively boring ones.

"I don't really have the reason" why women aren't in politics, Unterman said, sitting by glasses, phone and a stack of papers after an hours-long session. "But one thing I do know, within the Republican Party there is not a concerted effort to bring young girls and women along into the system."
I'll note that
Senator Renee Unterman
is the only female Republican in the State Senate, which is, of course, part of the reason she's the only woman to Chair a committee. By the way, yesterday was her birthday, so if you see her in the halls today, wish her a happy belated one.
File this under "one of these guys will be a legislator in just over a week." Dean Burke and Mike Keown, who are competing to succeed former Senator John Bulloch in the February 5th Special Runoff Election in the lower-left-hand corner of Georgia met in a debate.
First matter of business was education.

"I believe the best education decisions are made for Grady County, in Grady County, not even in Atlanta, but in Grady County; same thing in Thomas County," said Keown.

"We need to push back against the federal government, try to come up with some common sense approaches, listen to educators in the communities; let them tell you what needs to be taught, then go to work," added Burke.

Another hot topic was public safety and gun control. Both candidates voiced their support for the Second Amendment and agreed that protecting Georgians is a top priority.

"Now we have to worry about fortifying our schools," said Keown. "Now we have to worry about who's going to walk in our schools and harm somebody."

"I've been a hunter and fisherman my whole life," said Burke. "I'm not interested in any gun grabbers from Washington coming down and changing our culture in Southwest Georgia."
Mary Norwood was appointed to the Fulton County Elections Board by the county commission after the Fulton GOP nominated her.