London (above) is a young, female Pointer mix, who weighs in at about 50 pounds. He is currently being fostered by Kathy Statham, who is trying to find her a permanent home. Email Kathy if you're interested in taking over foster duties or adopting either of these great dogs.
Next up is Jasmine, a pibble (Pit Bull mix) also fostered by Kathy, who says this beautiful brindle female is 11 months old, weighs 40 pounds, and doesn't have a mean bone in her body.
If you're a lobbyist looking for a gift for a Senator that fits under the $100 cap, you could head out today to Walton County Animal Shelter, and grab one or two of these puppies, who can be adopted for $40 each.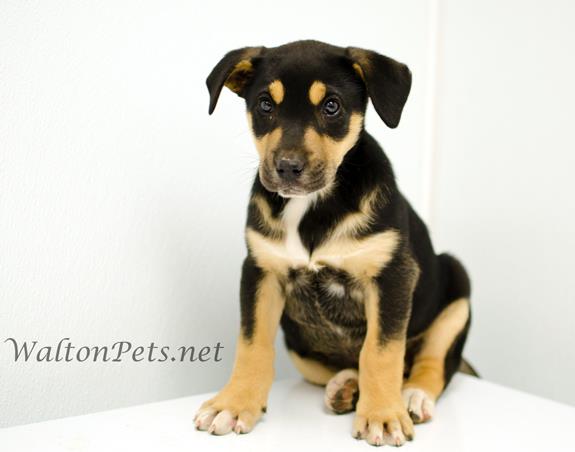 Executive Branch
Georgia Politics, Campaigns & Elections
Legislature
Session starts at 10 AM today. Live Feed from the House Floor.  Live Feed from the Senate Floor.
The extent to which the skids have been greased for quick passage of the hospital bed tax is illustrated by two procedural moves that gave it a head start over other legislation.
On Monday, the first bill read by the Senate this session was Senate Bill 24, by the Governor's Floor Leaders, called the "Hospital Medicaid Financing Act." In fact, the Senate had to suspend Rule 3.12(a) in order to first-read the bill, and did so on a voice vote.
Senate leadership's other tell on the fast-tracking of Senate Bill 24 was that early yesterday morning we were able to write about the meeting of the Regulated Industries Committee, which was held yesterday at 3 PM. What's interesting about that is that the Regulated Industries Committee Meeting, which had only Senate Bill 24 before it, was scheduled before Jack Murphy was named Chairman of the Committee and the Meeting Notice posted later.
In that meeting, the Regulated Industries Committee voted a "Do pass" recommendation for SB 24, which would allow the Georgia Department of Community Health Board to levy the tax fee.
A state Senate committee Tuesday approved a bill authorizing the Georgia Department of Community Health to reimpose for four years a "bed tax" on hospitals that would bring in $689 million a year in state and federal funds to prop up a Medicaid program facing a shortfall.

Tuesday's vote came on just the second day of the 2013 legislative session and put the measure on track to be taken up by the full Senate as early as Thursday.

The legislation was introduced on behalf of Gov. Nathan Deal and has the backing of all three of the state's major hospital organizations.

"This bill does not impose a fee," Senate President Pro Tempore David Shafer, R-Duluth, said during debate on the bill Tuesday before the Regulated Industries Committee. "This bill will not raise any revenue."

But Sen. David Lucas, D-Macon, didn't buy the nuance in that line of reasoning. He argued that the proposal is a revenue bill and could run into legal problems down the line because it was introduced into the Senate.

"I thought all revenue measures had to start in the House [of Representatives]," he said.

But Sen. Charlie Bethel, R-Dalton, one of Deal's Senate floor leaders and the legislation's chief sponsor, said it is on solid legal footing as an "authority" bill, not a revenue bill.

Hospital industry lobbyists testified Tuesday that they have to have the additional revenue the tax would bring. Otherwise, they warned, up to 20 hospitals in rural Georgia could close, while larger hospitals would face layoffs and huge service cuts.
WABE's Jonathan Shapiro, whose surname sometimes comes in a variation spelled Schapiro, further quoted Shafer,
David Schafer, the top-ranking Republican in the Senate and one of the committee members who voted for SB24, said the measure gives the state needed flexibility as budget conditions continue to change in Washington.

"We don't know about federal funds moving forward,"  said Schafer. "By delegating the authority to levy and remove the fee to the Board of Community Health, we can respond more quickly if those federal funds weren't available."

The Regulated Industries Committee passed the measure 11-3.

Political observers suggest the governor's proposal is getting fast-track treatment to avoid a bruising fight with conservative lawmakers who deride the fee as a tax on patients.

Senate Minority Leader Steve Henson was one of three committee members who opposed the measure, calling it a baldly political move. He said the larger issue of Medicaid funding deserves a more deliberative process.

"This was brought to us in superfast order. People haven't had a chance to review it," said Henson. "We need to have a broader discussion. Were there other ways to raise revenue? We could do a tobacco tax. We could raise revenue in other ways but people aren't willing to engage in that."

If passed in current form, the bill would permit DCH to levy the fee for four years. During that time, the legislature could challenge and overturn any fee proposal.
This political observer suggests the fast-track treatment may also be in order to prevent potential foes from mounting organized opposition, though some of those potential foes are known for their disorganization, and to take advantage of the short-term memory of the voters. To that end, maybe the strategy is working.
Fiscally conservative groups have lambasted the plan and said the Legislature would be abdicating its responsibility. No one opposed to the proposal testified Tuesday.
Serious question: can the hospital bed tax be considered analogous to the co-pay that we non-Medicaid Georgians pay anytime we sneeze use our health insurance?
Lt. Governor Casey Cagle will abide by the Senate ban on members accepting gifts worth more than $100 from lobbyists, though it doesn't require him to do so.
"As the constitutionally defined president of the Senate and a member of the legislative branch, (Cagle) looks forward to abiding by the historic ethics limitations enacted by the Senate on Day One," Cagle spokesman Scott Paradise said. The lieutenant governor, he said, "has a clear and proven record on this issue, including having voted for an even stricter cap as far back as 2004."
Senator Butch Miller will sponsor legislation to enhance boating safety following a summer of high-profile mishaps on Lake Lanier.
Like a fart in a tornado, the Georgia Senate Democrats have unveiled their agenda for this session, and nobody not close to the process appears to have noticed.
Executive Branch
Governor Deal says the Hotel-Motel tax proceeds at the heart of the debate over the proposed new Atlanta Stadium belong to the City of Atlanta, who should be able to decide how they're spent.
As he has before, Deal said his involvement in the matter was limited, and refused to say whether he wanted the measure to pass. But the governor again tossed out some strong hints.

"That's not a judgment call that I make. It is a legislative matter. I certainly think that having a billion-dollar investment, the majority which is private money … is certainly something that is desirable for our state," the governor said. "I think the city of Atlanta and the mayor in particular share the view that this is critical to the downtown area as well. There are a lot of things at play, but it does come down in very difficult economic times [to] convincing the Legislature … as to whether or not they want to do it."

But the most important thing the governor did today was cast the decision as one that should yield to local – i.e., Atlanta – sentiment. "I think there's another important fact that sometimes gets over looked," he said. "The dollars that will be collected and used to pay off the bonds for a new stadium – these are really dollars that belong to the city of Atlanta and Fulton County because they come from their local hotel-motel tax. These are not dollars that flow into the state treasury."
I'm okay with that as long as state taxpayers aren't on the hook for new bonds sold by the Georgia World Congress Center to finance the stadium.
The Public Service Commission, by a 3-2 vote, approved tacking on a $5 per month fee for users of free phones, sometimes called "Obamaphones" provided under the federal Lifeline program. Money quotes from the measure's author, Public Service Commissioner Doug Everett:
"The people in the state of Georgia having to pay for this program are getting ripped off by not only consumers but even by some of the companies," said PSC commissioner Doug Everett, who pushed for the fee.

In an interview after Tuesday's meeting, Everett — who as recently as 2009 praised Lifeline as a needed service — said he does not want the Lifeline program to go away. But he said he considers cell phones a luxury.

"This fraud and abuse, I'm waging a war on it. I don't want to take any weapon out of my arsenal to fight this war," said Everett, who added he's received widespread support for stricter rules.
Campaigns & Elections
Typically, asking for debates is left to the candidate who is running behind, and the leading candidate is loathe to provide his opponent any publicity, a chance to do better than expected, or even an acknowledgment of their existence. That appears to be happening in the election for Senate District 11, as Dean Burke, who led the Special Election field, declined to answer second-place finisher Mike Keown's challenge to debate in the accelerated timeframe pushed by Keown.
From an email  by the Keown campaign dated January 14th,
Mike Keown announced a challenge to Dean Burke to debate the issues in the State Senate race for District 11. With the field narrowed to two candidates and serious issues facing southwest Georgia, Keown wants to give the voters every opportunity see both candidates up front and personal.

"This is a campaign for the people, and I am committed to making myself available to the voters of District 11. I hope Dr. Burke will join me," stated Keown.

Since the race entered the run-off, organizations in three counties* have invited Keown and Burke to debate, but none of the counties have received a response from Burke. Keown has agreed to all invitations, however due to Burke's unresponsiveness, the Thomas County Debate has been cancelled. At this time, Burke has still not responded to the organizations in Seminole and Grady regarding the debates in those locations.

"If Dr. Burke is unwilling to debate the very serious issues our state faces, then I will make myself available to the voters through a series of town hall meetings across this district."

If Burke does not accept this challenge by 2:00 pm Tuesday, the Keown Team will continue plans for an 8 county town hall tour.
and one dated yesterday,
As of 5:30pm today, Mike Keown's campaign still has not received a response from the Burke campaign regarding the 8 County Debate Challenge issued yesterday. Around 4:45pm today, indirect word was received indicating Burke responded to the Seminole County organizers and requested the date set for February 1, which is a Friday evening at 6:00.

This date is the Friday before the election and the last day of early voting! Seeming to be an odd time for a debate, likely to yield a small crowd, and days after many people have already voted, the Keown campaign has requested the original date planned for the debate, the week of January 21.

Sincerity needs to be taken in wanting to give the voters an up close and personal look at both candidates. Keown is now waiting for positive responses from Burke regarding all eight counties.
I have no idea what the next to the last sentence means.
In House District 21, Republicans Scot Turner and Brian Laurens will meet in a debate hosted by the Cherokee County Republican Party on January 22d.
While he's looking forward to the debate, Laurens said voter turnout will be a bigger issue than voter education for the runoff.

"These voters have been asked to vote so many times. I think they're going to know who we are and will have already chosen to vote for one of us or vote against one of us," he said.

Turner said he is looking forward to discussing the issues during the debate.

"I think there are some significant differences between us that can be highlighted," he said, noting that he's hoping to set the record straight regarding where he stands on tax reform.
Maybe this meeting of the Cherokee County Republican Party will have Laurens on his best behavior, unlike last year's at which the Sergeant-at-arms for the CCRP had to ask Brian Laurens to leave the meeting because he was being disruptive and resulted in the police being called.
Canton Police officers were dispatched to the Northside Hospital-Cherokee Conference Center Saturday afternoon after a party member allegedly refused to follow parliamentary procedures during the delegate selection process.

According to an incident report from the police department, First Vice Chair Brian Laurens was ejected from the convention for interrupting the procedures. Laurens, who on Thursday called the incident minor, resigned from his position with the party in the days following the convention, citing family and business obligations as the reason he was stepping down.

According to the police report, John Marinko, the county's vice chair for events who was serving as the sergeant-at-arms during the convention, told the officer that arrived in response to a call for help that Laurens did not follow the rules during the meeting.

Marinko said in the police report that Laurens, 29, was asked several times to "conduct himself in a proper manner," but refused to do so.

The report alleges Laurens refused to sit down and, when asked to do so, began yelling and "causing a scene."

Fellow sergeant-at-arms Lawrence Mrozinski, who told police that he spoke with a "final authority" at the convention who wanted Laurens removed, offered Laurens one more chance to calm down, but he refused.

Mrozinski told police Laurens became physical when Laurens "body checked him with his chest and stomach," and placed his hands on Mrozinksi's shoulders.
What reasons might one have for voting against Political consultant Brian Laurens?
Well, there's this. And this. As the Perspicacious Conservative sums it up,
 I think it's clear that Mr. Laurens is not cut out for this office at this time. Maybe after a little growing and a little humility, things will be different.
Snellville: Still Crazy
From yesterday's Gwinnett Daily Post:
SNELLVILLE — About the only thing the Snellville mayor and city council could agree on Monday night was the sale of beer growlers in the city limits, to which they voted in favor of unanimously.

Nearly everything else could be described by how the group has acted for most of the last year: bickering, name-calling and 4-2 votes.

Only minutes into the regular business and public hearing, Mayor Pro Tem Tom Witts and Councilman Dave Emanuel disagreed with Mayor Kelly Kautz about if they could amend the agenda to the meeting.

"Why does this have to be like this," Witts said. "Why do you have to bully?"

Kautz replied, "I think the only bully is you."
A spirited and contentious specially called meeting of the Snellville City Council on Wednesday ended predictably for those who have followed the group in recent months. Division among the mayor and Council members is very much alive.

In a series of events that began with a 4:30 p.m. press conference called by Mayor Kelly Kautz, and ended about four hours later at the close of the meeting, the day could be summarized in one of Kautz' statements during the meeting.

"Can we all agree to disagree?"

With Councilman Mike Sabbagh out of town on business, a series of motions and resolutions to establish confidence in attorney Tony Powell were decided by a 4-1 vote. Mayor Pro Tem Tom Witts and Council members Bobby Howard, Diane Krause and Dave Emanuel voted in favor of Powell as city attorney, and responsible for duties related to the job description, while Mayor Kelly Kautz voted against each action.

Last month, Kautz dismissed Powell as city attorney in part because of what she said were monthly legal fees that were over budget last fall. Kautz also said Powell has pushed for lawsuits instead of giving opinions on city matters. This is the fourth time since Kautz was elected in 2010 that she and a majority of the council have disagreed on a city attorney choice, and the second time Powell has lost his job.

But if Powell lost his job at all was a bone of contention throughout the day.

Also on Wednesday, Kautz asked a Superior Court Judge for an injunction against the Council to take votes at the meeting. But Kautz withdrew her request for a declaratory judgment against the majority of council about the meeting because she said Judge Timothy Hamil wasn't inclined to stop a public meeting with elected officials.
Wait. Did she really try to prevent the City Council from doing the only thing that City Councils really must do in order to be effective, vote?
Ends & Pieces
The connection between substance abuse or mental disorders and crime underlies some of the recommendations from the Governor's Council on Justice Reform. Gwinnett County currently operates a Mental Health court, and more could follow.
 Frank Berry is commissioner of Georgia's Department of Behavioral Health and Developmental Disabilities.

He says correctional facilities are no place for those who desperately require treatment.

Berry praises Governor Nathan Deal for pushing the transformation in how the mentally ill are treated by the courts.

"With the criminal justice reform that occurred last year and this year with the focus being on the juvenile justice reform, people are really beginning to recognize that community-based treatment really does work and help people lead a life of recovery."

In Gwinnett, Superior Court judge Karen Beyers will be part of the decision to determine who's eligible for the mental court.

According to Frank Berry, an evaluation from the state created Viewpoint Health Services will also be used.

"So it's really a strong partnership. It's the judicial branch relying on a high quality treatment provider to help the judge make the decision of whether or not somebody participates or does not participate. It's done through comprehensive assessment."

Viewpoint Health is already a treatment provider for Gwinnett County's DUI and drug Court.
Woodstock City Council has begun the process of adopting new voting lines for its districts.
The new ward maps were approved 5-1, with Council member Liz Baxter opposing the decision.
For goodness' sake, get a flu shot already.
The state of Georgia is now in the midst of a flu epidemic, and local health officials are urging the public to get flu shots if they haven't already.

The flu is hitting Georgia harder this year than it has in nearly a decade, according to the Georgia Department of Public Health. So far, two adult, flu-related deaths have been reported in Georgia.

"We are seeing some decrease in flu activity, but we are still at epidemic level and the flu is unpredictable," said Patrick O'Neal, M.D., director of the Division of Health Protection, Georgia Department of Public Health. "We are getting reports of more severe flu effects in neighboring states, including the number of deaths. Peak flu season typically does not happen until late January or early February, so we may not have seen the worst yet."