The situation is dire for puppies in the Gwinnett County Animal Shelter, and they need to be adopted today or face euthanasia to clear room for more.

29555 (above) and 29554 (below) are described as Rottweiler puppies, but I'm not certain of that.


29566 is a Shepherd-mix puppy.


29499 is described as a Pit Bull puppy, but looks more like a Shepherd to me.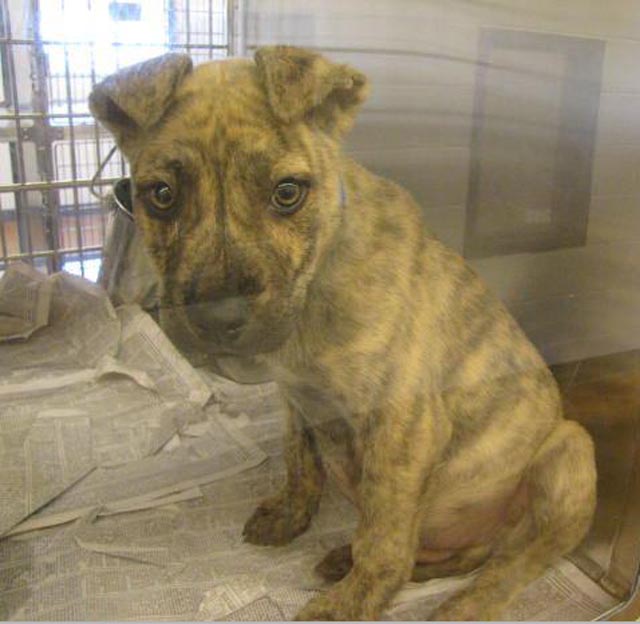 29500 is a young pibble with a beautiful light brindle coat.
Georgia Politics, Campaigns & Elections
A group of third-grade students from Stockbridge Elementary is raising money to attend the 2013 Presidential Inauguration in Washington, DC this month. Click here to join me in donating online for this once-in-a-lifetime chance to help these kids learn about our nation's history and government. Tell them GaPundit.com sent you. I don't think this will make them Democrats for life.
Senate District 11 sends Republicans Dr. Dean Burke (42.59%) and Mike Keown (37.37%) to a Special Election Runoff on February 5th.
Burke said he was pleased to learn he garnered the most votes in Tuesday's special election.

"I'm excited. It's a testament to what the volunteers and people working for me have been able to accomplish. It's surprising, since I was not well known outside of my home county prior to the election."

In Decatur County, Burke won with 2,005 votes to Keown's 333 votes. In contrast, voter turnout in the more densely populated Colquitt County was only 1,684 people.

"It's rewarding to think that the people of Decatur County, the folks who know me the best, had that kind of confidence and support for me."

Burke said he planned to re-visit all of the counties in the State Senate district, to continue to get to know voters and local leaders.

Burke said he has been preparing for the possibility of a runoff election since the start.

"We hope to have a good turnout in February. Our job is to keep people excited and add to tonight's total as best as we can."

Keown won Thomas County, with 1,758 votes to Burke's 526, as well as Grady County, with 1,119 to Burke's 475.

Keown was also the leader in Mitchell County, with 279 votes to Burke's 178.

Hughes won Early County, with 450 votes to Keown's 319 and Burke's 245.
It will be interesting to watch whether this runoff follows recent history in which all of the last three Senate Special Election Runoffs were won by the candidate who came in second in the first round of balloting. In December 2011, Senator Mike Crane and Senator John Wilkinson were elected after coming in second in November.
Republican Senator-elect Mike Dugan won handily over Librarian Libertarian James Camp.
"I'm happy with the results, and it says to me that the voters in District 30 have enough faith in me to be their voice in Atlanta," Dugan said after the votes were counted Tuesday night. "I'm looking forward to serving, and I'm ready to start doing the job."

Dugan, a first-time office seeker, will replace Bill Hamrick who resigned the seat in September to accept an appointment to a Coweta District Superior Court judgeship. Dugan will be sworn into office Monday, in time to catch the opening gavel of the Georgia General Assembly.

Camp congratulated Dugan and said, "He's a good man and will serve District 30 well."
Dugan also upset the candidate who came in first in round one of this election, beating heavily-favored former State Rep. Bill Hembree through a campaign of shoe leather and handshakes that emphasized personal relationships to voters.
Senator-elect Brandon Beach carried 58 percent of the vote in Senate District 21 to beat former State Rep. Sean Jerguson and take the seat Beach sought in June against then-incumbent Chip Rogers.
"When I was going through the campaign, people were concerned about leadership, lower taxes and getting results. That's what people want, and that's what we ran on," Beach said, noting that jobs and education are two of the biggest issues facing the district.

Beach lost to Chip Rogers in the July primary race for the Senate seat and decided to make another run when the former legislator resigned in December.

"It's a great night for District 21," Beach said Tuesday night, thanking his crew of campaign volunteers, including 30 Cherokee County volunteers.

Beach earned 52 percent of Cherokee County votes, or 3,925 votes. Jerguson received 48 percent of votes in Cherokee County, 3,660 votes.

In Fulton County, Beach garnered 81 percent of votes, or 1,545. Jerguson earned 371 votes in Fulton County.
Republican Scot Turner narrowly missed an outright win in House District 21, formerly held by Jerguson. Republican political consultant Brian Laurens took 30% to force a runoff.
The runoff between Turner and Laurens will be Feb. 5.

Turner congratulated Laurens on making it to the runoff and said he will spend the next month continuing to campaign.

"We came very, very close to winning this thing outright. I think now the debate needs to become about character, professionalism, who has the ability to lead this district," Turner said, saying he would like to have a public debate with Laurens.

Turner said he wanted to thank those who supported and publicly endorsed him, including 40 volunteers that worked with his campaign.

Voter turnout Tuesday was nearly 10 percent, a higher percentage than anticipated.

"It's better than I thought. Always, weather plays a big part," said Cherokee County Elections Supervisor Janet Munda. "The candidates are out and visible, and that gets the voters out."
The annual Wild Hog Supper, the trational kickoff to the legislative session, will be held Sunday, January 13, from 5:30 to 7:30 PM at the Depot across from the Georgia State Capitol. Tickets are available online for a $20 donation to the Georgia Food Bank Association. Let me know if you'll be there.
As new federal restrictions on gun-owners' rights are debated in Washington, two cases from Georgia and Tennessee are being hailed ignored by the national media.
In Loganville, Georgia, a mother whose husband had recently trained her to shoot a handgun, successfully defended herself and her children against a burglar.
the mother of 9-year-old twins is being hailed as as hero in a story that's become a rallying cry for gun rights advocates concerned about possible new restrictions on firearms.

None of the new proposals would outlaw the .38 revolver used by the Loganville woman, who has declined interview requests.

She was home with her kids when police say Slater forced his way in their front door with a crowbar. Chapman said he likely did not think anyone was home because the woman's car was parked inside the garage.

But once inside, it's suspected that Slater overheard the woman talking on the phone to her husband. Chapman said that explains why Slater headed to the attic crawlspace, where the 37-year-old working mom was hiding with her children.
Expect to hear extensively about that case during the legislative session, as legislators debate not just rebuffing further controls, but actually expanding the rights of law-abiding citizens.
Republican state Rep. Christian Coomer said… the decision should belong to the state.

"That said, my personal opinion is that if a person can qualify to obtain a license to carry in Georgia, he should be able to carry anywhere other than a jail, courthouse or law enforcement office," the Carters­ville attorney said.

Coomer said he supports eliminating other existing restrictions — at general government buildings, churches and nuclear plants.

"I'm not saying you should bring a gun to church, but it's not appropriate for the state to say it's a crime," he said. "Private citizens have this right, and it should not be taken from them absent a compelling public interest."

State Sen.-elect Chuck Hufstetler, R-Rome, said he hasn't seen any legislation yet, and his vote would depend on the provisions in whatever bill may come to the floor.

"I support the Second Amendment, but I also support the right of individuals and businesses to restrict guns if they don't want them on their property," Hufstetler said.
Two years ago in Kingsport, Tennessee, an armed school resource officer protected students and the school principal, and an armed man was eventually shot after pointing his gun at the officer.
A receptionist in the school's adjacent office observed the confrontation, according to officials, and immediately alerted students and staff of a lockdown. Anderson says school resource officer Carolyn Gudger then entered the lobby area and drew her gun.

Gudger then pushed Principal Riden behind her and towards the nearby cafeteria, allowing her to escape to safety.

"There's no doubt that Carolyn Gudger probably saved her life at that point," Anderson said.
Viewed in light of those cases, and the training and qualifying that would be required, legislation proposed by State Rep. Paul Battles, which would allow one administrator per school to carry a weapon should be discussed seriously as a way to allow local schools to enhance student safety without the expense of full-time certified offices. The legislation by Battles would require the administrators to meet Georgia Peace Officer standards and is optional for local schools.
Senator Mike Crane is urging the United State Army Corps of Engineers to rethink water release from West Point Lake.
"Our office is seeking answers from the U.S. Army Corps of Engineers regarding the proposed rule change limiting the full pool operating time frame for West Point Lake," said Sen. Crane.

"This proposed rule change marks a distinct move in the wrong direction.  I strongly believe there is a much better operating curve for West Point Lake, and we have the data to support it. This curve represents higher water levels for longer periods of time, while maintaining the flood control potential of the lake. I will continue to press for a satisfactory answer from the Corps, and I encourage others to join the petition pushing for optimum stewardship of West Point Lake."

Currently, West Point Lake brings more than 2.2 million visitors to the district each year for recreational purposes, which accounts for $112 million in local economic support. However, low water levels at West Point Lake over the past few years have harmed annual bass spawn, among other fish populations, and hurt the lake's sport fishing destination reputation.  In this way, the USACE can be seen as defaulting on their responsibilities to uphold the Lake's recreational commitments.
"We're good now, right,?" says former Chatham County Cornoner Dr. James C. Metts, Jr, after his wife cut a $126,000 check to the county to resolve "accounting discrepancies."
The check signed by Paula Metts was from a joint checking account shared with the now former coroner.

The letter to County Attorney Jon Hart also stated the total amount in dispute was understood to be $141,000 and the county could expect an additional $15,000 within two weeks.

Auditors cited at least $141,000 in expenses as "questionable" — including payments for a secretary that Metts did not have — although additional funds of almost $100,000 for secretary reimbursement could not be verified due to a lack of documentation, according to the draft audit report.

Hart said the county has not decided what to do with the check, since the possible legal ramifications of accepting it have to be discussed. The GBI is currently investigating the matter at the county's request.
State Rep. Dusty Hightower spoke with the Times-Georgian about legislation he is introducing to ease the admininstrative burden of immigration compliance under HB 87.
"Some constituents came to me because they were having difficulties with license renewals," he said. "We thought legislation to fix it was going to pass in the last session, but it didn't make it out for a vote. Secretary of State Brian Kemp has made it high priority this year."Hightower said the problem is caused by previous legislation that requires holders of Georgia professional licenses to submit proof of citizenship each time a license is renewed.

He said a 2011 law required anyone applying for or renewing professional licenses to provide a "secure and verifiable" document proving their U.S. citizenship or legal presence in the country."Several state agencies complained that requiring U.S. citizens to re-submit the documents each time they requested or renewed a benefit or license within the same agency, created extra work that causes delays in processing benefits," Hightower said.

"This took an automated process and made it manual," he said. "That resulted in five times longer wait times for renewals and greatly increased the workload for the Professional Licensing Board Division during times of strained budget conditions."

Hightower said HB 32 would require the submission of these documents only one time to the same agency by U.S. citizens, rather than each time, thus streamlining the process.He said the licenses involved include those for nurses, plumbers, electricians, barbers and many other professions requiring a state license from the secretary of state.
One issue raised with the proposed legislation is that no provision is made for one-time submission across different agencies. Legislators might do well to consider expanding this needed efficiency reform so that multiple submissions by US Citizens are not required when applying for licenses, permits, and other benefits from multiple different state agencies.
Georgia Power will apply to the Georgia Public Service Commission to close 15 coal- and gas-fired plants across the state in order to comply with EPA regulations.
The unit of Atlanta-based Southern Co.(NYSE: SO) said the move will help it get more in sync with existing and future environmental regulations. It also said it faces lower natural gas prices and must take into account recent and forecasted economic conditions.

The request to decertify units 3 and 4 at Plant Branch in Putnam County; units 1-5 at Plant Yates in Coweta County; units 1 and 2 at Plant McManus in Glynn County; and units 1-4 at Plant Kraft in Chatham County, will be included in Georgia Power's updated Integrated Resource Plan to be filed with the PSC on Jan. 31.

Units 3-4 at Branch, units 1-5 at Yates and units 1-3 at Kraft are coal-fired generating units. Kraft Unit 4 is oil- or natural gas-fired, and McManus units 1-2 are oil-fired.

The company expects to ask for decertification of the units, other than Kraft 1-4, by the April 16, 2015 effective date of the U.S. Environmental Protection Agency's Mercury and Air Toxics (MATS) rule. The company expects to seek a one-year extension of the MATS compliance date for Plant Kraft, and retire those units by April 16, 2016.
The closures are expected to eliminate 480 jobs, though the company will attempt to retain all affected employees through relocation and retraining.
"We recognize the significant impact that these retirements will have on the local communities and we took that into account when making these decisions," said Georgia Power President and CEO Paul Bowers. "These decisions were made after extensive analysis and are necessary in order for us to maintain our commitment to provide the most reliable and affordable electricity to our customers."
"There's no question about it, the industry is being targeted by this administration."
- Jason Hayes, spokesman for the American Coal Council

The announcement was hailed by environmental activists but lamented by coal industry advocates, who say the Obama administration is "targeting" their industry.
Among the local areas that will be affected are Milledgeville (200 jobs), Lake Sinclair in Putnam County (229 jobs), Port Wentworth (85 jobs), and Brunswick (25 jobs).
Not yet counted are the jobs that will be affected in railroads as coal shipments, a major source of traffic for East Coast railroads, ceases to the plants that are being shut down.
This despite major steps and significant investments that have been made to reduce the pollution from coal-fired plants. Plant Scherer, a coal-fired plant in Monroe County has dramatically reduced mercury emissions as new environmental technologies have been developed and installed.
Plant Scherer ranked No. 3 in the nation as recently as 2008, when it released 1,589 pounds of mercury into the air. Last year, it wasn't in the top 90. In the most recent report, it didn't make the list at all.

In 2009, Scherer reported that its mercury emissions had plummeted to 888 pounds. The next year, they were just 237 pounds; in 2011, the most recent reporting year, emissions had dropped to 221 pounds, a decrease of 86 percent since 2008.

"There's no doubt that this is great news for Georgia's rivers and people who like to fish in them, since we should start seeing mercury reductions in fish very soon," said Jenette Gayer, policy advocate for Environment Georgia.

"It shows that these reductions are possible," she said, noting that Georgia Power had argued that some of the new pollution limits were unrealistic.
Folks, this is what the Obama environmental agenda, led by the EPA, looks like. It's also why your electric bills have risen over the past few years and will continue to rise.
Georgia Tech is working on expanding the accessibility of tablet computers to students and others with disabilities.
Researchers at Georgia Tech are trying to open the world of tablets to children whose limited mobility makes it difficult for them to perform the common pinch and swipe gestures required to control the devices. Ayanna Howard, professor of electrical and computer engineering, and graduate student Hae Won Park have created Access4Kids, a wireless input device that uses a sensor system to translate physical movements into fine-motor gestures to control a tablet.

The device, coupled with supporting open-source apps and software developed at Georgia Tech, allows children with fine motor impairments to access off-the-shelf apps such as Facebook and YouTube, as well as custom-made apps for therapy and science education.

"Every child wants access to tablet technology. So to say, 'No you can't use it because you have a physical limitation' is totally unfair," Howard said. "We're giving them the ability to use what's in their mind so they have an outlet to impact the world."
Apple computers and other devices are already popular among people with disabilities because the operating system comes with many disability-friendly features that are otherwise required to be installed separately.