If I had to guess, I'd say Georgia is maybe a Golden Retriever/Shepherd mix at 80% size. She weighs 45 pounds and came into Cobb County Animal Shelter as a stray. She knows "sit" and is house-trained.
Cid is a brown, 29# dog who came into Cobb County Animal Shelter with his best friend, Feebee, a little lemon beagle. They are both older dogs, around 8 years but happy and easy going. They can go to different homes, but how cool would it be to get a matched pair who are house trained and good with children. They get along with other dogs and are very easy going.
Charmin, Ginger & Hope are three Basset Hound sisters, possibly with a little Beagle mix, in my opinion, whose owner dropped them off at Cobb County Animal Shelter. They love people and don't have problems with other dogs. They're available in single, double, or triple helpings.
We also remind you that today is the weekly "Black Friday Sale" at Gwinnett County, where all-black or majority-black dogs and cats may be adopted for a $30 total. Yesterday's post has photos of some of the dogs who are available from Gwinnett County.
Georgia Politics, Campaigns & Elections
Today is the last day of Advance Voting before the General Election on Tuesday, November 6th. If you believe you see voter fraud at the polls, call the Secretary of State's Voter Fraud hotline at 877-725-9797. Remember your photo ID when you go to vote, and click here for more information on what forms of ID are acceptable.
On November 2, 1897, Richard B. Russell, Jr. was born in Winder, Georgia. Russell's father later served on the Georgia Supreme Court, and Russell, Jr. would be elected to the Georgia House of Representatives, where he served as Speaker. From 1931-33 he served as Governor of Georgia. He won an election for United States Senate and began serving in 1933, ran for President as a Democrat in 1952 but didn't get past the primaries, and eventually Chaired the Senate Armed Services Committee. Despite or because of his staunchly-segregationist views, Russell was a senior leader in the Senate and mentor to the later Master Of The Senate, Lyndon B. Johnson.
Governor Nathan Deal headlines the tomorrow's breakfast at the Cobb County Republican Party, located at 799 Roswell St, Marietta GA. Doors open at 7:45 AM and the program runs from 8:30 to 9:30 AM. Breakfast costs $10 or $2 for coffee only.
Republican and Democratic lawyers are heading to Florida in case of election challenges in the Presidential election.
Legions of lawyers are ready to enter the fray in case Election Day turns on a legal challenge. One nightmare scenario would be for the results in a battleground state like Florida or Ohio to be too close to call, with thousands of absentee or provisional ballots yet to be counted.

The key, experts say, is whether the difference in votes between the two candidates is within what's known as the "margin of litigation" – that is, the number of outstanding votes must be much greater than the margin separating Obama and Romney when the smoke clears. And, it must be in a state that's decisive.

On the Republican side, Washington attorney Benjamin Ginsberg leads the team. Ginsberg was deeply involved in the 2000 court fight as national counsel to the Bush campaign. Ginsberg is assisted by Kathryn Biber, the Romney campaign's general counsel, and Lee Rudofsky, who is the campaign's Election Day operations director.

Calling the shots for the Democrats is Robert Bauer, another well-known Washington lawyer, who is a former Obama White House counsel and Democratic National Committee attorney. Bauer oversees hundreds of lawyers who have volunteered to set up shop in "boiler room" operations in battleground states and across the country.

Both sides will have local attorneys on the team as well.
Atlanta lawyer Tex McIver is one of those lawyers now in Florida, having been selected by the Romney campaign to serve on their anti-fraud effort. McIver served as Vice Chair of the Georgia State Elections Board, which hears election disputes and vote fraud allegations.  File this under "small world": when I was in college I worked in the mailroom of McIver's law firm.
Dirty tactics by opponents of the Charter School Amendment are alleged by supporters of the Amendment.
In some areas, school employees are reportedly using taxpayer funds and work time to campaign against Amendment 1, possibly violating state law.

"I had a lady come to me … who substitute teaches who said when she walked in to teach the GAE was serving donuts and telling teachers to vote no and to tell their students to vote no," [Virginia] Galloway said.

Opponents also "had an hour-long training session at the Georgia School Boards Association, which is a taxpayer funded training session … on how to defeat the amendment," she said.

Reports involving students are even more troubling.

Kelly Cadman, vice president of school services for the Georgia Charter Schools Association, said public school teachers have recruited students to deliver campaign signs opposing Amendment 1 during class time.

"A teacher at Brighten (charter school) called me tonight to let me know that her son, who is in the IB program at the local high school, was sent on an errand … by one of his teachers," Cadman wrote in a recent email to fellow education reformers. "The errand (during his language arts class time) was to deliver several Vote No yard signs to other teachers.

"He didn't find out what the signs were about (didn't know what Amendment 1 was) until he got to the last teacher and she told him – the kid was aghast, as he knows this impacts his mom," Cadman wrote. "Obviously, his mom (the charter school teacher) is furious."

But those are the lengths that status quo defenders will go to in order to protect their own interests and the system that cuts their checks. It doesn't matter to them whether children will be better off with options outside of the government school system.
Math is a funny thing. Sometimes, the results depend on who's doing the adding. Walter Jones writes that Georgia Power is reducing electric rates due to fuel savings over projected costs, while Kristi Swartz of the AJC writes that consumers will see a 44-cent increase.
This is like when the AJC wrote falsely that Public Service Commissioner Chuck Eaton received nearly 86 percent of his campaign contributions from energy industry sources; they accomplished that mathematical sleight-of-hand by including Eaton's father who has never been employed by or for the energy industry, as well as several elected officials like Senator David Shafer and PSC member Doug Everett, who actually regulate the industry. Nonetheless, Eaton's Democratic opponent has continued to repeat the lie.
Walter Jones wrote more accurately that about 25 percent of Eaton's contribution came from people employed by companies or lawyers who sometimes represent companies in the industry.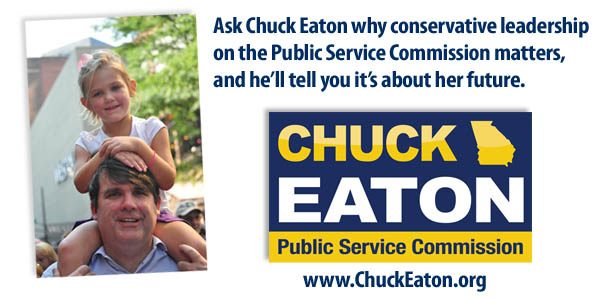 The only contested municipal elections in Gwinnett County are two seats on the Norcross City Council.
Democrat Senator Doug Stoner's Republican challenger Hunter Hill must not care about women's health, accoring to the Cobb County Democratic Party, which sent a mass email saying, "Doug Stoner stands for the rights of women; Hunter Hill does not." Hill responded in a debate with Stoner:
"You know, my opponent has unfairly couched me as somebody who is opposed to women," Hill said. "The son of a mother, the brother of a sister, the husband of a wife, and the father of a daughter, I love women, and so that shouldn't be the issue."

Hill said his opponents claim he's been endorsed by Georgia Right to Life.

"It's not true. I was endorsed by Georgia Right to Life in my 2008 campaign — incidentally, against Sen. Stoner — but I'm not endorsed this time around," he said. "But to clear the record, I am pro-life. I've come to that belief through a lot of prayer and personal belief and talk with my wife, and that's just where I am personally, but I don't believe that we need additional laws at the state level to address this very personal issue."

Hill said he's also been accused of opposing women's contraception and in vitro

fertilization or wanting to support legislation in that vein, which is also false.

"I do not want to push legislation that would ban in vitro fertilization. I have no problem with that. So that's just a couple areas to clear the record on me," he said.

As for Planned Parenthood, Hill said he supports funding health care for women where the state is already providing it.

"And so if contraception is a part of that funding, then let's keep it that way," he said. "I have no problem with that. However, I am not for government-funded abortion, and another thing as it relates to Planned Parenthood, those services that they provide to the women who need them, things like mammograms, etc., those dollars can go directly to the entities that provide those mammograms, which Planned Parenthood does not. They funnel the money from us through them to those organizations providing the mammograms. Let's cut out the middle man."
That agreement between Chatham Sheriff Al St. Lawrence and Republican challenger McArthur Holmes to not go negative didn't last very long, as Holmes is suing St. Lawrence claiming the Sheriff broke the agreement.
Challenger McArthur Holmes today sued Sheriff Al St Lawrence for allegedly violating their agreement not to sling mud in their campaign.

Holmes, a retired sheriff's official, is running as a  Democrat to oust St Lawrence, a Republican,  as sheriff in Tuesday's General Election.

Holmes' lawyers contended today that  St Lawrence violated an agreement which barred he and Holmes from commenting negatively about the other during the remainder of their campaign for sheriff.
The election for Gwinnett County Superior Court Clerk continues its nastiness.
Current Clerk of Court Richard T. Alexander, who took the position after stalwart Tom Lawler passed away in late 2011, is facing opposition from Democratic challenger Brian Whiteside. And Whiteside, an attorney and former law enforcement officer, is bringing one muddy opposition.

Whiteside alleges that Alexander and secretary Lori Taylor engaged in an affair that broke up Alexander's marriage, and that the relationship produced a promotion and "taxpayer-funded raise" for Taylor. The Democratic challenger has circulated fliers and emails broaching the topic and directing those interested to a YouTube video filmed by a private investigator — hired by Alexander's wife, Joan — that allegedly shows Alexander and Taylor leaving a hotel together.

Documents from the Georgia Government Transparency and Campaign Finance Commission (formerly the ethics commission), meanwhile, show that Whiteside owes $250 in outstanding fees. Those resulted from not filing a campaign contribution disclosure report, dated June 30, and not filing a separate financial disclosure report, dated June 8.

Whiteside could not be reached Thursday for further comment. He has previously said he attempted to email the documents but they had evidently not gone through.
The Savannah Morning News has endorsed Republican Meg Heap for District Attorney over incumbent Democrat Larry Chisholm.
the incumbent DA has not delivered. In fact, things are decidedly worse. It's time for a change, and we urge voters to elect Meg Daly Heap.

The incumbent's poor track record speaks for itself. High profile courtroom failures, questionable decision making, extensive staff turnover and charges of bias in personnel decisions have dogged Mr. Chisolm's administration.

They include a judge's decision to dismiss a long-standing murder case because of a speedy trial violation and a contempt of court ruling against an assistant prosecutor for failing to provide material to a defense attorney in a timely manner.

In each of these instances — and others — Mr. Chisolm has declined to accept responsibility for any outcome that puts his office in a negative light. He always blames someone else — police officers for allegedly losing evidence, a judge who ruled against the prosecution or an ex-employee who he says has unfairly accused him.

That's a problem.

Fortunately, voters soon have the chance to make a change.

The person running against Mr. Chisolm in the Nov. 6 election is Meg Daly Heap, a former prosecutor under Mr. Lawton and, briefly, the chief assistant prosecutor for Mr. Chisolm.

Ms. Heap spent 15 years as a prosecutor before leaving the office in 2010. The Republican challenger is known throughout the courthouse for her competence, for her skill as a trial attorney and as someone whose ethics are above reproach. She has credibility with judges, courtroom staff, police officers and others at all levels.

Ultimately, though, the choice on Nov. 6 is clear. The overall tenor of the Chisolm administration is one of failed leadership, which has put public safety at risk. Citizens can't afford four more years of the same.

Ms. Heap should have the opportunity to restore the credibility and performance of this office. We encourage voters to support her candidacy.