All the dogs on this page are listed as "Urgent" at their shelters, which generally means impending euthanasia.

Just look at this cow-looking dog named Boomer.He's a young, random-breddog who is 6-8 months old and weighs 36 pounds. Boomer is on the shy, submissive side, so he should fit in well in a home with other established dogs. He's still a young guy but catching on to the leash thing! Boomer is available for adoption today from Walton County Animal Shelter for the low, low price of $40.
Next up is Bermuda, also at Walton County.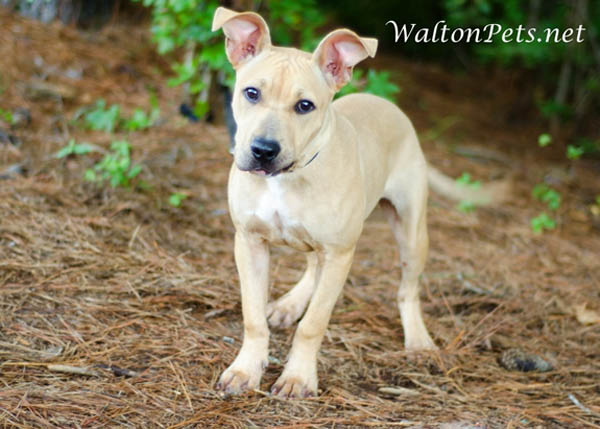 Bermuda is described as a Pit Bull, but in the animal shelter context, that often means nothing more than "he/she has a wide head and we don't know anything else about it's ancestry." She is 7 months, 36 pounds and available Monday.
Pits are highly controversial, but many people believe they're the best dogs, loyal and smart with fantastic temperments. If you're interested in adopting a dog described as a Pit, my advice would be to judge the dog as an individual and speak to people who deal extensively with Pit-types. Get good advice, and train your dog well. As always, it is the dog owner's responsibility to ensure that their best friend is not a menace to society.
But just look at Bermuda's face.
Next up are three puppies, Nat, Geo, and Fluffernutter.

Nat and Geo are male Shepherd-mix puppies who are about three months old and weigh fifteen pounds each. They were found stray and will be available for adoption on Monday. Fluffernutter is a six-month old puppy who weighs about twenty pounds. She's described as a "Retriever mix" and I'm thinking she looks like a Nova Scotia Duck Tolling Retriever. Tollers are an uncommon breed and I'd be surprised if a purebred puppy ended up in a shelter. But if Fluffernutter were my dog, I'd probably be able to get away with calling her one. She is also available for adoption beginning Monday.