This Golden mix puppy has been rescued from the pound, but is in boarding because no foster is available yet. You can help him find a new home by filling out an application to foster him or another dog.
Angels Among Us will raise funds while they raise a glass at Sweetwater Brewery on Saturday, June 23d from 7 to 10 PM. "Ales for Tails" tickets are $35 per person in advance or $40 at the door and include Beer, Food, Music, Brewery Tour, and Souvenir SweetWater Glass.
Check your Voter Registration
We are fast approaching the July 2d voter registration deadline for the July 31st Primary election. If you have any questions about whether your registration is current and accurate, or which election districts you live in, you may check your voter registration on the Secretary of State's website.
Events
DeKalb County GOP Monthly Breakfast with Dr. Carla Roberts and Chris Boedeker, Republican candidates for State House District 81 on Saturday, June 23d from 8 to 10 AM at the Doubletree on LaVista Road. You can pre-register online for $12 or pay $15 at the door.
Fulton County Republican Party Annual Barbecue on Sunday, June 24th at noon, at Chukkar Farm Polo Club, located at 1140 Liberty Grove Road in Alpharetta, GA  30004. You can register online at the Fulton GOP website for $14 per adult/$5 per kid, or pay $20 at the door ($10 for kids).
Join the Gwinnett Republican Party on Monday, June 25th from 7-9:30 PM at the Gwinnett Justice and Administration Center auditorium for a free Judicial Forum. Candidates in each race will answer questions posed to them by former WGCL TV reporter Mike Moore.
Fundraiser for Senator David Shafer, with Governor Nathan Deal, Lt. Governor Casey Cagle and Insurance Commissioner Ralph Hudgens, on Tuesday, June 26th from 5 to 7 PM at St Ives Country Club in Johns Creek.
Georgia Politics, Campaigns, and Elections
Georgia Power customers will see a lower rate on their next bill, as the Public Service Commission voted unanimously to pass along savings from dropping natural gas prices.
Eaton noted that without decisions of the Public Service Commission to diversify the state's power generation portfolio to include more natural gas plants, Georgians would not have been in a position to benefit from dropping gas prices.
Governor Deal announced that Georgia sold $600 million in General Obligation bonds
The state was able to secure record low rates of 2.69 percent for the tax-exempt bonds and 2.7 percent for the taxable bonds on Thursday. A day earlier, the state refinanced $146.35 million of outstanding debt at a rate of 1.98 percent, representing a present-value savings of $14.4 million.

"These are historically low rates that translate into savings for Georgians," said Deal. "Leveraging our AAA bond rating, we can continue to invest in infrastructure around the state in a fiscally responsible manner. With this coveted status, Georgia once again has an attractive spot on the map."

 "Earning the top bond ratings during the current economic climate illustrates Georgia's commitment to sound fiscal management," said Deal.

"The highest-quality rating is supported by Georgia's conservative fiscal management, moderate debt burden and relatively well-funded pensions," reported Moody's. "Budgetary reserves that were largely used up by the end of FY 2010 are slowing being rebuilt. The outlook for the state's debt … is stable based on our expectation Georgia will take appropriate steps to restore balanced financial operations and replenish reserves as the economy recovers."
The Atlanta Tea Party and Georgia Conservatives in Action joined the Transportation Leadership Coalition in its opposition to the preamble of the T-SPLOST ballot question.
The groups called on the governor, attorney general and secretary of state to remove the offending language, but stopped short of saying if they would sue to have it removed.

"Stay tuned," Staver said. Debbie Dooley, co-organizer of the Atlanta Tea Party, said they are consulting with attorneys.

Secretary of State Brian Kemp, however, said the legislation creating the tax instructed regional groups to create project lists for the proposed tax based on a set of criteria specifically outlined in state law. That law includes job creation and traffic relief.

"Ultimately, the language in the preamble is all referenced in the original legislation that was passed over three years ago," Kemp said in a statement. "The preamble language exists for this reason and this reason only."
As local boards of elections have already begun mailing absentee ballots, it's probably too late to strike the language from the ballot.
Lt. Governor Casey Cagle was in Albany to speak on behalf of the T-SPLOST for the Georgia Chamber of Commerce's Connect Georgia campaign.
"We believe when we look at Georgia that we've got to make significant investments and send a strong message to the companies across the world that are looking to locate here in Georgia that we're open for business and that we're making the strategic investment that they're looking for in order to make their investment in our communities," said Cagle.
For good news in education, we have to get past the story about DeKalb County's Board of Education considering holding ten fewer school days next year, and read in the Newnan Times-Herald that CRCT scores are up statewide from last year.
"The best news in the 2012 CRCT report is that more of our students are exceeding the standards," said State School Superintendent Dr. John Barge. "Teachers are doing a great job teaching the more rigorous Georgia Performance Standards and they are to be applauded for raising expectations for all students."

When comparing the percentage of students meeting or exceeding the standard, the greatest gains were seen in grade 5 Social Studies (+6 percentage points) and grade 8 Science (+7 percentage points).

There were decreases in four areas: grade 3 Science (-2 percentage points), grade 4 Mathematics (-1 percentage point), grade 5 Mathematics (-3 percentage points), and grade 8 Mathematics (-1 percentage point). There were no changes on six tests.
For their part, Coweta County schools also improved their students' scores:
Coweta students consistently outperformed students throughout the state of Georgia, with higher percentages of Coweta students meeting or exceeding state standards at a higher rate than the Georgia average in 27 of 30 grade/ subject areas, said school system officials.

However, county schools performed under the state average by one point in fifth grade math and broke even with state averages in two other areas.
Dunwoody City Councilwoman Adrian Bonser has fired back on Mayor Mike Davis and her council colleagues, filing complaints that the city council and mayor violated the state Open Meetings Act. The mayor and city council previously filed ethics charges against Bonser, claiming she leaked confidential information.
Professional Probabtion Services has asked the Gwinnett County Commission to rebid the contract they lost two years ago.
Professional Probation Services (PPS) provided misdemeanor probation services for a decade until the contract was awarded to another company in 2010. PPS sent the county a letter June 7 claimingGwinnett CountyState Court judges improperly skirted the sealed-bid  process when they switched to a company with connections to developer and former County Commission Chairman Wayne Mason.

Last month, former Commissioner Shirley Lasseter pleaded guilty in federal court to bribery. A special grand jury investigating county land deals in 2010 indicted then-Commissioner Kevin Kenerly on a still-pending bribery charge. The same probe prompted the resignation of then-Chairman Charles Bannister, who left to avoid a perjury charge.

Clay Cox, who is CEO of PPS, said Gwinnett County should terminate its current contract with Southeast Corrections.

"What is becoming more and more clear is that this was a time period of misbehavior," said Cox. "It makes good sense for the county to say we're going to put this back out for bid and eliminate any possible appearances of impropriety."

PPS alleges that the judges awarded the job to Southeast Corrections because they had personal relationships with Mason.

Mason and Southeast Corrections CEO Roy Harrell referred questions to their attorney, former governor Roy Barnes, who called the allegations "outrageous." He said Mason is not an officer or director of Southeast Corrections. He said a Mason family trust owns some shares in the company.
In unrelated news, Wayne Mason's niece, Tracey Mason Blasi, is running for Gwinnett County Superior Court.
We're taking nominations for Vice President on the Republican ticket at GaPundit.com. Head on over and tell us who your favorite contender is, and why you think they're the strongest addition to the ticket. Next week, we'll roll out a survey with the candidates with the most nominations and share some of the reasons they were nominated.
We ask for an email address on that form but we won't reveal your choices.
The contrast in media coverage between Metro Atlanta and the Times-Herald did not escape the notice of Senator Fran Millar (R-Dunwoody), who chairs the Senate Education Committee.
How ironic that a Coweta County newspaper shows in detail that we are improving academic performance. Are you listening Atlanta metro newspapers? And you wonder why circulation continues to spiral downward.
AJC Reporter Aaron Gould Sheinin responded to Millar, "Actually, our circulation is up. Thanks for asking, though." I note that the Kardashians' dog getting a haircut gets better placement on AJC.com than anything any Georgia-based reporter has ever written or will ever write.
Apparently, cutting the school year wasn't enough, as the DeKalb County Board of Education voted to raise property taxes.
The board voted to increases taxes by 1 mill to raise another $14.8 million, pushing the limit to within a mill of the voter-approved cap of 25.

They also increased class sizes, even for special education students, while adding furlough days for teachers and other employees and cutting paraprofessionals and other aides.

The Fernbank Science Center suffered too, but not as badly as previously proposed. The board cut $1.9 million from the center's budget instead of the $3.2 million proposed by Superintendent Cheryl Atkinson.
On the subject property taxes, more than 21,000 Coweta County property owners will see lower property tax assessments this year.
The Macon Telegraph sent a nastygram to the Bibb County Board of Education, stating that the Board has failed to comply with Open Records requests.
Among several examples, the letter documents the school district's repeatedly failing to even begin gathering records by the time the law requires them to be produced, as well as failing to make and stick to timelines for eventually producing the records. The district has also refused to provide campus police incident reports without cutting out information that is legally public.

"We demand that the district bring itself into compliance with the (Open Records Act) immediately or face legal action," states the letter, signed by attorney Walter Bush. "We understand that the Attorney General's Office has previously addressed the district's noncompliance with the (Open Records Act), and by copy of this letter, we inform him that the situation has not been remedied."
John Williams, a former Warner Robins City Council member who was convicted by a federal court of extortion in attempting to receive a $1720 kickback on the city's purchase of a truck, has been sentenced to 14 months in prison.
Williams was convicted of extortion under the color of official right, making false statements to FBI agents and tampering with a witness.

Tina Hunt, a federal attorney appointed to represent Williams, said Williams will appeal the conviction.
Floyd County Sheriff Tim Burkhalter was at the National Sheriff's Convention at the Opryland hotel in Nashville, Tennessee, when an explosion caused the evacuation of more than 5000 guests.
Former Clayton County Sheriff Victor Hill might not be eligible to serve if he wins his comeback attempt because the Peace Officers Standards and Training Council suspended  his peace officer's certification after he was indicted on 37 felony counts in January of this year.
Hill's defense attorney in the pending racketeering case, said they will fight for certification if Hill wins the July 31 Democratic primary — and, consequently, the office since there are no Republicans running.
Chris Gammon is the incumbent member of the Carroll County Board of Education for district three and is running for reelection.
"The budget put a lot of constraints on us," he said. "We have to learn how to keep priorities. We're way beyond trimming the fat. I think all the programs we've cut have been beneficial."

Gammon cited increased class size and lost teacher days as two of the worst things that have resulted from the budget cuts.

"The loss of teacher days to keep in budget is just a part of the environment we're in now," he said. "And the reduction in class size is something I'd like to see in the next few years, but it's just not available right now."
The Georgia Partnership for Excellence in Education and the Georgia School Boards Association are holding training session on education issues for candidates across the state.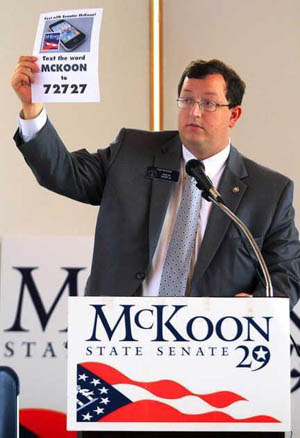 Please text "McKoon" to 72727 to join Senator Josh McKoon's campaign. He's one of the good guys and does a great job of representing his constituents. Plus, he'll need to raise enough money to buy more stuff that says "McKoon" on it.
Columbia County Republican Party Chairman Brian Slowinski has stepped down in order to concentrate on his campaign for school board. Dewey Galeas, formerly Vice Chair,  now chairs the county party.
On Saturday, June 23d at 10 AM, Coweta Tea Party Patriots will hold a forum for candidates in the Third Congressional District at Golden Corral located at 605 Bullsboro Dr in Newnan, GA 30265.
Speaking of Coweta Tea Party Patriots, they won't be satisfied with simply defeating T-SPLOST, they want to "punish its promoters."
The Cedartown Tea Party will host a forum for all Polk County candidates on Saturday in Peek Park, starting at 10 AM.
The Forsyth County Tea Party has endorsed candidates for Board of Commissioners, Sheriff and legislative races. They endorsed challenger Duane Piper over embattled incumbent Sheriff Ted Paxton; challenger Steve Voshall over incumbent Republiccan Senator Jack Murphy, and Geoff Duncan over former state representative Tom Knox.
Headline of the Week and Quote of the Week
Gun-toting, pot-holding, sea turtle egg-stealing felon nabbed reads the headline on the Savannah Morning News story about the arrest of a sea turtle-egg poacher. In this case, the pot was for smoking, not for poaching the eggs.
"The dog alerted on a duffle bag, and the owner was asked for consent to search," the DNR report reads. "Consent was granted and 156 sea turtle eggs were discovered inside. After further investigation, a small amount of marijuana was found in the bag and a handgun was located in the subject's vehicle. The individual had admitted to being a convicted felon."

DNR has turned over the case to the U.S. Fish & Wildlife Service and the Bureau of Alcohol, Tobacco, Firearms and Explosives, said Capt. Doug Lewis of DNR law enforcement. The DNR had handled cases of turtle egg theft before, but never so many eggs at one time.

"That was a whole nest," Lewis said. Nests average about 120 eggs.
"I want to educate kids. I want to pay teachers," said DeKalb County School Board Member Paul Womack. "But we've been running fat, dumb, and happy and anything we do is going to affect instruction. Period."
Ends & Pieces
The South Georgia Region of the Georgia Chapter of the Alzheimer's Association and DOCO Federal Credit Union will raffle off a 1966 Ford Mustang Fastback at their "Memories & a Mustang" fundraiser on July 12th. Raffle tickets are $125 and are available at all area DOCO branches, at Harvest Moon restaurant, online at www.mustangraffle.kintera.org or by calling (229) 903-3692 or (229) 388-8219.
The Southeastern Regional Championships of the US Rowing Association will take place Saturday and Sunday at Langley Pond in Aiken, South Carolina.
Here are some gratuitous photos of cars that have nothing to do with Georgia politics.