"Max" (male, left) and "Maggie" (female, right) are three-month old puppies who are a mix of Gordon Setter and Labrador Retriever, and are available for adoption through Walton County Animal Shelter. They currently weigh about ten pounds each, and the Walton County adoption fee is a bargain at $40 each; adoption includes a voucher for reduced-cost neutering, and they will be up-to-date on their vaccinations.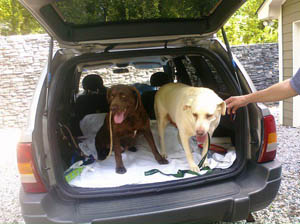 Because of the long weekend, we're bringing you these two bonus dogs, Chocolotti, called "Lotti" on the left (3 years old), and "Tess" on the right (5 years old). Tess is Lotti's mother, and both were abandoned on a rural property by their former owners. Angels Among Us Rescue needs to raise an additional $150 to rescue them, and also needs foster homes. You may donate to save these dogs online, or submit applications to foster or adopt.
The Cobb County Animal Shelter is offering a discount on adoptions with a coupon available on their Facebook page.
Politics, Campaigns, and Elections
The big story coming out of last week's qualifying is the complete decimation of the Georgia Democratic Party at the state and local levels. The GDP is now mainly an outpost of the Democratic National Committee responsible for distributing federal patronage and hoovering campaign cash to fuel the Presidential election in other states where the outcome in November is in question. They also have pockets of control at the local level, with the most important being in Fulton and DeKalb Counties, and four Congressional seats.
Nowhere was this trend more pronounced than Bleckley County, where all but one elected official who runs on a partisan ballot switched to the GOP. Per Georgia Tipsheet, the former Democrats are:
Bleckley County Probate Judge Kenneth Powell
Bleckley County Clerk of Court Dianne Brown
Bleckley County Sheriff Harold Lancaster
Bleckley County Tax Commissioner J. David Brown
Bleckley County Coroner Danny Mathis
Bleckley County Chief Magistrate Helen Hart
Bleckley County Commissioner Robert Brockman
Houston County Clerk of Court Carolyn Sullivan
The sea change in partisan affiliation continued in Franklin, Hart, and Stephens counties, and three judicial circuits:
DA Cathy Helms of Homerville (Alapaha Judicial Circuit)
DA Bob Lavender of Elberton (Northern Judicial Circuit)
DA Paul Bowden of Tifton (Tift[on] Judicial Circuit)
Franklin County Sheriff Stevie Thomas
Franklin County Clerk of Court Missy Holbrook
Franklin County Board of Education Member Joe Greene
Hart County Clerk of Court Frankie Gray
Hart County Commissioner Joey Dorsey
Stephens County Sheriff Randy Shirley
Stephens County Coroner Chris Stephens
The Alapaha Judicial Circuit includes Atkinson, Berrien, Clinch, Cook, and Lanier Counties; the Northern Judicial Circuit covers Elbert, Franklin, Hart, Madison, and Oglethorpe Counties; Tifton Judicial Circuit comprises Irwin, Tift, Turner, and Worth Counties.
According to the Gainesville Times, not a single Democrat qualified for a partisan office in Hall County government, though the Sheriff's race drew five candidate, and Tax Commissioner and Probate Judge contests drew four Republicans each.
Georgia Supreme Court Justice George Carley will become the 29th Chief Justice in a ceremony this morning, becoming the first Georgia to serve as presiding judge and chief judge of the state Court of Appeals, as well as presiding justice and chief justice of the Supreme Court. Justice Carley will retire on July 17th, and Governor Nathan Deal will appoint a successor. Justice Carol Hunstein had been expected to take over as Chief Justice, but offered to step aside to allow Carley to serve as Chief Justice.
Gwinnett County Commission Chair Charlotte Nash, who won a special election last year, qualified without opposition for a full term. Gwinnett District Attorney Danny Porter and Sheriff Butch Conway both also will be reelected without opposition. Tax Commissioner Richard Steele faces a November election.
Gwinnett Commission District Three will see a nasty spirited contest with incumbent Mike Beaudreau being challenged by former Snellville Mayor Jerry Oberholtzer, Tommy Hunter and Mike Korom. Suwanee City Councilman Jace Brooks will face Laurie McClain in the GOP Primary for District 1 to succeed Commissioner Shirley Fanning Lasseter. A special election will be held to fill the seat vacated by Brooks's resignation.
In Macon, State Rep. Nikki Randall (D) and Senator Cecil Staton (R) face intramural challenges within their own parties' primaries. The open seat for Bibb County Sheriff drew four candidates, three in the Democratic Primary Election and one Republican.
Dougherty County school board member Anita Williams Brown is being challenged in the Democratic Primary by Lane Price, while two other members face no opposition. School board member Velvet Riggins, who has been indicted for school lunch fraud, faces no opposition outside a courtroom. Complete coverage of Dougherty elections is available at the Albany Herald.
The Richmond County Sheriff's race attracted six candidates for the open seat.
four Democrats – Sheriff's Lt. John Ivey, Capt. Scott Peebles, Lt. Robbie Silas and school Public Safety Lt. Richard Roundtree – and two Republicans – Freddie Sanders and Mike Godowns – qualified to run for sheriff this week, making it the most contested of all the local races.
Jack Long filed a complaint against Richmond Juvenile Court Judge Willie Saunders, who is running for Superior Court, alleging that Saunders is ineligible because his Chapter 13 bankruptcy payment plan will result in his paying a portion of outstanding taxes. Long said,
"If anyone else is running that has not rendered unto Caesar what is Caesar's, I'll do the same thing. Taxes are what we pay for the benefit of living in a free society."
Lee County Board of Education member Greg Duke cannot run for reelection because his wife works for the school system in administration.
"This is the first time I'm aware of that someone in Lee County was affected by the new laws," Elections Supervisor Veronica Johnson said. "There was a question of whether anyone already in office would be 'grandfathered' in and not be impacted, but the new law only allowed people to remain in office until their (current) term expired."

With Duke no longer in the picture, CPA Claire B. Lang qualified Friday morning and became the de facto District 2 representative because she drew no opposition.
Bibb County School Board Member Tom Hudson got into an argument with Darren Latch, who supports Hudson's opponent Angel Davis Hopper.
Latch said Hudson confronted him, while Hudson said he didn't remember how the argument started.

Latch said he thinks school district leaders are trying to hide information.

"What so hard with working with the public? It's almost like a (dictatorial) regime," he said.

Hudson said Latch's statements amounted to a "character assassination."

"I think it was staged — any opportunity to get before a camera to say something toward me or any board member who supports the Macon Miracle," Hudson said.

Hudson said he would squash the opposition "like a bug," according to Latch, though Hudson said he could not remember saying that.

Hudson said he was defending himself against Latch and that his actions on the board are "all about the children."
Cobb County school board member Lynnda Eagle and State Rep. Terry Johnson (D-Marietta) did not qualify for reelection last week. State Rep. Don Parsons (East Cobb) is being challeged by fellow Republican JoEllen Smith, and Rep. John Carson (R-Marietta) is being challenged in the primary after his first session. State Reps. Judy Manning (Marietta) and Matt Dollar (East Cobb) round out the incumbents being challenged in GOP Primaries.
State Rep. Sheila Jones (South Cobb) and Alisha Thomas Morgan (Austell) face challengers in the Democratic Primary.
Members of the Congressional Black Caucus are turning to preachers to rally their congregants against Voter ID requirements.
Congressman Tom Price (R) is undecided on the T-SPLOST referendum on July 31st. Price faces a Democrat in a November walkover.
Results of a $1.9 million transit study will be unveiled at the Cobb County Commission meeting tonight.
Cobb Commission Chair candidates will meet in a forum sponsored by the Cobb County NAACP tonight from 7-9 PM in the Commission chamber. The East Cobb Civic Association will host a forum for Chair candidates at the East Cobb Library, in the community room  from 7 to 8:30 PM tomorrow night; the library is located at 4880 Lower Roswell Road in Marietta.
Read more: The Marietta Daily Journal – Candidates to square off at forums this week
Ends & Pieces
Olympic Trials for the shooting team for London this year will begin Friday at Fort Benning and run through June 12th.
Two spots still are left in the rapid fire pistol, and one slot each in men's rifle prone, men's and women's three position rifle, men's free pistol and women sport pistol.
Vincent Hancock of Eatonton, Georgia, who won the 2008 Gold Medal in Men's Skeet earned his spot on the shotgun team for London.
Columbus won the Class AAA high school baseball championship, while Loganville won the Class AAAA title.
I'm not even going to pretend that the announcement by Porsche of a limited edition of 12 Club Coupe automobiles to celebrate the 60th anniversary of the first Porsche clubs has any realtion to the state of Georgia. At nearly $176,000 list price, it's unlikely I'll ever see one of these outside of a car show.