The Chicago Fire began on October 8, 1871. A completely different kind of Chicago Fire is underway now. Here's a great story about how a catcher whose hitting is mediocre at best is leading the Chicago Cubs into the postseason.
On October 8, 1895, the Liberty Bell arrived in Atlanta for the Cotton States Exposition.
The famously–cracked 2,000 pound pealer left Philadelphia on seven trips between 1885 and 1915. Each time it came home with more cracks. It turned out the men hired to guard the Bell were taking liberties, literally: chipping off pieces and selling them as souvenirs.

Cheering crowds greeted the Bell in Atlanta. A two–mile parade took it to Piedmont Park, where 50,000 people lined up to see it.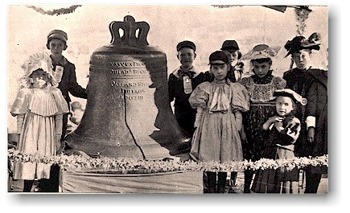 Georgia Public Broadcasting and the Georgia Historical Society have an interesting video on the Liberty Bell's trip to Atlanta. You can view a photo of the Liberty Bell Parade at the Atlanta History Center.
Polling released on October 8, 1976 indicated that Democrat Jimmy Carter won the second debate against President Gerald Ford by a 50-27 margin.
On October 8, 1981, former Presidents Nixon, Ford, and Carter visited with President Ronald Reagan at the White House before heading to Egypt to represent the United States at the funeral of assassinated Egyptian President Anwar Sadat.
Long-time Atlanta Braves pitcher Phil Niekro won his 300th game on October 8, 1984, though he wore Yankees pinstripes for that game.
The first C-5A airplane arrived at Robins Air Force Base on October 8, 1997.
On October 8, 1998, the United States House of Representatives voted 258-176 to authorize an impeachment inquiry against President Bill Clinton.
President George W. Bush issued an Executive Order establishing the Department of Homeland Security on October 8, 2001.
Georgia Politics, Campaigns, and Elections
2008 Libertarian candidate Allen Buckley, who sent that year's Senate race into a runoff, will run again in 2016 against incumbent Republican Johnny Isakson.
Democrat Sanford Bishop told the AJC Political Insider he will run for reelection in the Second Congressional District.Continue Reading..