Gwinnett County police received five donated bulletproof vests for K9 officers.
Men and women who serve in the Gwinnett County Police Department units have been protected from dangerous criminals by bulletproof vests, but the unveiling of some new vests on Thursday was a little different.

These vests aren't meant to be worn by mankind, but rather by Man's Best Friend, including one named for the Greek god of love, Eros.

Eros got a break from busting bad guys on Thursday to model one of the new bulletproof dog vests donated to the police department by Project Paws Alive. The group has donated five vests, which cost $1,400 a piece, to the department in recent months. The vests were bought with money raised by Project Paws Alive.

"The vests are customized for each dog, and precise measurements had to be taken to ensure comfort and effectiveness," police said in a statement. "Once the vests were made, they were embroidered with the K9's name."

Project Paws Alive donates similar products for dogs, including first aid field trauma kits, cooling vests, vehicle heat alarm pro systems, working dog protective boots and pet oxygen mask kits, to police department for use in their K9 units.

Gwinnett police said the group also donated 11 trauma kits, worth $350 apiece, to the K9 Unit.
I'd like to know if GaPundit readers would be interested in raising funds to donate a vest to a local police department in Georgia. I'll start looking for a charity that will take donations directly and earmark them for a specific project if there is sufficient interest from our readers.
Dixie is an 8-month old Staffordshire Terrier mix girl who is available for adoption from Catoosa Citizens for Animal Care in Ringgold, GA.
She is a playful pup who loves to run. Dixie loves to play with other dogs and is great with kids. Dixie is spayed, current on vaccincations, and heartworm negative. If you are interested in adopting Dixie, please email her foster mom at [email protected]
Sugar is a 7-year old female Border Collie mix who is available for adoption from Pet Friends in Chickamauga, GA.
Her foster writes:
Sugar is one of the best house dogs I have had. She is not destructive and is very calm in the house. You wouldn't know she is 7 years old when you meet her. She is very active and shows no sign of age. The shelter where we pulled her told us she was 7 and we are not sure where they got their information. Sugar loves to be with people. She likes to stay where the people are where ever that may be. She gets along well with all the rescue dogs we have. When she first met them she was a little apprehensive, but there are been no arguments with any of them. She is afraid of thunder storms and trains. She will climb in your lab when she gets scared, but she calms really fast. If you are interested in giving this wonderful girl a forever home please fill out an application. She will be your best friend for life.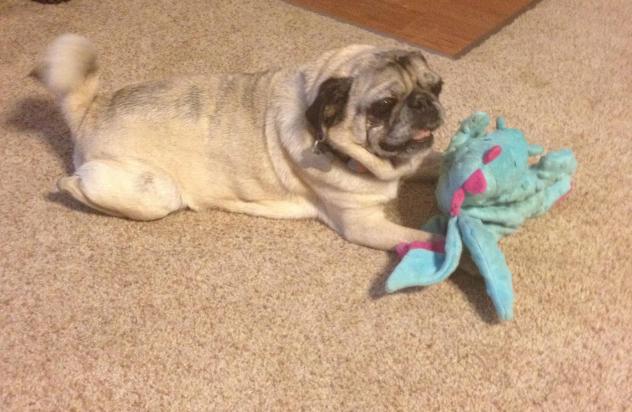 Pug Diddy is a 6-10 year old male Pug who is available for adoption from Pet Friends in Chickamauga, GA.
My story starts when these shelter people found me wandering the streets. You see, I had been there a long time living a rough life, but then my angel came along and decided I deserved better than that. So here we are with me, a 6-10 year old fella, looking for what they call a forever home.

I may not have been in the best shape, but I'm still pretty handsome if I do say so myself. When my foster human found me, I had a horrible ear and eye infection, along with some baldness from a flea allergy. She took me to this nice Lady called Mrs.Vet, and she said I have something called a Grade 1 heart murmur. Nothing to worry about, just something to keep an eye on and to let my future vet know about.

I love running around with toys in my mouth and being silly! I also like every dog I have met so far, and I LOVE going on car rides with my humans.
Gwinnett County Animal Control has been a great success story as they successfully reduced the euthanasia rate, now new management hopes to continue that record.
Facial recognition software to reunite lost dogs with their owners. Soothing music piped through kennel walls. School kids reading books to animals.

These are just a few of the ideas Curt Harrell and Cynthia Wiemann are hoping to implement as the new management team at the Gwinnett County animal shelter. They've been on the job about two weeks, after county officials decided to bring them on following the departure of Chip Moore, who left last year.

Harrell is serving as the animal welfare manager and brings 23 years of law enforcement experience at various agencies, as well as two master's degrees. Wiemann is filling the new assistant manager position, with 16 years of knowledge and experience in animal welfare and enforcement.

"The whole makeup of animal control has changed greatly," Wiemann said. "There's a lot improvements. There's a lot more emphasis put on adoptions and on releasing animals alive and really lowering the euthanasia rate."

A low euthanasia rate is the "main goal," she said.

And Harrell said the county is already doing far better than the national average of about 30 percent, with a local rate of 12 percent in 2015.