On December 11, 1777, during their movement to Valley Forge for the winter, Washington's colonial forces engaged British troops under General Cornwallis as the Americans were crossing the Schuylkill River.
Pennsylvania became the second state to ratify the Constitution on December 12, 1787.
Indiana became the 19th State on December 11, 1816.
Governor Charles McDonald signed legislation on December 11, 1841 to prevent a person from having his or her testimony excluded in court because of the individual's religious beliefs.
The first use of nitrous oxide as a dental anesthetic took place on December 11, 1844.
On December 11, 1872, Pinckney Benton Stewart Pinchback took office in Louisiana as the first black Governor in the United States.
A memorial service for Jefferson Davis, former President of the Confederate States of America, was held in the Georgia State Capitol on December 11, 1889 while his funeral was that day in New Orleans.
On December 11, 1941, Germany declared war on the United States.
Dickey Betts, guitarist for the Allman Brothers Band, was born on December 12, 1943.
On December 11, 1960, a civil rights demonstration including 8000 African-American citizens was held in Atlanta as part of the movement to boycott stores that remained segregated.
The Libertarian Party was founded on December 11, 1971 in Colorado Springs, Colorado.
Jimmy Carter announced he would run for President of the United States on December 12, 1974.
The United States Supreme Court released its decision in Bush v. Gore on December 12, 2000, stopping manual recounts of contested ballots in Florida.
Georgia Politics, Campaigns, and Elections
Yesterday, I took the free public Christmas tour of the Georgia Governor's Mansion. It was spectacular and was decorated with trees for each of the first families that have lived there since its opening. I highly recommend taking the holiday tour.
The Governor's Mansion is open to the public for tours through December 17th.
HOURS  OF  TOURS:
Monday thru Friday 9:30 – 11:00 AM
Saturday, December 12th 10:00 AM –12:30 PM
Sunday, December 13th 2:00 – 4:00 PM
For more information and to make sure they'll be open when you get there, call 404-261-1776.
First Lady Sandra Deal personally greeted hundreds of guests, something she makes an effort to do every year. She took time to talk to folks, especially children, and I heard a number of folks mention how special it made their trip.
In the basement, along with portraits of past Governors, hangs this portrait of Conan O'Brien Stephen Heard.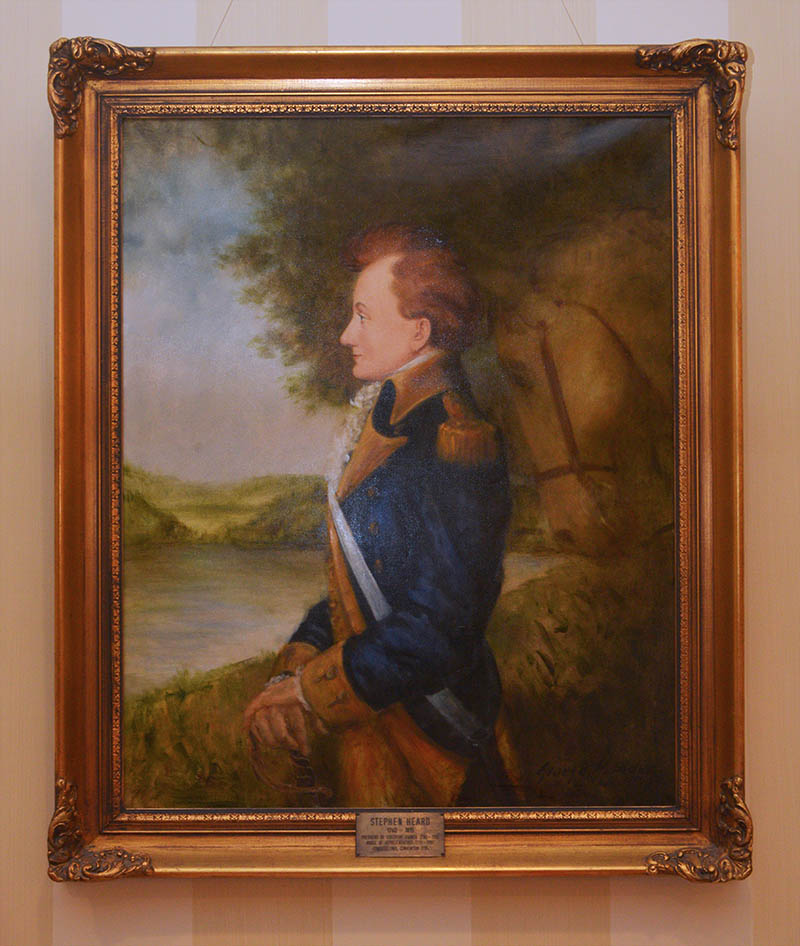 Stephen Heard served as Georgia's 12th governor from May 24, 1780 to August 18, 1781. He represented Elbert County in the Georgia Constitutional Convention of 1795. He fought in the French and Indian War and was active in the Revolutionary War.
So far, only one candidate, Democrat Park Cannon, has qualified for the January 16, 2016 Special Election in State House District 58. Qualifying closes at noon today. I hope this election won't go uncontested.
In Tucker, 15 candidates have qualified so far for the March 1, 2016 elections for Mayor and six City Council seats. Only one seat, District 1 Post 1, has no competition so far, with Honey Van De Kreke the only candidate for that slot.
Mansfield, Georgia will hold a Special Election for Post 5 City Council on March 1, 2016.
Qualifying for the March special election will begin on Monday, Jan. 11, and run through Wednesday, Jan. 13, from 8:30 a.m. to 4:30 p.m. Candidates will file the notice of candidacy at the Mansfield City Hall, where the forms are available.
Legislators from Hall County discussed their legislative priorities for the 2016 Session of the General Assembly.
This includes considering changes to the funding formula for transportation projects, more debate over whether to allow the in-state cultivation of medical cannabis oil and building on plans to reform public schools and boost the technical college system.

The priorities were discussed at the Greater Hall Chamber of Commerce's annual Eggs & Issues breakfast held Thursday morning at the Gainesville Civic Center.

Lt. Gov. Casey Cagle, who calls Hall County home, also spotlighted proposals to shift how the state generates its tax revenue.

State Republicans have rallied around calls to lower personal income taxes and offset that lost revenue with increases in the sales tax.

But Cagle said certain investments must still be made.

Sen. Butch Miller, R-Gainesville, said education is "paramount to the future of Georgia" and goes hand in hand with economic development as part of the state's long-range funding plans.

"The economy and the demands are changing," he added.
Some elected officials in Middle Georgia have opened the door to considering a regional sales tax for transportation.
Leaders from across Middle Georgia met Thursday in Macon for the first discussion of a proposed regional transportation sales tax.

If voters approve the tax dedicated to projects such as roads and airports, the overall sales tax in the 11-county region would increase by a penny on every dollar. In places such as Bibb and Houston counties, that would mean an 8-cent sales tax.

A required roundtable to be held later will be the real start of the process and will include the commission chairman from each of the 11 counties in the region as well as one mayor from each county.

The leaders could have decided Thursday that the next meeting would be the roundtable meeting, but Houston County Commission Chairman Tommy Stalnaker suggested having another informational meeting. By a show of hands, a majority agreed, and the second meeting will be set in early January.

Thursday's meeting was at the Middle Georgia Regional Commission office in Macon, but no Macon-Bibb County officials attended.

About 20 officials from cities and counties in the region were there, as well as Regional Commission staff.
Prosecutor Scott Minter will seek the Conasauga Circuit Superior Court (Murray and Whitfield Counties) seat being vacated by Judge Jack Partain, who is retiring.
Donna Coleman-Stribling will run for Solicitor General in DeKalb County, as Sherry Boston will vacate the seat to run for District Attorney.
The open seat on Cobb Superior Court will have at least four candidates in next May's election.
The candidates are: Charles Bachman Jr., a business litigator with Gregory Doyle Calhoun & Rogers; Kimberly Childs, a business litigator and founder of the Childs Law Firm; Grady Moore, a former prosecutor who now does criminal defense with his own firm, Moore Legal; and Nathan Wade, who handles criminal and family law in his own firm, the Law Offices of Nathan Wade.

Qualifying is in March, and the election is in May for the four-year term that begins Jan. 1, 2017. More candidates could come forward, but these four have already begun campaigning.
Darien, Georgia voters may have to return to the polls if a McIntosh Superior Court judge throws out election results after four votes were disqualified.
A Senior Superior Court Judge informed the McIntosh County clerk of court he is reconsidering an order he issued Tuesday upholding a contested Darien City Council election and will issue a new order Friday.

Clerk of Court Bootie W. Goodrich said Judge Gary McCorvey sent an email Thursday informing her a new order would be sent by 5 p.m. Friday.

As McCorvey instructed, she informed the three trial lawyers in the case.

City Councilman Jeff Clark had contested his Nov. 3 loss in the District 1 election to Augustus "Bubba" Skeen.

Skeen finished first with 126 votes, Clark was second with 85 and Bill Johnson was third with 36. In his contest, Clark asserted that enough illegal votes had been cast to drop Skeen's total below the three-vote margin he needed for a majority to avoid a runoff.
Three appointments by Gov. Nathan Deal to new Court of Appeals judgeships are cleared to go forward after a Fulton County Superior Court ruling.
Governor Nathan Deal's three new appointments to the Georgia Court of Appeals are constitutional, a Fulton County judge ruled Thursday afternoon.

Superior Court Judge John Goger also held that a state law increasing the number of appeals court judges from 12 to 15 is also constitutional. Goger issued his ruling in response to a suit seeking an injunction that would have barred the three gubernatorial appointees to the newly created vacancies—Brian Rickman, Amanda Mercier and Nels Peterson—from being sworn in until the constitutionality of their appointments could be determined. Deal announced the appointments on Oct. 29.

Atlanta attorney Wayne Kendall, who filed the suit last month on behalf of three attorneys, a former Macon city commissioner and a Douglasville minister, said he will appeal the ruling.

"After reviewing Judge Goger's order it is apparent that he interpreted the Georgia Constitution in a manner that gives a broad and expansive meaning to the term "vacancies" as it is used in the Constitution," Kendall said. "We do not agree with his interpretation and will immediately appeal his decision to the Georgia Supreme Court."