On April 7, 1776, the United States warship Lexington captured a British warship, HMS Edward, for the first time.
On April 7, 1798, President John Adams signed legislation authorizing negotiations between three representatives of Georgia and three Presidential appointees over Georgia's claim to land west of what is now the Georgia-Alabama state lines. Georgia would continue to claim most of what is currently Alabama and Mississippi until 1802.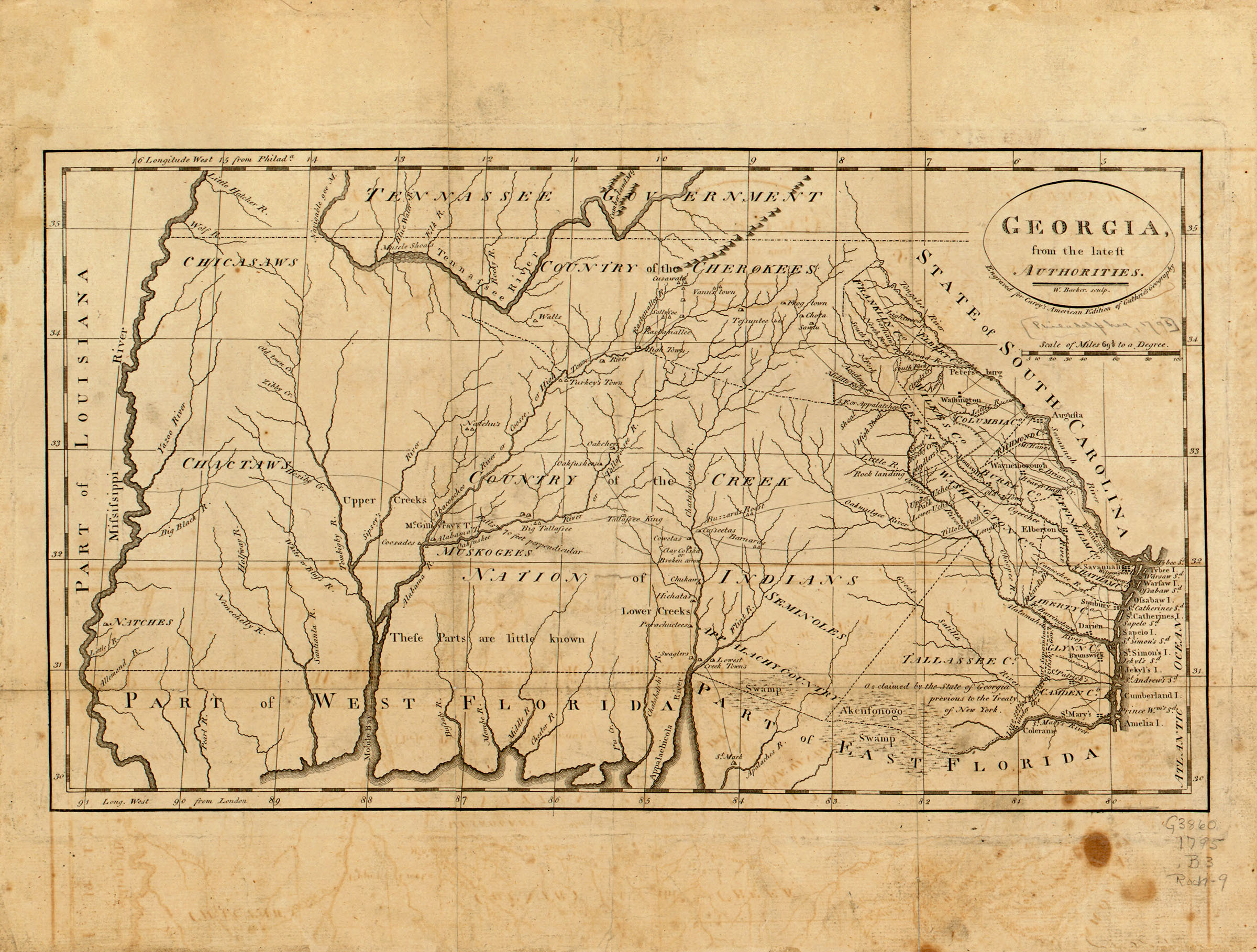 Above: a 1795 map showing Georgia extending west to Louisiana. "These Parts are little known."
On April 7, 1995, Governor Zell Miller signed legislation recognizing the peach as the official state fruit of Georgia.
Georgia Politics, Campaigns, and Elections
The Marietta Daily Journal reminds us that the grace period for March 31 campaign contribution disclosure reports ends today.
The deadline for filing campaign contribution disclosure reports for these state and local candidates was March 31, but Georgia has a grace period of five business days before late fees are assessed — a period that ends April 7.

These disclosure reports include all campaign contributions and expenditures for the period covered by the report — in this case, it would include all campaign finances up to and including March 30, according to Janine Eveler, director of the Cobb County Board of Elections and Registration.

"Everything that they earn or spend up until March 31 is reported on that filing," Eveler said. "They have to wait until that day to actually file it because if they file it early, it won't include March 31. … It's actually the 30th because they can file it on the 31st. That's the first day they're allowed to file it."

"If they were on the ball, they would have it ready to go (on March 31), and then if something came in at the last minute, they would just set it in there. But a lot of them have other people doing it, they don't necessarily do that. … The grace period means that they're allowed to wait until (April) 7th, and they aren't fined or anything. It's not considered late until after the grace period," Eveler said.

Regardless of when a candidate filed an intent to run for office, they are required to set up a separate account for the campaign, Ritter added.

"You can either have a campaign committee that has the account or you can just do a separate accounting with a separate account, but you do have to have a separate bank account for your campaign from your own personal finances. What the CCDR is going to basically show is the ins and outs on that account."
It's worth mentioning that many candidates and their staff believe that holding off reporting until the end of the grace period confers a small strategic advantage.
Yesterday, Vicki Willard announced that she was exiting the race for Republican National Committeewoman.
There are few challenges in life greater than the job of taking care of an elderly parent. Very recently my mother moved in with my husband and me leaving us faced with the 24/7 care of her fragile health and well-being. When I started this campaign for National Committeewoman, my life was settled and my time was easily devoted to most things political. Today, that is not the case.

I have, therefore, decided it is necessary to withdraw from the race and devote my full time and energy to caring for my family. At no time would I want to balance the job of National Committeewoman with the job of being a caregiver to my mother, with one or the other necessarily coming up short.

This was an extremely difficult decision and I want to thank the many, many people who supported me, who considered voting for me and who actively helped with the campaign. I appreciate you and all you did for me. I am truly blessed.
Later in the day, Linda Clary Umberger announced her entry into the election for Republican National Committeewoman.
Former Dawson County Republican Party Chair Linda Clary Umberger announced her candidacy for Republican National Committeewoman, which will be elected at the 2016 Georgia Republican State Convention in Augusta, Georgia on June 3-4. Current GOP Committeewoman Linda Herren is term limited after serving in the role of 12 years.

Umberger is a veteran of Republican politics having served in the Reagan Administration in the Office of Private Sector Initiatives and has been active in all levels grassroots politics serving as Dawson County Republican Party Chairwoman; a Georgia GOP state committee member; third vice-Chair of the Georgia Federation of Republican Women; and a founding member and past president of of the Foothills Republican Women.   In 2014 Linda was tasked by National GOP Co-Chairman Sharon Day to spearhead the GOP's 14 in '14 Initiative to drive female voter turnout in the midterm election. Most recently, Linda worked in the field as a staffer and Congressional District and Regional Field Director in Florida, Georgia, and South Carolina for Marco Rubio for President and CARLY (Fiorina) for America PAC.

"Republican values of personal responsibility, respect for the Constitution, sanctity of life and limited government are at risk if we do not keep working with an eye not just on the next election, but also on the next generation of leadership," said Umberger. "It is important that our next Committeewoman is a tested leader who can continue to amplify Georgia's voice and espouse Georgia values at the national level. Outgoing Committeewoman Linda Herren has built a tremendous foundation for our state and I look forward to continuing her great work."

"I recognize that I am coming late to this race, but I am confident that I will be able to tap my many friends and colleagues in the Republican party to demonstrate – not just describe, but demonstrate – the kind of leadership Georgia needs on the RNC," said Umberger.
Ginger Howard spoke to the North Metro Republican Women's Club at the same meeting Vicki Willard announced her withdrawal.
Over the last several years, we all have seen our fair share of leaders in the Republican party…there have been some strong ones, and those who failed to lead. History has taught us much about what truly strong leadership looks like.

I have spent time reflecting on the kind of leader and Committeewoman I want to be for you, for our state, and for our nation. And the model of the committeewoman I want to be is drawn from:

The legacy of great leaders from our past — that I admired from both near and far — many of whom I had the opportunity to work with on campaign trails.
My own personal experience in business, politics, and life.

Considering how my personal experiences have equipped me to lead as committeewoman, I am aware of the desperate need we have for UNITY in our country. Reagan, Bush, and Perry were all amazing unifiers, but I believe that given the horrifically divisive nature of the current presidential campaign, the need for unity in our PARTY and our NATION has never been greater.
I believe these experiences of being a small business owner, being involved in politics, and working with young women, have taught me invaluable lessons that I'd like to transfer to the role of being Georgia's Republican National Committeewoman…to help bring unity back to our party and nation.
The City of Sandy Springs struck a blow for freedom alcohol, passing an ordinance to allow breweries to sell beer-to-go in refillable growlers with a capacity of 12 to 68 ounces.
Also striking a blow for freedom is the City of Demorest, Georgia in Habersham County, which will allow municipal employees to carry guns at work.
Previously, the personnel policy prohibited employees from the same concealed carry afforded to any other citizen under the Safe Carry Protection Act passed in 2014.

"Embedded in that lengthy piece of legislation is the right for individuals who hold a concealed weapon permit to be able to carry that weapon in a government facility as long as ingress is not monitored," said Mayor Rick Austin. "That would include every building that we have in the City of Demorest.

"However, our personnel policies prevent any employee from carrying in a government building, so in effect our personnel policies were keeping our employees from observing the same rights that other individuals in the state of Georgia have," Austin said. "It creates a gun-free zone, and it's just something that we needed to rectify. I'm proud that we are moving forward. We have many stipulations."

Police Chief Robin Krockum, who said he supports the policy change, will determine whether each employee is proficient enough with a weapon to carry.

Austin said the policy change is in keeping with the equal protection portion of the 14th Amendment to the Constitution, and with the Second Amendment.

"There is no cost to the city, but it certainly enables our employees to exercise their Second Amendment rights, as guaranteed by the Constitution of the United States," Austin said. "It's something that I feel passionate about."
There is a list of requirements for city employees wishing to pack heat, and it looks like a reasonable, well-thought out response to a conflict in state laws.
Hall County is preparing for high turnout in the May 24, 2016 Primary Elections and Nonpartisan Judicial Elections, according to the Gainesville Times.
Absentee ballots will be mailed at the end of this week and can be requested until May 20.

Voters can request a Republican, Democratic or non-partisan ballot.

Voter registration deadline is April 26. Nearly 1,800 voter registration applications have recently been received (which includes new voters, changes of address, etc.) while 22 have been flagged for removal (felonies, other prohibitions).

Advance voting begins May 2 and ends May 20 (Monday through Friday each week) at the Hall County Government Center, 2875 Browns Bridge Road in Gainesville.

Early voting will also be held Saturday, May 14 at three locations: Hall County Government Center; North Hall Community Center, 4175 Nopone Road, Gainesville; and Spout Springs Library, 6488 Spout Springs Road, Flowery Branch.

A second Saturday with a fourth location (the East Hall Community Center) may be added in the November general election.
Voters in Peachtree Corners City Council Post 2 will elect a new member on May 24th.
City officials said Eric Christ and Stephen Peet will appear on the May 24 special election ballot. Christ, 48, has lived in the area that makes up Post 2, which was created along with the city in 2012, for 17 years and is a business executive who serves on city's Zoning Board of Appeals. Peet, 60, has lived in the area that makes up the Post 2 district for 27 years.

Lowe left the council after he qualified last month to run for the open state House of Representatives District 95 seat that is being vacated by retiring Rep. Tom Rice.

Voting in the special election will be held at Peachtree Corners City Hall and the deadline to register to vote in it is April 26.
Eric Christ previously ran for State Senate as a Democrat against Republican Fran Millar (Dunwoody) in 2010.
Fayette County Republicans will hold a series of forums to showcase the candidates for various offices.
Due to the large number of people running on Republican tickets, the Fayette County Republican Party has six events featuring different races planned. The Republican forums will be held at 7 p.m. the offices of the Fayette County Republican Party, located at 174 North Glynn Street in Fayetteville. For more information, visit www.myfayettegop.org.

The Fayette Democratic Committee will have the Meet the Democratic Candidates event during its monthly "Pancakes and Politics" meeting on April 9 at the IHOP restaurant located at 705 North Jeff Davis Drive in Fayetteville. For more information, visit www.fayettedems.org.

The wealth of forums to be held at the Fayette Republican Party headquarters will begin on April 12 with candidates for the District 72 House seat. Candidates include attorney James Clifton, Realtor Josh Bonner and attorney Lisa Inagawa.
Tybee Island City Council tried twice and failed to pass a ban on outdoor drinking during the month of April, according to the Savannah Morning News.
Congressman Tom Price (R-6) will speak on healthcare economics and policy at Berry College.
Congressman Tom Price, M.D., will speak on the "Issues of Healthcare Economics and Policy in the U.S." at 7 p.m. Monday (April 11) in the Krannert Ballroom at Berry College.

"It is a huge honor to host Dr. Price at Berry," said Dr. Brad Bushnell, a member of the Berry College Board of Trustees and Chairman of Orthopedic Surgery at the Harbin Clinic. "Tom is a wonderful role model at a time when the world of national politics seems to have gone crazy. He is a voice of reason and wisdom, and especially in the area of health policy – because unlike many of our elected officials, he has actually worked in the front-line trenches of health care for over half of his life. I can think of no one better to help us kick off our new annual symposium at Berry, and I know that his remarks will help us all better understand the complicated issue of health policy."
A candidate for District Attorney in Floyd County faces an administrative hearing over property tax payments that could result in his being removed from the May 24 ballot.
The Georgia Office of Administrative State Hearings will meet in Atlanta next week to consider a challenge to Democrat Jeremy Salter's eligibility to run for the district attorney seat in Floyd County.

At issue is the affidavit qualifying candidates were required to sign that states they are "not a defaulter of any federal, state, county, municipal or school system taxes."

A complaint filed with the state by local financial adviser James P. Orr alleges that Salter signed the affidavit falsely because Floyd County had taken out three tax FIFAs against him.

Salter denied defaulting, saying his taxes are now paid in full.

"When I initially qualified to run for the position of District Attorney it was my truthful belief I was not a 'tax defaulter' and such is still my belief today," Salter said Wed­nesday in an emailed response to the Rome News-Tribune.
Congressman Paul Broun's former Chief of Staff has been indicted on charges relating to Broun's Senate campaign in 2014, according to the AJC Political Insider.
The Department of Justice on Wednesday indicted the former chief of staff to then-U.S. Rep. Paul Broun in connection with misusing taxpayer money to finance campaign activities and obstructing a congressional investigation into the matter.

The eight-count indictment charges David Bowser, Broun's longtime top staffer, with one count of obstruction of proceedings, one count theft of government property, one count of concealment of material facts and five counts of making false statements.

Bowser's arraignment and initial appearance have yet to be scheduled. The Justice Department said the FBI is investigating the case.

The case has marked the first time someone has been charged with lying to the Office of Congressional Ethics, a quasi-independent body that refers cases to the member-run U.S. House Ethics Committee.

Broun said he is "disappointed" about the indictment and added that he is "not aware of any ethical violations by my staff at any time."
Our friend, Don Cole, writes about the opening of a Southwest Georgia Republican Party headquarters in Albany.
Georgia Agriculture Commissioner Gary Black came to Albany [Monday].  He spoke at the Rotary Club and then came to the Southwest Georgia Regional Headquarters for the Georgia Republican Party. Dougherty County GOP Chair Vicki Barnhill and Tammy McCrary organized the event with the help of many volunteers.