On October 2, 1789, President George Washington signed a resolution transmitting the (then-twelve) amendments constituting the Bill of Rights to the states that had ratified the Constitution. Click here for the letter from Washington to Governor Charles Pinckney of South Caroling that accompanied the amendments.
On October 2, 1835, Texans and Mexicans met in the first military battle of the Texas Revolution, the Battle of Gonzales.
In 1831, Mexican authorities gave the settlers of Gonzales a small cannon to help protect them from frequent Comanche raids. Over the next four years, the political situation in Mexico deteriorated, and in 1835 several states revolted. As the unrest spread, Colonel Domingo de Ugartechea, the commander of all Mexican troops in Texas, felt it unwise to leave the residents of Gonzales a weapon and requested the return of the cannon.

When the initial request was refused, Ugartechea sent 100 dragoons to retrieve the cannon. The soldiers neared Gonzales on September 29, but the colonists used a variety of excuses to keep them from the town, while secretly sending messengers to request assistance from nearby communities. Within two days, up to 140 Texians gathered in Gonzales, all determined not to give up the cannon. On October 1, settlers voted to initiate a fight. Mexican soldiers opened fire as Texians approached their camp in the early hours of October 2. After several hours of desultory firing, the Mexican soldiers withdrew.
On October 3, 1863, President Abraham Lincoln proclaimed a national day of Thanksgiving to be observed on November 26, 1863 and on the fourth Thursday in November every succeeding year.
This announcement harkened back to when George Washington was in his first term as the first president in 1789 and the young American nation had only a few years earlier emerged from the American Revolution. At that time, George Washington called for an official celebratory "day of public thanksgiving and prayer." While Congress overwhelmingly agreed to Washington's suggestion, the holiday did not yet become an annual event.

Thomas Jefferson, the third president, felt that public demonstrations of piety to a higher power, like that celebrated at Thanksgiving, were inappropriate in a nation based in part on the separation of church and state. Subsequent presidents agreed with him. In fact, no official Thanksgiving proclamation was issued by any president between 1815 and the day Lincoln took the opportunity to thank the Union Army and God for a shift in the country's fortunes on this day in 1863.
On October 2, 1879, Wallace Stevens was born. Stevens would become a renowned poet and insurance industry lawyer. My favorite poem of his is "Connoisseur of Chaos."
The pensive man . . . He sees the eagle float
For which the intricate Alps are a single nest.
President Woodrow Wilson suffered a stroke at the White House on October 2, 1909.
On October 4, 1918, President Woodrow Wilson sent a telegram to the Georgia Democratic Party Convention delegates in appreciation for their support of his admininstration.
On October 3, 1922, Rebecca Latimer Felton was appointed to the United States Senate from Georgia following the death of Senator Tom Watson. After initially being rebuffed by the Senate, Felton was sworn-in on late in November, becoming the first woman to serve in the United States Senate.
The Savannah River Bridge opened on October 4, 1925.
The first televised Presidential address from the White House was broadcast on October 5, 1947.
Thurgood Marshall was sworn-in as an Associate Justice of the United States Supreme Court on October 2, 1967.
Betty Talmadge, then wife of Senator Herman Talmadge, hosted a fundraiser with Rosalynn Carter and Joan Mondale on October 2, 1976.
Ground was broken for The Carter Presidential Center in Atlanta on October 2, 1984.
Beverly Hills, 90210 debuted on October 4, 1990.
The Georgia Supreme Court outlawed use of the electric chair as "cruel and unusual punishment" on October 5, 2001.
Georgia Politics, Campaigns, and Elections
Beer brewers' carefully-planned tour & souvenir beer programs took a hit this week with a Georgia Department of Revenue rule that says they can't vary the price according to the quantity of souvenir beer offered.
Legislation adopted this year gave craft brewers the ability to sell facility tours and give away their product — a kind of backdoor way to actually sell their beer directly to customers, something those brewers have long sought. After Gov. Nathan Deal signed the bill into the law, the state Revenue Department enacted rules governing the tours. Those regulations allowed brewers to create different tour packages at different price levels.

But last week the department issued a "bulletin" saying while brewers can offer different levels of tours, the price differences cannot be based on the value of the beer.

State Rep. Brett Harrell, R-Snellville, wrote to the Department of Revenue in June, before the first set of regulations were finalized, according to a copy of the letter obtained by The Atlanta Journal-Constitution. Harrell asked the department to consider a wide range of hypothetical tour scenarios involving multiple prices and a large beer selection. Harrell specifically asked Revenue officials to tell him whether his scenario would be allowed under the law.

Harrell told the AJC that a Revenue employee told him that "'based on our review, none of your suggested events exceed the allowed amount limits.' They didn't see there was any issue with the fictious tour sale."
However this plays out at the agency, expect the General Assembly to reconsider the issue next year.
State Rep. Scot Turner (R-Canton) wrote on Facebook that the agency actions conflict with the legislation passed this year.
I have complained to the DOR that they are creating a new law, something reserved for the legislature, with this bulletin. The words on the page are clear to me, the breweries can charge whatever they like for tours for whatever reason they want to.

By eliminating the ability to vary the size of the souvenir, the DOR is destroying the intent and actual meaning of SB 63.
AJC Columnist Kyle Wingfield blames it on the dastardly alcohol wholesalers' lobby.
SB 63 [the "Beer Jobs Bill"] was held up by lawmakers beholden to the alcohol-wholesalers lobby at every turn before finally gaining approval as a watered-down, near-beer version of itself on the final day of the session. It wasn't much: Breweries won the chance to give away limited amounts of their beer as "free souvenirs" included in the price of "educational and promotional brewery tours," a needlessly complicated compromise only Rube Goldberg could love. Given the way even limited "sales" of beer can boost a small brewery's bottom line and help it grow, though, at least it was something.

The final text of SB 63 allows breweries to "charge varying fees for the brewery tours." It says nothing about how those fees are to be determined. The Revenue Department now says breweries "may not vary tour prices in such a way that the tour prices are clearly and directly tied to the market value of the alcohol furnished."

Although one can contort the vague words of SB 63 just enough to get to the place Revenue's rule-writers arrived, this policy runs plainly counter to the spirit of the law evident throughout this year's debate.

It does, however, fit neatly with the wholesalers lobby's desire to kill such legislation entirely. Only the willfully naive could believe they didn't lift a finger to ensure the new rule was written just so.
Apparently, there's some sort of sporting event in Athens this weekend. With rain predicted, some parking will be limited and predictions are sounding like TomorrowWorld's mud bowl.
[T]he intramural fields are so water-logged from recent rains—with more rain forecast for later this week—that they'll be closed off to vehicles this weekend, meaning the loss of 2,000 parking spaces. Some tailgating areas may be closed as well. Updates are available here.

UGA is urging people to use lots on the periphery of campus that aren't always full, as well as parking provided by local schools, churches and businesses (including Flagpole). Carpool if you can and get there early, too.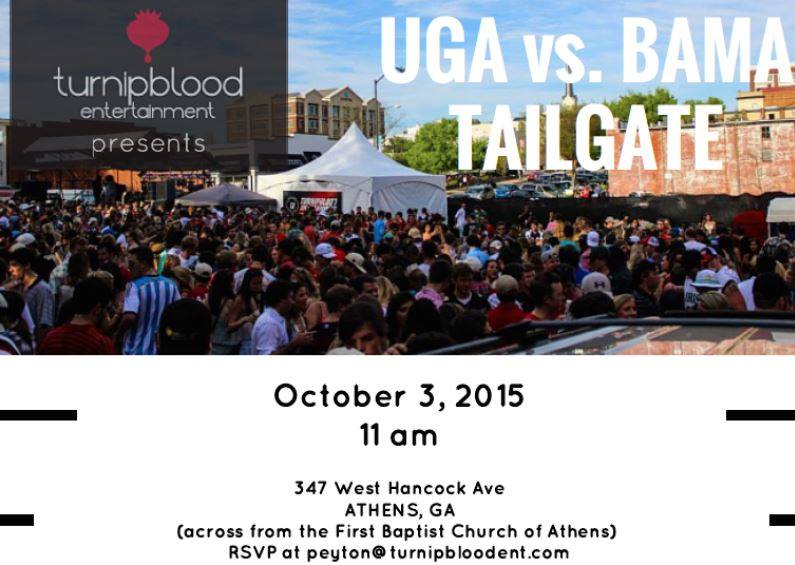 Former Congressman Jack Kingston has been spreading the word about a tailgate being hosted by his daughter and son-in-law in Athens tomorrow. If you think you might attend, RSVP to [email protected]
If you recall the debate over Medical Cannabis legislation over the last two years, part of the discussion was controlled clinical trials at whatever they're calling the Medical College in Augusta. Some preliminary results are in and show promise, according to Kristina Torres of the AJC.
Georgia-based clinical trials have shown early promise in using cannabis oil to treatment epileptic seizures, although researchers said they won't know for sure until at least the end of next year what strides they have made in the study of medical marijuana.

Dr. Yong Park, a neurologist leading the trials through Georgia Regents University's Medical College of Georgia, said as of April, seizures caused by one of the most severe forms of epilepsy — Dravet Syndrome — fell by as much as 60 percent in children who had used a specific drug, the cannabis-derived oil Epidiolex, for at least 12 weeks.

Gov. Nathan Deal backed the use of clinical trials in Georgia last year to study cannabis oil's effect on children suffering from seizure disorders, and lawmakers earlier this year passed a landmark law allowing formally approved the use of a limited form of cannabis oil to treat severe forms of eight illnesses including cancer, Parkinson's disease and epilepsy.
I would also expect some form of legislation to be discussed next year that would allow some form of heavily-regulated in-state production of medical cannabis. From Channel 13 WMAX,
"There is still a lot of skepticism in the medical community so it's imperative that we show there is research that medical cannabis does work for almost all of the qualifying conditions that we have in Georgia," State Representative Allen Peake said.

He's the commission's chairman said it's imperative that lawmakers listen to the medical community and doctors' concerns about control and purity of the drug. One committee member, Doctor Cynthia Wetmore, is concerned about the composition of out of state cannabis. She says marijuana grown here would give officials more control.

"Right now, when patients are getting it from all different sources but there's not much consistency, the only way to ensure consistency is to grow it, have control over it so that we're able to purify it and have quality control of the different batches," Wetmore said.

Janea Cox's daughter Haleigh inspired Georgia's medical marijuana law. Janea thinks Georgia-grown cannabis would increase access for families like hers who depend on it to help conditions like seizure disorders.

"It'll make it easier for access for patients here and its also better so that Georgia can regulate their own rules and be able to regulate it a lot better. Growing is definitely one of those promises that were hoping for," Cox said.
Atlanta Public Schools Broken
APS Superintendent Maria Carstarphen has this to say, according to the AJC.
"I don't know why as a community we don't understand that Atlanta Public Schools is effectively broken. We have the lion's share of every problem you can possibly imagine in urban public schools. But I am here. This is my community," she said. "They are my babies and my children and I expect of myself to do a good job with or without the support of anyone else. I believe in Atlanta. I believe in Atlanta Public Schools. I have met this staff. I know our children are beautiful and can deliver if we hold them to the right expectations."

Despite all the challenges the children bring to the classroom, Carstarphen cited an even bigger challenge for APS. "Culture is the biggest challenge for Atlanta Public Schools. Every great strategy we have gets eaten for  breakfast because of the culture sometimes."
DeKalb County Corruption Probe
In response to the release of the Bowers-Hyde report on corruption in DeKalb County, Governor Nathan Deal has asked the Georgia Bureau of Investigation to look into the report.
The GBI cannot open an investigation on its own it must be directed to by another agency.

The governor is not asking the GBI to investigate the report, but he is asking the GBI to review it.

The report authored by former Attorney General Mike Bowers and investigator Richard Hyde claims there's widespread corruption inside DeKalb County government, starting with interim CEO Lee May.

"It was a very sad day for DeKalb County," County Commissioner Nancy Jester told Channel 2's Richard Elliot.

Jester says corruption is a cancer eating away at the DeKalb government.

She told Elliot that she welcomes any outside agency taking a closer look at the Bowers report, but she wants a full investigation not just a review.
Interim CEO Lee May would like to sweep another new set of allegations under the carpet with the Bowers report. From Jodie Fleischer at WSB,
A little more than a year after he accepted $3,500 in bribes to help a nightclub owner, zoning official Jeremy "Jerry" Clark began billing DeKalb County taxpayers as a consultant, a Channel 2 Action News investigation found.

Records show between March and August of 2014, Clark submitted invoices totaling $24,500 for youth outreach services, skirting multiple DeKalb County policies and possibly state law.

"It's either a crime was committed, which is what it smells like, or someone has played loose and easy with the regulations," said former DeKalb District Attorney Bob Wilson, who reviewed the situation at the request of Channel 2.

But DeKalb County CEO Lee May says he won't request an investigation of this situation; the high-ranking official who facilitated it is May's Chief of Staff and long-time adviser Edmond Richardson.

Lee May also declined an interview request, but issued a statement saying, "I am very disappointed in how it was handled.  It might have been to the letter of all laws, but certainly not in the spirit in which I expect this government to be operated."

May said he has no plans to investigate the situation.
Miscellaneous
Congratulations to Colin Martin, who has joined the staff of Congressman Lynn Westmoreland.
Colin Martin, who ran unsuccessfully for mayor last year against incumbent Teresa Tomlinson, will start the new job on Thursday.

Field Representatives represent the congressman at events and meetings throughout the 13-county district that stretches from the southern tip of Metro Atlanta to north Columbus. Martin will cover the southern part of the district that includes Upson, Lamar, Pike, Meriwether, Harris, Muscogee, and part of Troup counties.

"Congressman Westmoreland has been a true servant-leader for the Third Congressional District and the Columbus region," Martin said. "I am both humbled and excited for the opportunity to serve his constituents in this role."
Here's my professional advice to Colin: there will be lots of people from the area you cover in Athens on Saturday. You should go there to make yourself available for any comments and concerns they may have for Cong. Westmoreland. But this is probably not a reimbursable expense, it's part of going the extra mile to serve.
The AJC Political Insider turned up an interesting nugget. It appears that Donald J. Trump may be headed to Atlanta this month.
Toward the very end of this Politico.com piece on Donald Trump and the televangelizing crowd is a small mention that The Donald may be headed to Atlanta on Oct. 10 for a meeting with black pastors. Think of the possibilities of a Donald Trump/Creflo Dollar ticket.
In the Augusta area, voters will elect a new Columbia County Commissioner for District 3 and a new State Representative for District 122 in a special election on November 3d.
The District 122 special election became necessary when Ben Harbin, who represented the county in the Georgia Legislature for 20 years, announced he was resigning in the midst of his term to take a position with the lobbying firm South Strategy Group.

Four candidates qualified to run for the open seat – Pat Goodwin, a former chairwoman of the Columbia County Republican Party and the Columbia County Convention and Visitors Bureau; Jodi Lott, a registered nurse and co-owner of Evans Rehabilitation Services; Joe Mullins, a developer and entertainment promoter; and Mack Taylor, a lawyer in private practice who resigned his seat on the Columbia County Commission in July to pursue the office.

In the other race featured at the forum, five candidates explained why they wanted to be the next commissioner for District 3, a seat vacated in July when Taylor resigned to run for the state Legislature.

Jim Bartley, Greg Grzybowski, Gary Richardson, Frank Spears and Russell Wilder have stepped up to fill the remainder of Taylor's term.
For more on those candidates and their positions on issues, check out the Augusta Chronicle article cited above.