Liberty is a 2 year old female hound mix. House trained. Loves kids and very affectionate. She loves to wrestle with other dogs. Must have someone who is willing to let her play fetch with a tennis ball! Extremely smart and knows some commands. She's 40lbs. Which is small for a hound and won't get any bigger. Liberty is available for adoption from BARC Humane Society in Valdosta, GA.
Ellie is a two year old boston terrier/boxer mix. She is a petite gal, weighing about 30 pounds. Ellie is calm, quite, well mannered, very good natured and low energy. She gets along with other dogs but does not care for active players. She would be fine being the only dog. She gets along with cats. Ellie is house and crate trained. Ellie is heartworm positive but currently being treated. Ellie is the perfect little companion and likes to be her person's shadow.
Ellie is available for adoption from BARC Humane Society in Valdosta, GA.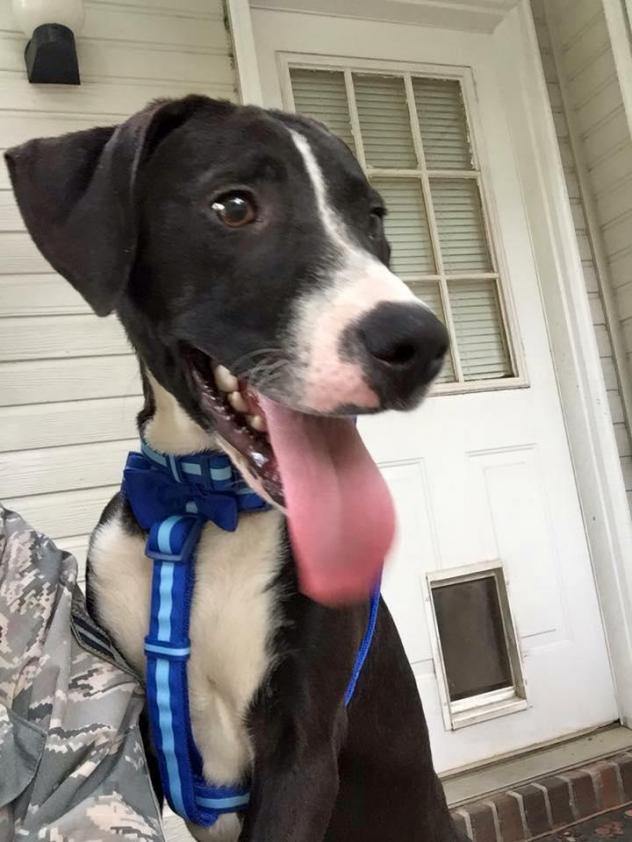 Goofy is a young male Hound and Labrador Retriever mix who is available for adoption from BARC Humane Society in Valdosta, GA.
In addition to rescuing and fostering dogs from local shelters, BARC Humane operates the Moody Pet Guardian Angel Program to provide foster homes to pets of Moody Air Force Base personnel who are deployed. After their owner's deployment ends, the foster animals return to their homes.
Click here to make an online donation to BARC Humane Society, or you may mail a check to:
BARC Humane Society
307 E Jane St
Valdosta, GA 31601
PHARM Dog USA is a Missouri-based charity that helps place assistance dogs with farmers to allow them to continue farming after an accident or disability. From the Macon Telegraph,
PHARM Dog USA has a shoestring budget, but founder Jackie Allenbrand is committed to help disabled farmers prove they can be as independent as their able-bodied peers.

"People think of farmers as rugged and tough," Allenbrand said. "When you see a big, burly farmer crying after they get a dog because they know they can keep farming, you see what a difference it's making. That's what drives us."

PHARM Dog USA trains Labrador retrievers and lab mixes for service skills, such as retrieving tools, carrying buckets or opening gates, while border collies are trained only to herd and help control cattle and other animals. The farmers never pay for the dogs, which are donated or rescued from shelters, and agriculture rehabilitation groups pay for the training. PHARM Dog also has received some grants and gets dog food donated by Cargill Nutrition.