28116 is a baby lab mix female who will be available for adoption beginning tomorrow, just in time for the "Black Friday Sale" at the Gwinnett County Animal Shelter. On Fridays, Gwinnett County's dogs and cats may be adopted for a discount rate of $30 total if they are black or majority black. Here are some of the other eligible dogs.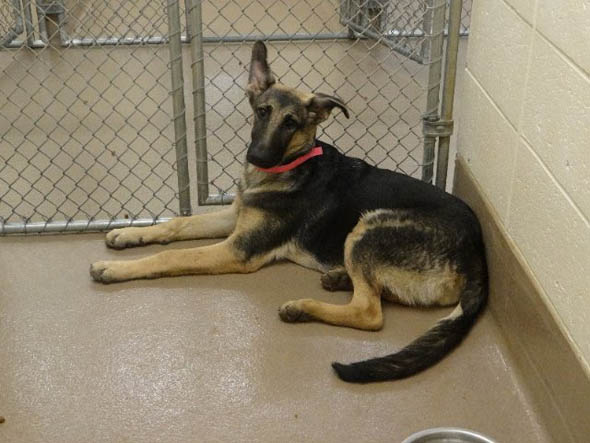 Maybe you see a dog you'd like to adopt from Gwinnett County and like that last one, the German Shepherd mix, you're not sure if it's majority black. I'm inclined to believe that the Shelter wants the dogs and cats in real homes enough that if it's arguable they'll give it to you. We have a couple sponsors here who are willing to underwrite the non-sale portion of a dog from Gwinnett County, meaning they'll pay the other $60 if you can pay $30. We have limited funds, so if you want to take advantage of this, email me to discuss it.
Here are three dogs currently in the home they've lived in since puppyhood. Their owner is being forced to move and cannot take them. She's trying to find private placements for them to pervent having to turn them in to a shelter or rescue. Click here if you might be able to help.
Georgia Politics, Campaigns & Elections
When you go to vote, you'll need to remember your photo ID. According to a poll by Rasmussen, 71% of voters approve of requiring ID for voting, but 34% think that requiring photo ID discriminates against some voters.
The Atlanta Journal-Constitution isn't sure whether early voting is lighter than 2008 or whether it's up, but here are the latest numbers:
GENERAL STATEWIDE TURNOUT
Number of ballots cast as of Wednesday: 193,151
Number of ballots voted in person: 120,032
Number of mail-in ballots returned: 73,119
Number of mail-in ballots outstanding: 98,931

TOP FIVE COUNTIES WITH HIGHEST TURNOUT
Fulton: 17,765
DeKalb: 16,326
Cobb: 10,221
Gwinnett: 9,326
Henry: 4,509
Dr. Merle Black, who taught me how to think about politics and society, says that if this year's early and advance voting is at levels similar to 2008, a majority of votes will not be cast on election day.
"In 2008 in Georgia more people voted in the early stages either through absentee or by early voting, that actually showed up on election day. That was very, very unusual, I don't think we've ever had that experience before."
Paulding County set a record for first-day advance voting in person this year.
Deidre Holden, supervisor of the Paulding County Elections office, shared with those in attendance current and historical voting numbers, with one of the most recent statistics being the number of county voters who cast ballots Monday on the first day of early voting—1,163.

"That is a record for our first day of early voting. [And] this is our first presidential election in our new office [in the Watson Government Complex]," Holden said. "I got there about 6 a.m. yesterday morning. People began lining up at 7:15; we opened at 8. So I knew that it was going to be nonstop, which it was."

Holden compared Paulding's Monday turnout to the number of voters she said neighboring Cobb County saw that day—1,371. But while the number of voters was higher in Cobb, initial voter turnout was higher in Paulding due to the two counties' registered voter count—Paulding's is approaching 86,000 while Cobb has nearly half a million registered, she said.

Holden encouraged those in attendance to not only vote, but to vote prior to election day if possible.

"We want to see everybody come out early, because if you have a problem early, we can catch it on the front end and correct it as to you waiting on election day when there's really nothing we can do about it," she said.
Nationally, uncontested elections are at their highest level since 2002, according to a study by researchers at the College of William and Mary:
The authors cite the impact of decennial redistricting and the lack of an evident partisan advantage (i.e., expectations of a "wave" election) during candidate recruitment season as possible explanations for the downturn in competition.

"This is the lowest level of contested races since 2002, when the states last redistricted their legislatures," McGlennon said.  "The new lines may have discouraged potential candidates from running in unfavorable territory."

Michigan has consistently been among the top five states for competitive races since the study began in 2002, while Georgia's level of competitiveness has placed it among the bottom states in the last four election cycles.
A federal lawsuit whose plaintiffs include Joseph Lowery and the Georgia Legislative Black Caucus seeks to allow all DeKalb County voters to cast ballots for the Mayor and City Council of Brookhaven.
"When you allow people to come in and punch out economically valuable parts of a county, and then have that particular punch-out have racial lines, it becomes a very, very dicey matter," [Plaintiffs' lawyer Jerome] Lee said.

Lee explained plaintiffs are worried, if left unchecked, the African-American vote would become watered down.

"Now, you have these little enclaves of people that I'm now trapped inside with and we no longer have the ability to decide who's going to govern us now," Lee said.

The basis for Lee's argument: U.S. Census data, which shows, right now, DeKalb County's population is 54 percent African American, while the new City of Brookhaven's African American population is just under 11 percent.

Lee explained what he claims that means minority voters.

"At a minimum, it appears that you won't share certain characteristics with your new elected government," he said.

Lee admits his odds of success are not high, but he remains hopeful.

"The right to vote is fundamental to a democracy, and without (it), you can't function," Lee said.
The Marietta Daily Journal writes that some voters are confused or uncertain about Amendment Two, which will allow the state to enter into multi-year leases.
 Amendment 2, located at the bottom of the Nov. 6 ballot, would allow the state government to rent property through multi-year lease agreements. Currently, the state cannot lease property from outside agencies for more than a year, forcing the state to annually renew any multi-year agreement it enters into.

If passed, the amendment would allow the state, which currently leases 1,800 properties, to save an estimated $66 million over 10 years, said Paul Melvin, spokesman for the State Properties Commission, the agency that negotiates leases for the state. The amendment would primarily apply to office space leased for government workers to work out of across the state.

"Landlords are charging us more for square footage for one year," Melvin said. "If we were able to do multiyear leases, we could get a better rate."

The enabling legislation for the amendment caps length of rental agreements at 20 years. Melvin said the average occupancy for the state in a particular location is 10.7 years.
Fox5 Atlanta has more on Amendment Two:
The state properties commission estimates that approval would say the state $66 million over 10 years. The vast majority of lawmakers supported putting the measure on the ballot.

"It's about efficiency, and this is going to give us another tool in the toolbox to help really help provide greater savings for taxpayers," said Lt. Gov. Casey Cagle.

Cagle says the state will get better lease deals with longer-term agreements.

"You're going to have greater incentive by the landlord to come and negotiate terms that are more conducive and that's where the $66 million savings come in," said Cagle.

The ballot measure asks voters, "Shall the constitution of Georgia be amended so as to provide for a reduction in the state's operating costs by allowing the general assembly to authorize certain state agencies to enter into multiyear rental agreements?"

It's a question many voters said they have yet to consider.

Critics argue that financial savings are not guaranteed, and they express concern that the state will be bound by long-term leases.

Supporters contend the change would include oversight mandates to prevent lease abuses.